50+ Healthy Slow Cooker Thanksgiving Recipes to Free Up Your Oven – Over 50 recipes that keep your oven and stove top free this Thanksgiving!

Cooking a festive meal for many people can be extremely stressful, especially if you feel like you're running out of pots, pans and oven space! Why not make you life a little bit easier this year and assign a few dishes to your crockpots? I'm absolutely in love with my 4-quart crockpot
because it's so handy to cook smaller portions, desserts and side dishes! You can even cook your Thanksgiving morning breakfast in a slow cooker, and I've rounded up over 50 dishes to get you through the entire Thanksgiving day with a slow cooker. Best of all, they're all on the healthier side so you can lighten up your holiday a little bit!
Breakfast
Slow Cooker Pumpkin Granola {With Salt and Wit}
Slow Cooker Sticky Pecan Buns {Amy's Healthy Baking}
Slow Cooker Pumpkin Pie Oatmeal {Garnish With Lemon}
Slow Cooker Apple Pie Steel Cut Oatmeal {Five Heart Home}
Cinnamon Pomegranate Steel Cut Oats {Mandy's Recipe Box}
Slow Cooker Cranberry Orange Steel Cut Oatmeal {Amy in the Kitchen}
Slow Cooker Pumpkin Streusel Coffee Cake {Amy's Healthy Baking}
Drinks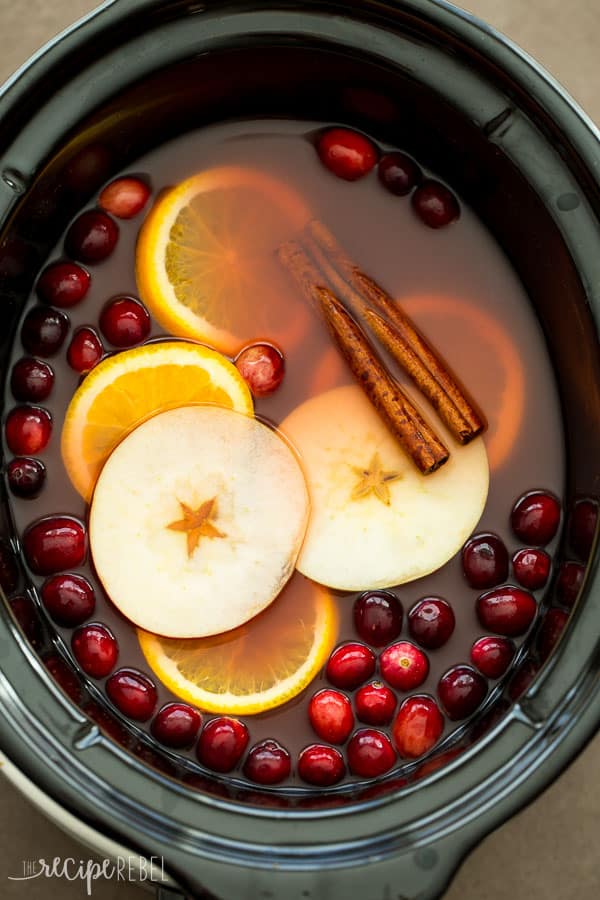 Slow Cooker Cranberry Apple Cider {The Recipe Rebel}
Slow Cooker Cranberry Spice Tea {Pumpkin 'n Spice}
Berry Lemonade Tea {My Recipes}
Slow Cooker Pumpkin Spice Latte {Family Fresh Meals}
Appetizers
5 Ingredient Slow Cooker Cranberry Glazed Turkey Meatballs
Crockpot Orange Glazed Meatballs {Family Fresh Meals}
Slow Cooker Sweet Potato and Cauliflower Soup {Peas and Crayons}
Slow Cooker Potato Soup {Maebells}
Slow Cooker Butternut Squash and Sweet Potato Soup {Life Made Sweeter}
Slow Cooker Smoky Sweet Potato Soup {My Sequined Life}
Slow Cooker Garlic Herb Mushrooms {Damn Delicious}
Main Dishes
Slow Cooker Turkey and Cranberry Apple Wild Rice Dinner
Crockpot Turkey Breast with Cranberry Sauce {The Creative Bite}
Slow Cooker Apricot Balsamic Glazed Turkey Breast {The Recipe Rebel}
Slow Cooker Turkey Breast {Handle the Heat}
Slow Cooker Vegetarian Lasagna {Eating Well}
Creamy Crockpot Pumpkin Risotto {Tasty Yummies}
Side Dishes
Healthy Slow Cooker Sweet Potato Casserole {Kristine's Kitchen}
Sweet Potato Gratin {My Recipes}
Slow Cooker Garlicky Herbed Cauliflower Mash {Whole Food Bellies}
Slow Cooker Creamy Red Potato and Cauliflower Mash {Peas and Crayons}
Garlic Parmesan Mashed Potatoes {Pumpkin 'n Spice}
Slow Cooker Garlic Rosemary Tri-Color Potatoes {Life Made Sweeter}
Slow Cooker Sweet Potatoes {Sweet Peas and Saffron}
Slow Cooker Broccoli Mac and Cheese {Eat Good 4 Life}
Slow Cooker Honey Orange Glazed Carrots {The Recipe Rebel}
Slow Cooker Green Beans {Six Sisters' Stuff}
Slow Cooker Balsamic Brussels Sprouts {Damn Delicious}
Slow Cooker Stuffing {One Sweet Appetite}
Cranberry Apple Stuffing {House of Yumm}
Slow Cooker Cornbread Stuffing {Skinny Ms.}
Crockpot Sweet Potato Stuffing {Whole and Heavenly Oven}
Slow Cooker Apple Strawberry Cranberry Sauce {Peas and Crayons}
Fall Harvest Salad with Apple Cider Vinaigrette {With Salt and Wit}
Quinoa and Brussels Sprout Salad with Roasted Butternut Squash, Cauliflower, Avocado and Pomegranate {Floating Kitchen}
Slow Cooker Pumpkin Maple Cornbread {Life Made Sweeter}
Herb Crockpot Dinner Rolls {Artisan Bread in Five}
Dessert
Pumpkin Butter {Pumpkin 'n Spice}
Apple Confit {Eating Well}
Slow Cooker Stuffed Apples {Budget Bytes}
Slow Cooker Apple Crisp {Kristine's Kitchen}
Slow Cooked Apple Butter {Skinny Taste}
Slow Cooker Pumpkin Spiced Apples {Maebells}
Slow Cooker Chai Spiced Pears {Teaspoon}
Slow Cooker Pumpkin Spice Latte Cake {Skinny Ms.}
Vanilla Bean Baked Custard {My Recipes}