Greengage Coffee Cake Recipe – The BEST coffee cake recipe ever! Light, fluffy and absolutely delicious! The perfect breakfast!
I love cake.
Phew, now it's out in the open, what a relief!
Want to know what I love even more than cake? Cake for breakfast.
Warm and soft and comforting.
And especially during the time when summer is drawing to an end and fall is slowly starting to creep in – but it's not yet cold enough to justify a steaming bowl of oatmeal.
Or a slice of pumpkin pie, but that's an entirely different story and I would never ever do that (bahahaha).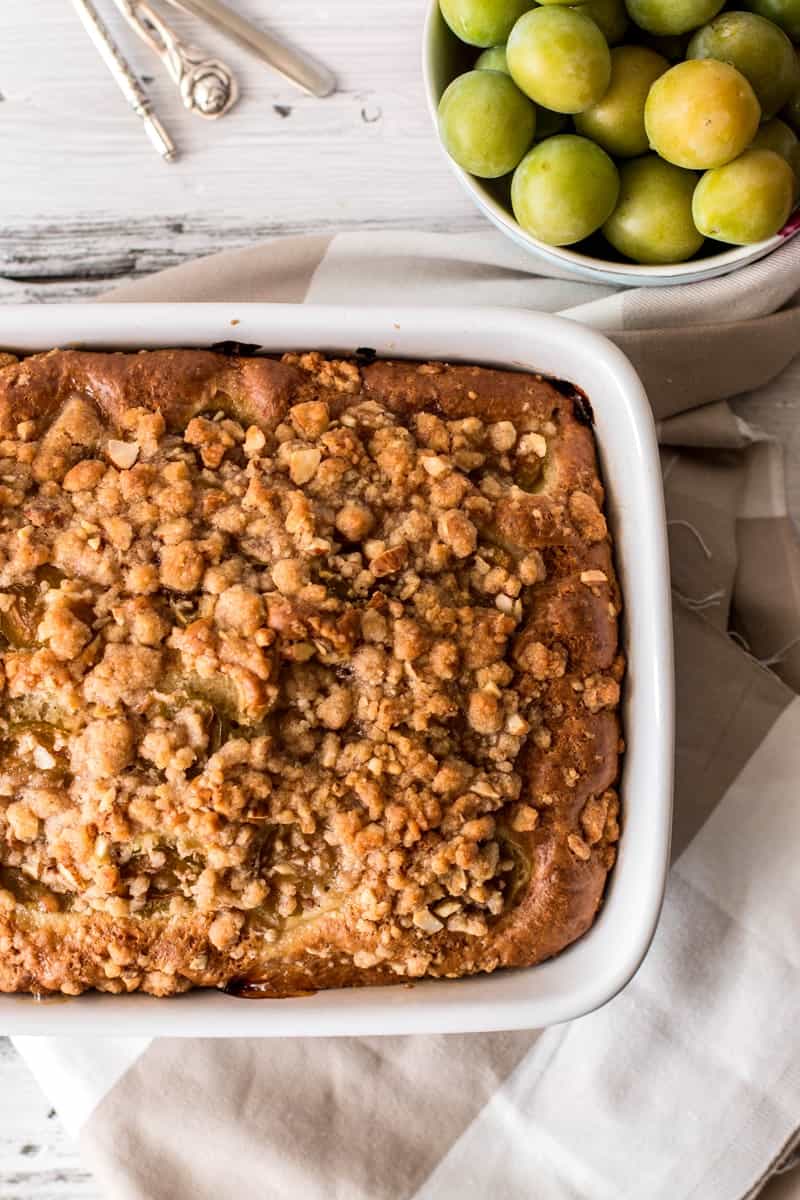 I recently stepped into my mom's kitchen and was completely taken aback by the heaps and heaps of greengages on the table, in baskets on the floor and just about everywhere.
I was rather impresed that they had harvested them all at the same time when my stepdad pointed out that the tree was still overflowing with fruit.
And then they gifted us with about 1/1000 (read: about a gazillion pounds) of their greengage harvest (they have one tree. One. Freaking. Tree. And it's producing gigantic amounts of fruit!).
Do you see how I could not under any circumstances pass up the opportunity to bake some of them into a delicious coffee cake to be guiltlessly enjoyed for breakfast the next seven days (or possibly two)?
You know what though, it took me an awfully long time to acknowledge anything remotely cake-related as an appropriate breakfast.
Muffin?
No, that's a cake and should be eaten for dessert.
Donut?
You must be joking.
Coffee cake?
Has cake already in the name, duh!
Don't judge me, we are all on an endless learning curve.
I don't even remember when I finally bowed to the master of all breakfasts.
I just, you know, did. I mean it's not like breakfast-cake is the same as dessert-cake anyways so it's totally cool with me now.
Arrividerci bran flakes, hello heaven on a plate!
And THIS CAKE! Seriously guys, it's the best.
Soft and fluffy with a slight hint of cinnamon, tangy greengages baked right into it and topped off with crunchy almond streusel.
I understand that greengages are not that easily available anywhere (want me to mail you some? My freezer is stuffed with them!) but they can easily be substituted for quartered plums.
Or if you totally feel like straying from a recipe, use apples. Pears. Peaches.
Whatever you have on hand!
That's the beauty of this cake, you can totally make it your own! (How's that for a selling point?)
And with such a delicious addition to the breakfast table don't we all love to obey Marie Antoinette's words?!
Let them eat cake.
Only that she probably never even said that.
But still, I will obey the legend anyways and let myself eat all the cake in the world. For breakfast.
Always.
Greengage Coffee Cake Recipe
Greengage Coffee Cake Recipe - The BEST coffee cake recipe ever! Light, fluffy and absolutely delicious! The perfect breakfast!
Prep Time 15 minutes
Cook Time 45 minutes
Total Time 1 hour
Servings 12
Calories 212 kcal
Ingredients
Dry Ingredients
2 cups flour
2 teaspoons baking powder
1 teaspoon baking soda
1/2 teaspoon cinnamon
1/4 teaspoon salt
Wet Ingredients
1/2 cup sugar
2 large eggs
2 tablespoons oil OR melted butter
2/3 cup buttermilk
1/3 cup yogurt
Topping
3 tablespoons flour
3 tablespoons chopped almonds
1/4 cup brown sugar
1 teaspoon cinnamon
2 tablespoons butter cold from fridge
1 1/2 cups greengages pitted and halved
Instructions
Preheat oven to 350°F. Lightly grease a 7x11 baking dish.

To make the streusel topping mix flour, chopped almonds, sugar and cinnamon in a small bowl. Add cold butter and rub into the flour mixture with your fingertips until even crumbles start to form.

In a large bowl mix the dry ingredients together.

In a separate bowl, beat the sugar, eggs and oil (or butter) together until foamy and light in color. Mix in buttermilk and yogurt. Add wet ingredients to dry and mix until just combined.

Pour batter into prepared baking dish. Scatter greengages evenly over the top and slightly push into the batter. Top with streusel topping and bake for 45-50 minutes or until a toothpick inserted comes out clean.