Roasted Cauliflower and Hazelnut Spaghetti Recipe – Decadent with roasted hazelnuts and browned butter, this quick dinner comes together in just 30 minutes.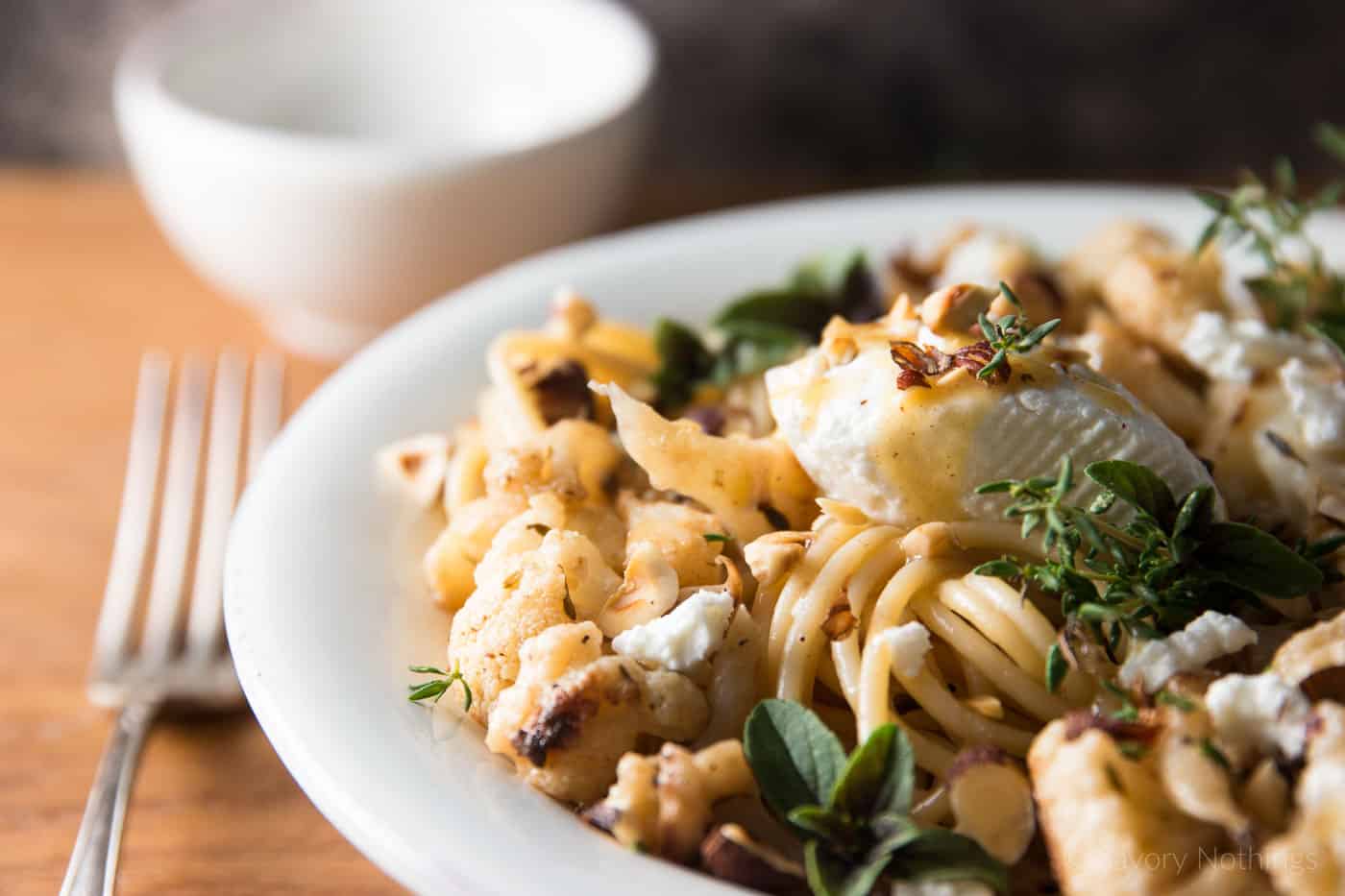 I have a confession to make: I despised blogging. I despised this blog. I didn't know where it was headed, what values I'd set for myself and even if I was that much in love with food and cooking as I had made myself believe.
The good news is: I figured it out. The bad news is: It took me almost three months to allow myself to do whatever I like best, but I'm glad I spent all that time on the process.
Though it still bugs me that I perused an entire summer to wonder if I'd ever find joy in cooking again. But alas – here I am.
This is raw honesty: We ate a lot of pasta during this transition time. Our daughter is now incredibly familiar with the boxes pasta comes in.
Not spaghetti because they're hard to chew with just two teeth, but anything else is a firm favorite. So much so that she can get very vocal about it until the cooked noodles are on her plate.
When I cook pasta I'm terrible with the timing, and not only because I have a high-volume distraction to deal with.
I'll either forget to cook the pasta, or forget that water needs a few minutes to come to a full boil as well. Other times I'll be convinced that the sauce I'm making takes just a few minutes.
Of course I promptly end up with a sad pile of cold noodles, all lumped together as one white-ish block of flour and maybe eggs, if I'm feeling fancy. Apparently you can't make a bolognese sauce in five minutes? Huh.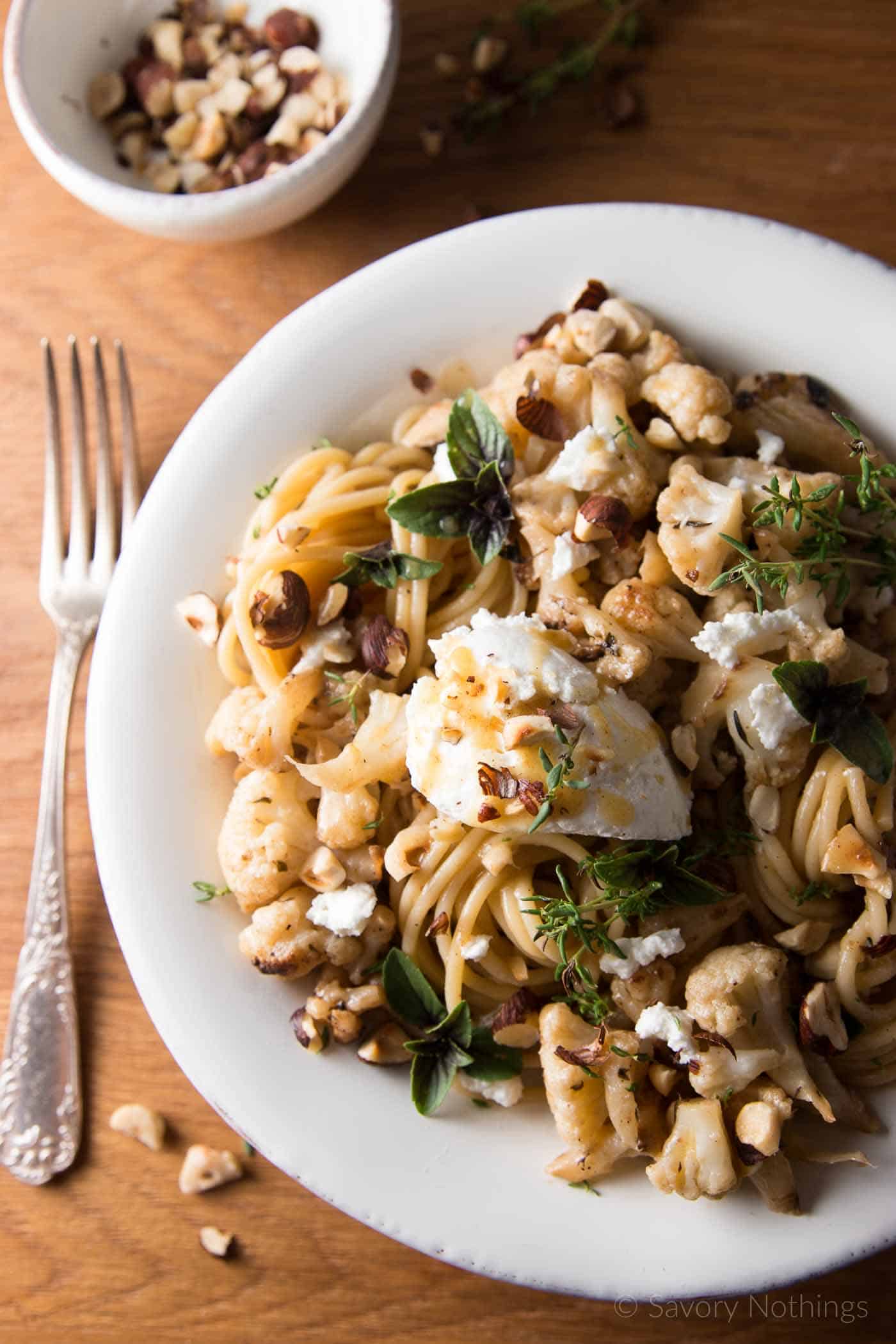 This particular recipe I'm sharing today is one that has accompanied me for a few years now.
You'd think this would have given me enough time to learn that the pasta water needs to be on the stove by the time the hazelnuts leave the frying pan. I'm repeating myself, but you'd really think.
I don't want you to get worried. If you're not like me, getting caught up in smelling the nutty browned butter, thus forgetting that spaghetti are an essential ingredient in your dinner, it really is a simple affair.
Toasting some roughly chopped hazelnuts in a dry frying pan until you can see them change color isn't hard. But do stick to medium heat and don't walk away to rearrange your furniture, because then they'll burn. I know this because I've done this.
Browning the butter follows a similar pattern, only watch out even more for head-turning smells. You really need the pasta here.
Use the same pan to roast the cauliflower while simultaneously cooking spaghetti. Try to focus on reserving pasta cooking liquid and not on the fact that Harry Potter's eldest son just started Hogwarts. Again, I've done this.
If you can master all of those steps and not forget to add the cheese in the end – congratulations. You have successfully surpassed me as a cook.
Even more importantly, you have made a pasta dish in 30 minutes that is so simple and yet so exciting to eat. The crunch of the hazelnuts, the soft cauliflower, the mellow brown butter. It just works.
And whatever you do, don't forget about the goat cheese. Never forget about the goat cheese. No.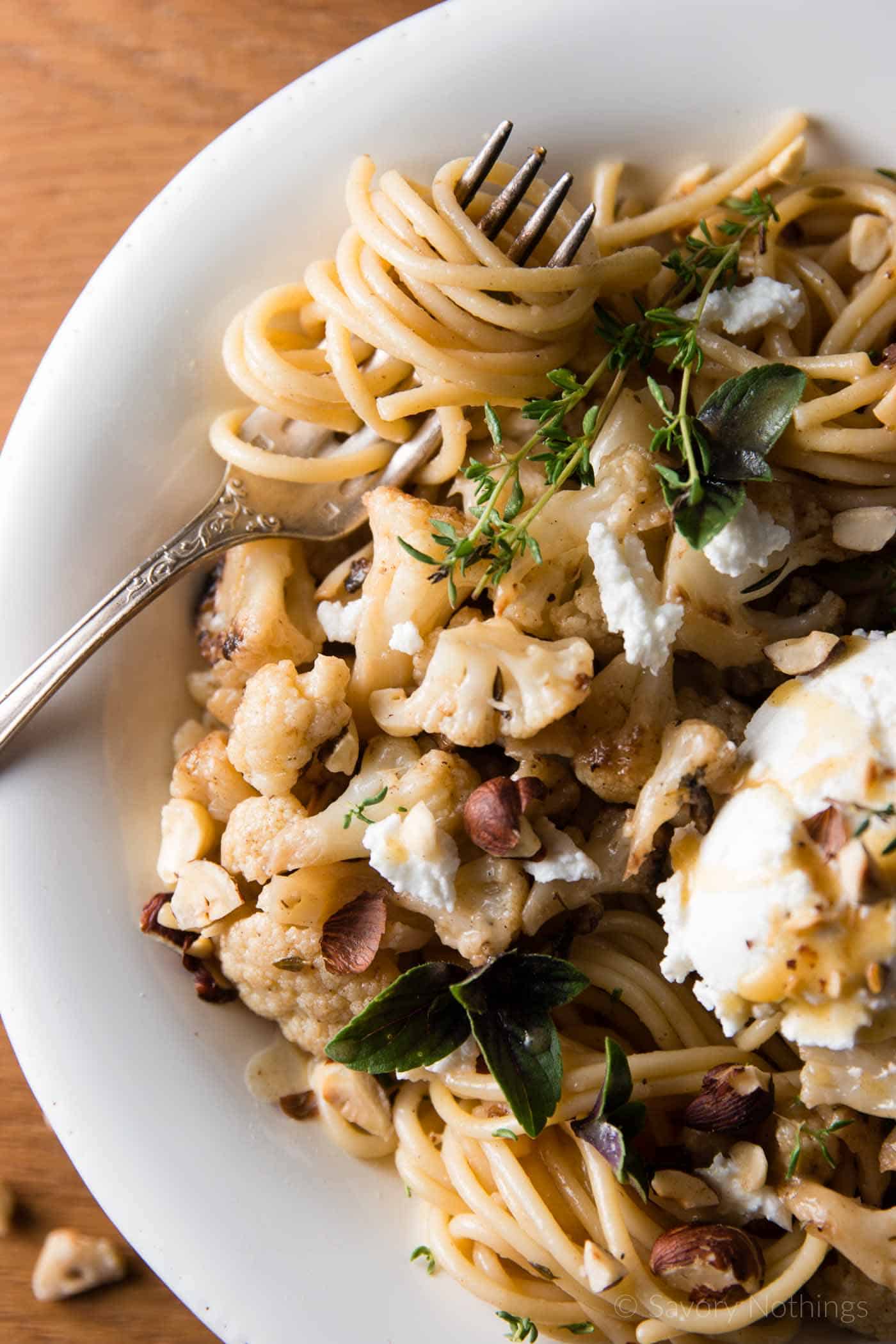 Hey, it's nice to be back.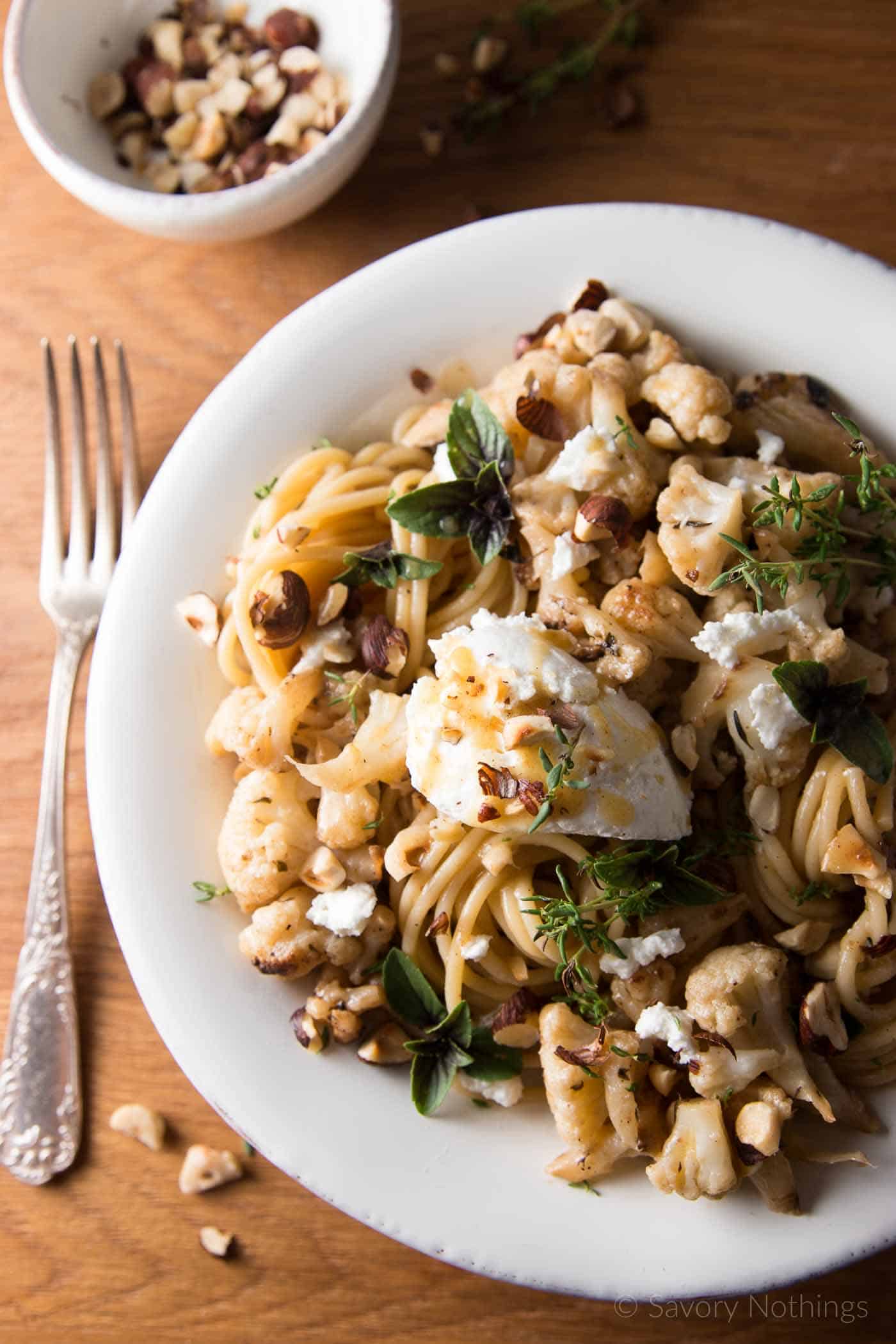 Ingredients
1/3

cup

hazelnuts

,

roughly chopped

4

tablespoons

butter

,

or more if you'd like

3/4

pound

spaghetti

1

clove

garlic

,

minced

1

medium cauliflower

,

broken into small florets

1/4

teaspoon

salt

1/8

teaspoon

ground nutmeg

2

fresh sprigs of thyme

Black pepper

1

ounce

white wine

1

ounce

parmesan

,

shredded plus extra for serving

Soft goat cheese

,

for serving
Instructions
Heat a large frying pan over medium heat. Add the hazelnuts and toast until they smell nice and are lightly browned, about 3 minutes. Remove and set aside.

Add 4 tablespoons butter to the pan and heat until golden brown in color and fragrant. You can use more butter and make as much browned butter as you'd like. Pour into a clean jar and set aside.

Start boiling the pasta water now and add salt and the spaghetti as soon as it's ready.

Put the frying pan back onto the stove and increase the heat to medium-high. Once hot, add the minced garlic and the cauliflower. Add the herbs and spices and roast until browned, about 5 minutes. Pour the white wine into the pan and stir well, scraping off any browned bits on the bottom. Allow to cook for a few minutes to boil off the alcohol.

Drain the pasta, reserving the cooking liquid. Add about 1 cup of the reserved liquid to the cauliflower. Depending on how firm you like your vegetables you might be done now, otherwise cover the pan and continue cooking the cauliflower for a few minutes.

Toss with the spaghetti, remaining 1 tablespoon butter and parmesan, adding more pasta liquid if needed. Serve with the hazelnuts, browned butter and soft goat cheese.
Nutrition (this is an estimate)
Nutrition Facts
Roasted Cauliflower and Hazelnut Spaghetti
Amount Per Serving
Calories 447
* Percent Daily Values are based on a 2000 calorie diet.
Thirty Minute Thursday
P.S: This recipe is part of the very first installment of a series called 30 Minute Thursday. I teamed up with a few talented bloggers to share a delicious recipe every first Thursday of the month. And because we know that feeding oneself (and possibly a family) while also living life can be hard, we're making it a case of full meals that are on the table in 30 minutes (or less!).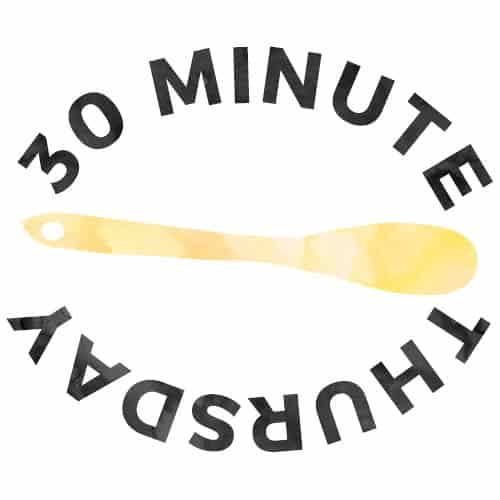 Here are 16 other quick and delicious meals to try in September:
One Pot Chicken Chow Mein from The Recipe Rebel
Honey Garlic Shrimp and Cilantro Lime Rice Bowl from Pumpkin 'N Spice
Easy Skinny Skillet Lasagna from Life Made Sweeter
Kale Caesar Salad with Lemon Parmesan Chicken Strips from Sweet Peas and Saffron
30-Minute Summer Vegetable Tostadas from She Likes Food
Stovetop Broccoli Chicken Mac 'n' Cheese from Whole and Heavenly Oven
Spicy Chili Garlic Grilled Trout from Bake.Eat.Repeat
30-Minute Creamy Pesto Tortellini Skillet from Flavor the Moments
Crunchy Couscous Sweet Potato Salad from Sweet and Delish
30-Minute Chicken Cacciatore from A Latte Food
Pumpkin Penne with Sausage and Sage from Flying on Jess Fuel
30 Minute Smoked Turkey Sausage Tortellini from Mariah's Pleasing Plates
Baked Corn, Mushroom and Sausage Risotto from Floating Kitchen
BBQ Chicken Sliders with Cheddar and Spinach from Kristine's Kitchen
Italian Sausage Quesadillas from My Sequined Life
SaveSave