Are you feeling overwhelmed with what newborn baby clothes to buy? Here's the truth: You actually need much less than you might think – having too many newborn clothes isn't just a waste of money, it's also clutter-headache provoking!
When I was pregnant with Em, I immediately wanted to buy all.the.cute.clothes I saw at the store.
I guess what saved our bank account back then is the fact that I'm not the type to easily spend money. Actually, Brani is the shopping queen around here 😉
I ended up buying some things second hand, some things new and I got a LOT of used clothes from my sister in law, my mother, my aunt… Basically everyone who had a baby within the last ten years.
And I ended up with SO many clothes, I had no idea where to put them all.
Because Em was my first, I had no clue what she'd actually need. I imagined having to change her seven times a day, because that's what TV makes us believe. Or at least I'm that impressionable.
And when the young lady was born? It's not like she wanted to be dressed in anything at all.
There was this adorable chunky hoodie with an owl on it, and I had actually bought it in two sizes because it was just so goshdarnadorable. Yeah. Try to convince a newborn to wear a hooded sweater with no zipper and tell me how that goes for you.
In fact, most of the clothes I had for the first six months ended up not being used. Ever. Instead, I had a huge pile of clothes I was constantly frustrated with.
My head doesn't handle clutter very well, so knowing it was there was enough to drive me crazy at times. And I constantly felt like I had to dress Em in something different just to use everything I had, when she really just wanted to wear her favorite baby joggers and be done with it.
This time around I smartened up. I gave away all the clothes I never used with Em to pregnant friends or charity, or threw them out if they were clearly not made to be worn by a baby. I invested in a few smart pieces I knew I'd really need and didn't have when Em was a newborn.
Not only do I feel so much better, I also feel more prepared. I have everything I know I'll need for the first few weeks and nothing more. And there's not a single item that will make my baby feel uncomfortable.
Before I move on to the newborn capsule wardrobe, here is what I learned about what newborn baby clothes you definitely DON'T need:
1. Absolutely nothing to pull over tiny heads
Seriously, nothing. Not. One. Thing. It will be a waste of your time to wrestle a newborn into even a normal bodysuit.
They hate having their arms pulled, but their heads? It's a scream-festival waiting to happen.
I didn't have many side-snap bodysuits and tops for Em, but this time that's the only things I have for my newborn. Em was usually dressed in a bodysuit plus a cardigan, so I didn't have to bother with pull-over-that-fragile-head tops.
2.  Nothing very chunky or with a big hood
Actually, this can be dangerous. It's so easy to dress your newborn too warm, which is a bad thing to do.
And they can stick their face into chunky hoods, which was reason enough for me to immediately throw out the two thick hoodies I had gotten for Em.
I did have a more lightweight hooded jacket for her as a newborn, but I only let her wear it when she was lying in her pram and I always had my eyes on her. Lighter zip hoodies were fine after around 3 months as well.
3. Not too much of anything
You'll be doing laundry anyways, and baby clothes don't take up a lot of space (the pain is more in hanging them on a clothes line).
Plus, you won't even know if your baby will fit into newborn clothes. Or for how long. Or if they naturally tend to be hotter or colder (P.S: always check baby's temperature in the neck, not their forehead or hands).
4. Baby jeans look cute, but that's about it
I didn't put anything but leggings and soft joggers on Em until she was about 6 months old (and it's not like I didn't have any). The next step was baby jeggings, so that doesn't even really count. I think she wore her first jeans overalls after about a year.
So stock up on the softest pants you can find and forget about the rest for a while. Pay attention to soft elastic around the tiny belly, your newborn might be plagued by colics enough as-is.
Also: My mom knitted that blue cardigan above. How amazing is she?!
5. Headbands for newborns
No, please don't do it. Shout at me all you want, but the truth is that your new baby girl won't really appreciate it, even if she can't tell you. And you don't need a headband to declare to the world that this little thing dressed in pink is most definitely not a boy. People will ask anyways.
Trust me, the time for headbands will come soon enough. But your newborn? Will poop at you for it.
6. Baby shoes are for babies who walk
Imagine this: Your baby just spent 40 or so weeks naked in your womb. I imagine newborns think along the lines "Seriously, mom? Just go away with the Converse."
Babies love when their feet can touch. And when it's warm enough they love even more to show off their chunky thighs.
I didn't have anything but socks for Em until she was standing up. (You got me, of course I had cute baby shoes. But the lady made sure she never had to wear them.)
Now that you're cursing me because I told you what you shouldn't spend your money on, let's move on to what newborn baby clothes I have in my dresser this time around:
6 side-snap bodysuits
6 pairs of soft pants
6 zip-up or button-up PJs
2 soft overalls that don't need to be pulled over heads and that button up along the legs for quick diaper changes
2 cardigans
1 jacket
2 thin hats
4 pairs of socks
If you have your baby during colder weather, you might want to invest in a warm overall, thick socks and a warm hat. And probably in 6 kimono long sleeves. And if you have your baby during summer, consider leg warmers instead of some of the pants.
It can be hard to find exactly what you need, so here are some of my top picks for your newborn capsule wardrobe: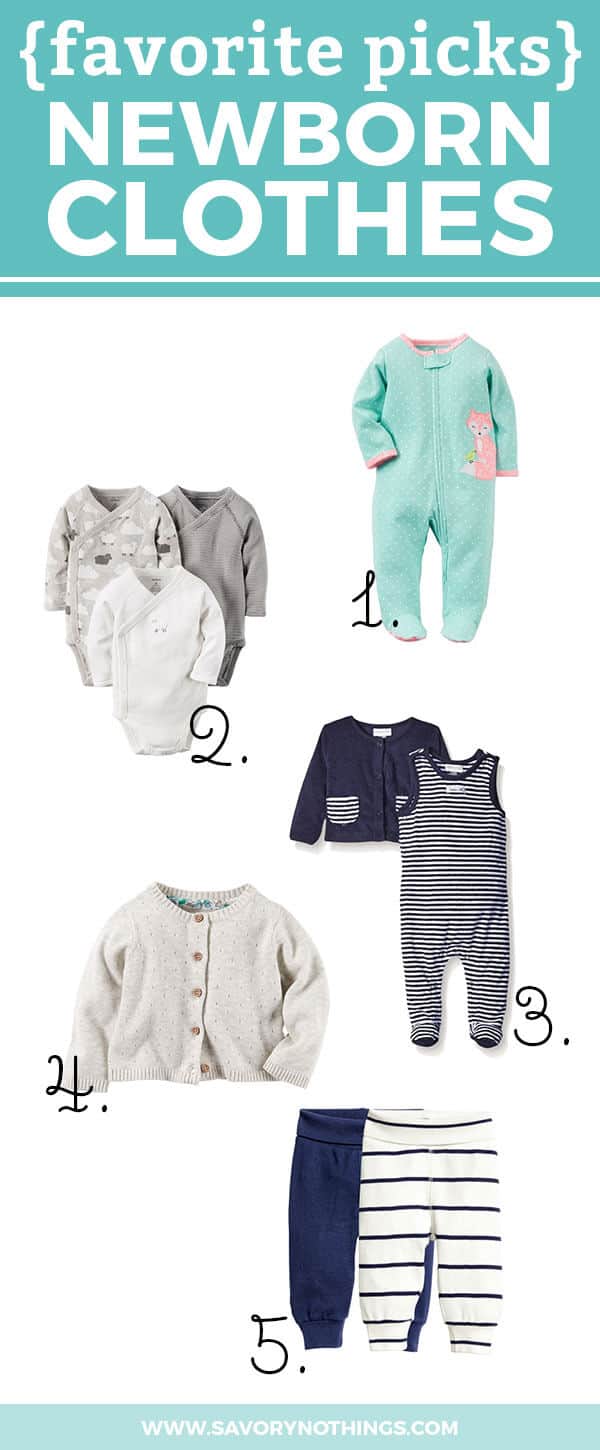 This might look like a scary small list of things – but that's totally OK.
Babies only get dirty when they spit up on themselves or produce a diaper explosion. And honestly: You'll probably want to wash those soiled clothes pretty soon anyways.
Now I know how hard it is to believe in this when you're a first-time expecting mom. It's not like my sister-in-law didn't tell me when I was pregnant with Em. I just wish I had taken her advice.
It sounds downright ridiculous, but I really feel my life is so much easier with only practical baby clothes:
Even though I didn't spend a fortune, I could have spent way less on baby clothes with Em. If you don't buy too much, you can even splurge on that one super cute PJ you really want to have without feeling bad. And it's a great relief when you're on a budget and need to get newborn baby clothes on the cheap.
I don't have a storage problem! The newborn capsule wardrobe doesn't even take up an entire drawer. What, hanging baby clothes in a closet? Never in a million years would I have the nerves for that. Easy storage is my secret sauce to a tidy home.
I'm not going to make my baby uncomfortable. Being born is hard enough, no need to make it even harder with impossible-to-put-on clothes. And being a new parent is hard enough without the additional screaming while being put into scratchy pants, by the way.
There's so much about parenting I don't know. But if I know one thing it's this: My toddler definitely needs way more clothes now than she did as a newborn and baby.
Let yourself save the money on those tiny clothes – your baby will grow out fast enough for you to have to do some more shopping.
Because I know what pregnancy brain feels like, I created a shopping list for you to download . Print it, save it to your phone, whatever you like best. And when you stuck to not over-buying, pat yourself on the back and eat some chocolate as a reward.
Then spend the money you just saved on a gorgeous new necklace for yourself. Only you probably won't be wearing it for a while, because that cute baby? Loves anything that sparkles.
Please note that this post may contain affiliate links. If you buy something through them, I'd get a small commission at no extra cost for you. Thank you for supporting Savory Nothings ♥︎