Cooking Tips:
Trimming the green beans: If you're using fresh beans, use kitchen shears to trim them in bunches. So much faster and easier than doing it with a knife!
Blanching the green beans: Blanching means you'll only cook the beans for a couple of minutes, then lift them out with a slotted spoon and place them straight into a bowl filled with ice cold water.
This helps to make the green beans soft without having to sauté them until they are black on the outside. It also helps them keep their nice green color!
But you can sauté green beans without blanching - so just skip it if you're OK with firmer beans. I don't mind a bit of crunch, but if you want your beans to be soft all the way, you pretty much have to cook them in salted water first.
Sautéing: Make sure to use medium heat, or the beans will blacken on the outside and stay too firm on the inside.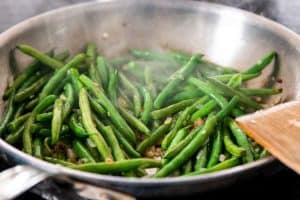 Seasoning: Our favorites are a pat of butter, some lemon juice and mustard – but feel free to adjust this according to your taste!
Ingredient Notes:
Green beans: Either use fresh ones, or use frozen. I still blanch frozen ones to flash-defrost them. If you sauté from frozen, they release a lot of water and tend to come out soggy.
Onion and garlic: If you don't have these fresh on hand, you can use 1/2 teaspoon of onion powder and 1/2 teaspoon of garlic powder instead. I've been doing the same lately because of a picky eater, and the beans still taste delicious.
Mustard: If you're not a fan of mustard, just leave it out. You can also use prepared mustard instead of wholegrain mustard if you don't have it.
Butter: If you want to make this dairy free or ar otherwise opposed to butter (don't know why you would be, but to each their own ;-) ), you can just use olive oil instead.
Extras: Feel free to add chopped bacon for extra flavor and deliciousness. I often do this, but I wanted to keep the recipe as simple and basic as possible. Just cook it together with the onion and garlic.
You can also sprinkle fried onions over the top in the end.
How to use leftovers:
If you have leftovers after a big holiday meal, just cover and refrigerate the beans for up to 2 days.
I like them either dressed as a salad (some favorite homemade salad dressings that work well are my Honey Mustard Salad Dressing or my White Balsamic Vinaigrette).
OR chop them up and add them to a soup, pot pie or anything you're making with your leftover turkey ;-.)