It's quick and easy to make a classic Quiche Lorraine at home with just a few simple ingredients. It's perfect for a light lunch or to serve at a holiday brunch!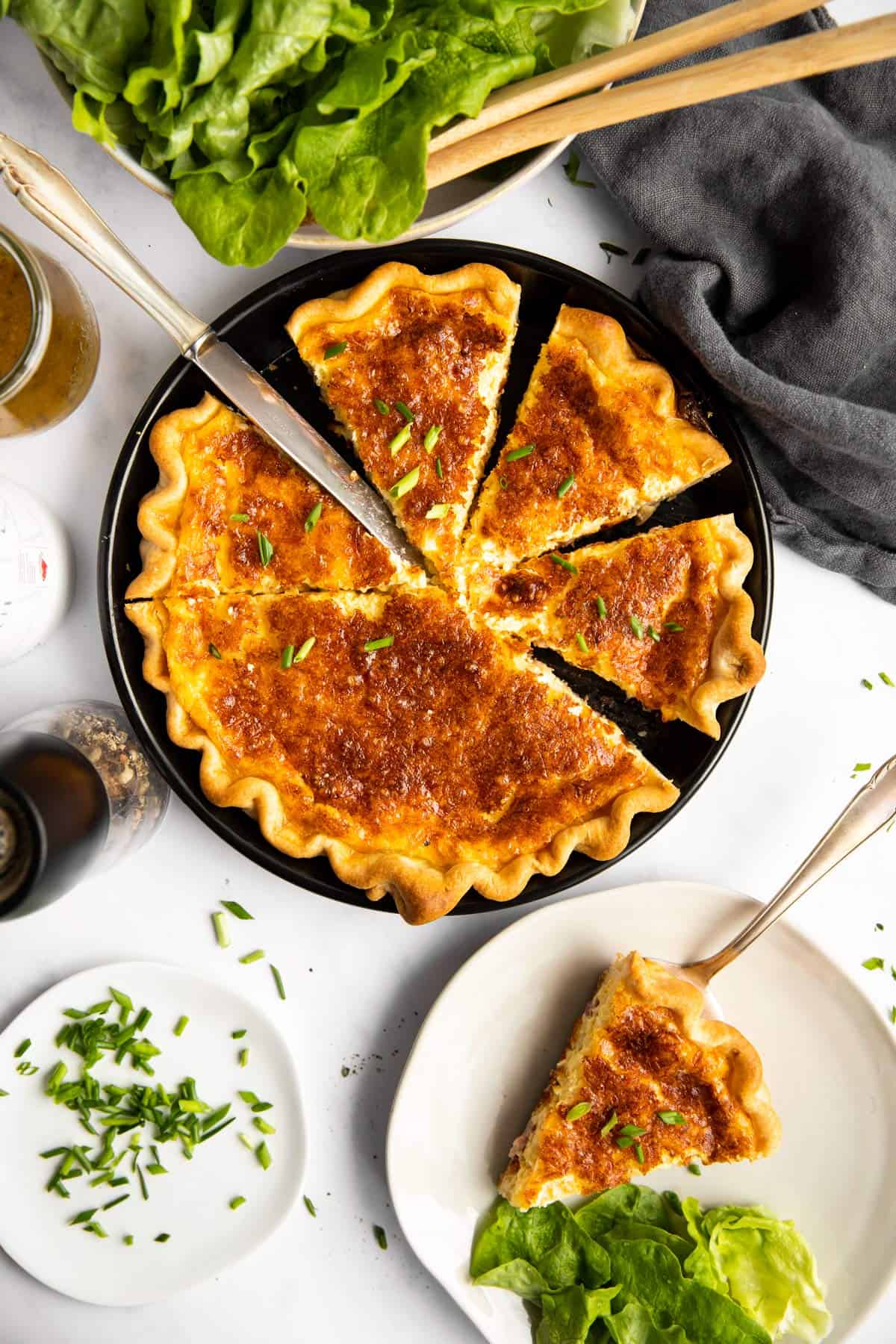 I don't know about you, but I LOVE a good quiche. Granted – my kids? Not so much. They call it "French Pie" and generally don't believe in savory pie. Oh well, more for the parents ?
Classic Quiche Lorraine is something I've always loved about France, and I often make it when we host a festive breakfast. It's especially great for an Easter brunch. And If you have leftover ham after Easter? Just make it with diced ham instead of bacon!
Jump to:
? Full Recipe Video
? Step by Step
1 Fit rolled out pastry into pie dish, fold edge over, crimp and prick the bottom a few times with a fork. Blind bake with the help of dried beans OR pie weights.
2 Brown bacon and onion and spread in the pre-baked pie crust. Sprinkle with the cheese.
3 Whisk eggs, cream and seasoning together until smooth. Evenly pour into the pie crust. Now just bake, and your quiche is done!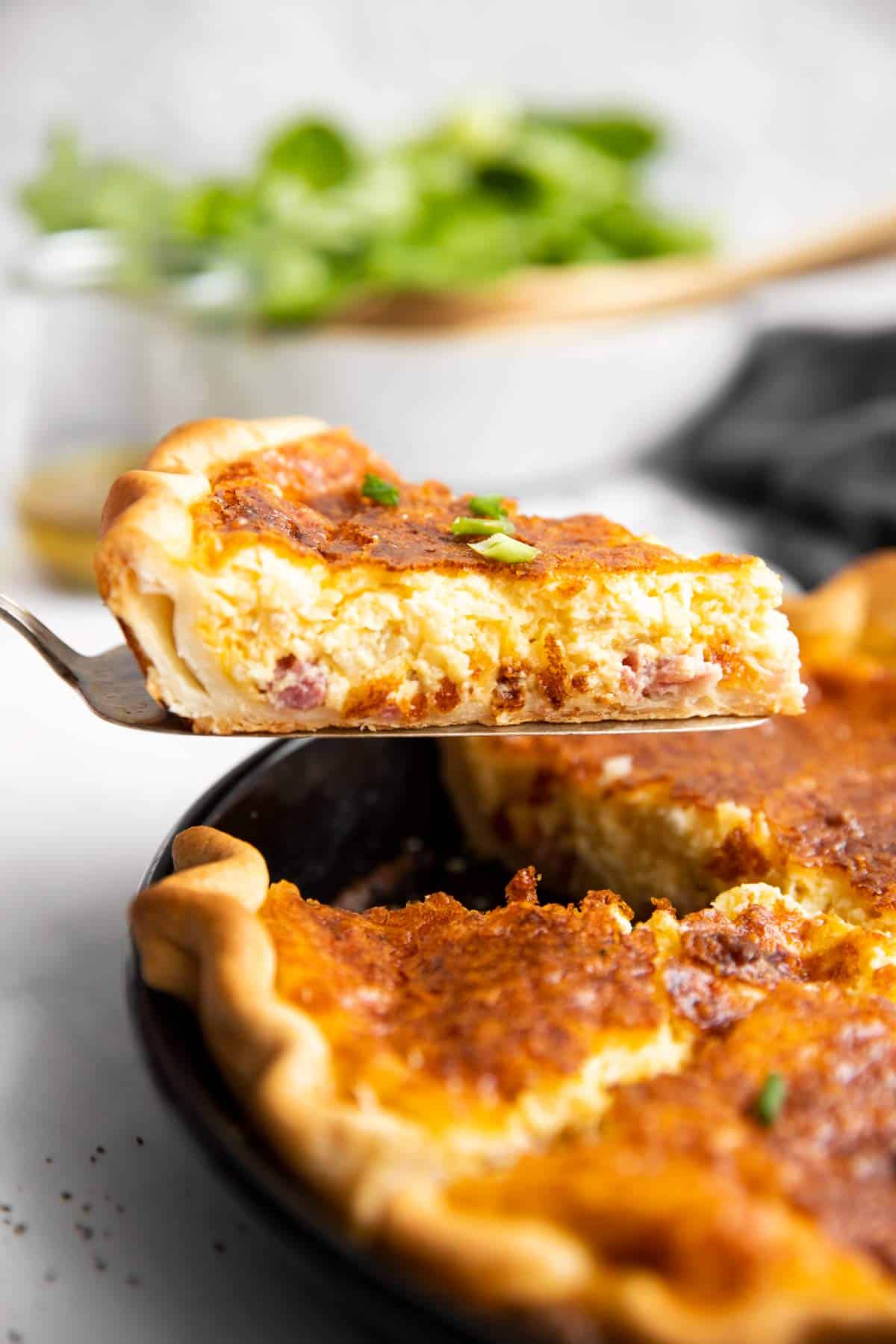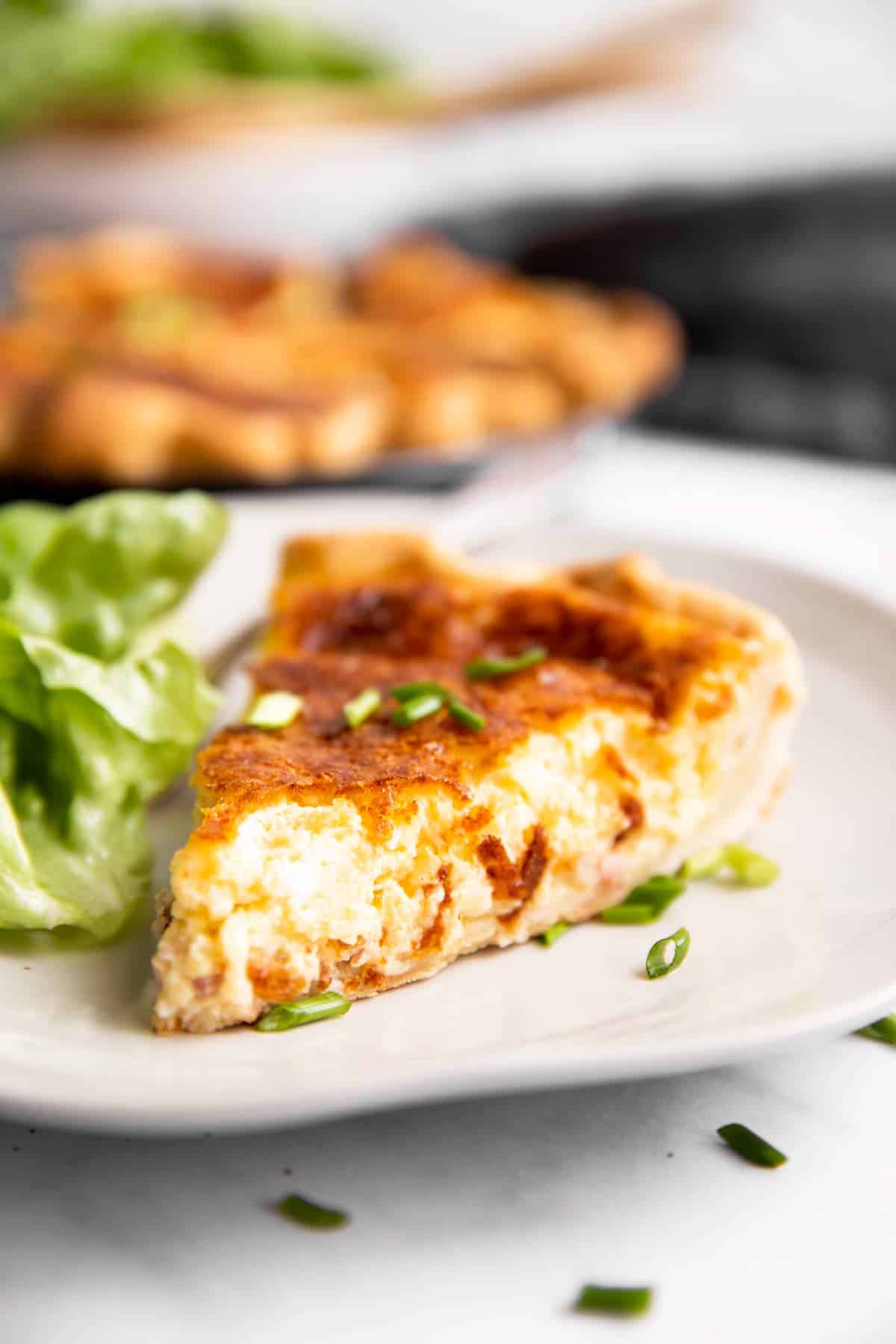 We enjoy a big, green salad on the side of our quiche. I also like to sprinkle on some chives or sliced green onion for some fresh flavors!
The completely cooled quiche keeps well wrapped in foil in the refrigerator. I keep it for no longer than 3 days. It also reheats well in the oven or microwave! Bon appétit ?? ☺️
Printable recipe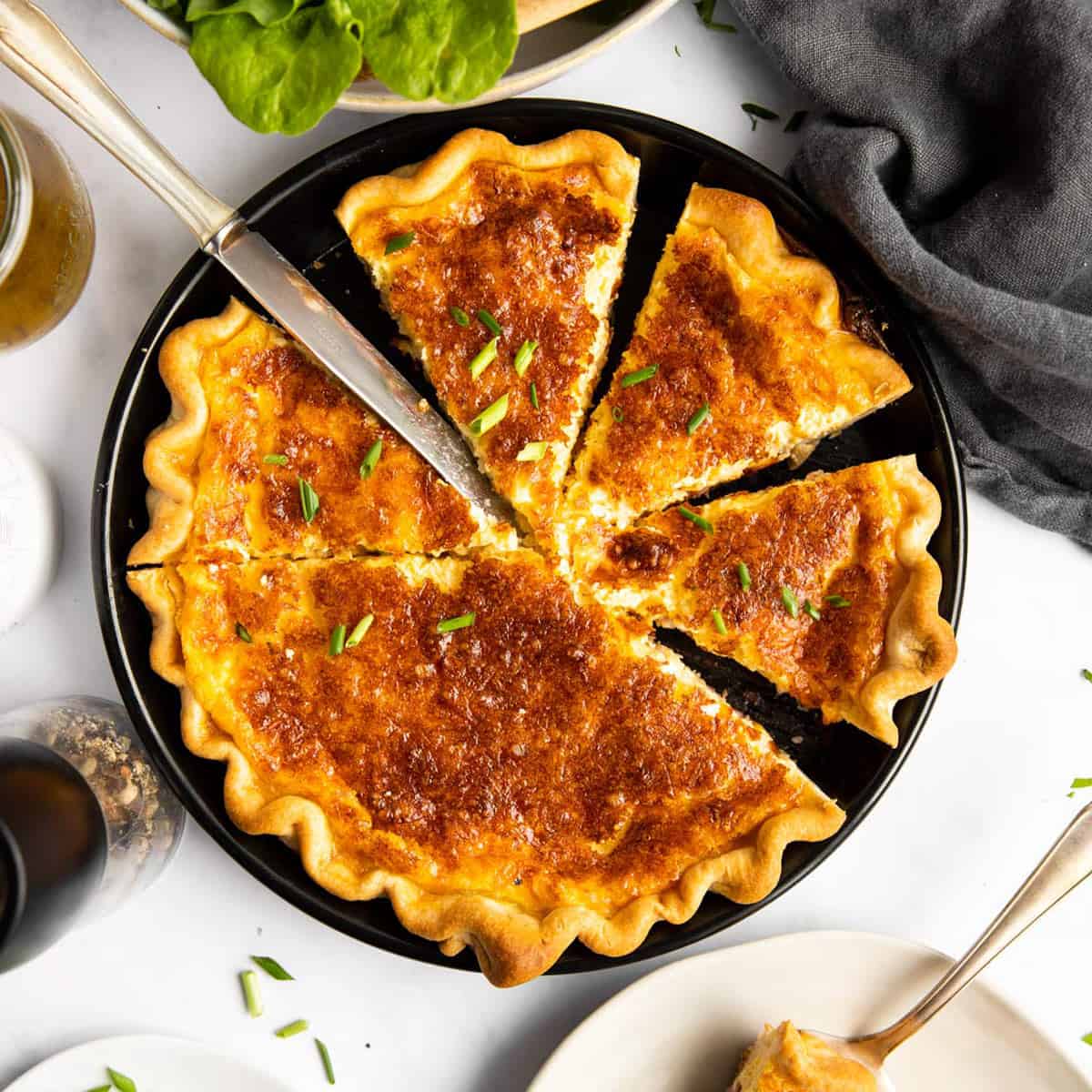 made it? tap the stars to add your rating!
Make this easy quiche recipe for your next holiday brunch – it's quick to prep and can be made ahead!
Ingredients
1

(9-inch)

pie crust

(or rolled out pie crust to fit a 9-inch plate)

3

oz

diced bacon

1

onion

(finely chopped)

2

cloves

garlic

1

cup

shredded Gruyère cheese

(or another sharp cheese you enjoy)

3

large eggs

1

cup

cream

¼

teaspoon

salt

1

pinch

ground nutmeg

ground black pepper

(to taste)
Instructions
Blind bake pie crust: Heat oven to 420°F. Fit crust into a greased 9 inch pie plate, folding and crimping the edge. Prick the bottom a few times with a fork, then line top of crust with parchment paper and add dried beans OR pie weights. Blind bake 8-10 minutes on a baking sheet on the lower-middle rack. Once done, remove from the oven and set aside on a cooling rack. Leave the oven on and the baking sheet in the oven (this helps to achieve a well-browned bottom of the quiche).

Bacon and onion: In the meantime, brown bacon well in a skillet over medium-high heat. Add onion and garlic and sauté for a few minutes. Spread in the blind-baked pie crust. Evenly scatter the cheese over the onion/bacon.

Egg mixture: Whisk together eggs, cream and seasoning in a measuring jug. Evenly pour into pie crust.

Bake: Place the quiche on the hot baking sheet in the oven. Reduce oven temperature to 400°F and bake the quiche for around 35 minutes, or until deeply golden-brown (the filling will puff up, that's normal and will go down again as the quiche cools). Cool on a rack for at least 15 minutes before slicing to serve.
Add Your Review
More recipe information
Join my Newsletter to Get Recipes in Your Inbox
PS: If you want a quiche with a bit more greens, I also have a delicious Spinach and Bacon Quiche recipe!