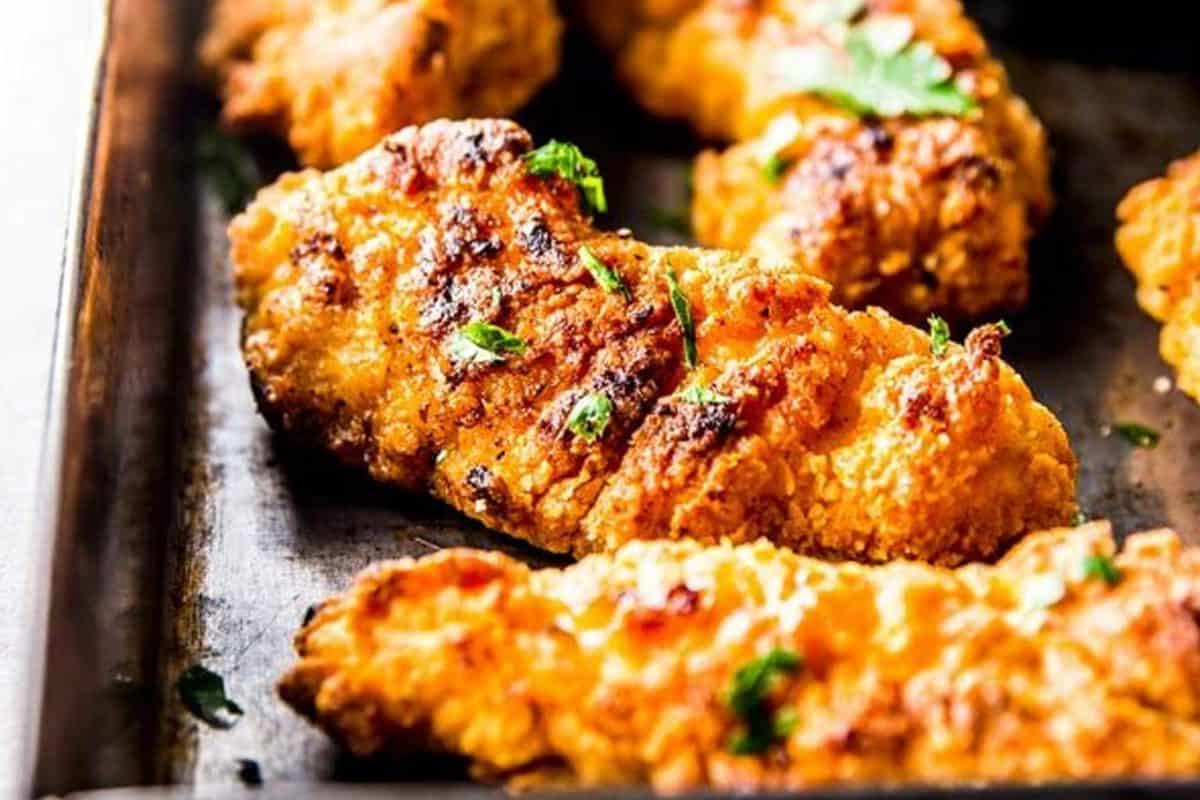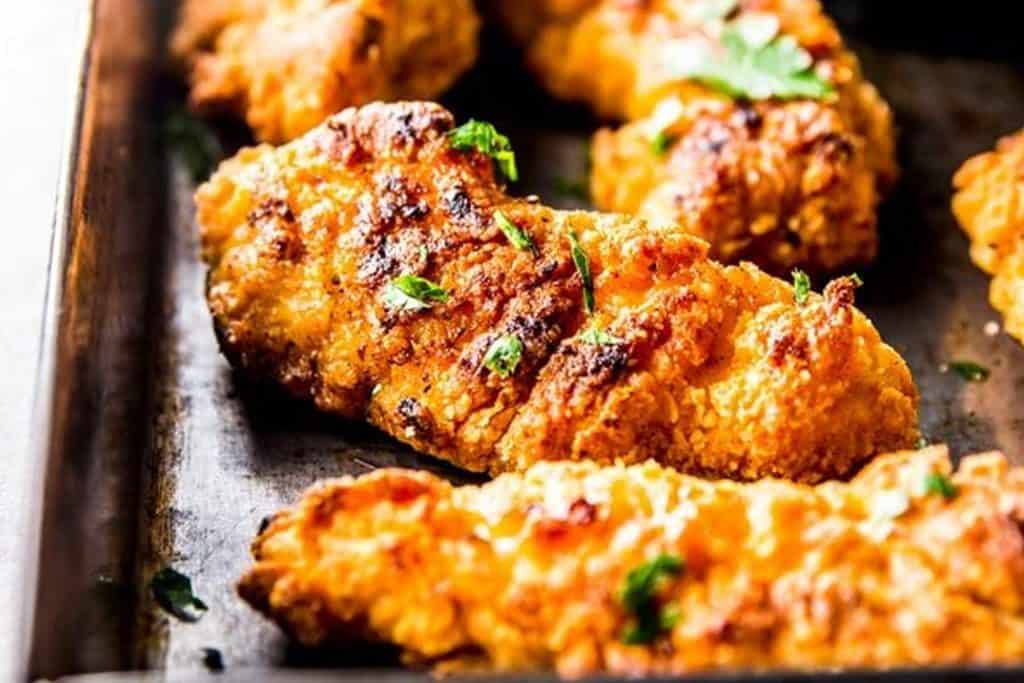 made it? tap the stars to add your rating!
I make this Garlic Parmesan Crispy Oven Fried Chicken whenever I crave crispy chicken but don't feel like getting takeout! (I actually think this tastes better than KFC, but I mgiht be biased…) My recipes makes the BEST golden breading that actually sticks to the chicken. I've been using this method for about a decade and convinced even the most hardcore fast-foodies that baked chicken can be truly wonderful 😉
Recommended Equipment:
2 Medium Mixing Bowls

roasting pan (dark colored)
Ingredients
For the Dry Mix:
1

cup

white flour

⅔

cup

grated Parmesan cheese

4

tablespoon

bread crumbs

1

teaspoon

baking powder

1

tablespoon

salt

2-3

teaspoon

garlic powder

1

teaspoon

ground paprika

1

teaspoon

onion powder

½

teaspoon

ground black pepper
For the Chicken and Pan:
2

pounds

chicken tenders

⅓

cup

butter
Instructions
Prep: Preheat the oven to 410°F (210°C). Place a dark-colored roasting pan (a baking tray works as well) in the oven to heat up.

Prepare egg mix: In a medium bowl, whisk together the eggs and the buttermilk.

Prepare dry flour mix: In a separate bowl, mix the flour, parmesan, breadcrumbs, baking powder and seasoning together.

Bread chicken: Dip the chicken pieces in the flour mix, coating evenly and shaking off any extra flour.

Next, coat the chicken pieces in the egg mixtures.

Then, dip them into the flour again, this time coating very well.

Bake: Take the baking tray out of the oven and melt the butter on it. Place the coated chicken pieces on the tray. Bake for 10-12 minutes, carefully flip and bake for another 5-10 minutes (depending on how thick your chicken pieces are). Finish by broiling the chicken until it turns golden brown and crispy.
Add Your Review
Step by Step Recipe Video
Nora's Tips
Cooking Tips:
FOLLOW THE INSTRUCTIONS FOR BREADING EXACTLY
How do you bread chicken? It's not just a simple case of dipping the chicken pieces into flour here! You really want the breading to form a crust on the chicken, because that's the best way to get TRULY crispy oven fried chicken!
Here's how it works:
One bowl gets egg and buttermilk, a separate bowl gets flour, parmesan, breadcrumbs, baking powder and seasoning (and YES, it needs a lot of seasoning – unless your salt is very strong, in which case you can cut it in half).
Don't mix them all in one bowl as a batter, because that simply won't stick to the chicken in the oven!
Then it's dipping the chicken pieces in the following order:
1. FIRST into the dry ingredients,
2. then into the egg mix,
3. then AGAIN into the dry ingredients!
That way you get a thick layer that really coats the chicken – yum.
USE A DARK PAN
This one is VERY important.
A dark pan reflects heat differently than a white or silver colored pan would.
To get the perfect crisp, I've found it's crucial to use my dark pan. I use a deep roaster kind to minimize butter splatters in my oven!
I have an oval one(FIY, that's an affiliate link and I make a commission for purchases made through it) similar to the one you can find here on Amazon, it's great for whole roast chicken, too!
I also PREHEAT the pan before I add the chicken, that way it turns out extra-crispy!
FOLLOW THESE STEPS FOR BAKING:
The right baking is important to get the crispiest, most golden chicken.
How long does it take to cook breaded chicken in the oven? It takes around 20 minutes to cook breaded strips of chicken breast in the oven.
Thicker pieces (like drumsticks or bone-in thighs) take about 30 minutes. To be safe, make sure the internal temperature of your chicken reads 165° Fahrenheit at the thickest part.
Flip the chicken halfway through baking, and finish it under the broiler for 3-4 minutes to get it extra-crispy.
Instructions for Reheating Leftovers:
If you have more chicken than you can handle, and you want to eat the leftovers a day or two later, you can easily re-heat it in the oven.
It will crisp back up if you follow my method I shared here, but it will not be as juicy as when you first make it.
Still, it's a great way to reheat any kind of fried or oven fried chicken!
If you want to keep extra chicken for longer, you might want to freeze it:
Freezer Instructions:
Yes, you can.
You can both freeze it BEFORE baking, and AFTER baking.
If you freeze it BEFORE baking, place the raw breaded chicken pieces on a parchment lined baking sheet without touching. Flash-freeze until solid for a few hours, then transfer to a freezer bag.
To cook, place the frozen chicken pieces on the hot, buttered baking pan and bake for around 20 minutes. Flip, then finish baking for 10-15 minutes, or until the internal temperature reaches 165°F at the thickest part of the chicken.
If you freeze it AFTER baking, let it cool completely. It's a good idea to also flash-freeze it baked on a lined baking sheet until solid (otherwise the breading could fall off). Then transfer to a freezer bag.
To reheat, place the FROZEN chicken pieces on a wire rack. Bake at 400°F for around 20 minutes, then flip. Finish baking for another 10-20 minutes, or until crispy and heated all the way through.
WHILE THIS RECIPE CAN BE FROZEN, PLEASE REMEMBER TO DO THE FOLLOWING:
Wait for the cooked chicken to cool completely before freezing it (otherwise your freezer could heat up too much and affect the other frozen goods in there).
Use a container or bag that is suitable for freezing.
Label the bag or container with the contents, today's date AND the use-by time.
Do not use previously frozen chicken if you're planning on freezing this recipe. Only use fresh chicken!
Finally, please make sure your chicken is properly heated and piping hot all the way through when you cook it after freezing!
SO… WHAT SIDES GO WELL WITH OVEN FRIED CHICKEN?
There are SO many ways to serve fried chicken!
HERE ARE A FEW SIDES WE ENJOY WITH THIS OVEN FRIED CHICKEN::
Nutrition
Calories:
457
kcal
|
Carbohydrates:
24
g
|
Protein:
42
g
|
Fat:
20
g
|
Saturated Fat:
10
g
|
Cholesterol:
191
mg
|
Sodium:
1698
mg
|
Potassium:
752
mg
|
Fiber:
1
g
|
Sugar:
2
g
|
Vitamin A:
744
IU
|
Vitamin C:
2
mg
|
Calcium:
217
mg
|
Iron:
2
mg
More recipe information
Join my Newsletter to Get Recipes in Your Inbox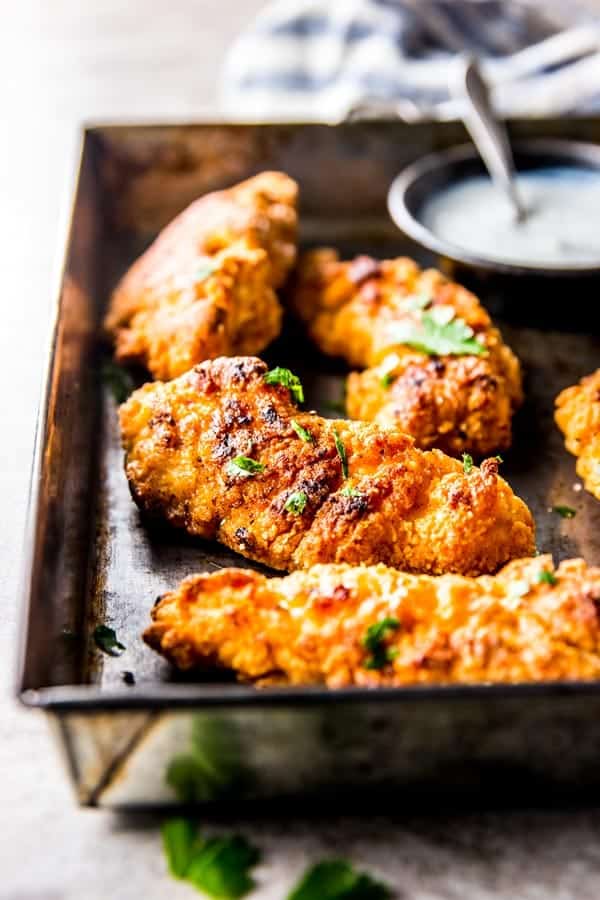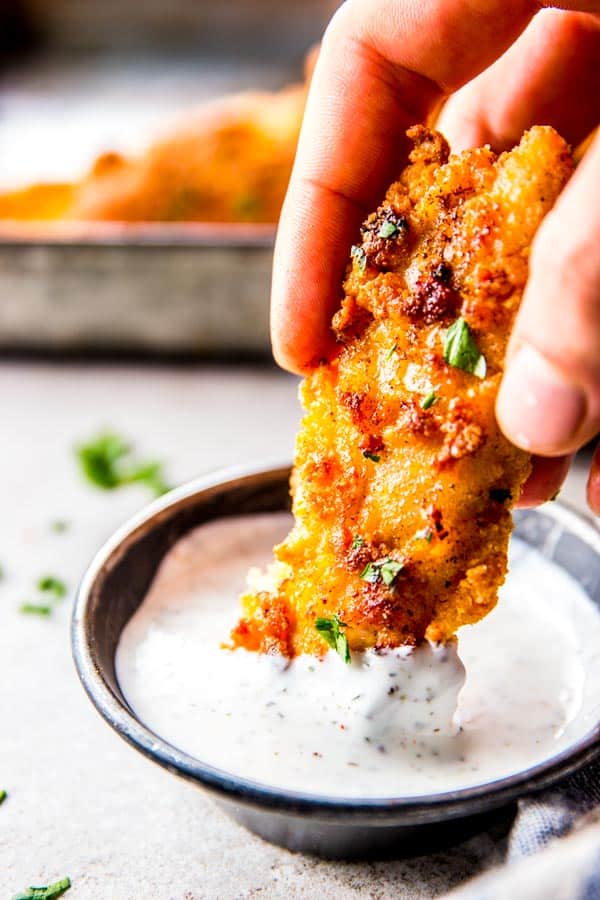 More Recipes to Love:
Or browse all of my oven fried chicken recipes!