This Cornmeal Oven Fried Chicken gets SO crispy, all without deep frying! The ultimate comfort food made healthier.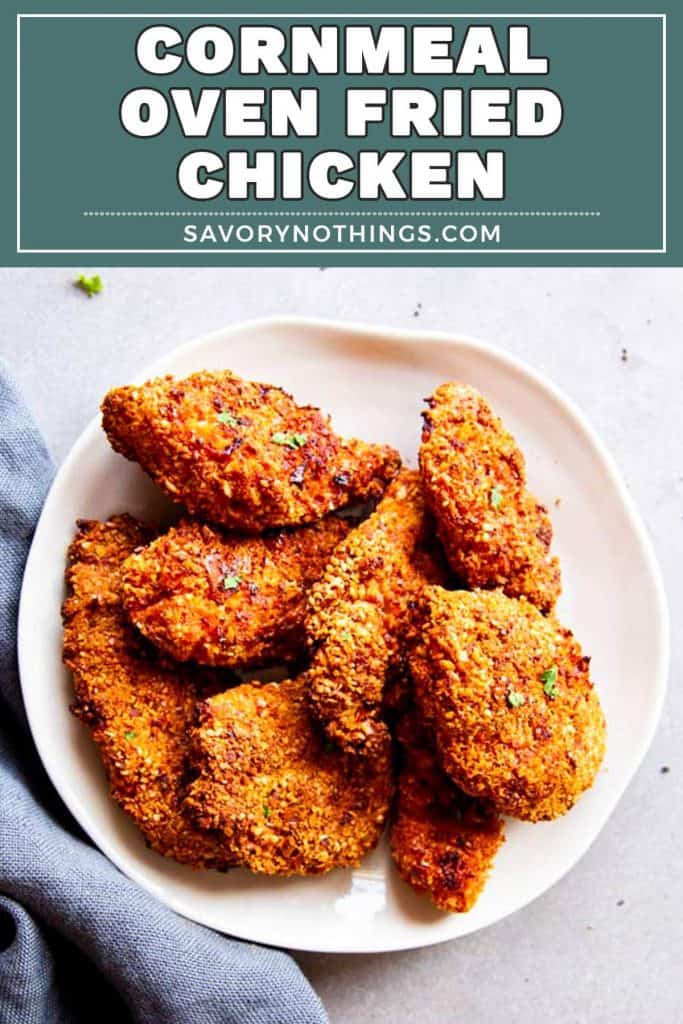 You know I'm all about the oven fried everything.
From plain Oven Fried Chicken to Oven Fried Shrimp Tacos and Oven Fried Fish – it's one of my absolute favorite things to make!
Over the years, I have perfected my method. I can oven fry anything with my eyes closed (yes, a skill to be proud of, indeed).
But on my older daughter's last birthday, I realized I was out of breadcrumbs right as I was getting started on dinner (oven fried chicken is her favorite thing in the world, I raise them well ?).
So… I used cornmeal instead. MIND = BLOWN! And ever since I've been wanting to share this recipe:
Crispy Oven Fried Chicken with Cornmeal Crust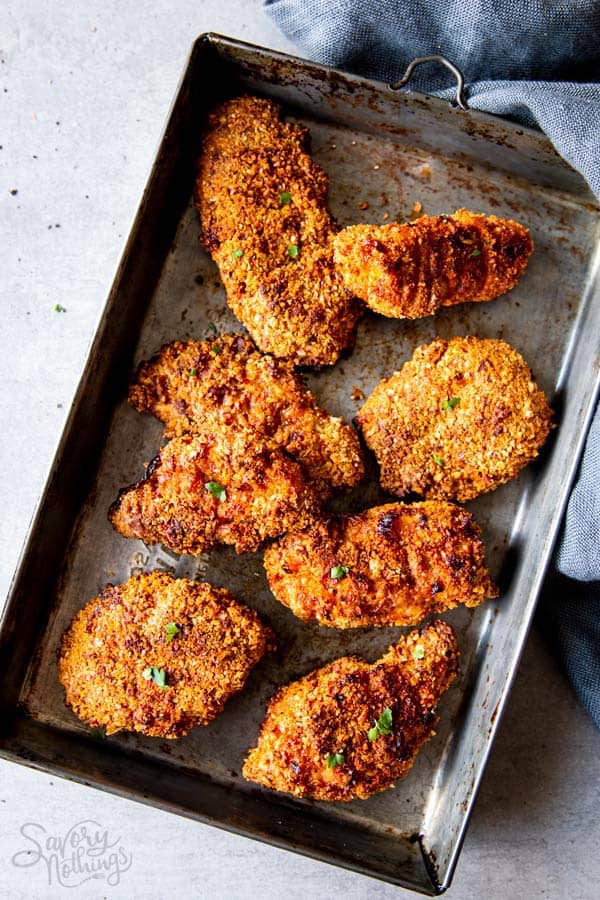 When I tried that cornmeal crust on a whim, honestly… I didn't know if it would work out.
I was pretty relieved when it came out of the oven golden-brown and perfect, and I hadn't ruined my daughter's birthday dinner ?
How to Make Oven Fried Chicken with a Cornmeal Crust: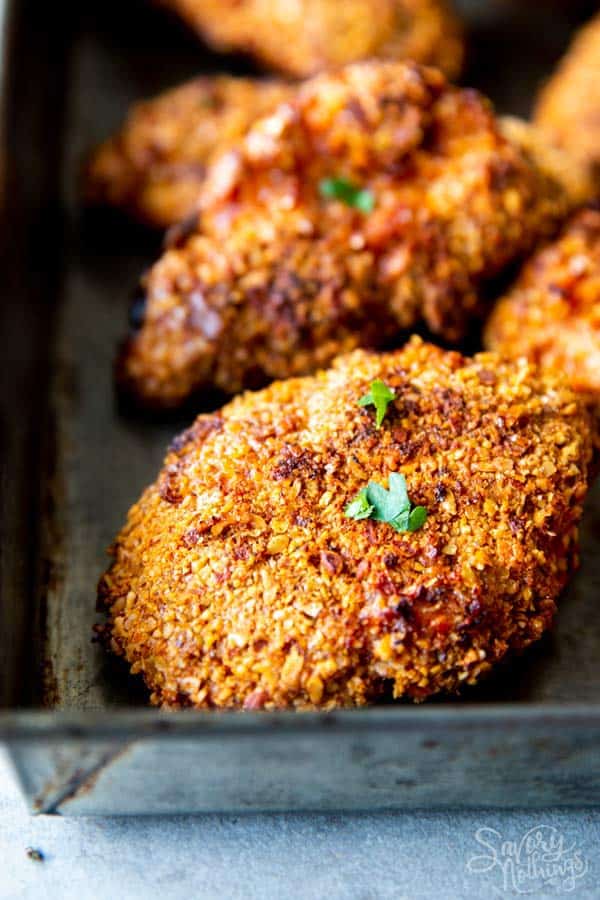 How to bread chicken to oven fry:
One of the most important parts of this recipe is the breading.
It's absolutely crucial to stick to the exact breading method, or it will not stick to the chicken properly:
Dip the chicken in a cornmeal, flour and seasoning mix for a thin coating.
Dip the chicken in beaten egg and buttermilk.
Coat the chicken with the cornmeal mix again, but this time with a thick coat.
This will ensure your breading sticks to the chicken.
There's a little baking powder in the cornmeal mix, too. This helps to kind of puff up the breading so the juices from the chicken don't make it soggy during baking.
But how do you make crispy "fried" chicken in the oven?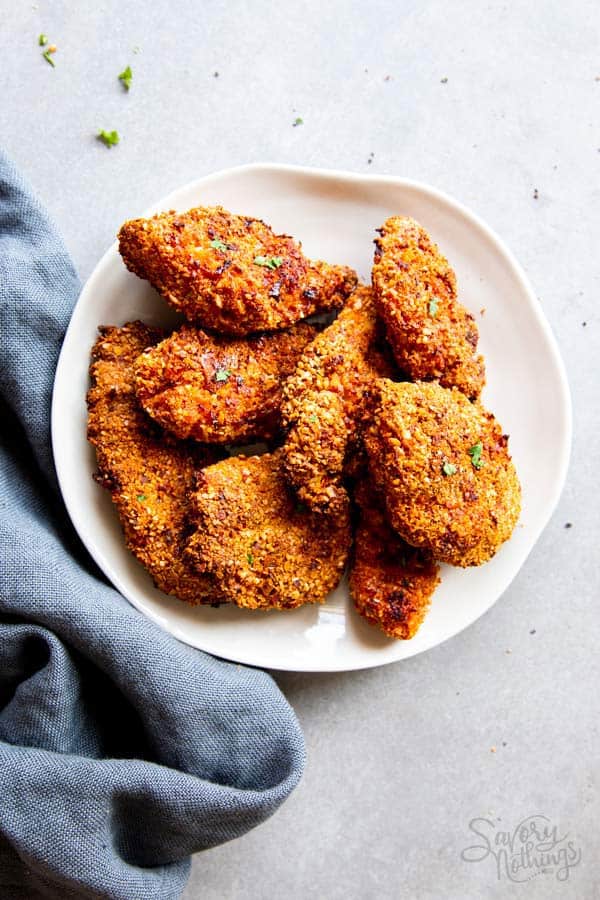 My trick to oven "frying"? Using the right pan and the right technique.
For the pan, make sure to use a dark metal baking sheet, or a roasting pan. It reflects the heat better.
If you don't have a dark pan, you can get one here on Amazon (FYI, this is an affiliate link and I make a commission for purchases made after clicking through).
Do NOT line it (especially not with parchment), it tends to make the chicken soggy.
Do preheat the pan in the oven before adding the chicken, and make sure the entire pan is covered with melted butter.
Once the baking time is up, finish the chicken under the broiler for extra crispiness!
How long do you cook oven fried chicken?
I usually bake for 10 minutes, then flip and bake for another 10 minutes.
Then I finish under the broiler for 2-3 minutes. And that makes perfectly crispy, oven fried chicken!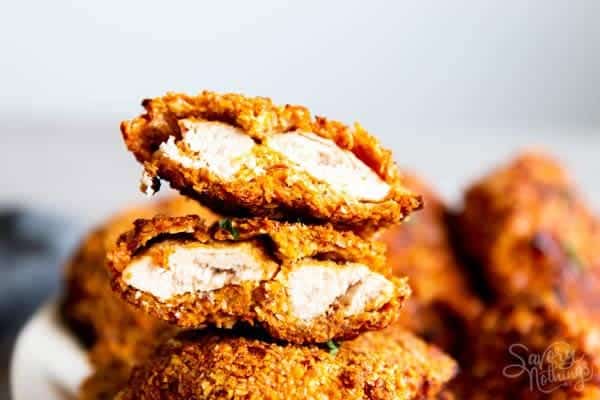 ---
More oven fried chicken recipes you'll love:
Garlic Parmesan Oven Fried Chicken
---
Printable recipe
Printable Recipe Card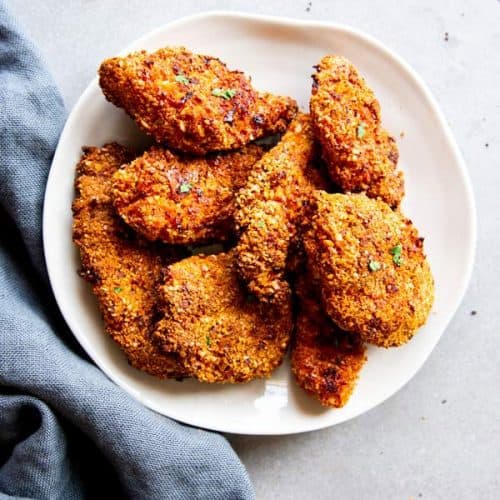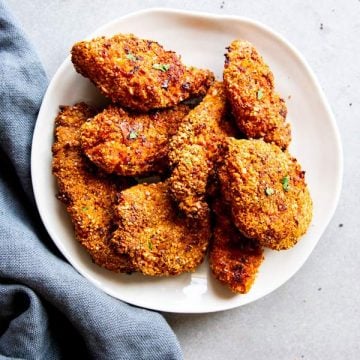 Cornmeal Oven Fried Chicken
This Cornmeal Oven Fried Chicken gets SO crispy, all without deep frying! The ultimate comfort food made healthier.
made it? tap the stars to add your rating!
Ingredients
1

large egg

⅓

cup

buttermilk

1

cup

all purpose flour

4

tablespoons

coarse cornmeal

1

teaspoon

baking powder

½

tablespoon

salt

2

teaspoons

ground paprika

1

teaspoon

garlic powder

1

teaspoon

onion powder

½

teaspoon

ground pepper

2

pounds

skinless boneless chicken breast

cut into pieces (I do 3-4 per breast)

¼

cup

butter
Instructions
Prep: Preheat the oven to 410°F. Place a dark-colored baking sheet or pan in the oven to heat up (you want it to get really hot).

Make egg mix: In a medium bowl, whisk together the egg and the buttermilk.

Make dry mix: In a separate bowl, mix the flour, cornmeal, baking powder and seasoning together.

Coat chicken: Dip the chicken pieces in the flour, coating evenly and shaking off any extra flour. Next, coat the chicken pieces in the egg mixtures. Then, dip them into the flour again, this time coating very well.

Put chicken on pan: Take the baking tray out of the oven and melt the butter on it. Place the coated chicken pieces on the tray. Make sure there's butter underneath every chicken piece, or it will stick! Add more butter if it's not enough to cover your pan!

Bake chicken: Bake for 10-12 minutes, carefully flip and bake for another 5-10 minutes (depending on how thick your chicken pieces are). IF THE CHICKEN STICKS: Do NOT just flip it! Use a spatula to carefully loosen it from the pan, then flip. Otherwise the breading will fall off. Finish by broiling the chicken until it turns golden brown and crispy.
Want to save this recipe?
Create an account for free to start your personal recipe box. Save any recipe by tapping the heart in the bottom right corner.
Join Now
Nutrition
Calories:
366
kcal
Carbohydrates:
22
g
Protein:
36
g
Fat:
13
g
Saturated Fat:
6
g
Cholesterol:
145
mg
Sodium:
851
mg
Potassium:
719
mg
Fiber:
1
g
Vitamin A:
670
IU
Vitamin C:
1.8
mg
Calcium:
61
mg
Iron:
2.1
mg
Nutrition is an estimate.
More recipe information
Check out our Oven Fried Chicken Breast Recipes collection for more ideas!