The easiest Super Bowl food: Greek Yogurt Ranch Dip for that moment you realise you promised to bring something to the party… But totally forgot!
Just stir together a few basic ingredients and let it sit in the fridge until you're ready to run.
Looking for more easy Super Bowl party finger food? Click here to see all my recipes!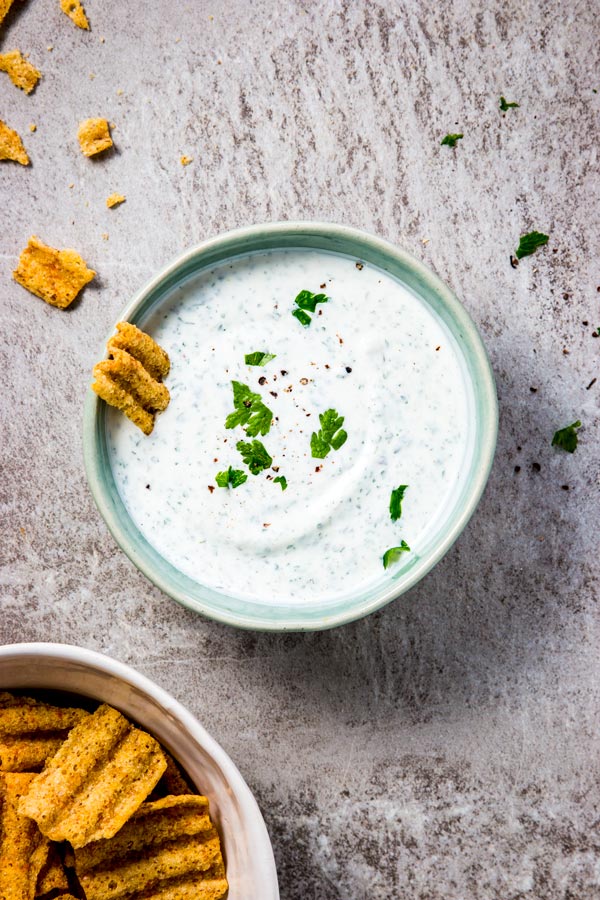 When I entered the Internet recipe world at the tender age of approximately nineteen, one of the biggest conundrums of our time (well, at least to me it was) was things mysterious flavour called… Ranch.
I kept wondering what a ranch would taste like. We all know what it smells like. But that couldn't be it, could it?
Unfortunately the internet of the early 00's worked primarily with packets of Ranch Dressing mixes or bottled Ranch Dressing.
On the rare occasion I'd find a from-scratch recipe, it always contained dried buttermilk powder. Seriously, one does not get to buy dried buttermilk in rural Switzerland. Trust me. I tried.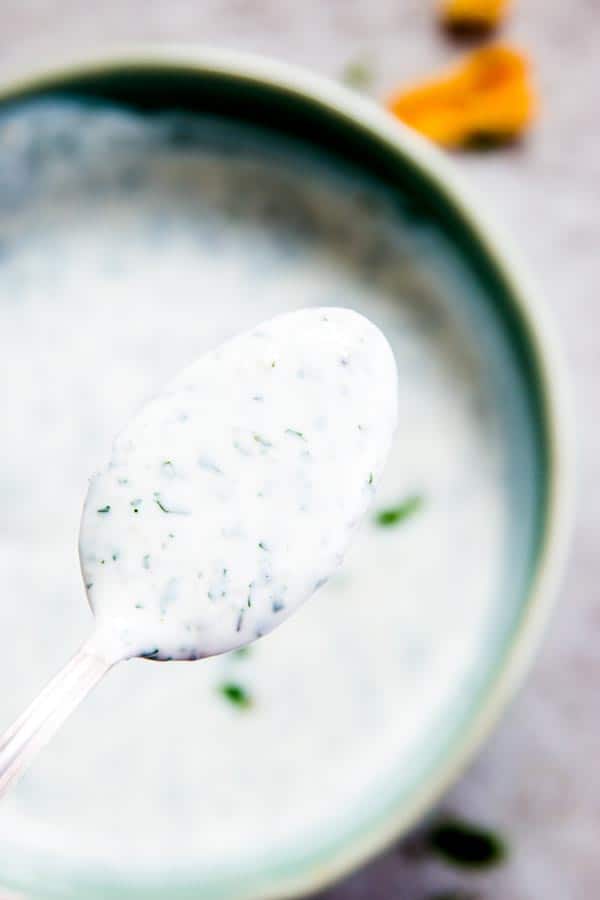 I even checked Amazon to order some, but 25 European Dollars for a pound?? I'm way too cheap for that.
I searched for recipes using actual buttermilk, but most of them were mayo-based.
I definitely didn't feel like making a mayo-heavy dip. Don't get me wrong, I love slathering a slice of bread in homemade mayo and topping it with slices of boiled egg (you know, always staying classy here…).
But an entire bowl of dip based on mayo? Eh. Not so my thing.
But then something magical happened and Greek yogurt became popular enough to be available even here. Woohoo!
Its thickness allows adding liquid (like buttermilk!!) without turning into salad dressing right away.
Fi-na-lly I can make Ranch dip. And dressing, obviously. I know, you probably eat more Ranch Dressing than Ranch Dip anyways, but I get more excited about dips… So… It's a dip today.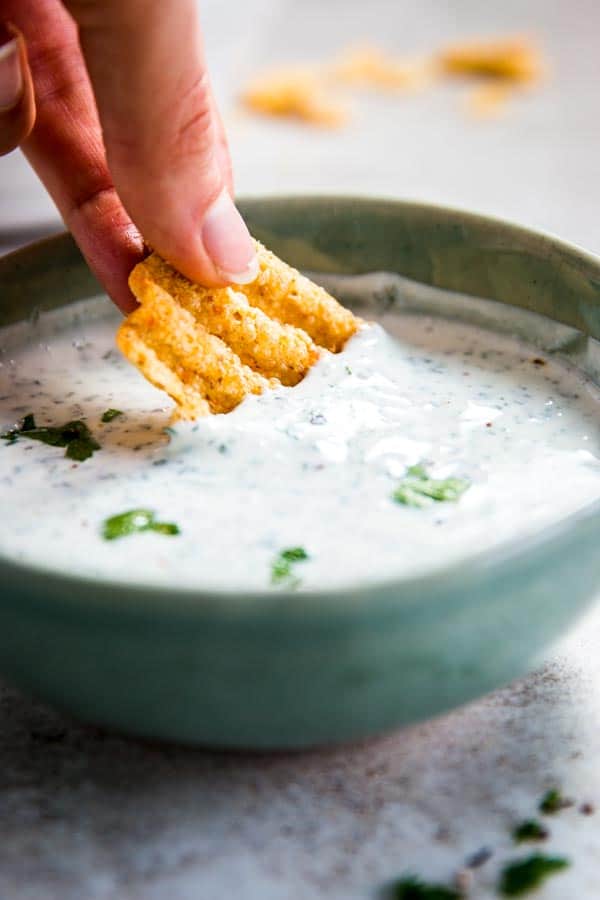 My best tips to make this ranch dip foolproof:
The kind of yogurt you're using:
The Greek yogurt makes for a healthy base and even adds some extra tang in addition to the buttermilk. Of course the amount of buttermilk you can add is limited, so I'm also adding a bit of white wine vinegar for even more tartness in this dip. If you want it milder, just leave it out!
FYI, I always use full fat Greek yogurt because I don't do low fat dairy, ever. I'm a semi-born-and-raised farm girl anything else would just be so very wrong.
Full fat yogurt is also creamier than lower fat varieties, but whichever you choose, just make sure you're using a real thick-style Greek yogurt.
Chill before serving:
Don't worry if it seems a little too runny for a dip at first – it will thicken as it sits in the fridge.
Of course it's best to make it a few hours in advance, but if you're pressed for time, a shorter chill is better than having no dip at all.
Know your salt:
The amount of salt needed for this ranch dip entirely depends on the… saltiness?… of your salt.
I use organic sea salt which is on the weak side. I've found that regular table side is a lot stronger, so adjust the amount of salt added to the kind of salt you're using.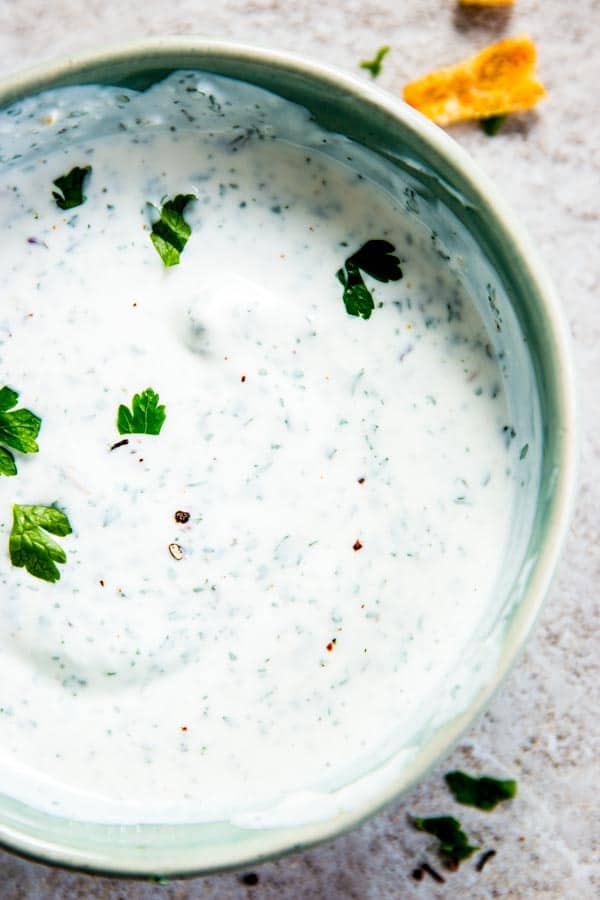 This is quite a fresh dip, perfect to lighten up a feast of, ahem, more decadent snack-y food. Things like… Crockpot BBQ Bacon Cheeseburger Dip? In my defence, I was pregnant when I posted it, and it does taste pretty decadent 😉
Of course you could always whip up a fast salsa or an avocado, mango and black bean salsa to scoop up with crackers, but honestly?
You'll still want to make this easy ranch dip. Because it goes so beautifully with baked potato wedges. And oven fried chicken.
Oh, did I mention you needed to make these two recipes, too? Well, now you know 😉
Three cheers for healthy ranch dip with real buttermilk!
Get the printable recipe for this easy Greek Yogurt Ranch Dip:
Printable recipe
Printable Recipe Card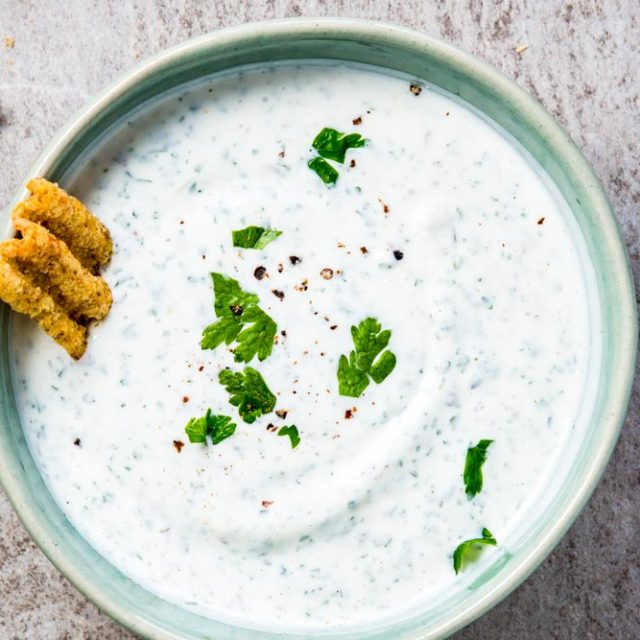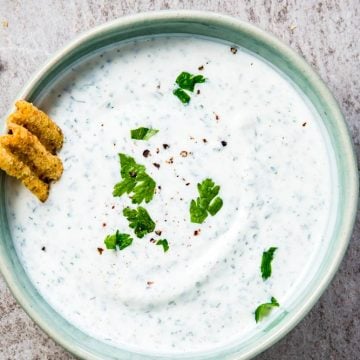 Greek Yogurt Ranch Dip
Greek Yogurt Ranch Dip for that moment you realise you promised to bring something to the party... But totally forgot! Just stir together a few basic ingredients and let it sit in the fridge until you're ready to run.

made it? tap the stars to add your rating!
Ingredients
2

cups

Greek yogurt

I used full fat

¼

cup

buttermilk

1

tablespoon

white wine vinegar

or less if you want it milder

1 ½

teaspoons

salt

or less if your salt is strong

2

teaspoons

dried parsley

1

teaspoon

dried dill

1

teaspoon

garlic powder

½

teaspoon

onion powder

½

teaspoon

black pepper

¼

teaspoon

dried thyme
Instructions
Mix all ingredients well. Cover and chill in the fridge for at least one hour before serving.
Want to save this recipe?
Create an account for free to start your personal recipe box. Save any recipe by tapping the heart in the bottom right corner.
Join Now
Nutrition is an estimate.
More recipe information