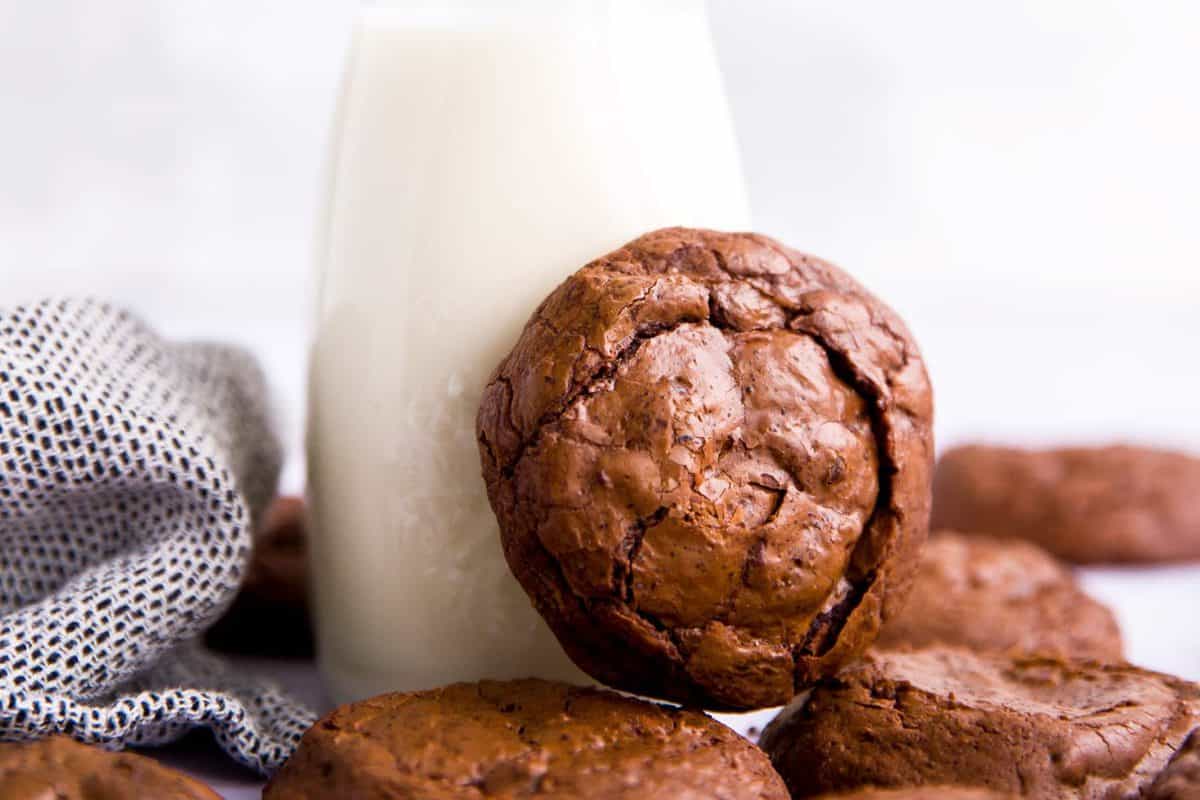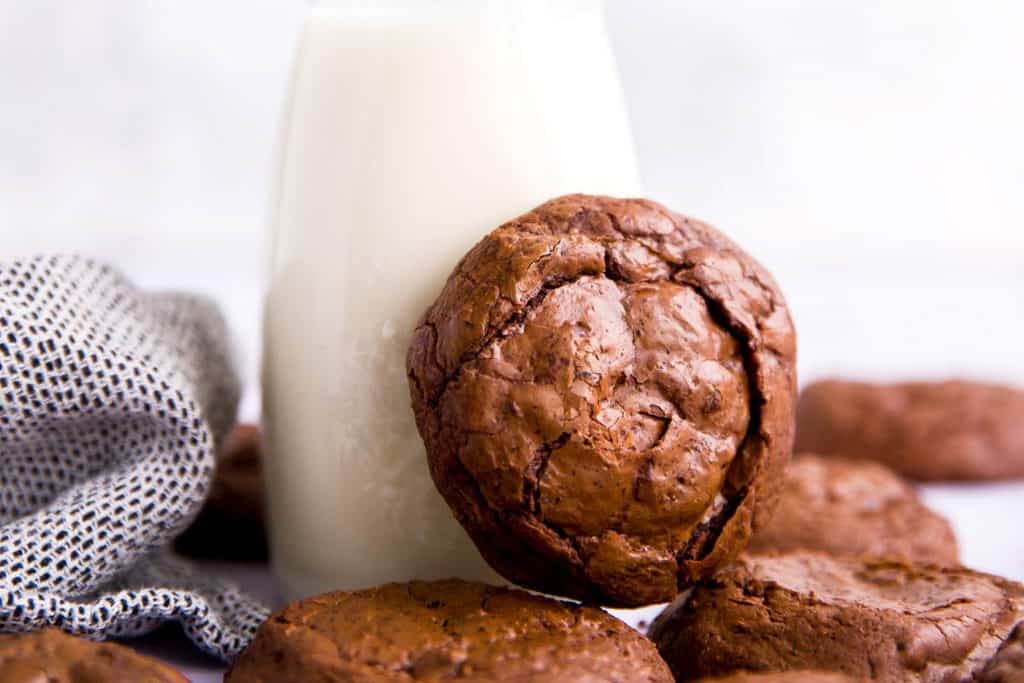 How do you cookie? The consistency of a cookie seems to split the world into two. Are you on the cakey side or on the chewy side? Well, if you are on the cakey side I would very respectfully ask you to leave. Your only alternative is to come over to the dark side – because we have chewy, fudgey, gooey double chocolate cookies.
Consider it the red pill equivalent of the food world. Keep eating your cakey cookies and you'll be in eternal bliss about it. But take one bite of this chocolate delicacy right here – and you will start questioning your entire existence.
OK, maybe you won't. But they are really awesome cookies. I've been making them for a long time, first adapted as a Peppermint Brownie Cookie from a cookie recipe I found on Food and Wine.
But they're just so unbelievably good, I decided there needed to be a standalone, year-round kind of deal of my version, too.
How to get extra fudgey chocolate cookies:
The trick for getting them so extremely fudgey and dense lies in the preparation: They're a melt-and-mix kind of cookie. But they're a bit different. There's a lot of melted chocolate in the dough. And very little flour.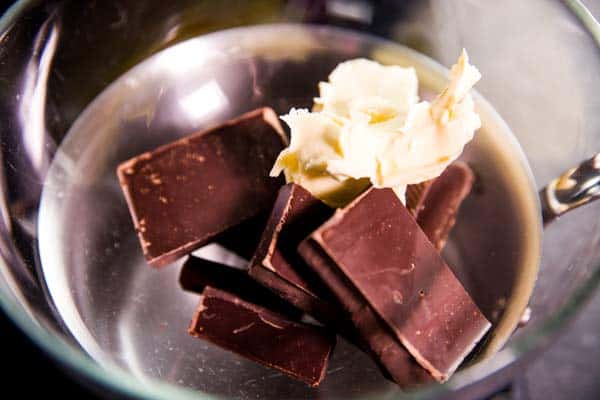 You just beat the eggs and sugar together, then add the melted and slightly cooled chocolate (do let it cool for 5 minutes, or you'll make scrambled egg cookies).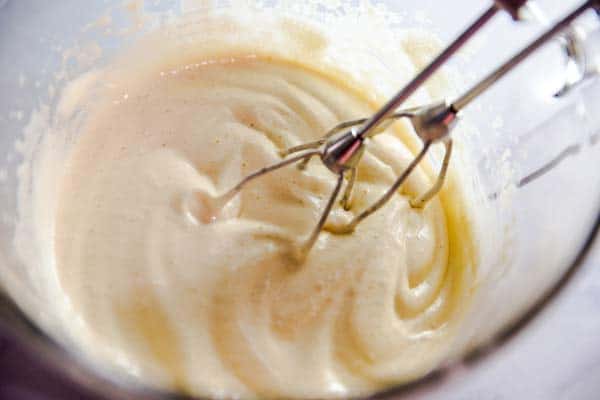 Once you fold in the chocolate mix, it should look smooth and glossy: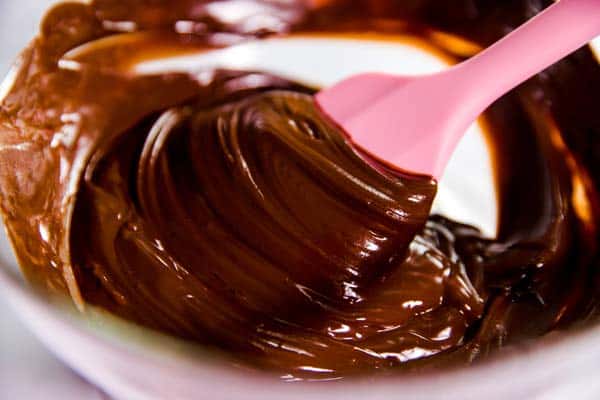 Finally, the little bit of flour and baking powder. And chocolate chips, because you only live once. And it won't seem like a dough at all when you pour it into the pan to freeze it. It will seem way too liquid to ever make cookies.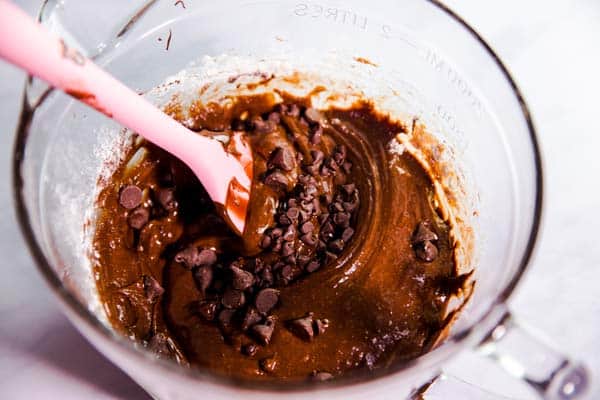 Do not be alarmed. Do not be tempted to add more flour. This is right and exactly how you get to red pill town.
Freezing the dough will set it so it can be scooped once it's firm. Do allow it to warm up slightly (otherwise you can't scoop them), but not too much. These are a bit finicky and if you let the cookie dough get too warm before baking, they will puff up too much in the oven.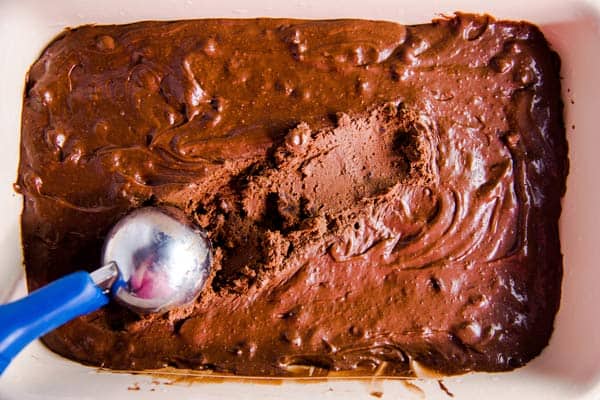 They are very much worth the effort though, because if you do it right they will puff up a bit (thanks to the eggs), set (again, eggs and that bit of flour) and then once they're out of the oven they will flatten down and be chewy and amazing (that's probably all that chocolate and butter and sugar in there…).
They crackle on top a bit like a brownie (I guess that's why my favourite brownie recipe has an equally insane chocolate to flour ratio) – perfection.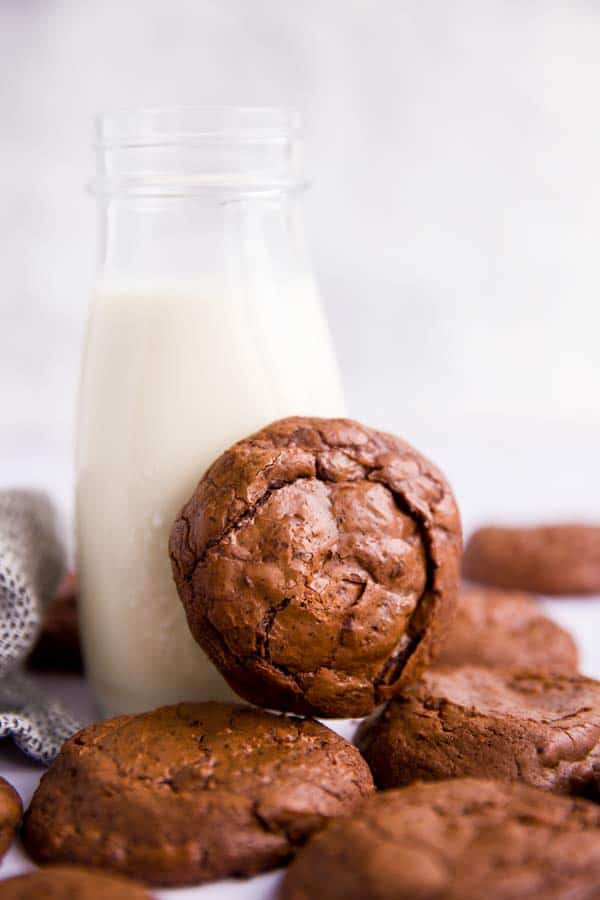 Bonus: This cookie dough freezes really well!
The even more beautiful thing about these is that you can always have a container of cookie dough in your freezer. If you get a hankering for something sweet, you can bake yourself two.
It's easiest to freeze the dough for an hour, scoop the cookie dough into balls, and then freeze them in a single layer on a lined baking sheet until solid. Pop them into a freezer bag and freeze for up to 3 months.
To bake from frozen, just follow the directions in the recipe below, adding a few extra minutes to the baking time.
What to do if you have people over:
If you have your brother and his girlfriend over for a Sunday lunch, you can bake 20 and surprise your guests with warm cookies fresh out of the oven.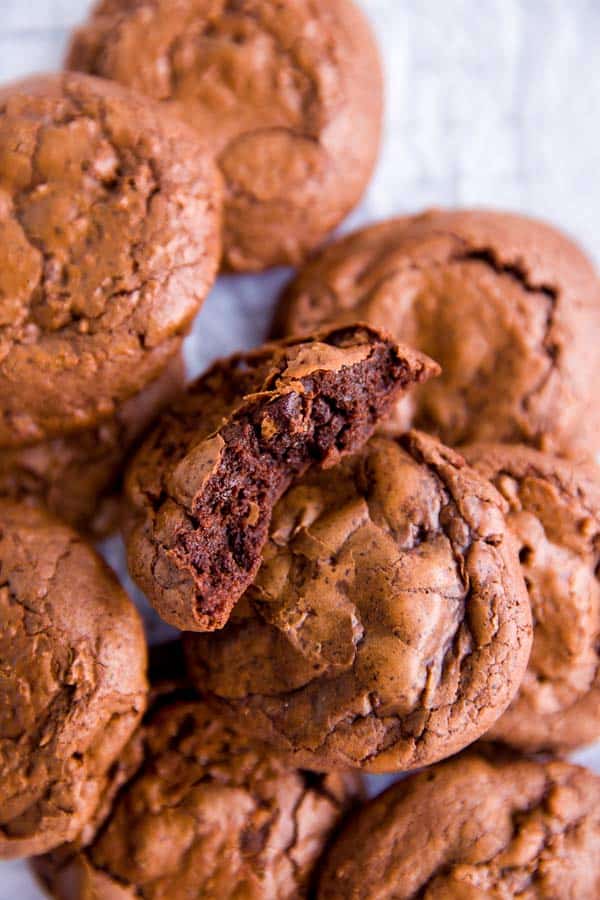 And yes, 20. Because all 20 will vanish in the matter of a few minutes. I tested this theory in a very humane experiment with my own brother and his girlfriend, and it's solid.
That's a cookie wrap.
So – now it's up to you. Which pill are you going to take, blue or red? I would very much encourage you to take the red one and dive head-first into fudgey cookie bliss.
Go on. Be brave. Be Neo.
Because this is how you cookie on the dark side.
Printable recipe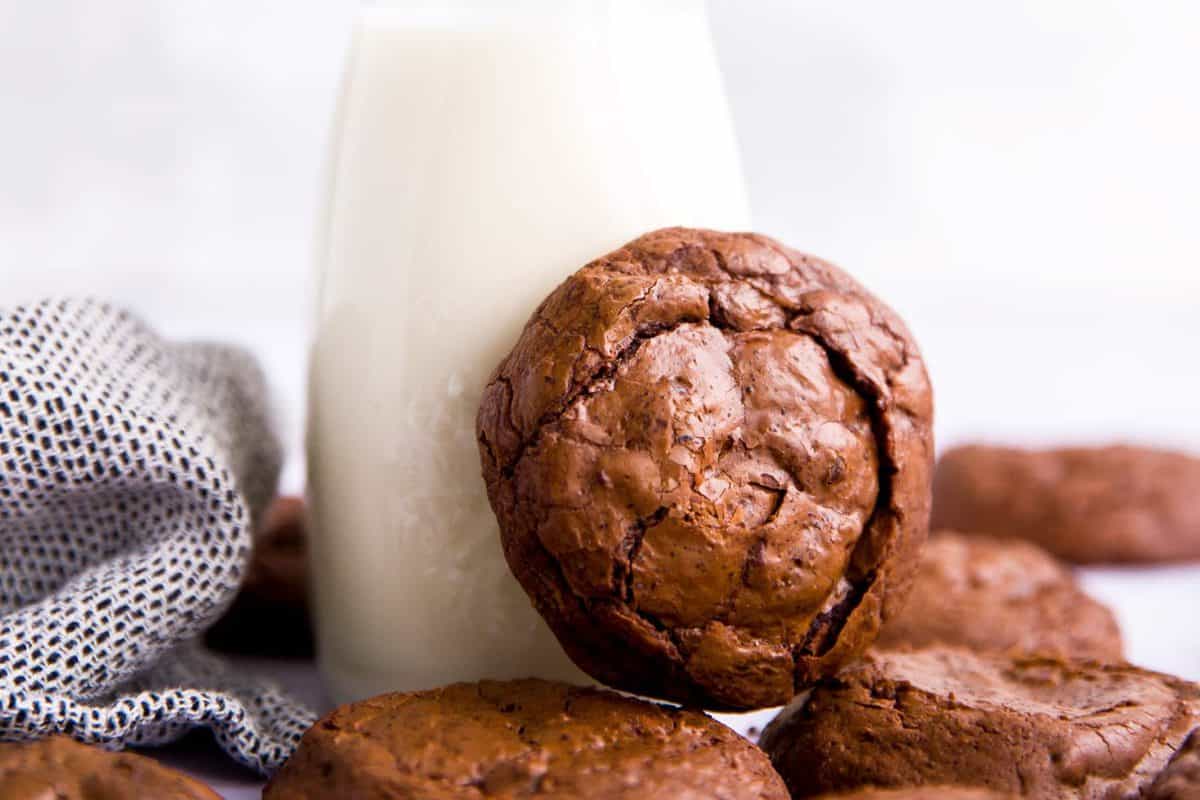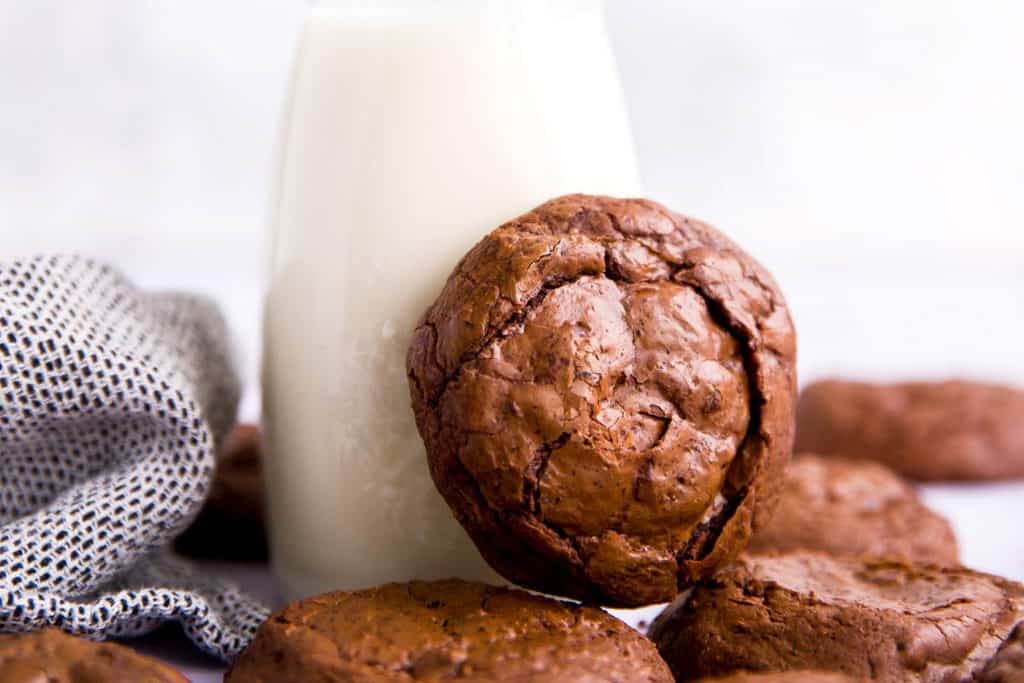 made it? tap the stars to add your rating!
Ready In:
1

hour
45

minutes
These are the best Double Chocolate Brownie Cookies you will ever eat. Fudgey, gooey and absolutely never cakey – delicious!
Ingredients
16

ounces

Semisweet Chocolate Chips

6

tablespoons

Unsalted Butter

4

large Eggs

1

cup

Granulated Sugar

½

cup

Brown Sugar

¼

teaspoon

Salt

½

cup

All-Purpose Flour

¼

teaspoon

Baking Powder

1

cup

Milk Chocolate Chips
Instructions
In a small saucepan, melt together the chocolate and butter, stirring occasionally. Allow to cool for 5 minutes.

In the meantime, beat the eggs and both sugars together in a large bowl until light in color, about 5 minutes. Beat in the salt.

Carefully fold in the melted chocolate mixture using a rubber spatula.

Sift in the flour and baking powder and gently fold in too.

Stir in the milk chocolate chips. Pour into a shallow baking dish and freeze for an hour or until firm.

When ready to bake, preheat the oven to 350°F (175°C) and line three baking sheets with parchment paper.

Allow the dough to stand at room temperature for 5-10 minutes before scooping the cookies with a cookie scoop. Depending on what size cookies you want, scoop 2-3 tablespoon-sized balls onto the baking sheets, set about 2 inches apart.

Bake for 10-15 minutes (depending on the size – check often) or until the edges are looking dry and the tops are crackled. The cookies will still be very soft when finished baking!

Let the cookies cool on the baking sheet for 10 minutes or until they are firm enough to be transferred to a wire rack.

Cool completely before storing in an airtight container.
Add Your Review
More recipe information
Join my Newsletter to Get Recipes in Your Inbox
P.S: I first shared this post on Food Fanatic as The Best Double Chocolate Cookies Recipe.
P.P.S: I don't know about your Valentine, but my three Valentines would love me to the end of the world if they got these cookies for Valentine's Day. Just saying… 😉