Baked Potato Wedges are everyone's favourite side dish (or appetizer!!) – and I'm revealing all my secrets to make them crispy on the outside and fluffy on the inside!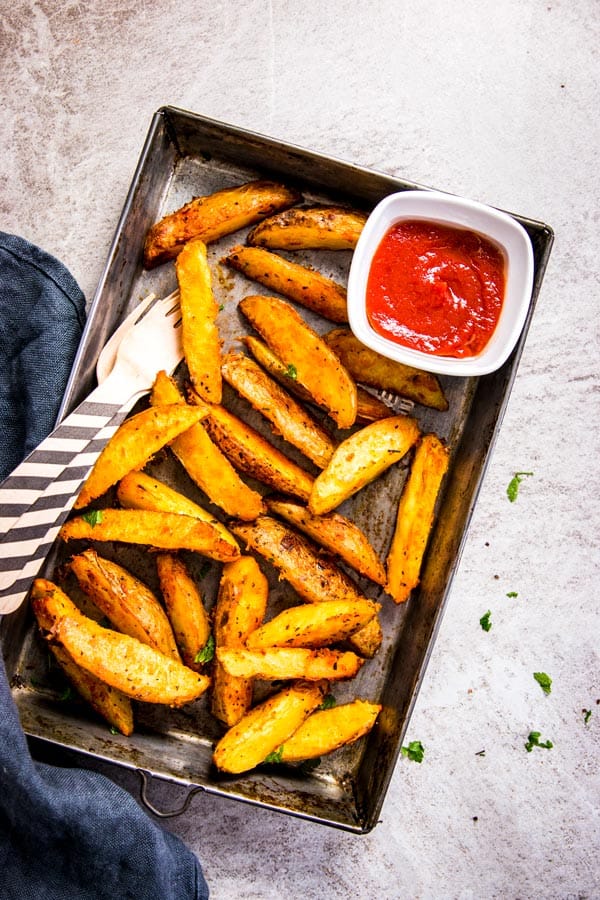 Right, right. I know!! I'm almost too late with these for this year's Super Bowl.
Two reasons: a) a very sad one (see my last post) and b) I'm kind of in Europe and we think football is played with your feet and rugby is where it's at.
Still, I know loads of you sweet Savory Nothings readers are in the U.S. and I actually think American football is fun sometimes, and by that I mean the Super Bowl ads and the food are fun.
Also, kind of obsessed with potatoes. I guess the British genes in my childhood home really rubbed off on me??
My husband is more the bread type. He can't stand it if there's no bread in the house. Myself? I'm having serious troubles when there's a lack of potatoes in the pantry.
Which makes these potato wedges very ironic, because I made them with a bag of potatoes I actually forgot about.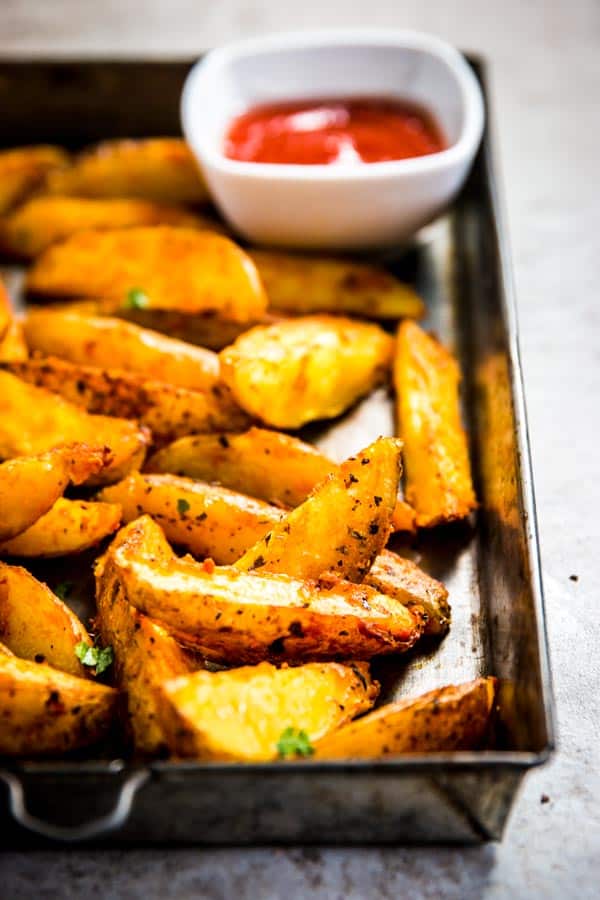 We went grocery shopping the other week and potatoes were on sale… So I picked up… Uhm… 1 2 3 4 5 6 pounds. Do not judge.
Really though, don't.
Anyways, we still had two pounds at home, so I put the newly acquired ones in the cupboard where they belong… And left them there. For a week. Maybe even two, I won't tell.
And then I BOUGHT NEW POTATOES. Because the two pounds from the fridge were gone… I think this just confirmed the British gene transformation ?
Needless to say, I ended up with an annoyed husband and an overload of potatoes. Which is why we had mashed potatoes, Potato Leek Soup, roasted potatoes and a myriad of other potato dishes, all within the same week ??‍♀️
Wanna see what else?? Here: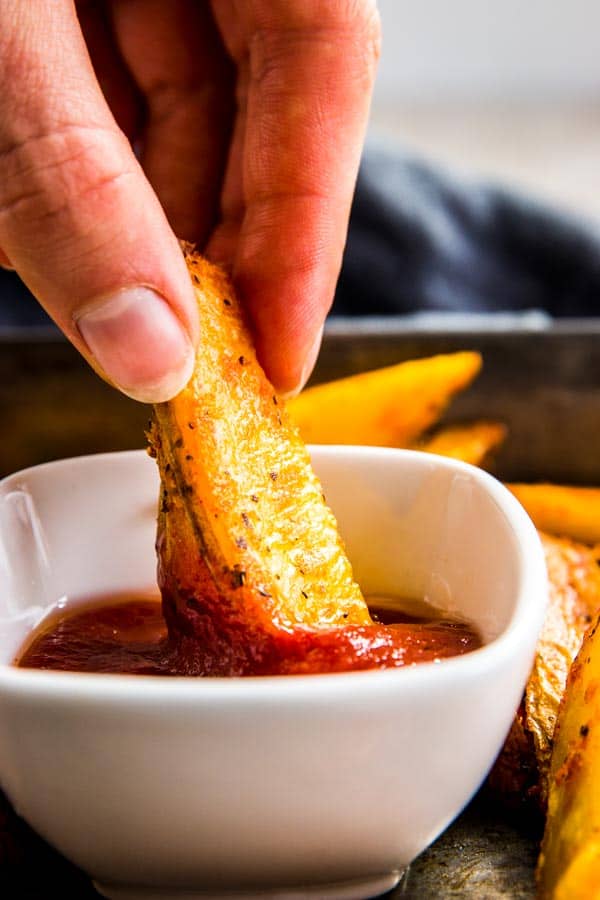 Let me introduce you to your new favourite way to eat potatoes: As baked potato wedges! Tadaa!
But this is not just any old potato wedge recipe… No no no. These babies turn out crispy on the outside, fluffy on the inside and just all around delicious.
Don't worry, I do have a few tricks up my sleeve so they're perfect every time. Let's talk baked potato wedges!
My best tips to make these baked potato wedges foolproof:
Parboil the potatoes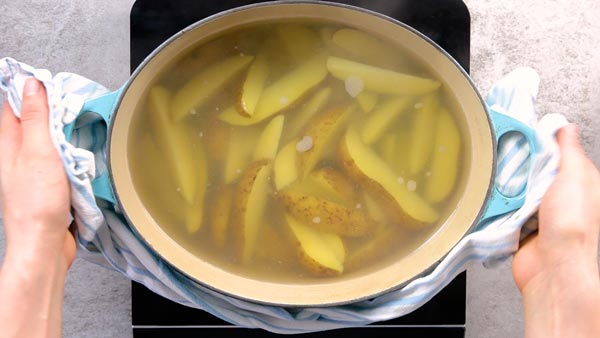 This is a very simple step, but it's absolutely crucial to this recipe's success! I used to bake potato wedges from raw, but it takes way to long and they get a lot less crispy. Here's all you need to do to parboil your potatoes:
Wash the potatoes
Cut them into wedges and place them in a pot of cool water
Bring the pot to a boil
Salt
Simmer for 5-10 minutes, or until the potatoes are just tender (the exact time will depend on the size of your wedges)
Drain
Steam off the drained potatoes
Another important step is to get as much steam out of the cooked potatoes as possible – you don't want them to get soggy from hanging out in water.
Simply put the potatoes back into the pot and put them on the lowest heat setting you have, about 20 seconds should do, shaking the pan regularly so they don't stick to the bottom. That's it!
Season the potatoes well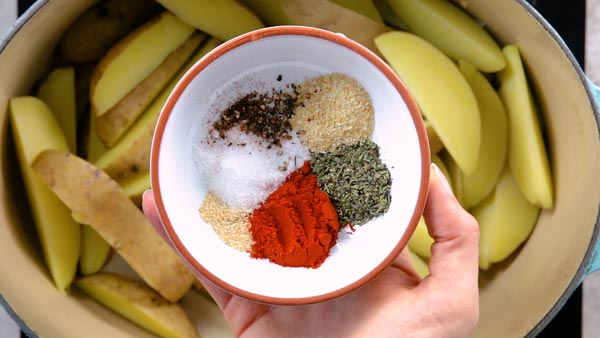 I can't stress this enough: Season your baked potato wedges well. These are not very easy to season after baking (you can try to add more salt, but you can't easily add things like garlic and paprika once they're done) and potatoes do need enough salt to taste well seasoned.
You can actually use any spice mix you like – even taco seasoning is delicious! I would personally avoid mixes consisting of dried herbs only, as they tend to burn in the oven.
Simply add oil, salt and spices straight to the pot of hot (!!, they take in the seasoning better that way) potatoes, and…
Shake, shake, shake the potatoes!!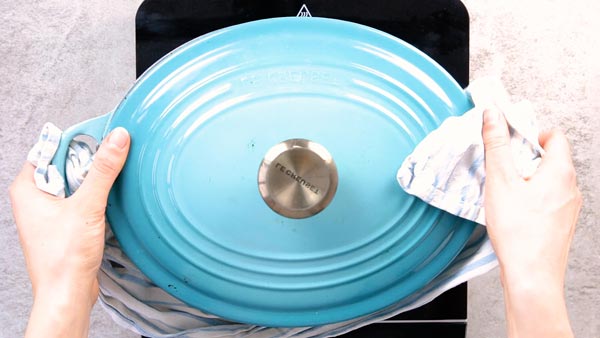 Yep, I know, sounds strange. But THIS is the magical secret to crispy baked potato wedges.
Put a lid on your pot and shake it until the seasoning evenly coats every wedge, and they have a rough outside. It's a technique I learned from an old BBC Good Food cookbook years ago and I've never looked back.
Now, a few pointers:
Make sure your potatoes are not overcooked, or they will turn into mash.
Make sure you drained and steamed off your potatoes well… Or they will turn into mash.
Check in between to see what it looks like inside the pot so you don't shake too much… Or they will, in fact, turn into mash.
That's it! And finally…
Preheat the baking sheet.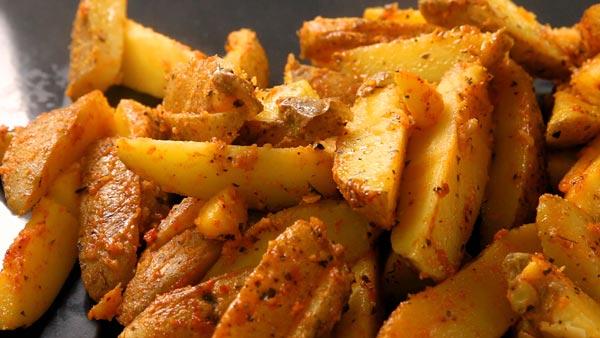 Seriously, I do this with anything I want to bake up crispy.
Oven fried chicken. Oven fried shrimp. Baked potato wedges. Everything just turns out better of the baking sheet gets preheated.
Then, carefully spread out the potato wedges so they're in a single layer. If you double the recipe, use two baking sheets. A crowded pan makes for soggy wedges. Ask me how I know… Impatience, ugh.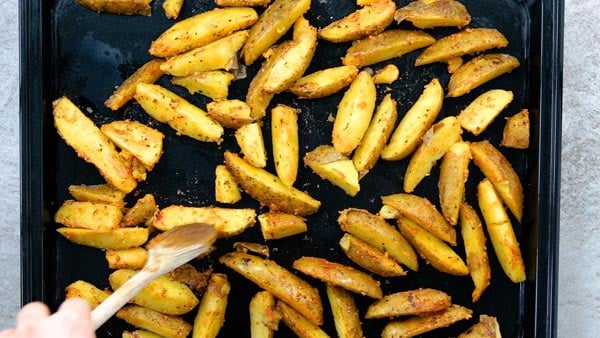 They don't need to be turned over, but I do find they turn out best with a blast under the grill for a couple of minutes once they're done baking.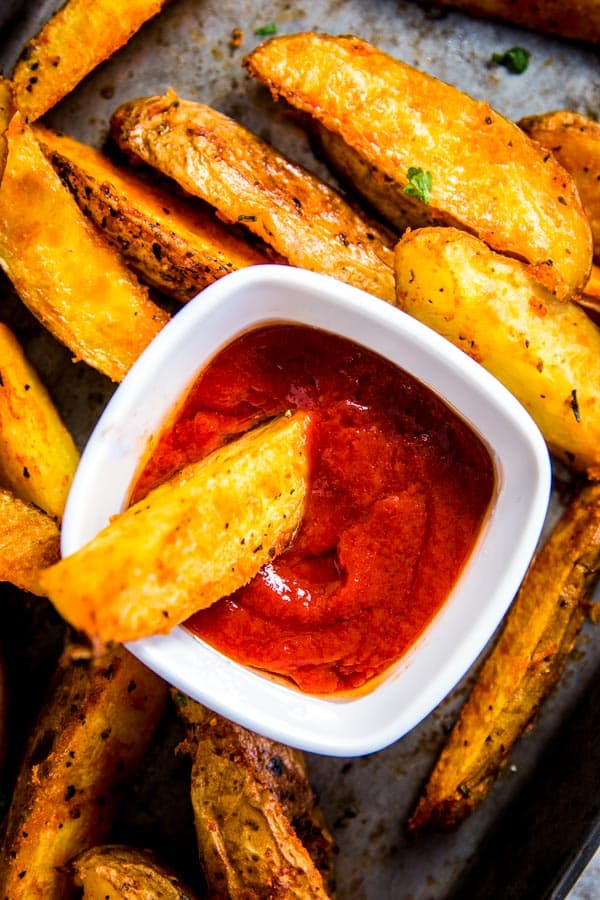 Now, no matter if you make these as an American football party appetizer, a proper football snack or just because potato wedges and fried chicken go so well together – they're well worth the extra effort. Pinky promise!
Need more football food inspiration?
Watch me make these baked potato wedges:
Get the printable recipe for these baked potato wedges:
Printable recipe
Printable Recipe Card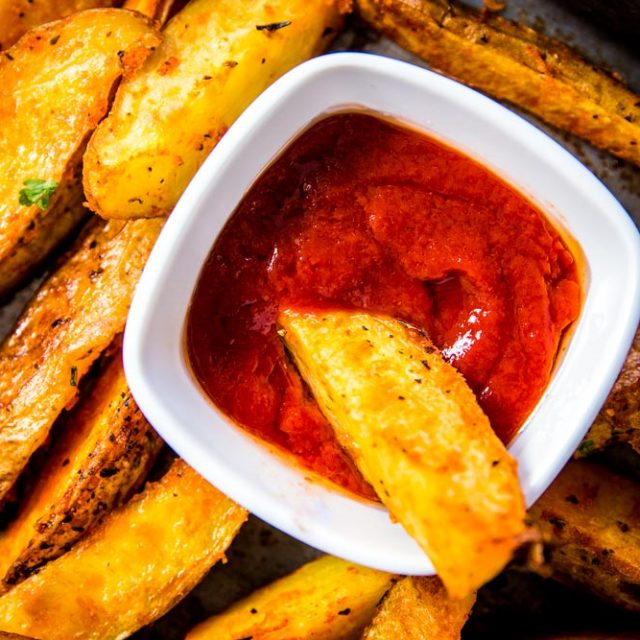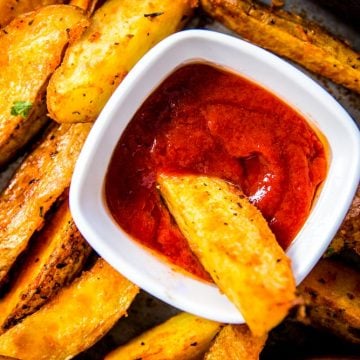 Baked Potato Wedges
Baked Potato Wedges are everyone's favourite side dish (or appetizer!!) - and I'm revealing all my secrets to make them crispy on the outside and fluffy on the inside!
made it? tap the stars to add your rating!
Ingredients
1

pound

waxy potatoes

scrubbed and cut into wedges

½

teaspoon

salt

or more if your salt isn't strong

1

teaspoon

ground paprika

1

teaspoon

dried oregano

OR Italian seasoning

1

teaspoon

garlic powder

½

teaspoon

onion powder

¼

teaspoon

ground black pepper

2

tablespoons

oil
Instructions
Parboil the potatoes: Place the cut potatoes into a large pot and cover them with cold water. Bring to a boil, salt the water, then reduce the heat to a simmer. Cook the potatoes for 5-10 minutes, or until just tender. The exact timing will depend on the size of your wedges!

Steam off the potatoes: Once the potatoes are ready, drain them well. Add them back to the pot and place it on the lowest heat. Shaking the pan gently to avoid the potatoes sticking to the bottom, allow any excess water to evaporate for about 10-20 seconds. Take the pot off the heat.

Preheat the pan: Place a dark-colored baking pan in the oven. Set the oven to 425°F (220°C), so both the pan and the oven can preheat while you're seasoning the potatoes.

Season the potatoes: Add all seasoning and oil to the potatoes in the pot. Close the lid and, holding both the pot and the lid tightly, shake the potatoes well until the seasoning is evenly distributed and the potatoes look rough and scraggly on the surface. Some might break, but they should NOT turn mushy!

Spread in the prepared pan: Carefully remove the hot pan from the oven and spread the seasoned potato wedges in a single layer.

Bake the potatoes: Bake the wedges for 15-20 minutes, or until crispy on the bottom. Finish them under the broiler for 3-5 minutes - watch closely so they don't burn! Serve immediately, as with any potato wedges, they tend to get soft as they cool.
Want to save this recipe?
Create an account for free to start your personal recipe box. Save any recipe by tapping the heart in the bottom right corner.
Join Now
Nutrition
Calories:
147
kcal
Carbohydrates:
19
g
Protein:
2
g
Fat:
7
g
Sodium:
312
mg
Potassium:
536
mg
Fiber:
2
g
Sugar:
1
g
Vitamin A:
245
IU
Vitamin C:
9.7
mg
Calcium:
19
mg
Iron:
1.1
mg
Nutrition is an estimate.
More recipe information
P.S: If you make these, do leave me a comment and a star rating below – I'd love to hear what you think!