Potato Leek Soup is the perfect comfort food to warm you up on chilly days. This simple homemade recipe is quick and easy to make and turns out absolutely creamy and delicious.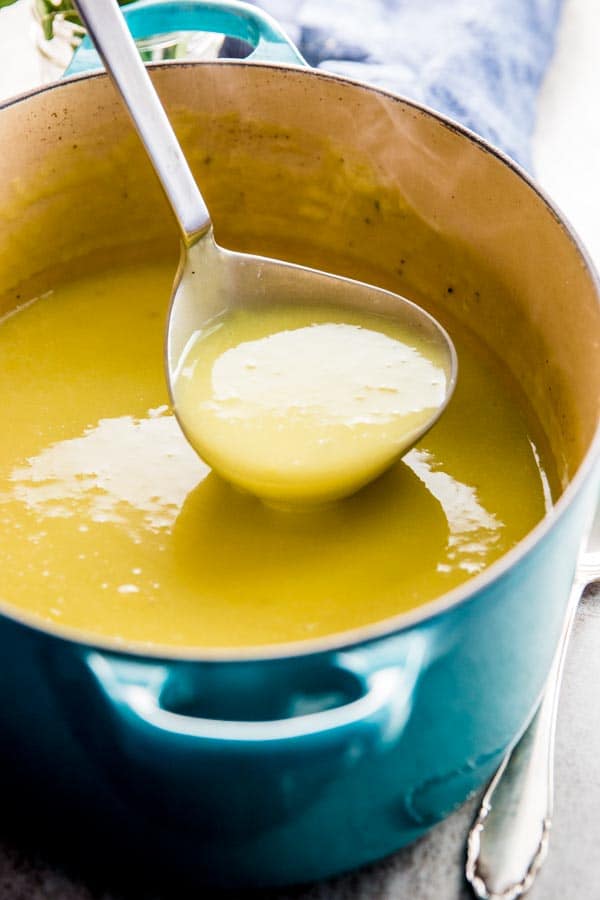 Ah, potato soup brings back those wonderful childhood memories for me.
During the winter months, our local church would hold Soup Saturday where they served hot soup and sausages to raise money for charities.
Mom always took us there for lunch. As my brother hated soup he would protest. I generally hated leaving the house and my books, so I would protest, too.
But actually? I loved it. The old ladies serving soup. The sausages that were really wieners (frankfurters?). The fascination of everyone eating together, huddled around five gigantic tables.
And also, I was always allowed to get dessert. Leaving my books behind for a single hour suddenly seemed like a small sacrifice once that slice of cake was in front of me.
To be perfectly honest, I'm not entirely sure if that potato soup was homemade. Chances are, it was made from dried potato flakes. But then again, that was for 100 people.
Making potato leek soup from scratch just for your family is quick and easy. You should absolutely serve up a pot of it this winter.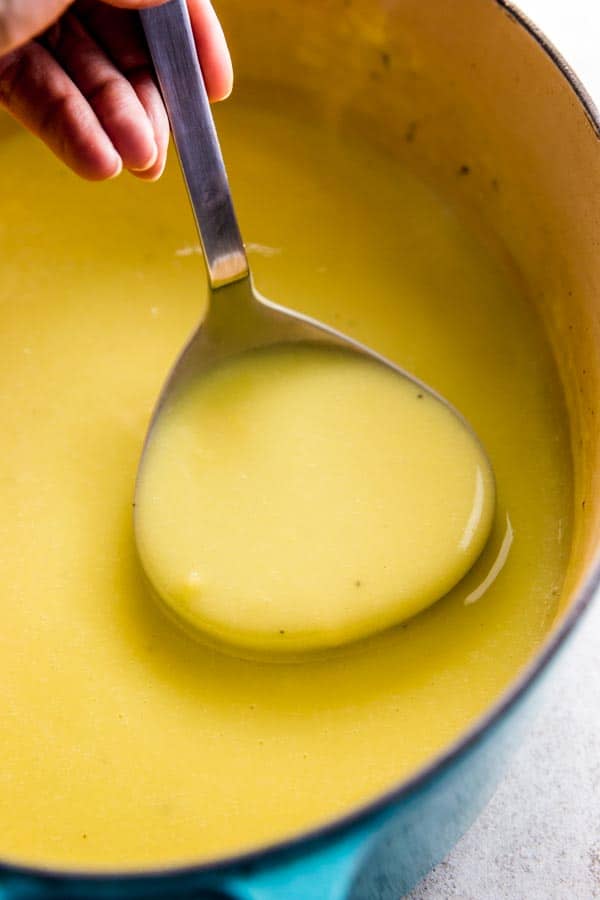 I mean, homemade makes memories too – even better ones, if you ask me!
My top foolproof tips to make potato leek soup:
Don't brown the onion and leeks. I know I often say to not be afraid of color, but for something like a light-colored sauce, or in this case soup, you'll want to avoid browning the vegetables as much as you can. The easiest way is to use medium heat and add a lid after some initial sautéing, so the leeks and onion are more cooking than roasting.
Use whatever liquid you have on hand. We make our own beef, chicken and vegetable broth. But because I'm scatty I forget to make some more when I get the last packet out of the freezer. So I often make my soups with water and I find they turn out just a nice, even a bit cleaner in taste because there's no broth masking it. And that is the lie I keep telling myself. But really, it tastes perfectly delicious with water.
Season the soup to your taste. I'm adding some whole milk (I'm usually out of cream – see above for the reason), freshly cracked black pepper and a dash of lemon juice. But you could also do cream, half-and-half or even sour cream.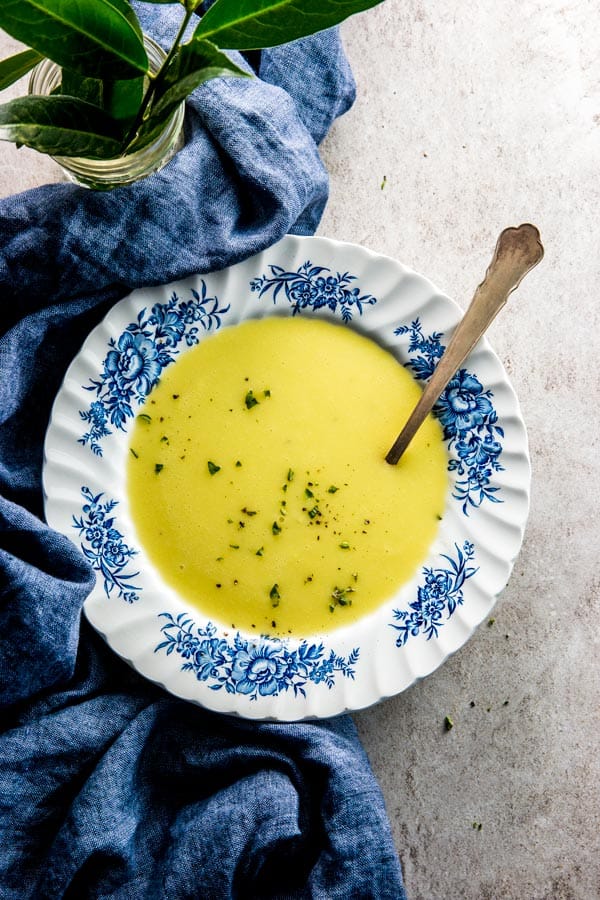 How to make potato leek soup:
Prep the veggies. No need to cut anything too small, you'll blend the soup later anyways. I like to chop the onion and leek, then cut the peeled potatoes while the other vegetables are slowly cooking in the pot.
Add the liquid. No matter if you're using water or stock, add it to the pot along with the potatoes and seasoning.
Bring to a boil. This is very important to start breaking down the starch in the potato.
Simmer. Once your soup has reached boiling point, reduce the heat to a simmer and simmer for around 10 minutes or until the potatoes are very tender and starting to fall apart.
Blend the soup. Once the potatoes are buttery and soft, allow the soup to cool for about 5 minutes. Then blend it.
Now it's time for refining: Pour the soup back into the clean pot and gently warm it with either some whole milk, cream, half-and-half, sour cream… Whatever you like. Make sure you only gently warm it now and definitely don't boil it, or you could end up with a pot of sadness and desperation in the form of split cream in your soup. Boo.
Now a word about the blending: Some people claim potatoes turn into wallpaper paste when you blend or mash them with electric gadgets.
I claim they're wrong, because I always make my mashed potatoes with an electric mixer and my grandma had three helpings on Christmas Eve. If that's not the assurance that my mashed potato recipe is the best one out there, then I don't know what is.
Bottom line: I always use either a stick blender or my Vitamix (read the instructions for hot liquids if you want to use yours!) after letting the soup cool for about 5 minutes. My soup is never wallpaper-paste-y.
Or maybe it is and I just have a taste for wallpaper paste? Who knows, all I know for sure is that a) I need to start writing things down more often so I remember to make chicken stock and b) this soup tastes amazing.
Watch me make this potato leek soup:
Here's the printable potato leek soup recipe:
Printable recipe
Printable Recipe Card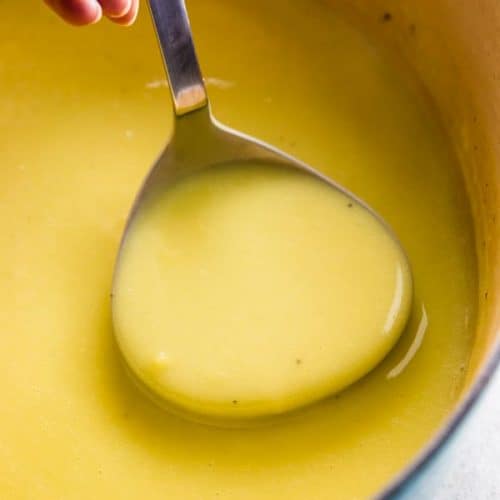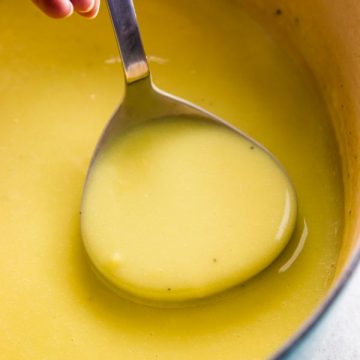 Potato Leek Soup
Potato Leek Soup is the perfect comfort food to warm you up on chilly days. This simple homemade recipe is quick and easy to make and turns out absolutely creamy and delicious.

made it? tap the stars to add your rating!
Ingredients
2

tablespoons

butter

3

leeks

trimmed, roughly sliced and rinsed

1

onion

roughly chopped

1

pound

peeled potatoes

cut into chunks

1.5

quarts

chicken stock

beef stock OR water

Salt

to taste

⅛

teaspoon

ground nutmeg

½

cup

whole milk

cream, sour cream or half-and-half all work, too

A few drops of lemon juice

Freshly cracked black pepper
Instructions
Sauté the vegetables: Place a large cast iron pot over medium heat. Add the butter and melt. Add the leeks and onion to the pot and stir. Cover with a lid and cook over medium-low heat until softened but NOT browned, about 10 minutes.

Cook the soup: Once the leeks and onions are soft, add the potatoes and chicken stock to the pot. Season with salt, pepper and nutmeg. Bring to a boil, reduce the heat to medium and simmer for 10 minutes or until the potatoes are tender.

Blend the soup: Take the pot off the heat, cool for 5 minutes and blend the soup until smooth. Make sure you read your blender's instructions for hot liquids!

Add the final seasoning: Pour the soup back into the pot. Stir in the milk and gently warm for a minute (don't boil!). Season with lemon juice and black pepper and serve hot.
Want to save this recipe?
Create an account for free to start your personal recipe box. Save any recipe by tapping the heart in the bottom right corner.
Join Now
Nutrition
Calories:
209
kcal
Carbohydrates:
26
g
Protein:
9
g
Fat:
7
g
Saturated Fat:
3
g
Cholesterol:
19
mg
Sodium:
397
mg
Potassium:
694
mg
Fiber:
3
g
Sugar:
7
g
Vitamin A:
890
IU
Vitamin C:
15.8
mg
Calcium:
83
mg
Iron:
3.9
mg
Nutrition is an estimate.
More recipe information