This recipe for Sticky BBQ Slow Cooker Meatballs uses barbecue sauce to make a delicious homemade party appetizer! They are easy to make as the crockpot does most of the work for you.
Easy homemade meatballs cooked in a delicious BBQ Sauce in the crockpot. They are a great appetizer for your next holiday party and they are perfect for Football Sunday or the Super Bowl as mini sliders.
Serve them with mashed potatoes or rice as a simple dinner for families. Made with beef, breadcrumbs, seasoning and barbecue sauce. The best of comfort foods for fall and winter.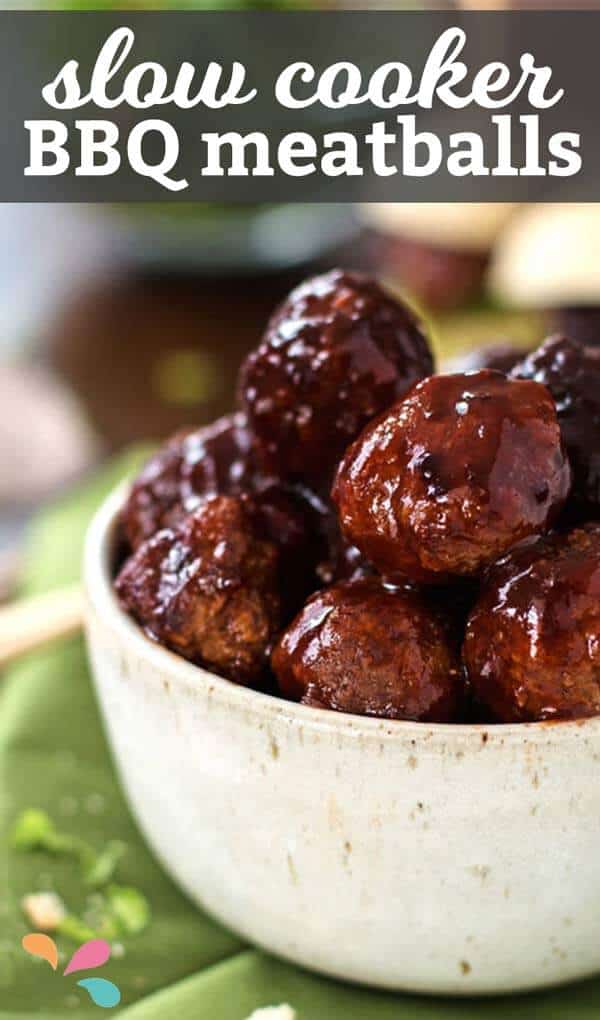 OK, a few things before we start off:
Thank you so much for all your lovely responses on my post on Monday! I'm glad I'm not the only one feeling the pressure at times and your nice words seriously made my day (and continue making my week!). You are awesome! ♡
I'm terribly tired and I'm not yet sure if this post is going to make any sense in the end. I hope it will. We will talk about appetizers in a minute and it's going to be the best conversation ever (because – food).
I have a wiggly baby on my lap as I am writing this – please excuse a gazillion typos.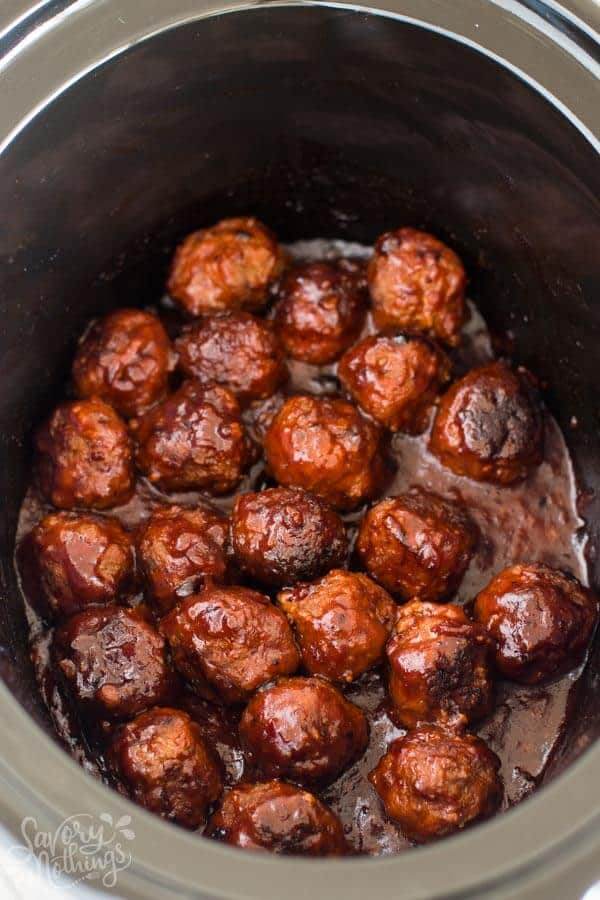 Fantastic, now I feel ready to talk party apps! See those gorgeous crockpot meatballs? They are the result of 4 hours of labor – from my crockpot!
Seriously, if you don't have one yet, you need to hop on over to Amazon and order yourself one ASAP*.
It's fine I'll wait.
::
I've started using my beloved little slow cooker more and more lately, to make delicious things like slow cooker sausage pasta sauce, healthy slow cooker chili or even slow cooker cranberry walnut bread pudding with caramel sauce.
And now there's these easy meatballs in crockpot land.
Really, they couldn't be any more simple to make.
Start with making the meatballs, cook them in a skillet (or use ready-made ones, like I do in these 5 Ingredient Cranberry Glazed Turkey Slow Cooker Meatballs!) and then throw them into your crockpot with some barbecue sauce and a handful of other delicious things and wham!
3-4 hours later you're ready to start partying with meatballs!
I wish I had made these lovely little guys when Branimir's family visited on Sunday.
Since they only announced themselves on Saturday I really didn't have much time to prepare a lot of food (and boy, can they eat!) so I needed some quick and easy stuff I could make in advance (because SPOTLESS HOUSE NEEDED when my in-laws are here).
Luckily I have a husband who knows how to cook – an amazing helping hand in moments like this!
Now of course they all went for the brownie cookies first before fighting over the peanuts on the table and later the shrimp.
Especially my sister-in-law can't stop, won't stop anymore because she is due in a few weeks and well, can we blame her?
Growing a little human is incredibly hungry work (and so is feeding one, I would stare down anyone trying to steal my food right now).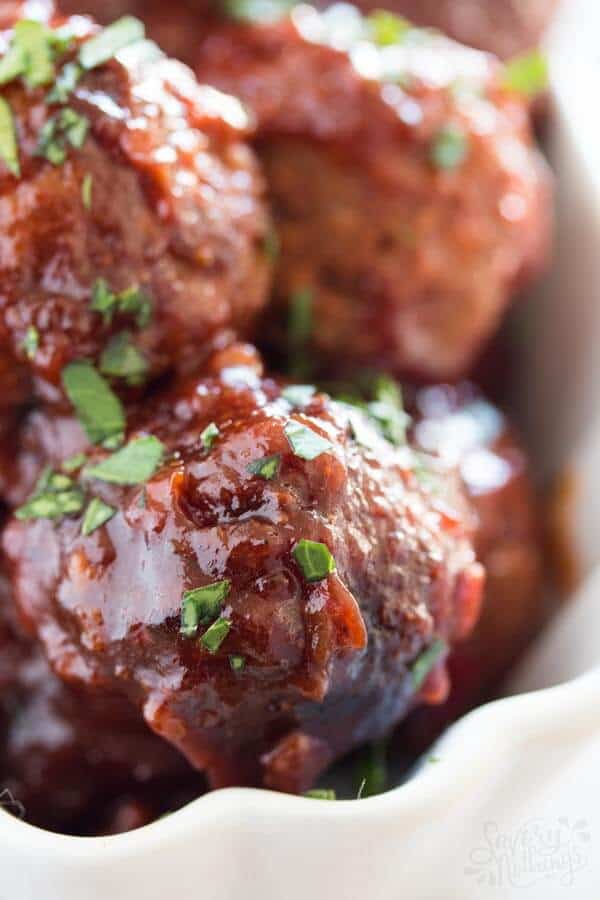 Anyways, I got insanely jealous of my brother-in-law who got himself an amazing camera (helloooo if you're reading, I'm ready to swap!) but I just found out that there might possibly, possibly be a new model coming out early next year and wow, do I wish for a late Christmas present!
Because secret alert: I really hated photography when I started blogging.
No, not hated it but I naively assumed that a good camera would just snap amazing pictures without me actually doing anything.
As if the picture would just magically compose itself in front of me but no – there's actually hard work involved.
And lately I've really started to enjoy using my camera more and more.
I'm actually wishing for some snow so I can go outside and practice beautiful wintery landscapes.
But I digress (told you I was tired).
The summary of my story: BIL, pass over your camera. SIL, I've got a million sweets stashed here and need someone to help me get through them.
You my lovely internet friend: Make yourself some slow cooker meatballs.
For your Christmas party next Saturday. For football on Sunday. For the kids on Friday as a nice start-of-the-holidays treat.
Whatever, just make them because oh my, are they awesome!
Watch the Sticky BBQ Slow Cooker Meatballs video:
Sticky BBQ Slow Cooker Meatballs Recipe
This recipe for Sticky BBQ Slow Cooker Meatballs uses barbecue sauce to make a delicious homemade party appetizer! They are easy to make as the slow cooker does most of the work for you. Serve them on their own or as mini subs - they are going to be a big hit either way!
Prep Time 15 minutes
Cook Time 4 hours
Total Time 4 hours 15 minutes
Servings 10
Calories 137 kcal
Ingredients
To Make the Meatballs
1 pound lean ground beef
1 egg
1 teaspoon mustard
1 small shallot chopped
1/3 cup bread crumbs
Salt & pepper to taste
OR use ready-made meatballs to make the recipe even easier!
To Make the Sauce
1 cup barbecue sauce
1 teaspoon smoked paprika
2 tablespoons Worcestershire sauce
1/2 teaspoon Salt
Instructions
To make the meatballs, mix all ingredients in a large bowl and shape into small meatballs. Heat a non-stick frying pan over medium-high heat and add some oil. Cook the meatballs until browned on the outside and entirely cooked through.

Once the meatballs are cooked, mix all sauce ingredients together. Add to the slow cooker with the meatballs and cook on low for 3-4 hours. The meatballs keep in the slow cooker for another 1-2 hours.
* I make a commission for purchases made through these links.