Printable recipe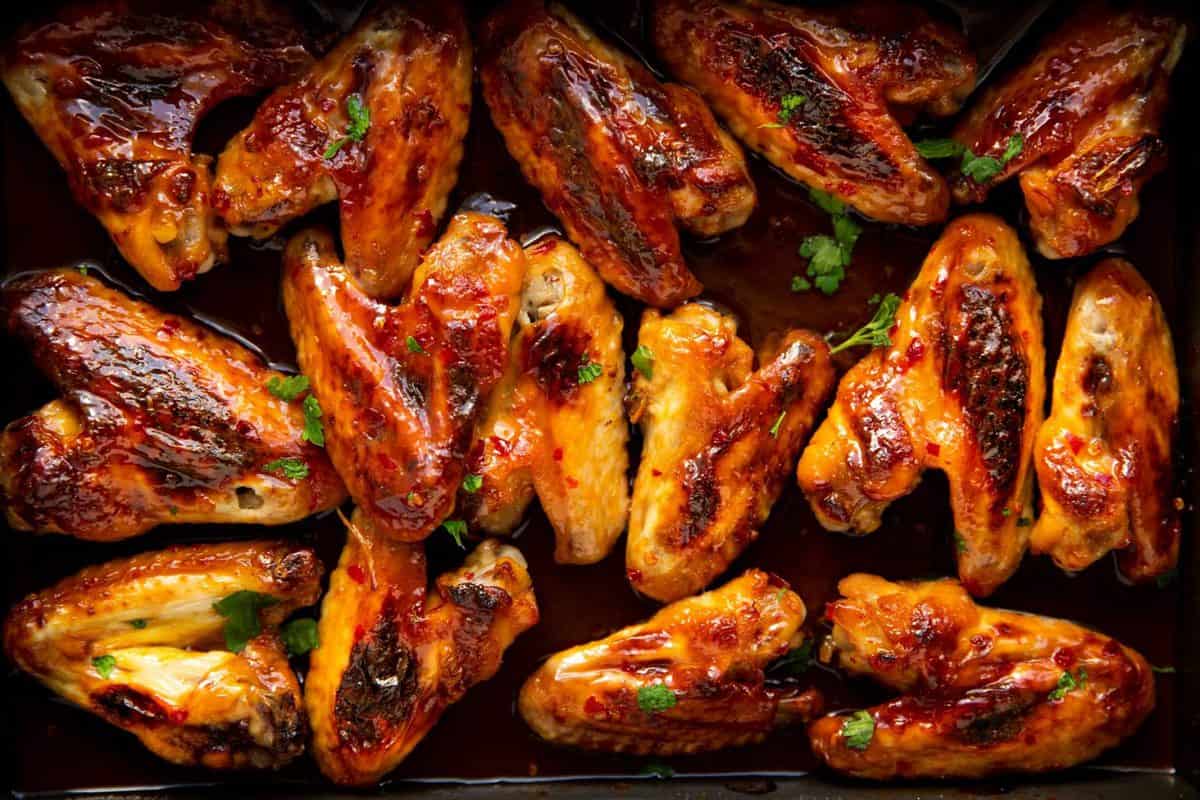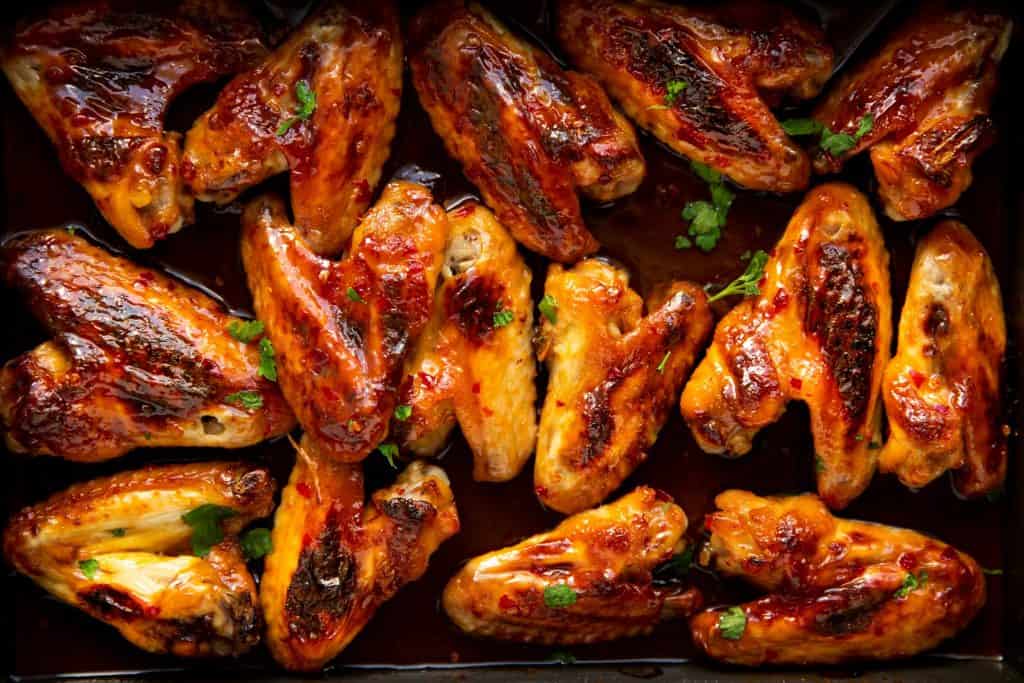 made it? tap the stars to add your rating!
This is my favorite way to make baked wings: First I marinate them in honey, chili sauce and spices, then I bake them while basting them with some of the marinade I set aside earlier. The turn out so sticky, sweet and slightly spicy – even my kid who is iffy about chicken is a fan!
Ingredients
2 to 3

pounds

chicken wings

1

cup

runny honey

⅔

cup

chili sauce

1

teaspoon

dried onion powder

½

teaspoon

dried garlic powder

1

tablespoon

mustard

2

teaspoons

Worcestershire sauce

(OR soy sauce)

¼ to ½

teaspoon

red pepper flakes OR hot sauce

(optional for more heat)
Instructions
Prep: Place wings in a large plastic zipping bag; set aside. Combine remaining ingredients. Pour ½ over wings, seal bag and massage and shake to cover all wings. Refrigerate for 4 hours or up to overnight. Reserve remaining marinade for basting; refrigerate until ready to use.

Bake: Heat oven to 375°F. Remove wings from bag, discarding any leftover marinade. Place wings in a lightly greased 13"x9" baking pan. Bake, uncovered, at 375 degrees for 35 to 40 minutes, basting with reserved marinade every 10-15 minutes, until golden and juices run clear when pierced. Finish under the broiler for 3 minutes, if desired (pay close attention so the wings don't burn!) and serve immediately.
Add Your Review
Step by Step Recipe Video
Nora's Tips
Ingredient Notes:
Chicken: You can also make this with chicken thighs. Baking time should be around the same, but make sure to check the internal temperature before serving!
Chili Sauce: I always use the sweetest, least spicy chili sauce I can find, because my kids are extremely sensitive to spicy food. Feel free to adjust this according to your family's taste!
Mustard: Can be left out if you're allergic or don't like it.
Cooking Tips:
Basting: I use a silicone brush for basting the wings, so easy! Make sure to clean your tool after every round of basting, and do the last basting at least 10 minutes before the baking time is up to avoid any contamination with raw chicken juices.
Serving Ideas:
We either love these as party food, but they're also great for a special family dinner.
I like to make my favorite cucumber salad to go with them, and rice. Or coleslaw and baked potato wedges. The kids love it either way!
More recipe information
Join my Newsletter to Get Recipes in Your Inbox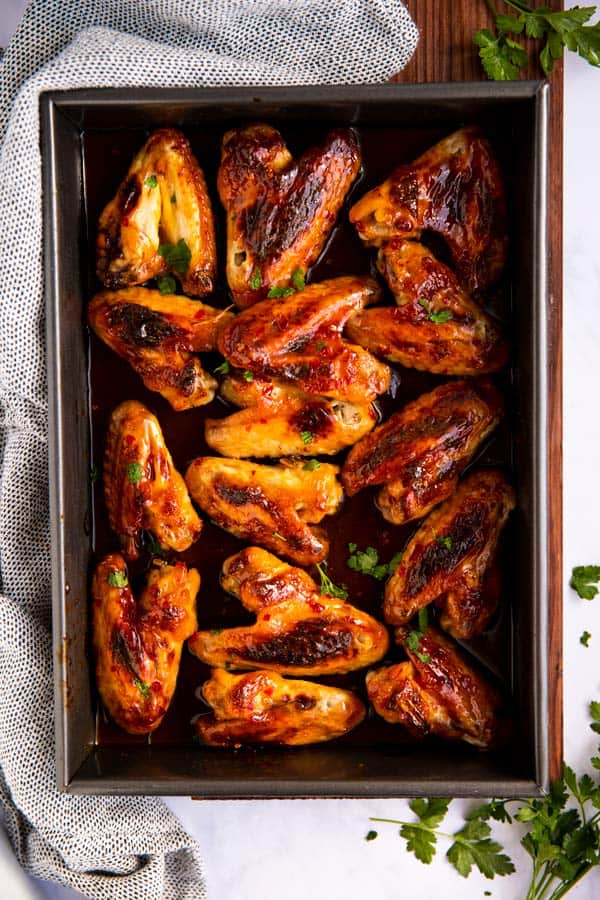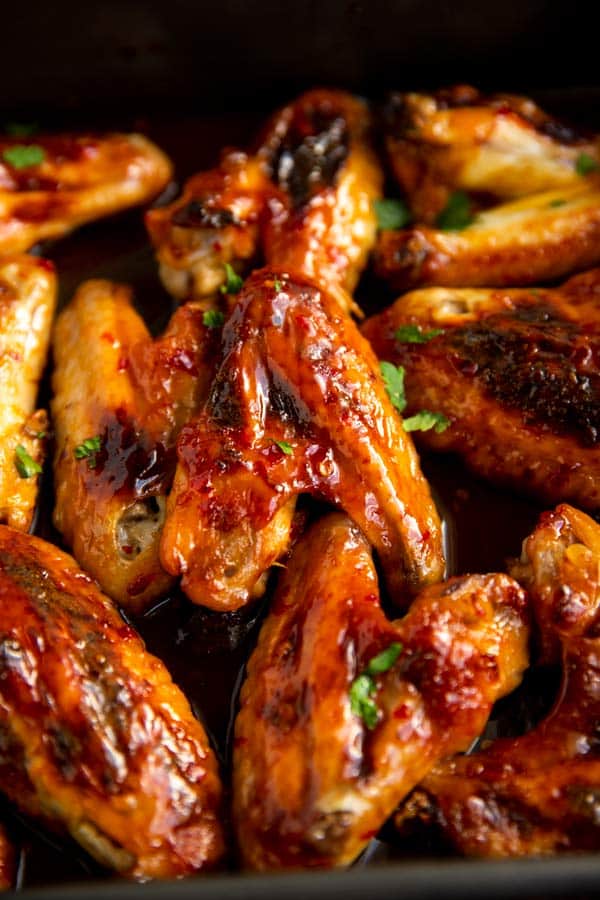 More Recipes You'll Love: