Pineapple BBQ Meatballs are delicious homemade meatballs smothered in a quickly made from scratch pineapple BBQ sauce. Serve them over rice with an Asian-inspired coleslaw for a healthy family meal.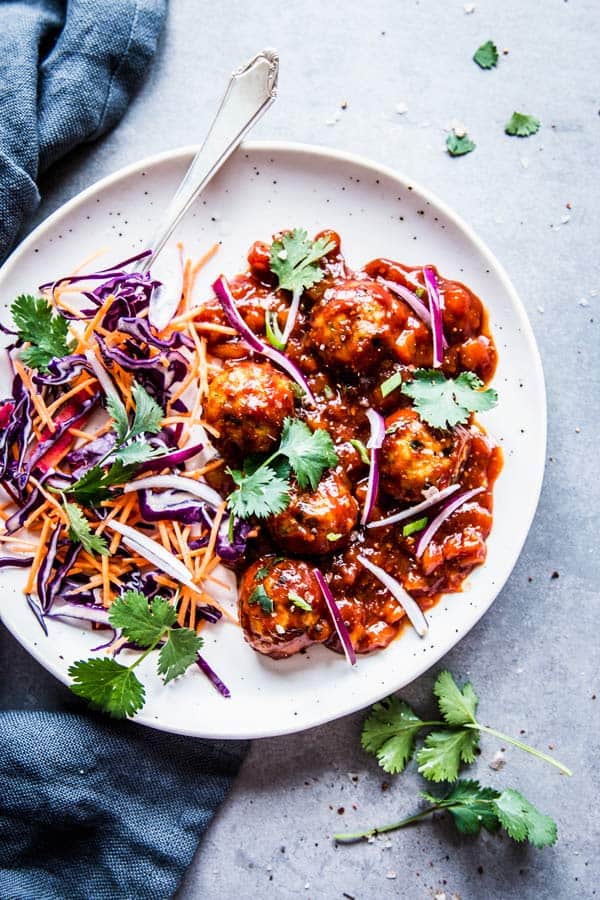 This recipe. It's the essence of what I love: Homemade meatballs and a delicious pineapple BBQ sauce. I already love plain bbq meatballs, but add pineapple and it's my own personal food bliss.
I'm all about the Hawaiian BBQ flavors, there's just something about the spicy-sweet combination… Delicious.
I've always been a huge fan of fruit in savory dishes, and my kids are no different. In fact, my 3 year old will try to steal the pineapple chunks from my plate while I'm busy keeping her little sister from shampooing anything and everything with barbecue sauce, that's how much she loves it.
By the way, I'm generally not successful at keeping my little one from spreading her food all around the dining table. There's a woman walking past our window to and from work every day and I'm convinced she believes all I do is kneel on the floor, cleaning up food.
But toddler habits aside, if you've tried and loved any of my other Hawaiian BBQ recipes (Hawaiian BBQ Chicken Tacos or Pineapple BBQ Crock Pot Baked Beans), you're going to love these meatballs.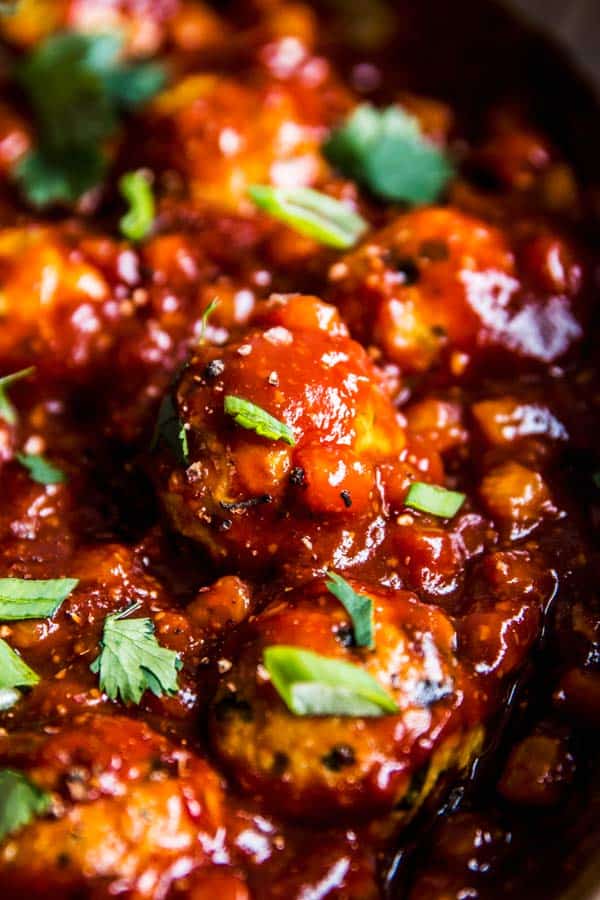 Why these Pineapple BBQ Meatballs are amazing:
They're so easy to make! Once you've got the hang of making meatballs from scratch, you can put this together in no time. The ingredients are simple, nothing fancy there, and prep time is super quick.
They're freezer friendly. When I'm planning to freeze these, I pack the sauce and the meatballs separately, then put them together in a larger freezer bag as a little meal kit. You could even freeze parboiled rice with them, too! But if there are leftovers I know we're not going to get through, I've frozen them in the sauce before, too. Not ideal, but they're still OK.
You can customize them! I like to use ground turkey when I make these, but you can also use lean ground beef or pork. If you like to spice things up a bit, some chili flakes in the meatballs and fresh sliced chili in the sauce can be pretty amazing.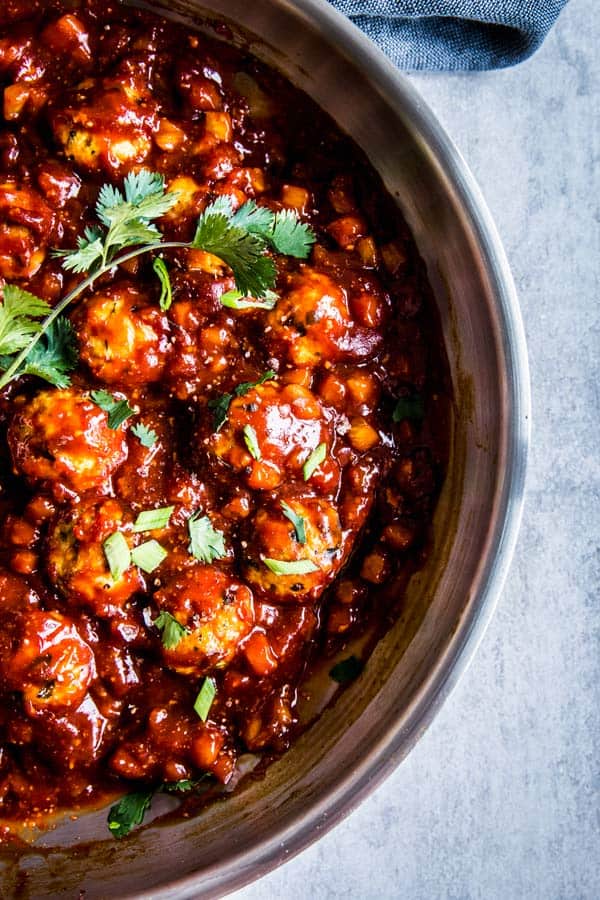 We love serving these over rice with a big, asian-inspired salad on the side. But if you're looking for more ideas to make a meal out of meatballs, I've got an entire post written on side dishes for BBQ meatballs!
And if you're generally curious about what turns meatballs into a meal, I've got ideas for sides for all kinds of meatballs in this post.
Now that we've got your sides covered, lets see how you're going to make your meatballs:
How To Make Pineapple BBQ Meatballs:
You'll start with the meatballs: Combine all ingredients in a large bowl and mix very well. I generally like doing this with a hand mixer because I don't enjoy doing it with my bare hands. I have step-by-step photos for this in this post on how to make homemade meatballs, if you need them.
Shape the meatballs and freeze them for 10 minutes. This is optional, but helps them to keep a better shape. In the meantime, preheat the oven.
While the meatballs are freezing/baking, whisk together all sauce ingredients in a large skillet and boil until thickened, whisking constantly. This is important, otherwise you could end up with a lumpy sauce.
Add the baked meatballs to the finished sauce and gently toss in there on low heat until the meatballs are nicely glazed.
P.S: If you're using a nonstick skillet, you're going to have to use a silicone whisk like this one on Amazon to keep the skillet's coating from getting scratched. FYI, I make a commission for purchases made through this link.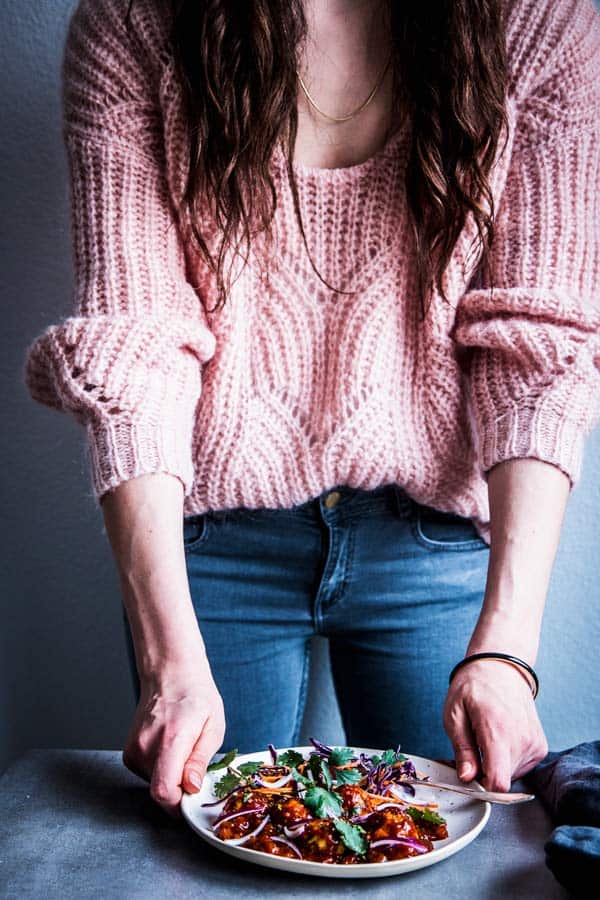 And by the way, once you've mastered this recipe, you'll also be able to easily make my Teriyaki Meatballs. And Honey Garlic Crockpot Meatballs (which you could also make on the stove if time is tight!), and my Korean BBQ Meatballs!
Anyways, food bliss. Coming your way as soon as the meatballs hit your plate.
Printable recipe
Printable Recipe Card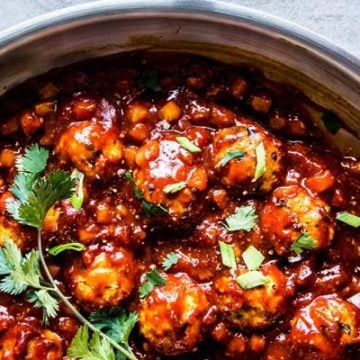 Pineapple BBQ Meatballs
Pineapple BBQ Meatballs are delicious homemade meatballs smothered in a pineapple BBQ sauce you can whip up from scratch in 5 minutes. Serve them over rice with an Asian-inspired coleslaw for a healthy family meal.
made it? tap the stars to add your rating!
Ingredients
For the meatballs:
1

pound

ground turkey

lean beef or pork

1

large onion

chopped

2

cloves

garlic

finely minced

1

scallion

finely chopped

1

large egg

3

tablespoons

breadcrumbs

1

tablespoon

sesame seeds

1

handful cilantro

chopped

Salt and pepper

to taste

Oil

for baking
For the sauce:
1

cup

pineapple juice

4

tablespoons

low sodium soy sauce

4

tablespoons

tomato paste

2

tablespoons

cornstarch

1

tablespoon

molasses

NOT blackstrap

2

tablespoons

honey

1

tablespoon

sesame oil

optional

1

teaspoon

Worcestershire sauce

1

teaspoon

ground ginger

1

teaspoon

dried garlic powder

1

cup

finely diced pineapple OR canned crushed pineapple
Instructions
Make the meatballs:
Mix the ingredients: Place all ingredients EXCEPT for the oil in a large bowl. Using a handheld mixer, mix very well until everything is evenly incorporated and sticks together. If you don't have a handheld mixer, you'll have to use your hands to knead the ingredients together very well.

Shape meatballs: Using about 1.5 teaspoons of meat mix per meatball, shape meatballs and place them on a lightly oiled baking sheet. For a nicer shape, freeze them for 10 minutes (but this is entirely optional! Just for looks).

Bake meatballs: Preheat the oven to 410°F. Bake the meatballs for 10-12 minutes or until browned and no longer pink in the middle.
While the meatballs are baking, make the sauce:
Whisk all ingredients for the sauce EXCEPT for the pineapple together in a large skillet. Stir in the pineapple, then bring to a boil, whisking constantly. Simmer for 2-3 minutes or until thickened. Set aside.
Finish the dish:
Place the baked meatballs in the skillet with the sauce and put it back over low head. Gently toss the meatballs with the sauce until they're nicely glazed.
Want to save this recipe?
Create an account for free to start your personal recipe box. Save any recipe by tapping the heart in the bottom right corner.
Join Now
Notes
Nutrition is an estimate.
Nutrition
Calories:
368
kcal
Carbohydrates:
43
g
Protein:
31
g
Fat:
8
g
Saturated Fat:
1
g
Cholesterol:
103
mg
Sodium:
809
mg
Potassium:
816
mg
Fiber:
2
g
Sugar:
26
g
Vitamin A:
385
IU
Vitamin C:
32.5
mg
Calcium:
84
mg
Iron:
3.3
mg
Nutrition is an estimate.
More recipe information