What can you pair with BBQ meatballs to make a great, balanced family dinner? Meatballs are versatile little guys and can make for a perfectly healthy meal. There are many options for side dishes and meal ideas. Just pick and choose what your family likes!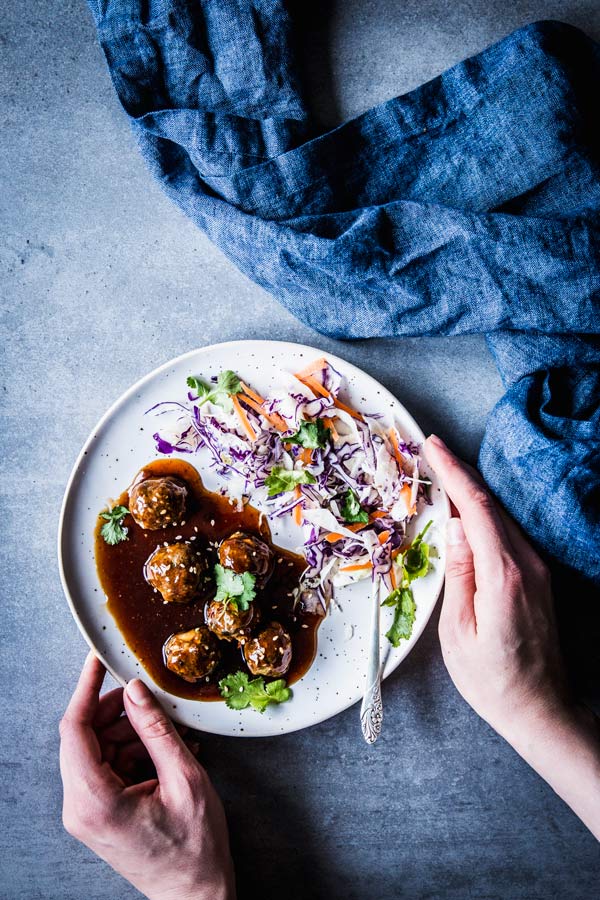 Oh goodness me (she said, in her most-over-the-top voice). Meatballs are a huge favorite in my house. I still remember how my then-toddler snuck into my photography studio while I was in the kitchen cleaning up after making these crockpot cranberry turkey meatballs.
Well, the meatballs were still in the studio. Until she came running out of there, meatball in each hand, happily munching away. Oh, sweet child of mine.
But while both my kiddo and I really enjoy making and eating meatballs, I used to struggle with turning them into a balanced meal. And by struggle I mean I slapped the meatballs in a roll from a can and called it dinner.
Not that I didn't know what side dishes were, but what can I say… I'm a pretty lazy cook, and if I don't have someone to tell me what to do? I start slacking. Meatballs-and-canned-rolls-for-dinner kind of slacking.
Then I had a genius idea. I have a phone. Apparently it's smart. It can definitely hold lists for me. How about… Lists with MEAL IDEAS? Somehow, having things written down in black on white make them a) easier to achieve and b) help me commit to making a healthy dinner (that isn't throwing a bag of baby carrots on the table and calling it a day… Ahem, though that is certainly still happening at times…)
My Slow Cooker Sticky BBQ Meatballs are one of the most popular recipes here on Savory Nothings. No wonder, they're so easy and incredibly delicious! I have many more BBQ meatball recipes planned for the very near future of this little blog, so stay tuned!And for now, let me share my BBQ meatball meal ideas with you, so we can all happily bathe in the glory of domestic blissdom.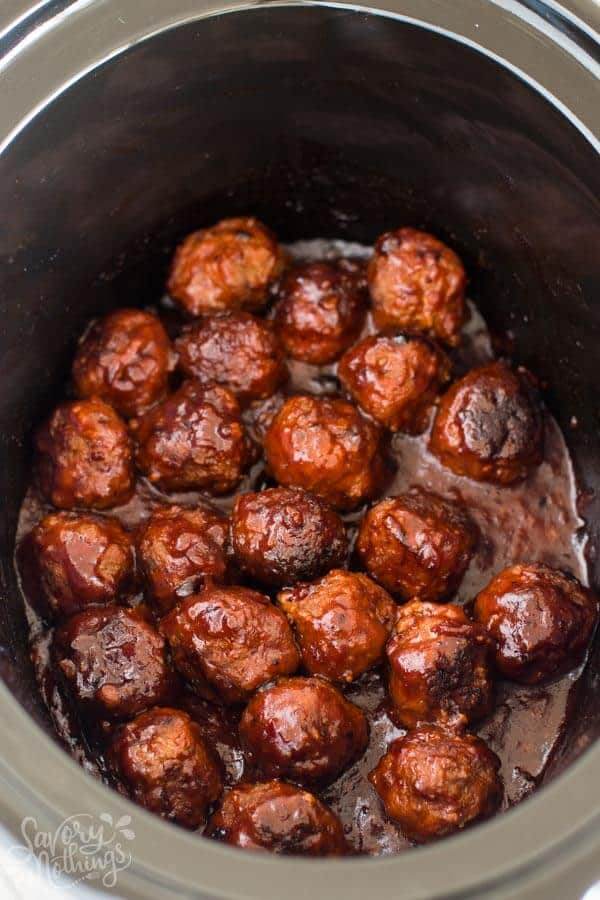 Oh, and if you need help with easily making those meatballs from scratch? Take a peak at the archives here on Savory Nothings:
Here is a guide on how to make homemade meatballs with a video.
And here is a guide on how to make meatballs with some pretty step-by-step photos.
These should turn you into a meatball making savage ASAP. Time to think about your sides now 😉
What can you pair with BBQ meatballs?
There's quite a few delicious options to make a nice, satisfying and healthy dinner with BBQ meatballs. I already covered some of my favorite sides in a post I wrote about general ideas on what you can serve with meatballs for dinner.
So here's the deal: I'm going to write down a list of things we like to eat with them, and I'm going to add links to the recipes where I have them. Then I'm going to give you suggestions for pairing them to make full meals.
Sounds good? Great. Let's get this show on da rrrrroad then (bonus points if you read this in your best opera-singer voice, and yes, that's a thing).
What do you serve with BBQ meatballs for dinner?
Starchy sides
rice
crusty bread (which, note to self, is different than rolls from a can)
potato salad
baked potatoes
noodles
Non-Starchy sides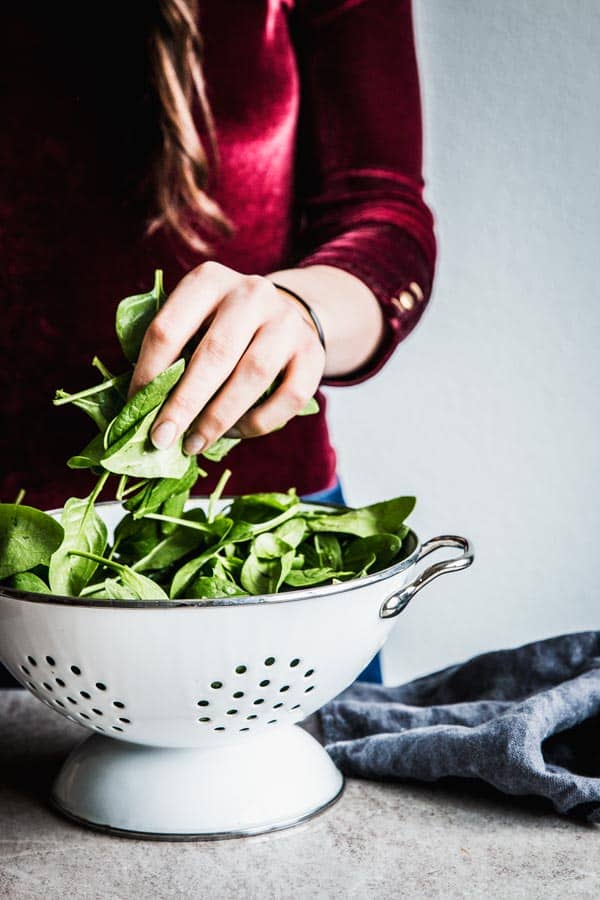 leafy or chopped salads
Greek yogurt coleslaw
pickles
sauerkraut
sautéd greens
broccoli
avocado
lettuce cupes
zucchini noodles
Meal ideas with BBQ meatballs for dinner: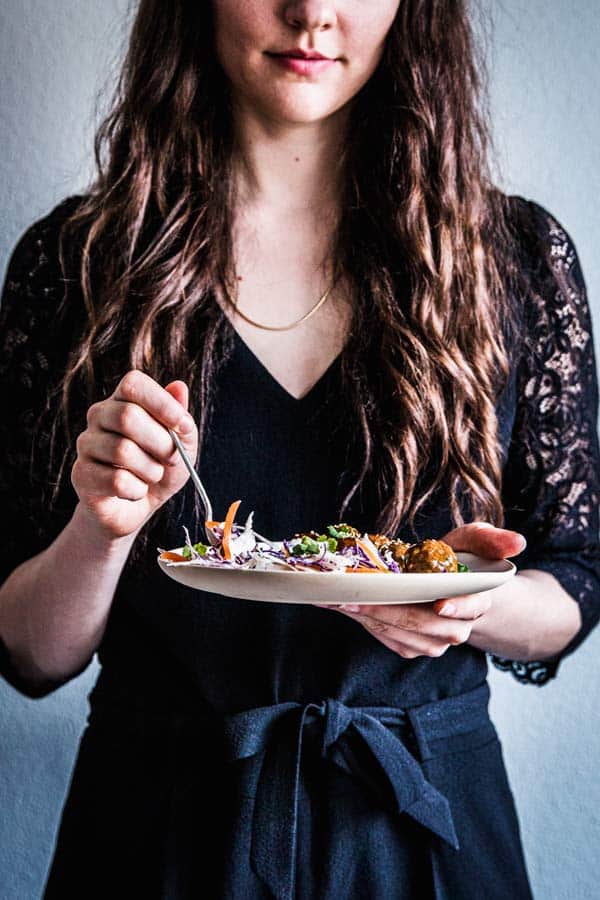 Meal 1: Classic
Sometimes, nothing but a classic meal will do. Pair BBQ meatballs with homemade mashed potatoes and plenty of steamed or sautéed green beans. Make sure there's enough sauce around the meatballs. If necessary, add some broth to the recipe to thin it out so it works well with the mash.
Meal 2: Diner Style
This is hands down one of my favorite dinners. Pair BBQ meatballs with sweet potato fries, coleslaw and slices of avocado. Bliss on a plate. This is especially delicious with recipes like my Pineapple BBQ Meatballs!
Meal 3: Summer Dinner
For when it's too hot to really cook! Make a large leafy salad and serve the meatballs in some crusty bread with pickles.
Meal 4: German-Inspired
With a Bavarian grandma, obviously I always need to have German-inspired meal ideas on hand. Right? Pair BBQ meatballs with potato salad and sauerkraut. The creaminess and tanginess of both go unexpectedly well with the meatballs!
Meal 5: Simple Dinner Bowl
For a simple yet delicious dinner bowl, serve the BBQ meatballs with rice and heaps of steamed or stir-fried greens. As with the mashed potatoes, make sure there's enough sauce on the meatballs. Otherwise the rice is very dry to eat.
Meal 6: Campfire Vibes
If you need some campfire vibes in your life (uhm, we all do), serve your BBQ meatballs with baked potatoes, baked beans and coleslaw.
Meal 7: Comfort Food Dinner
Mac and cheese, broccoli, a big salad and BBQ meatballs. Sometimes that's all you need to be happy.
Meal 8: Asian Inspired
Serve Asian inspired BBQ meatballs (like Korean BBQ Meatballs) over noodles and heaps of stir-fry vegetables. You can sub in zucchini noodles if you like.
Meal 9: Low Carb
I'm not generally a low carb person (hellooooo bread), but… I guess I can take a break every once in a while. BBQ meatballs in lettuce cups and stuffed with coleslaw are amazing!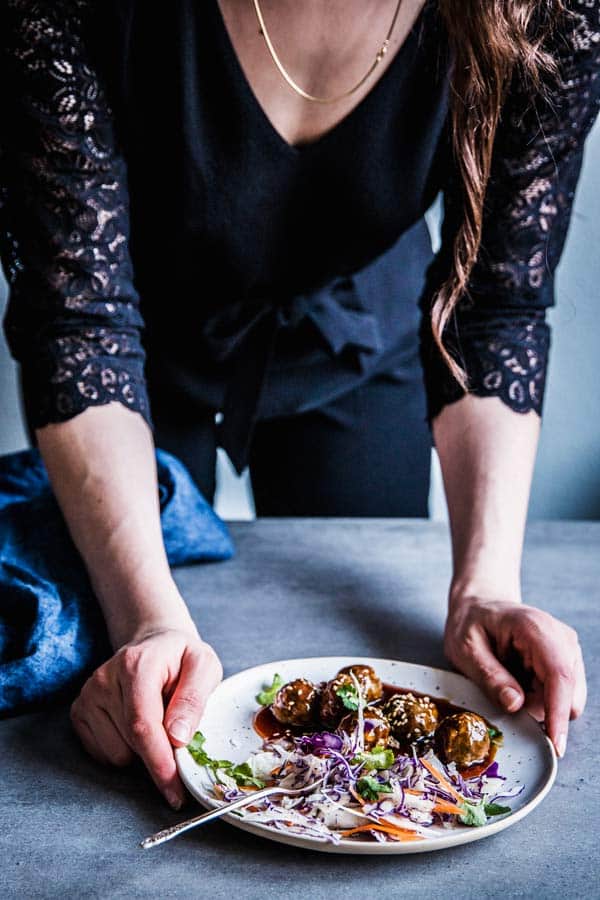 What are you going to serve with your BBQ meatballs for dinner tonight?
Which meal sounds best to you? Do you have any other suggestions? Let me know in the comments below!