Want to know how to make meatballs from scratch? Making homemade meatballs is the way to go if you like to eat a healthy diet! This post will teach you an easy way to make your own. They're simple, quick to assemble and a great way to stock your freezer for those busy weeknights.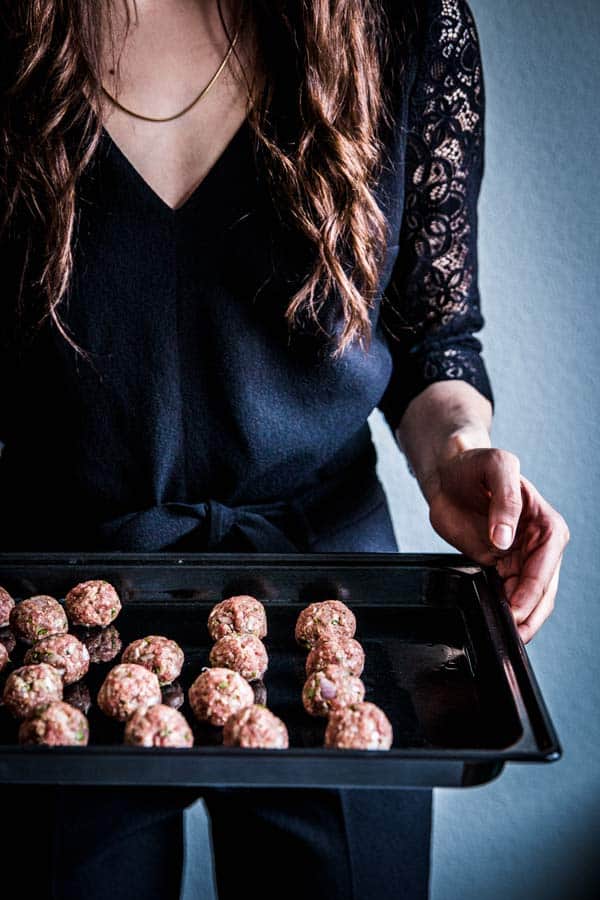 Meatballs. If you would have asked me ten years ago, I'd have told you I hate these things. But that's when I only knew IKEA meatballs, and in my opinion? They're not exactly delicious (that's why I make my own Swedish Meatballs as a treat about once a year).
But a few years ago I discovered the sheer beauty of homemade meatballs (to make BBQ slow cooker meatballs!). And I'm hooked. My husband's hooked. My kids are hooked. Everybody wins.
I already have a very detailed post on how to make meatballs (with a video!) attached to it. But since that's so popular (I guess you love meatballs just as much as we do!), I thought I'd talk about it for a bit more and tell you about the basics of how I make meatballs and give you a few ideas for fun twists – the goal of this post is kind of to empower you to make homemade meatballs without ever looking at a recipe.
And yes, being able to whip up a batch of meatballs from scratch without ever peeking at a recipe? That IS empowerment.
What I love about making meatballs from scratch:
You know what goes into them. No fillers, additives or things you can't pronounce. Buy the best quality meat you can afford (and if that's the value pack, it'll still be better than not making your own – I've been there!) and you'll be all settled.
The whole family can help. When we do a big meatball making session, the whole family pitches in. My husband will chop all the herbs and onions for me, I'll mix the meat with the aromatics and then we'll roll meatballs with the kids. They love helping!
It feels pretty adult to stock your freezer with them. That's all.
P.S. before we get into the pics: Yes, I do wear a black and lace jumpsuit around the house. Don't you? You should try it sometime. It will make you feel a lot better than yoga pants. And it's actually just as comfortable, who knew?!
Right. Sorry. Moving on.
How To Make Meatballs:
tl;dr:
Mix meat very well with egg, another binder and aromatics.
Tightly shape into balls and place on a lightly oiled sheet pan.
Freeze for 10 minutes to retain a better shape (optional).
Pan fry, bake or bag up and freeze for up to 3 months.
Long story with lotsa pretty step-by-step photos:
Obviously, a meatball starts with ground meat. Unless it's a vegetarian meatball. But question: Is that even a MEATball? But I digress.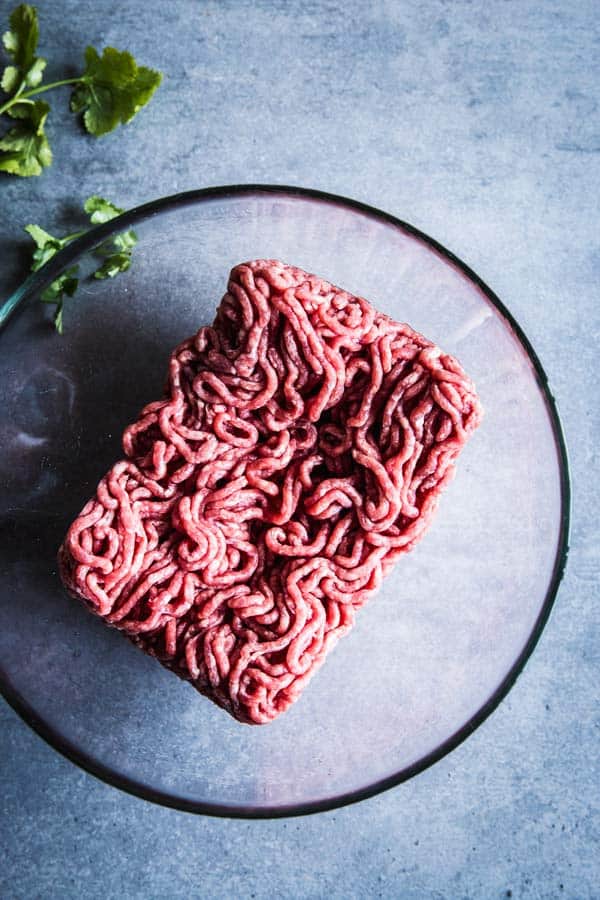 You can make meatballs with a lot of different kinds of ground meat. Beef and pork are obvious favorites, but turkey and even chicken make delicious meatballs, too. You should try lamb meatballs, though! So good. What's not ideal for meatball-y (and meatloaf-y, for that matter) things is veal – it makes them kind of dense and chewy.
Next, you're going to want to chop up some aromatics. Pick what suits your recipe best. I'll use things like garlic, ginger, onion, cilantro or scallions for Asian-inspired meatballs, for example (see Pineapple BBQ Meatballs, Korean BBQ Meatballs or Teriyaki Meatballs, for example!). If you're looking for a more traditional recipe, you can blitz a carrot, a celery stalk and a small onion in a food processor and add that to the meat.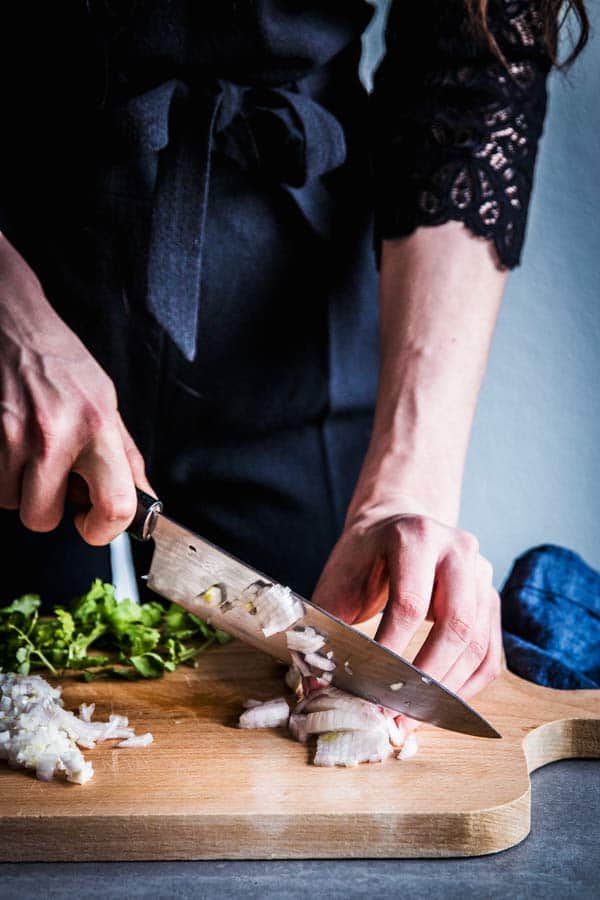 You can also just go classic chopped onion/minced garlic/chopped parsley. Whatever you choose to use, make sure you chop it up very finely. Otherwise you'll end up with large chunks of onion or the like in your meatballs.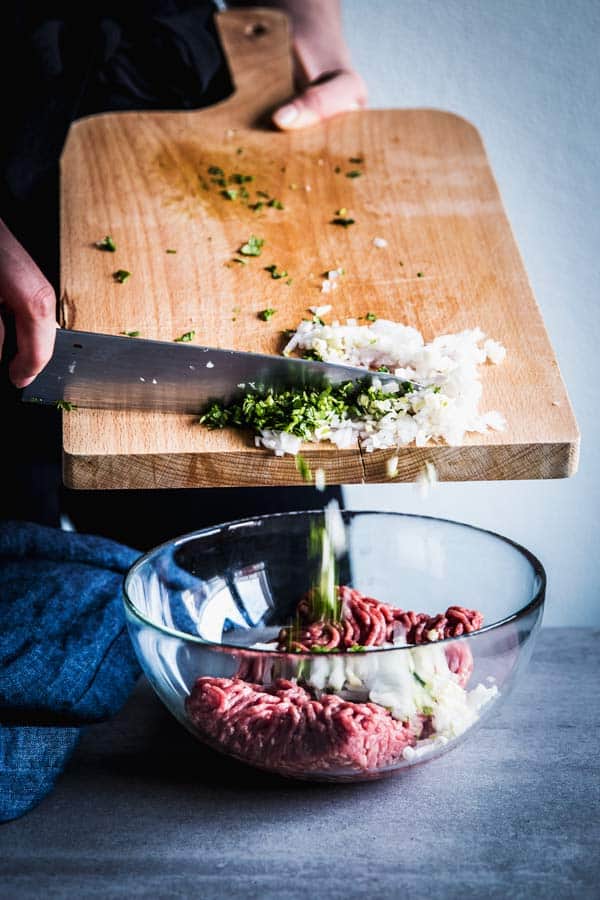 Next, you'll add an egg. It's there to bind and kind of hold together your meatballs. If you don't have eggs on hand (or you don't eat eggs), you can also make meatballs without it. It will just hold together less and be a bit more crumbly.
I would not advocate making egg-less meatballs to cook in a sauce for a long amount of time. You can certainly make eggless meatballs and then place them in a finished sauce to serve though.
But here, I'm using egg. My rule of thumb is to use 1 egg for every pound of meat.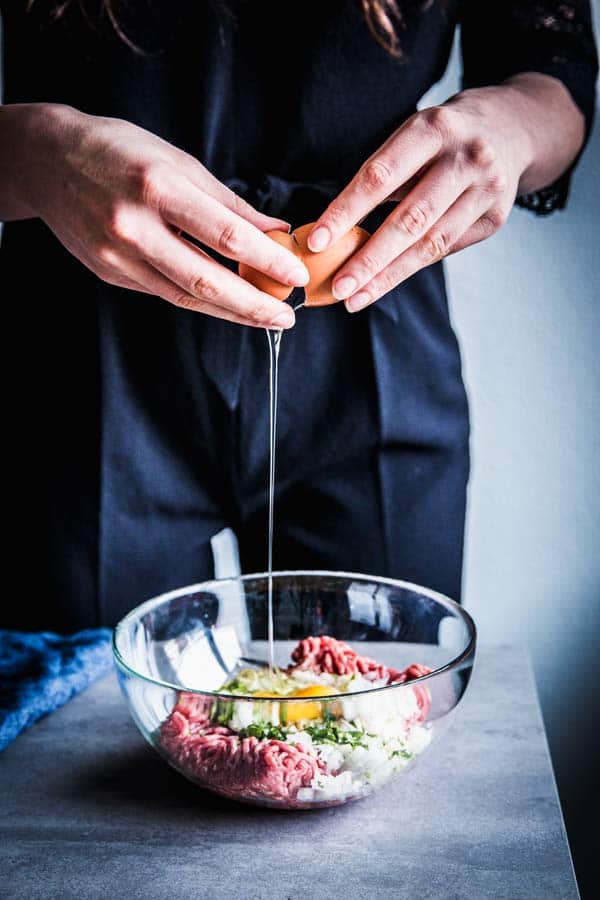 Next, you'll add some additional binding ingredient. The traditional way to go are breadcrumbs. But you can also do crushed crackers, oats (it helps to run a knife over them to make them a bit smaller, or soak them in milk before using) or old bread you've torn up and soaked in milk.
You can even go crazy and use something like sesame seeds (amazing in Asian-inspired recipes!!). You savage, you. Sometimes I'll do a mix of seeds and something starchy. But whatever I do, I use about ¼ cup per pound of meat.
As far as spices go, you'll definitely want to add a bit of salt. I do ¼ teaspoon per pound of meat. Then, add whatever you like. Smoked paprika is terrific in turkey meatballs! And for more classic meatballs, a dried herb mix is delicious.
Finally, you'll need to mix everything. I do not ever do this by hand and I'm not even ashamed to admit it. I use my handheld mixer with the hook attachment if I'm making a small batch, and my stand mixer with the hook attachment if I'm making a large batch for the freezer. It's so easy.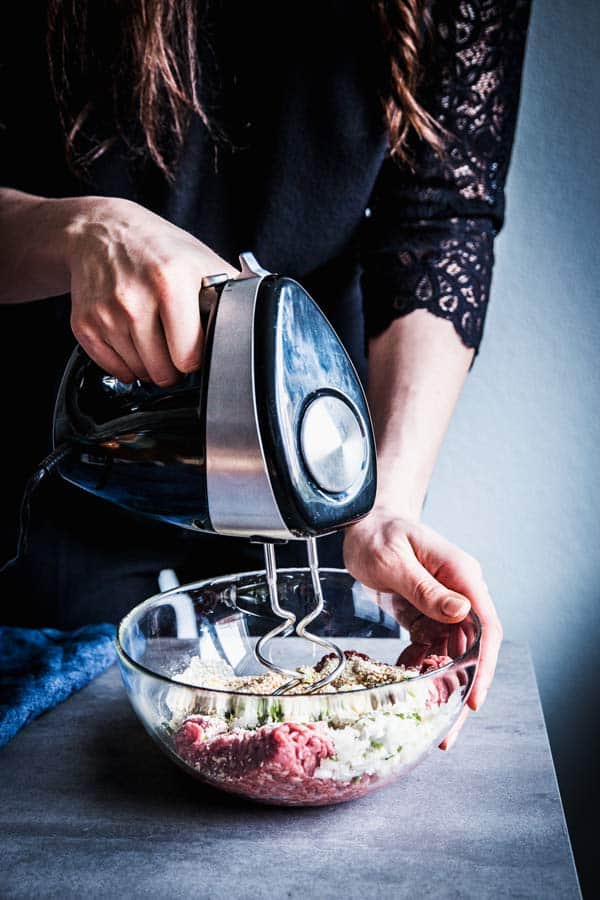 You should know that it takes more than combining the ingredients to make good meatballs, which is why I always use a mixer. You'll want to activate the protein so the meatballs stick together later.
It's kind of like making a meat dough – so mix as if this was bread dough, not muffin batter.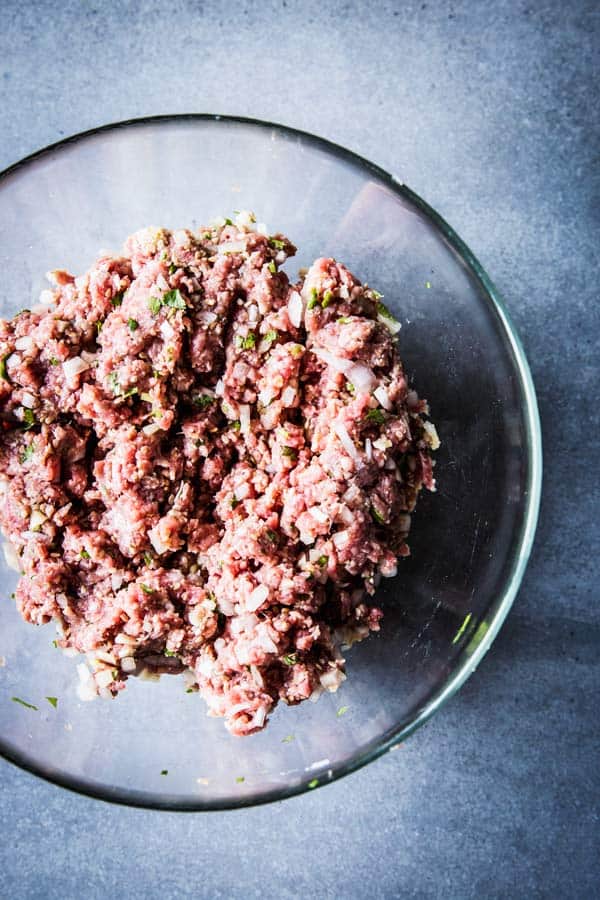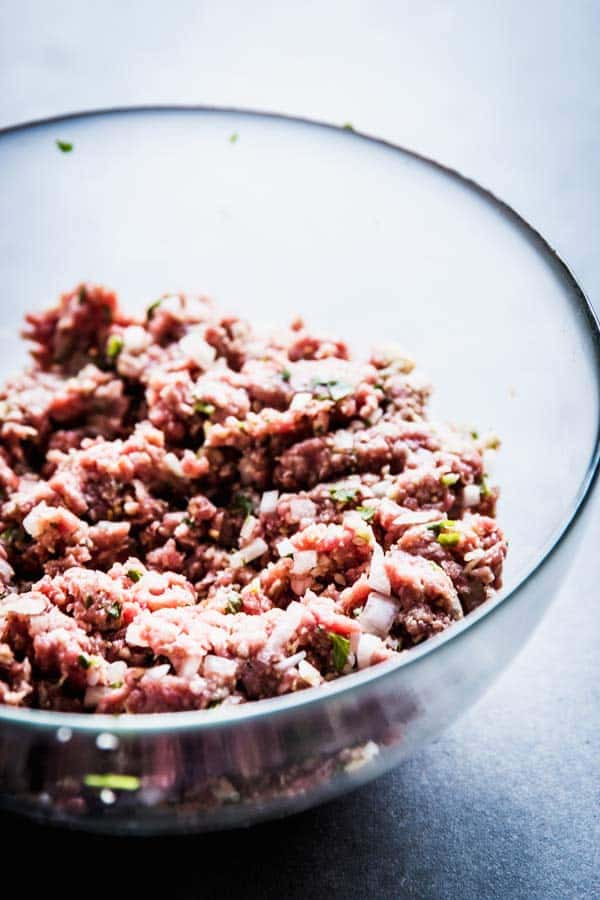 You can see that it's kind of sticking together as a big mass. That's how it should be when you start rolling – not crumbly.
And then just scoop up bits of meat mix (I do about 1.5 teaspoons per meatball) and tightly roll into a meatball between the palms of your hands.
Now I know it sounds a lot like an extra step, but I like to freeze the meatballs before cooking them. That way they hold their shape a lot better and look prettier. You'll also risk them falling apart a lot less if you weren't that diligent with all the mixing and rolling (you should be though, I told you so).
Especially if you're planning on freezing a bunch of meatballs raw, it's a good idea to place them on a lightly oiled sheet pan to freeze for about 30 minutes before bagging them up to freeze for up to three months. If you want to cook them right away, 10 minutes in the freezer are enough.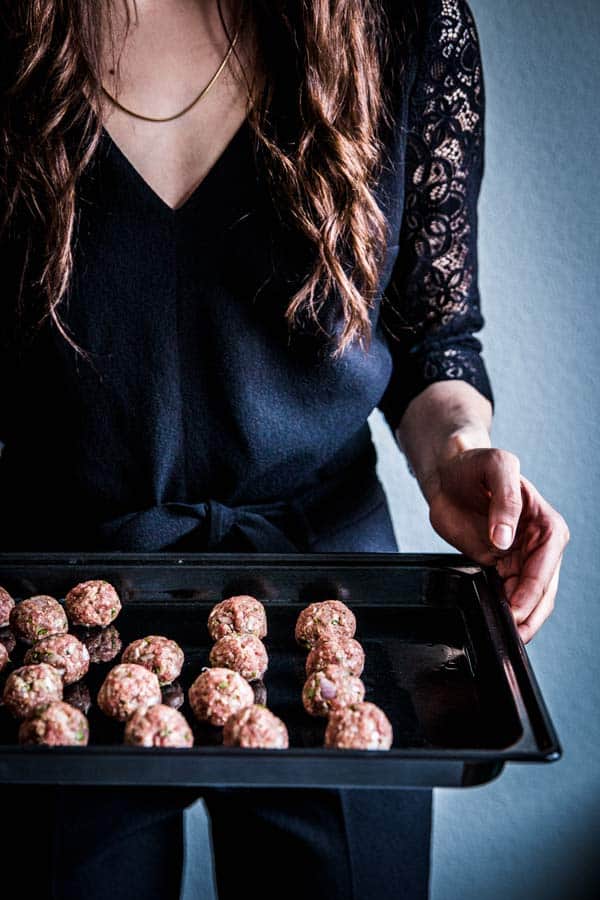 My all-time favorite way to cook meatballs is to bake them. It's easy, mess-free and super fast. Also, no flipping, and the shape looks great once they're done.
You can obviously also cook meatballs on the stove (especially if you want to make gravy from those drippings!). I generally don't add them raw to sauces to poach them, because I've had too many mishaps with them completely disintegrating into the sauce. And I'll especially pre-cook them if I'm making meatballs in the crockpot, like my favorite holiday recipe: Cranberry Turkey Crockpot Meatballs.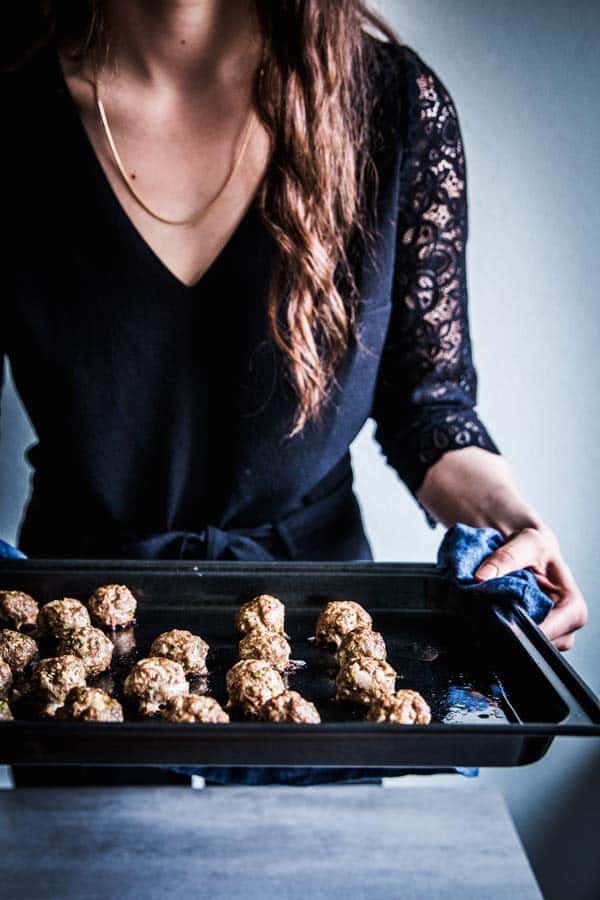 And once they're done? All that's left is to figure out what to serve with them. Good thing I have written an entire post on that for you, and then another one on sides for BBQ meatballs, right? You get a meatball! And you get a meatball! And you get a meatball!
I'm going to give you a recipe now, but it's a recipe you should use as a guide and memorize by heart.
Because remember? That's what this thing we've got going on here is: Empowerment.
Get the printable instructions for how to make homemade meatballs here: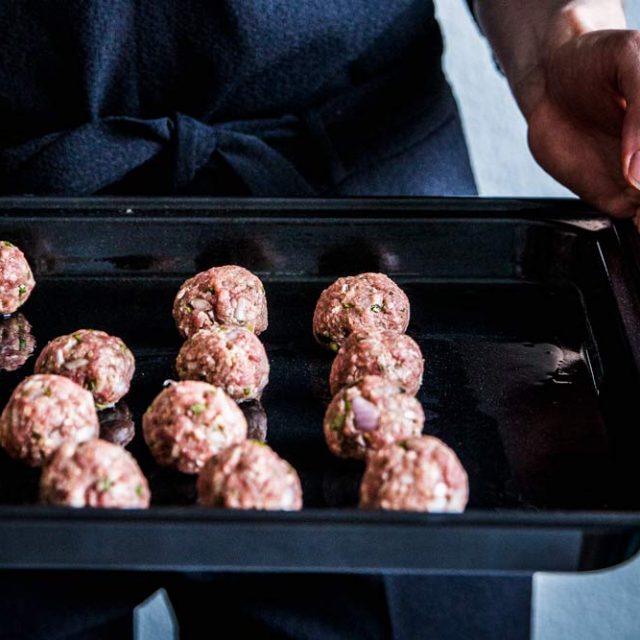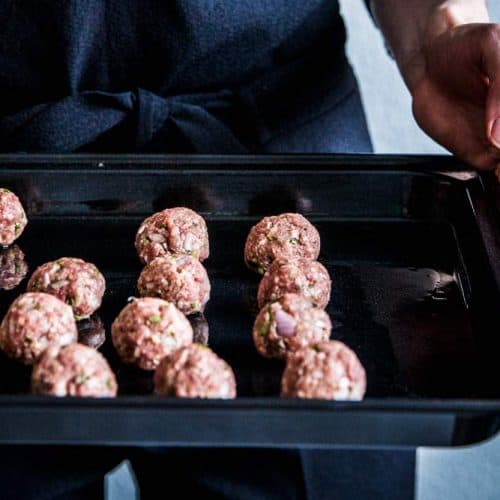 How To Make Homemade Meatballs
made it? tap the stars to add your rating!
Want to know how to make homemade meatballs? Making meatballs from scratch is the way to go! This post will teach you an easy way to make your own. They're simple, quick to assemble and a great way to stock your freezer for those busy weeknights! See notes for detailed suggestions on ingredients.
Ingredients
1

pound

ground meat

¼ - ½

cup

finely chopped aromatics

1

large egg

¼

cup

bulking and binding ingredient

(like breadcrumbs)

¼

teaspoon

salt

Dried herbs and/or spices
Instructions
Make the meat mixture: Place the ground meat in a medium bowl. Add all other ingredients and mix with a handheld mixer until very well combined and sticking together.

Roll into balls: Using about 1.5 teaspoons of meat mixture per meatball, shape firm balls between the palms of your hands. Place on a lightly oiled sheet pan.

Freeze: To cook the meatballs straight away, freeze on the sheet pan for 10 minutes. To freeze the meatballs for later, freeze on the sheet pan for 30 minutes, then pack into a labelled freezer bag and freeze for up to three months. Defrost in the fridge before cooking.

Cook meatballs: To cook the meatballs, either pan-fry in a little oil until browned on all sides and no longer pink in the middle. Or bake in the preheated oven at 425°F (220°C) for about 10 minutes, or until browned and no longer pink in the middle.
Add Your Review
Nora's Tips
What I recommend to use:
Ground meat: Use beef, pork, turkey, chicken or lamb
Aromatics: Onion, garlic, parsley, cilantro, ginger, scallions, celery, carrots...
Bulking and binding: Breadcrumbs, old bread soaked in milk, ground oats or oats soaked in milk, sesame seeds
Herbs and spices: Smoked paprika, dried Italian herbs, dried oregano...
Some of my favorite combos:
Ground pork, onion, garlic, scallions, mix of breadcrumbs and sesame seeds, ground ginger
Ground beef, onion, garlic, parsley, breadcrumbs, dried Italian herbs
Ground turkey, onion, celery, carrots, old bread soaked in milk
Ground lamb, onion, garlic, breadcrumbs, smoked paprika, dried oregano
More recipe information: