Please make way for the star of the show: Teriyaki Meatballs, tadaa!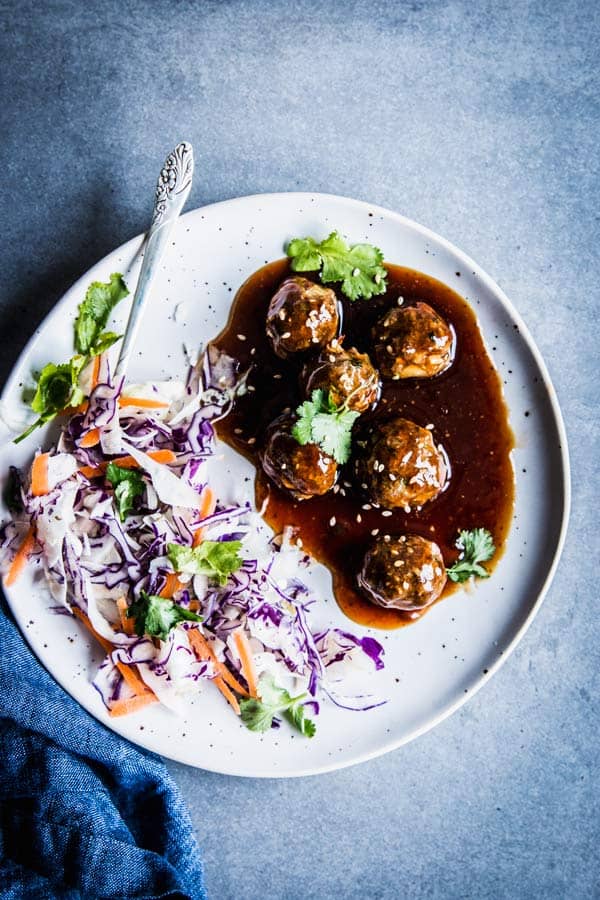 I know I know, I've been promising you these guys on my IG Stories for a looong time now. But you know what it's like. Children. Transatlantic flights. Brown stuff that photographs really badly.
Yes, I do have a million and two meatball recipes on the blog. And yes, I hated photographing every single one of them (especially looking at you, Swedish meatballs!).
The thing is though… Meatballs rock. So, I had to get over how annoyed I am at them for being so ugly, and just get on with this recipe. Because is it so good that you better plan on making a double batch? Why, yes. That's exactly how delicious this is.
I first made these when I had the genius idea of combining a batch of the meatballs from this post I had stashed in my freezer with a batch of my homemade teriyaki sauce. And oh wow, I was blown away.
I made a few tweaks to the recipe to get it just perfect – and here it is now. Teriyaki Meatballs. Ready to blow your mind.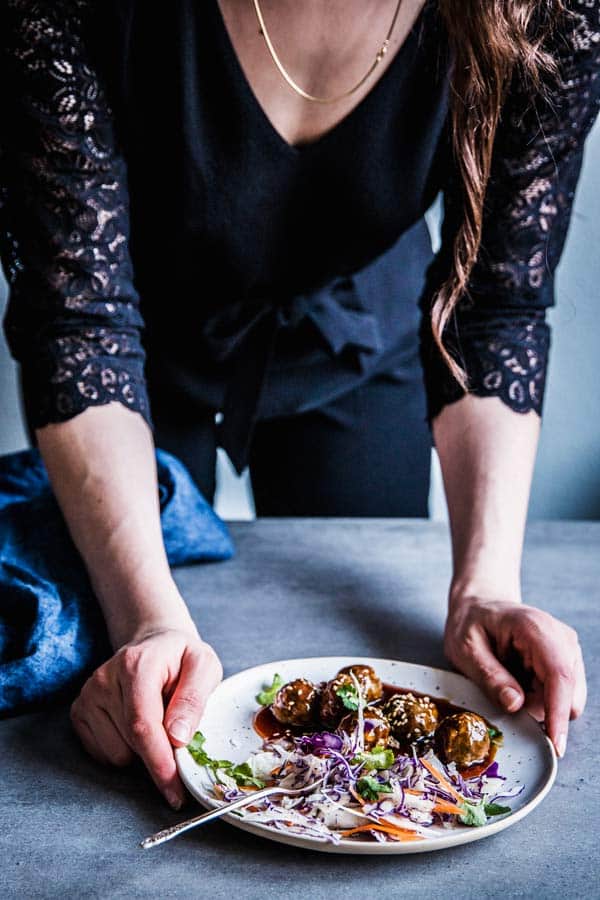 What I love most about these teriyaki meatballs:
They're EASY to make. The meatballs are quick to whip up once you've made them a couple of times. The sauce? Thats whisking a few ingredients in a measuring jug and bringing that to a boil while your meatballs are in the oven. Add finished meatballs. Done.
There are many ways to serve these. You'll definitely never get bored: Turn them into a noodle stir fry, serve them over rice with steamed greens on the side or even add them to a sub with Asian-inspired slaw. For more ideas, check out my post on how to serve meatballs or my post on sides for BBQ meatballs.
They work as an appetizer in a pinch. You know, for when you forgot to whip up your batch of slow cooker meatballs. Because that definitely never happened to me…
So, about that double batch… I wasn't kidding. My kids eat these like crazy.
Which is also why I can make them without looking at a recipe. With a toddler on my arm. And a pre-schooler having a tantrum in the background.
They're so lucky they're cute.
Either way, let's get a-meatballing.
How to make teriyaki meatballs:
tl;dr:
Make meatballs.
Make sauce.
Combine.
Pat self on back for making such a genius dinner.
Long and very picturesque version:
First off, you're going to make a batch of meatballs with Asian-inspired flavors. I have a small tutorial about general meatball-making practices with step-by-step photos in this post about how to make homemade meatballs, if you'd like to take a peak.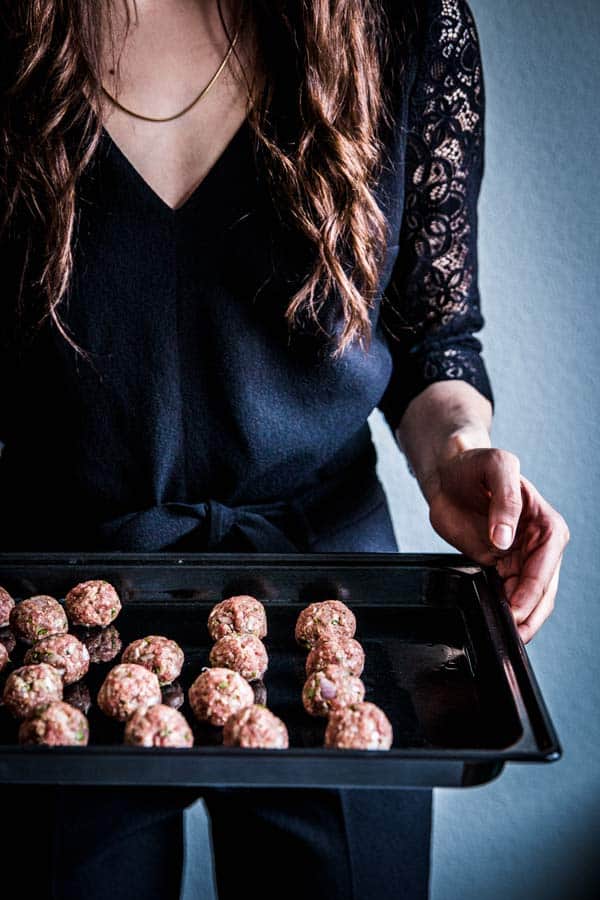 I also have a separate post on how to bake meatballs, if you need some extra guidance there. But it's pretty straight-forward, so no worries.
Next, the sauce. It's incredibly simple.
Just a few ingredients whisked together…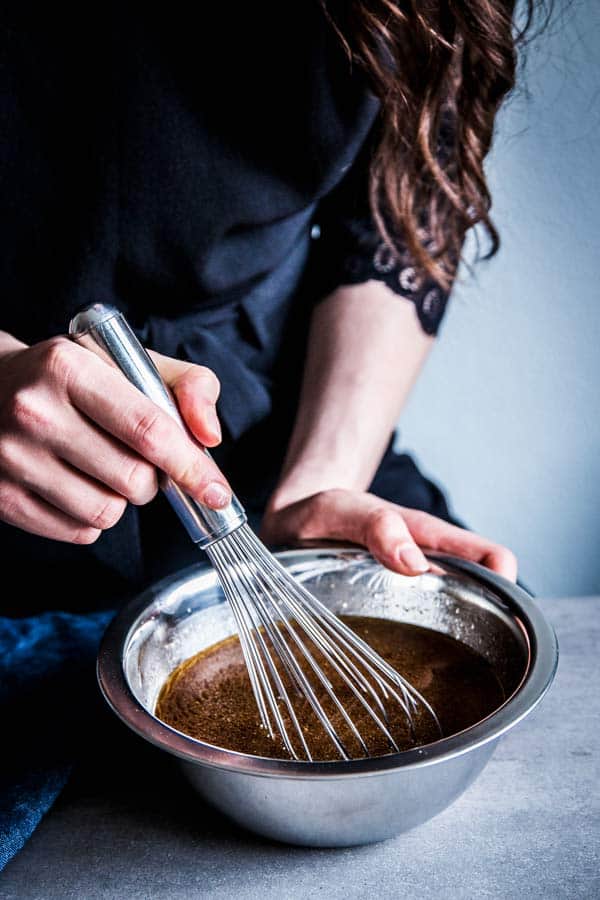 … and simmered until nicely thickened.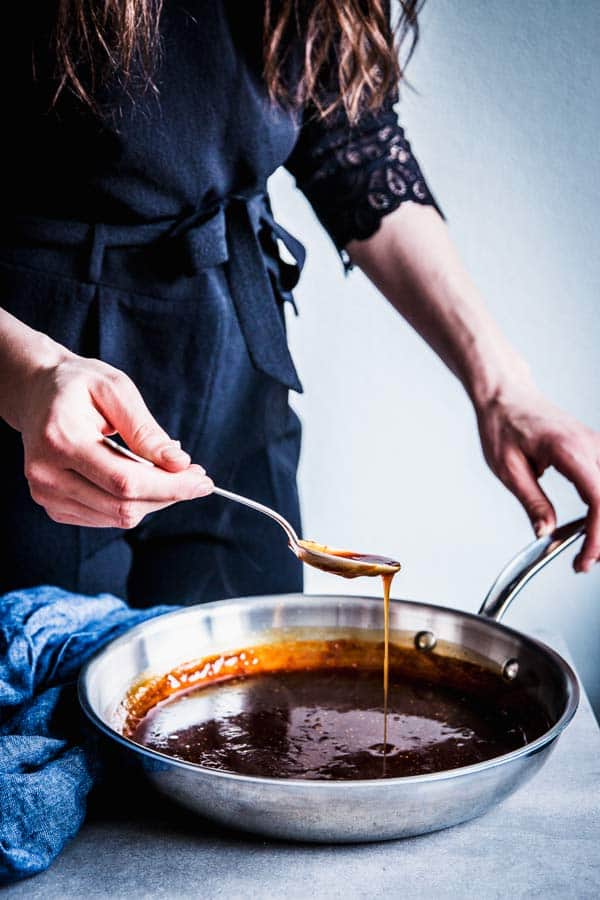 Then, all that's left to do is carefully tossing those meatballs with the finished sauce. You want them coated with a sticky, glossy finish all around (my cranberry turkey meatballs got me hooked on glazed meatballs!). And there's plenty of sauce to go over rice, with noodles or whatever your sweet little heart desires.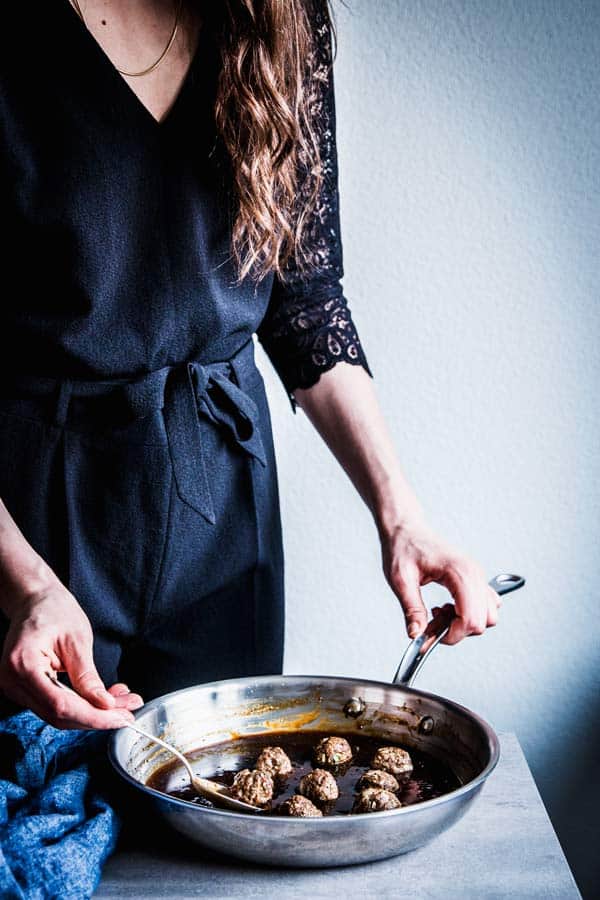 I like serving plenty of steamed greens with them. Obviously, I ran out of both greens and time when it came to taking the photos for this post felt like that wasn't necessary at all to take some pics.
I whipped up a quick batch of peanut coleslaw, and by whipping up I definitely mean opening a bag of slaw mix and dumping it in a bowl with oil, peanut butter and vinegar. There's no shame in shortcuts that aren't terrible for you, right?!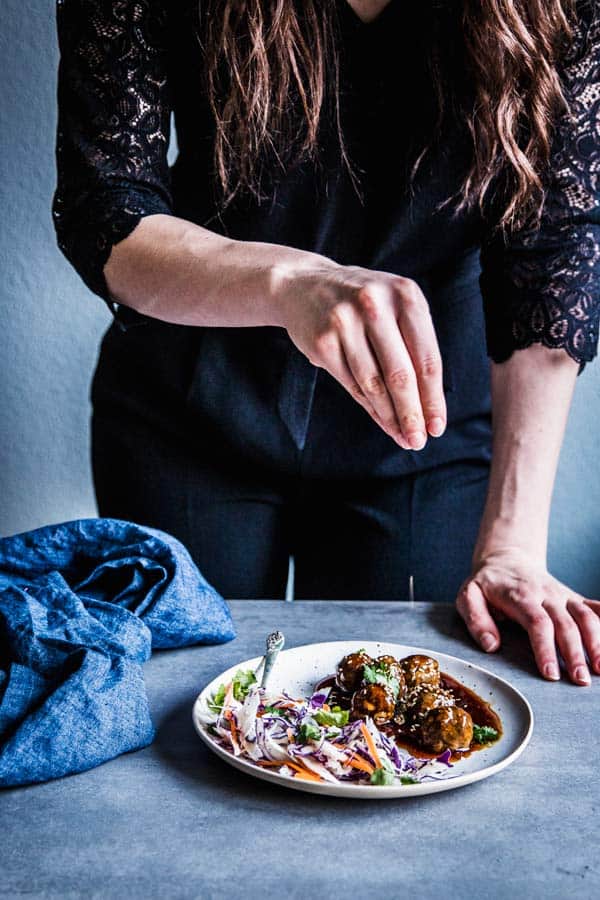 I firmly believe in dressing up a meal with a sprinkle of flavor and texture. I don't always have the nerve for it… But when I do, dinner usually feels that much more special. So, sprinkle on that sesame and a bunch of cilantro leaves, then pour yourself a glass of wine because you made such amazing food.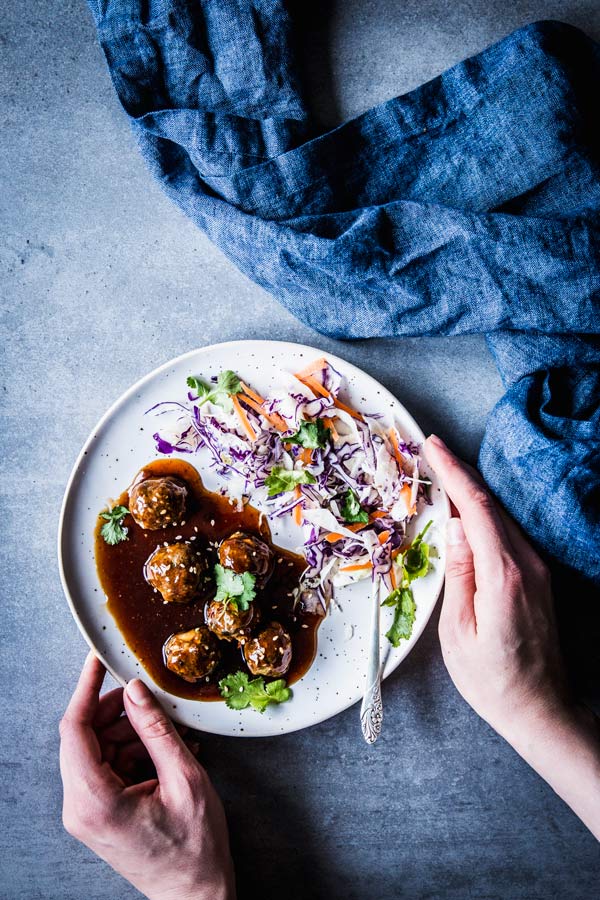 Hopefully you can forgive me for taking my sweet old time with this post. You know, that's what a trip to a 9-hour-time-difference place does to you… Or maybe, possibly, potentially it's the two little munchkins tap-dancing all over my personal space and right into my heart around here…
Either way, I promise you one thing: These were worth the wait. 100%.
P.S: If you'd prefer an asian-inspired slow cooker version, you can find a honey garlic crockpot meatball recipe here! And if you need more stovetop ideas, there's also a Korean BBQ Meatballs recipe. And a Pineapple BBQ Meatball recipe. Uhm, I love meatballs, I guess!
Get the printable recipe for Teriyaki Meatballs:
Printable recipe
Printable Recipe Card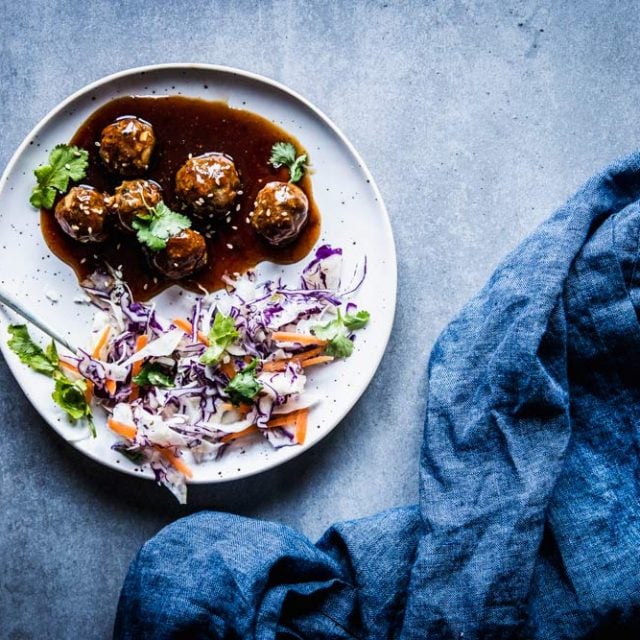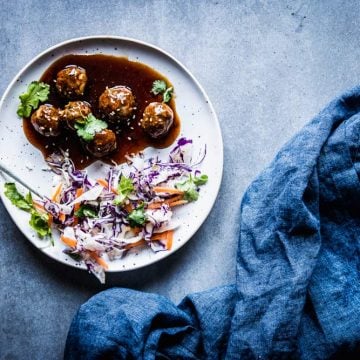 Teriyaki Meatballs
Teriyaki Meatballs are a great appetizer or an easy dinner option. They're quick to whip up and the sticky sauce is perfect to go over rice or noodles. Try them this week!
made it? tap the stars to add your rating!
Ingredients
For the meatballs:
1

pound

lean ground beef

1

large onion

finely chopped

3

cloves

garlic

finely chopped

¼

cup

cilantro

finely chopped

1

large egg

2

tablespoons

breadcrumbs

2

tablespoons

sesame seeds

¼

teaspoon

fine sea salt

Oil

for baking
For the sauce:
1 ½

cups

chicken stock

5

tablespoons

low sodium soy sauce

1

tablespoon

honey

2 ½

tablespoons

cornstarch

½

teaspoon

garlic powder

½

teaspoon

ground ginger
Instructions
Make the meatballs: Place all ingredients for the meatballs in a large bowl. Using a mixer with the hook attachment, mix well until everything sticks together and the vegetables and cilantro are evenly distributed. Shape into 1.5 teaspoons sized balls and place on a lightly oiled baking sheet. Freeze for 10 minutes (optional, to retain a better shape).

Bake the meatballs: Preheat the oven to 430°F (220°C). Bake the meatballs for 10-12 minutes, or until no longer pink in the middle.

Make the sauce: While the meatballs are freezing and baking, make the sauce. Place all ingredients for the sauce into a measuring jug and whisk very well. Place in a skillet and bring to a boil. Simmer until thickened, about 3-4 minutes.

Finish the dish: Place the baked meatballs into the hot sauce and gently toss. Serve immediately.
Want to save this recipe?
Create an account for free to start your personal recipe box. Save any recipe by tapping the heart in the bottom right corner.
Join Now
Notes
Meatballs can be made ahead and stored in the fridge for 2-3 days. To reheat, add a bit of water to the sauce to thin it out and gently heat on the stove (or in short bursts in the microwave - use a lose cover to avoid splatters).
Nutrition
Calories:
308
kcal
Carbohydrates:
22
g
Protein:
30
g
Fat:
10
g
Saturated Fat:
3
g
Cholesterol:
113
mg
Sodium:
1071
mg
Potassium:
615
mg
Fiber:
1
g
Sugar:
7
g
Vitamin A:
125
IU
Vitamin C:
3
mg
Calcium:
81
mg
Iron:
4.4
mg
Nutrition is an estimate.
More recipe information