With just a few ingredients, you can make these easy oven BAKED MEATBALLS at home, all from scratch! No messing with getting them browned all around or flipping without the meatballs losing their shape – baking meatballs is SO easy!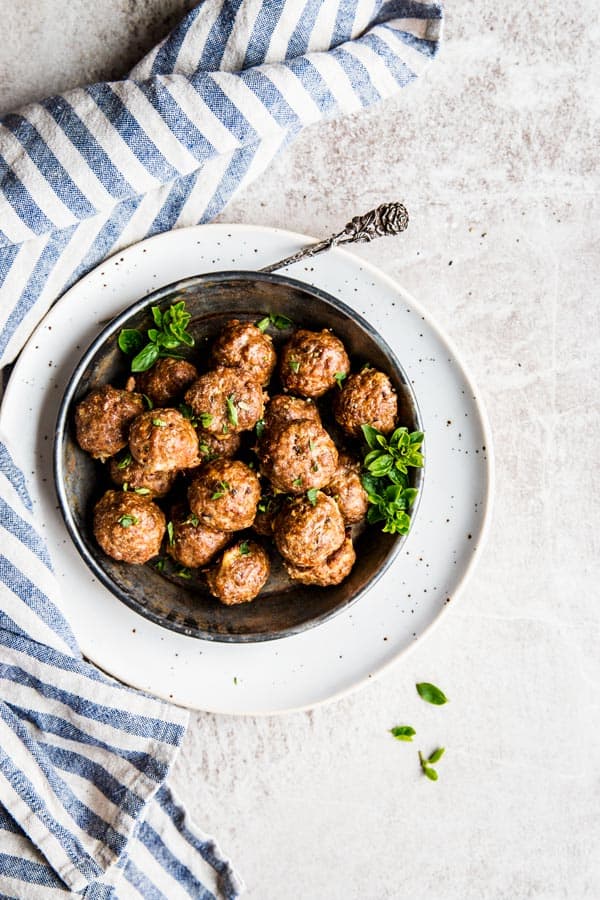 One of the best things about calling this blog my job (!!) is the fact that I can do pretty much whatever I want to.
And one of the worst things about it? That I can do pretty much whatever I want to.
Ha!
It means things like I can decide to stay in my PJs all day. But also things like I can change my mind a gazillion times.
I live by my calendar and often test and photograph recipes weeks, if not months in advance.
But then things happen in my head and I have a last minute holiday recipe idea… And something gets pushed back.
Occasionally it then gets… Forgotten.
Like these baked meatballs, you ask?? Wellll, yeah.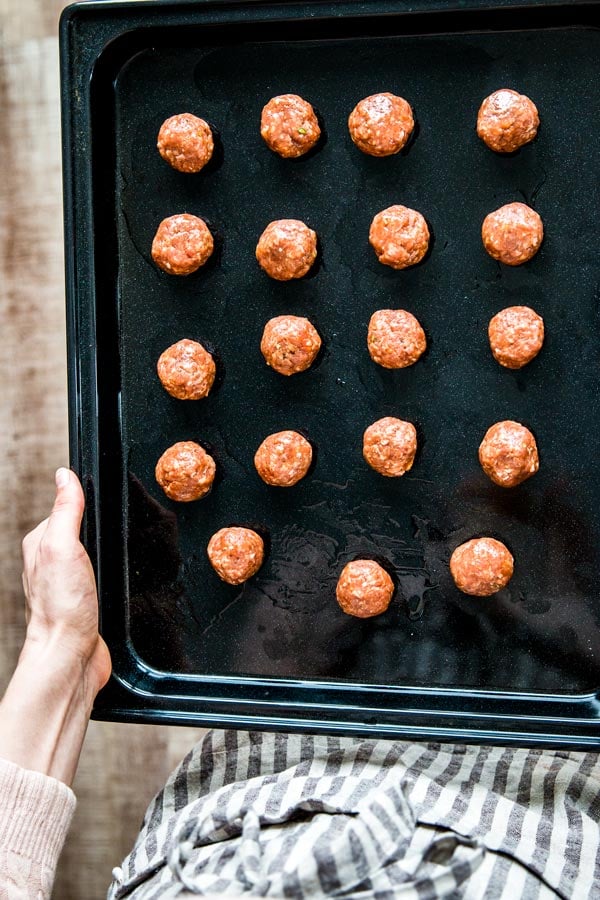 So, I had planned to share this recipe right after Christmas with you. Better late than never, right?
*holds out a plate of cookies to make up for it*
Well, as you might be able to tell, these meatballs are BAKED. I know, it was not obvious at all from the title and photos ?
I used my usual recipe and technique from my meatball tutorial, but I added some extra herbs and seasoning to the meat.
We love meatballs, so I make them a lot. (Ahem, proof, proof and proof. Oh, and proof. OK, one more.)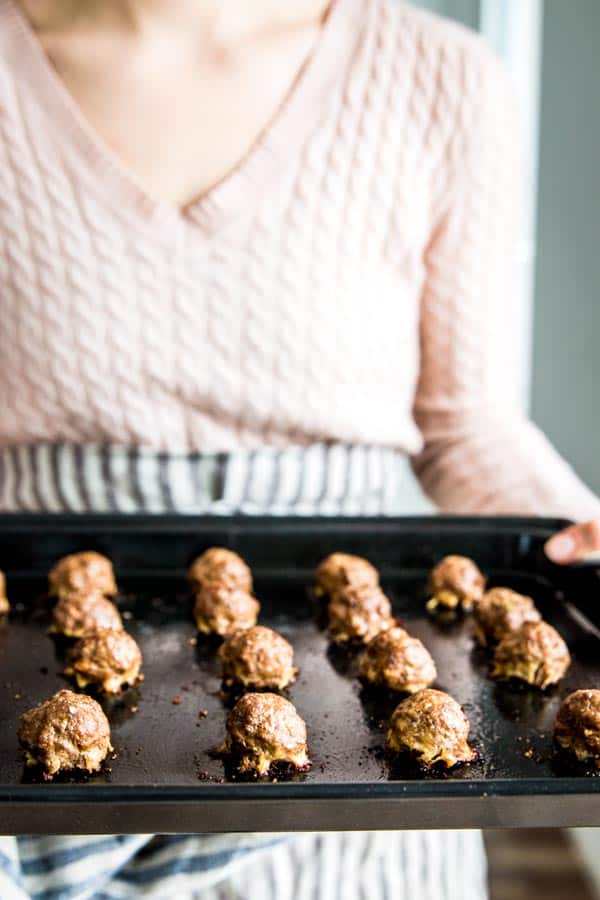 I've been annoyed by the pan-frying process lately though. Not necessarily because it's hard, but a) because I have a 16 month old who enjoys climbing on the counter, trying to dive into any pots and pans on the stove and b) it's just something that needs my attention… When I don't have any capacities for extra attentiveness.
There's really no magic to it: Lightly oil a baking sheet, place meatballs on top, bake.
No flipping, no splatters, no toddler crawling into the sizzling pan… No paying attention to anything – apart from the kitchen timer.
Don't they looks scrumptious?? And so evenly browned!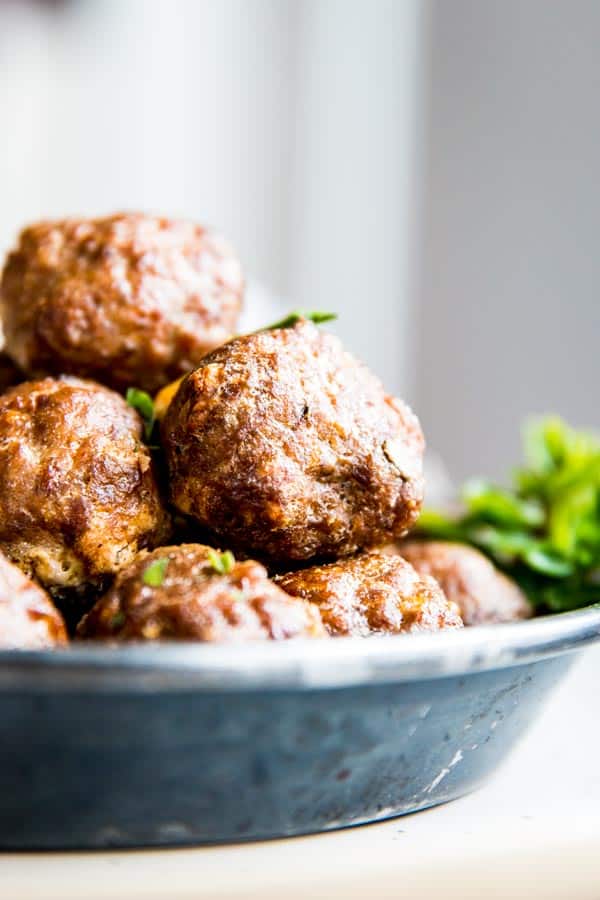 While the rolling does take some time, they are super quick to bake.
Ah, you want to know how long to bake these meatballs in the oven?
Around 8 minutes does the job – first I baked them for longer, but they are done in around 8 minutes if you make them about 2 teaspoons sized, which is my preferred meatball size.
I really don't like the huge "dinner sized" ones – they're like mini meatloaves!
Either way, we love these in tomato sauce with pasta or, if I'm lazy (OK, that's when I'm lazy, not if) all by themselves with a dipping sauce and some baked potato wedges on the side.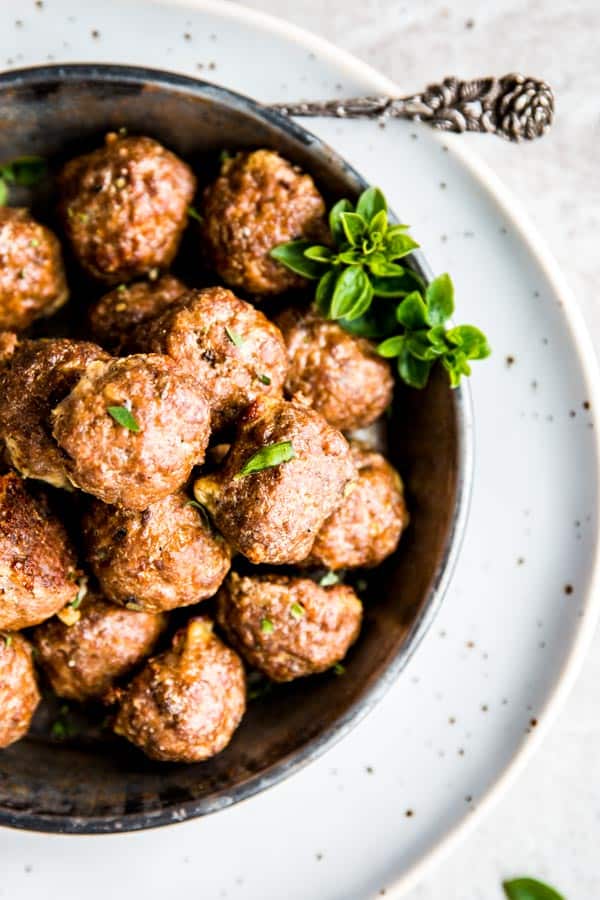 If you need more meal ideas for meatballs, I went a little crazy and wrote down all our favorite sides for every type of meatball I know in this post. My kind of food geekery ?
Oh and the best part about oven baking meatballs? You can make them for a crowd SO easily if you want to serve them as an appetizer!
Now go rock your meatball game!
– Nora
P.S: In case you were wondering, I never actually stay in my PJs all day. In fact, the first thing I do in the morning is getting showered and dressed. I just feel terrible and unproductive all day long when I don't put on real clothes in the morning. It's a blessing and a burden all at the same time ?
Here's the printable recipe for how to bake meatballs:
Printable recipe
Printable Recipe Card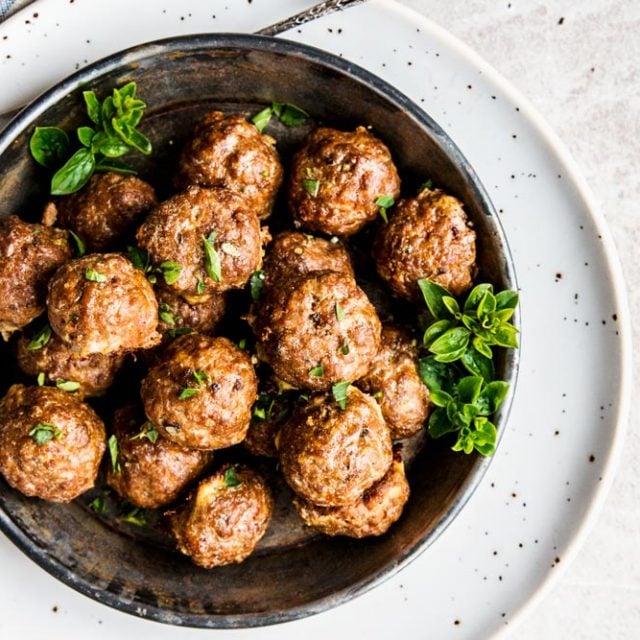 Oven Baked Meatballs
These oven baked meatballs are quick and easy to make. Baking them frees up your attention for any sides you want to serve with dinner! It's also a great way to make a large amount of meatballs for a crowd. They have the best flavor, keep their shape and brown evenly in the oven. We love adding these to tomato sauce over pasta, or pairing them with potato wedges and a dip!
made it? tap the stars to add your rating!
Ingredients
1

pound

ground beef

1

onion

finely chopped

⅓

cup

breadcrumbs

1

large egg

1

teaspoon

mustard

½

teaspoon

Italian seasoning

¼

teaspoon

garlic powder

¼

teaspoon

salt

Black pepper

Oil
Instructions
Mix ingredients: Place all ingredients in a large bowl. Using a hand mixer with the dough hooks attached, mix the ingredients together very well.

Shape meatballs: Once the mix is kneaded thoroughly, scoop out about 2-teaspoon-sized balls of meat. Cup the meat between your palms and roll it into a tight ball. Place the meatballs in a single layer on a lightly oiled baking sheet.

Bake: Preheat the oven to 425°F. Bake the meatballs for around 10 minutes, or until they're evenly browned on the outside and no longer pink in the middle. Do not overbake them, or they will be dry.
Want to save this recipe?
Create an account for free to start your personal recipe box. Save any recipe by tapping the heart in the bottom right corner.
Join Now
Notes
1. For extra-firm meatballs, freeze them on the baking sheet for 5-10 minutes before baking. You will need to add 2-3 minutes to the baking time.
2. You can switch up the seasoning however you like! Chopped fresh parsley is delicious. And using dried oregano gives them a more Greek-inspired flavor!
3. If you make a large batch to freeze, use a stand mixer with the hook attachment to mix the meat dough.
4. It's important to knead the meat mix very well. The more thoroughly you knead it, the smoother and less scraggly your meatballs will look.
Nutrition
Calories:
352
kcal
Carbohydrates:
9
g
Protein:
22
g
Fat:
24
g
Saturated Fat:
9
g
Cholesterol:
121
mg
Sodium:
318
mg
Potassium:
379
mg
Sugar:
1
g
Vitamin A:
60
IU
Vitamin C:
2.1
mg
Calcium:
53
mg
Iron:
3
mg
Nutrition is an estimate.
More recipe information
Nutrition Facts
Oven Baked Meatballs
Amount Per Serving
Calories 352
Calories from Fat 216
% Daily Value*
Fat 24g37%
Cholesterol 121mg40%
Sodium 318mg14%
Potassium 379mg11%
Carbohydrates 9g3%
Protein 22g44%
Vitamin A 60IU1%
Vitamin C 2.1mg3%
Calcium 53mg5%
Iron 3mg17%
* Percent Daily Values are based on a 2000 calorie diet.