May I present my latest recipe obsession: Chicken Florentine Pasta Casserole – Lazy Mom's Edition.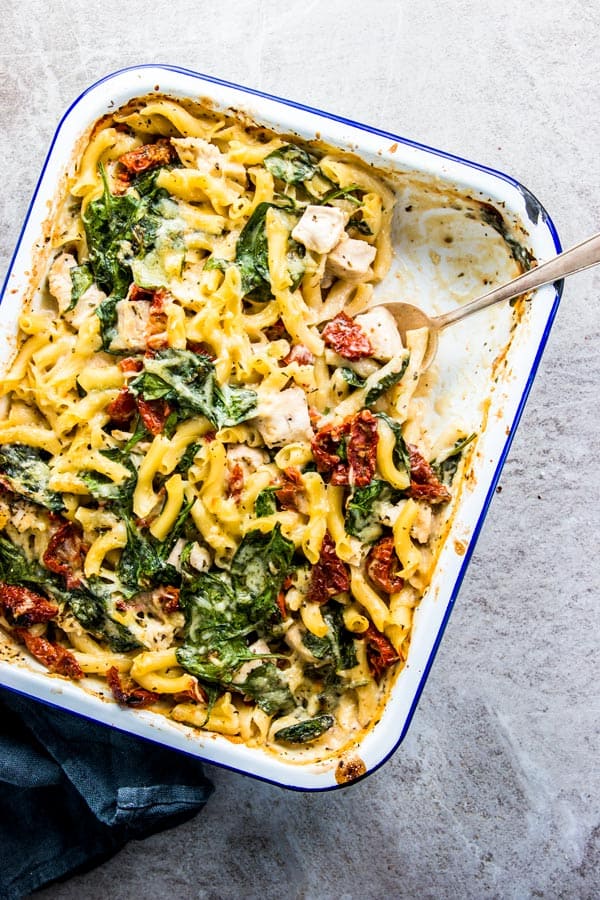 I know there's potentially negative associations to be made with the word "lazy" ? but I will readily admit that it's often pretty accurate to describe my habits in the kitchen. Or maybe I should just start calling myself a clever cook instead of a lazy cook? Yeah, I probably should.
I just got back from a blogging conference (!) in the actual United States (!!) where I flew all by myself (!!!) – I feel very grown up and responsible now. That's also the reason why I've been MIA by the way – there were just not enough hours in a day.
Also, jetlag and wine do not mix. Don't do it. Ever.
I got back home last night and the everyday craziness of having little kids picked right back up where I had left it a week ago. Chaos, desperation and a whole lot of chubby cuddles and wet kisses ❤
You'd think I'd be well rested after having a week with uninterrupted sleep at night, but au contraire… I'm extremely exhausted, actually, and not even embarrassed to admit it. Traveling is hard work.
Which is exactly why I'm into the easiest possible recipes right now. Things like my all-time favorite lazy clever mom one pot ham and pea pasta and my Easy Chicken Fried Rice.
Now… When I'm being especially clever, I've been making these basically zero prep pasta casseroles lately. I have one like that as a chicken cacciatore version already, but I was looking for something that's not tomato based.Confession: Not because I was trying to be edgy and different, but because I was simply out of canned tomatoes.
Unfortunately, creamy pastas tend to be heavy and stodgy and I try to be the opposite of these things. So… I figured I could just make my lightened up creamy one pot pasta in a casserole dish and call it a pasta bake. Success? You bet.
What I love about this Lazy Mom's Chicken Florentine Pasta Casserole: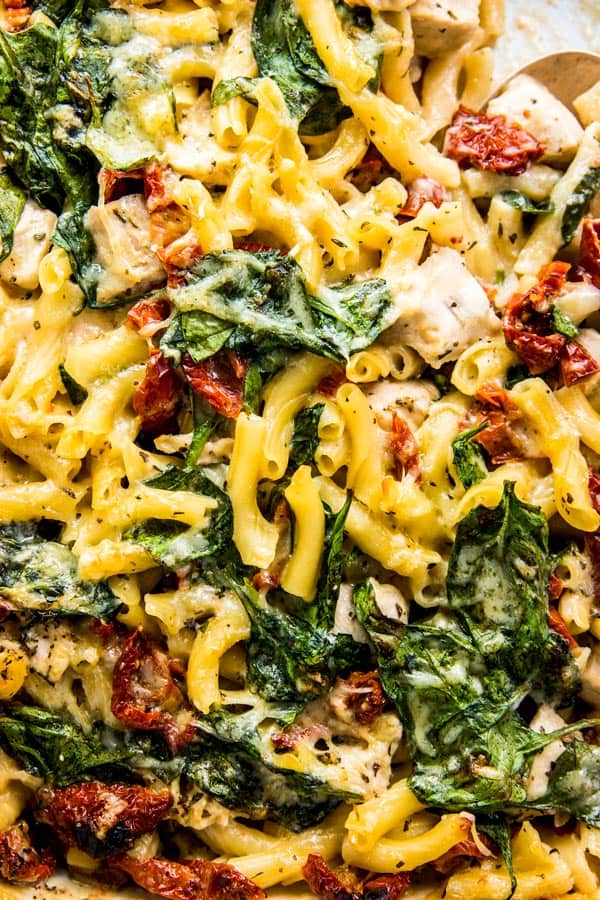 Prep time is incredibly fast: If you buy diced chicken, you can have this in the oven in literally 5 minutes. 10 if you dice your own chicken. 15 if you have a teething baby.
It's made from all healthy ingredients: Lean chicken for protein, milk for creaminess (zero cream in this!), spinach and sun-dried tomatoes for color, fibre and vitamins. I didn't use whole wheat pasta because I buy organic Italian durum semolina pasta and I find they keep us full for a very long time. I will use whole wheat flour in almost anything – but pasta and pizza crust are my holy grails where I just can't justify it 😉
It's super kid-friendly: My kids eat this up like they're even starving for days. If you use small pasta shapes, it's like a pre-cut meal perfect for spearing up by themselves on their cute little forks.
Leftovers reheat well: I generally try not to eat reheated spinach too often, but I make an exception for this dish. We eat about half of this casserole as a family in one sitting, so we always have another half to save for the next day. I just pop it into the hot oven until it's heated all the way through – easy peasy!
This really isn't a recipe that requires step-by-step photos or a lot of explanation, so here's just the tl;dr:
How to make Chicken Florentine Pasta Casserole: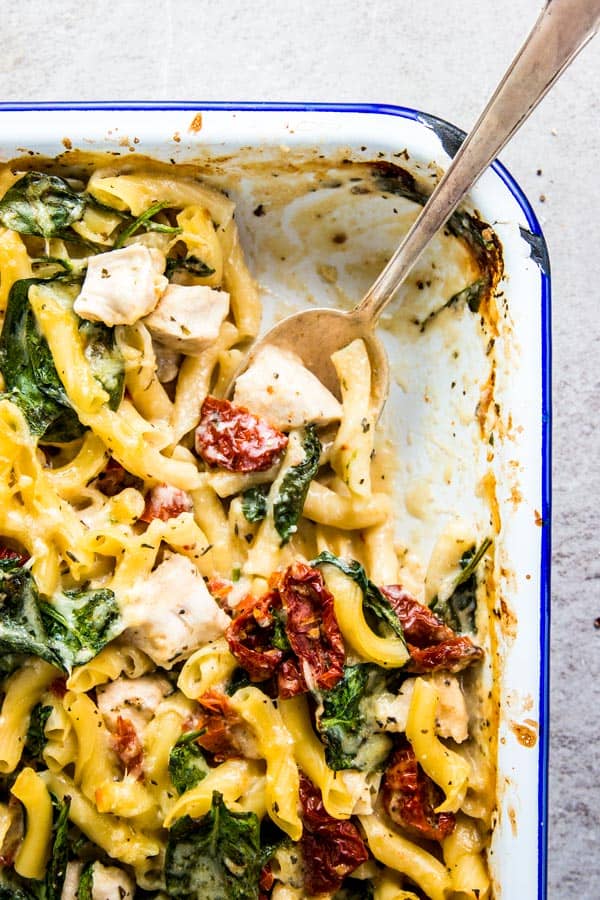 Preheat the oven
Add all ingredients except for the cheeses and spinach to a casserole dish
Stir and bake
Add cheeses and spinach
Stir and bake
Eat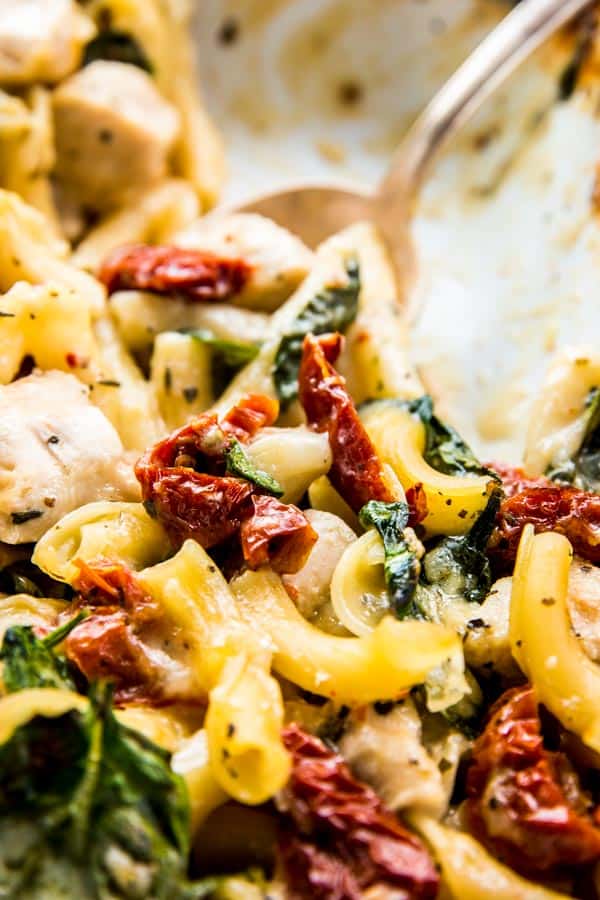 It really couldn't be any easier!
If the sauce seems to look a little split, don't worry. It's absolutely fine to eat and you can't taste it at all.
If you want to make this vegetarian, it tastes amazing with a can of white beans instead of the chicken, too.
I wouldn't recommend using kale instead of the spinach, as it tends to need more time to cook. If you wish to use kale for a tuscan-inspired dish, pre-cook it or massage it with a bit of salt and oil before adding it to the pasta.
You can really use any blend of cheeses you like – I will usually do mozzarella or fontina for the melty cheese and a bit of Parmesan or Romano for sharpness and taste.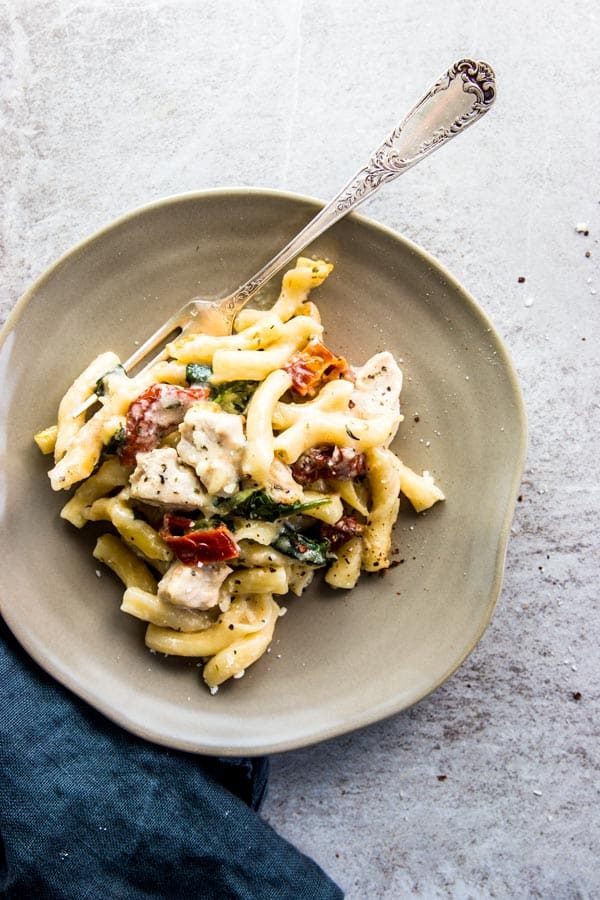 Whatever you decide to do – this will definitely make you feel like you're having a clever mom day. Which qualifies you for a glass of wine with dinner. Unless you're jet lagged, in which case I volunteer to take that wine off your hands.
Get the printable recipe for Chicken Florentine Pasta Casserole:
Printable recipe
Printable Recipe Card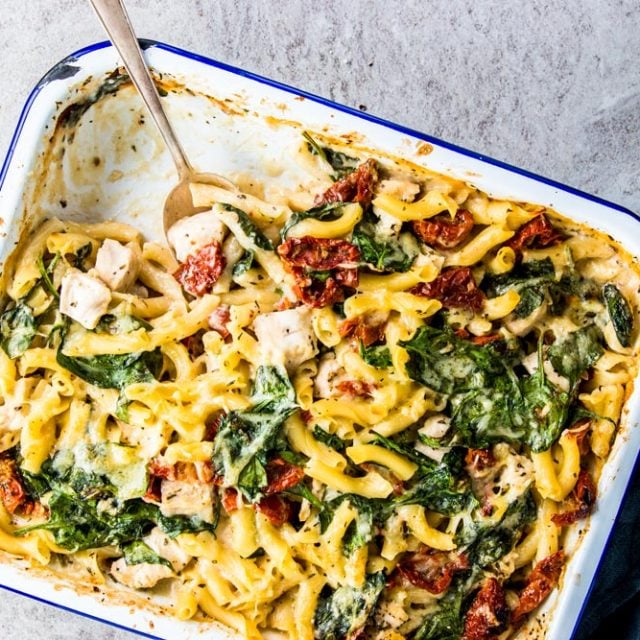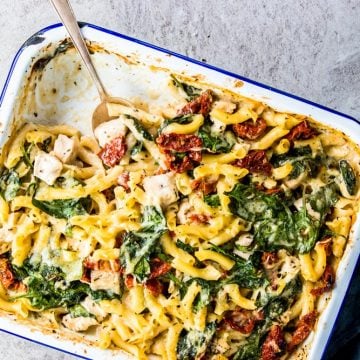 Lazy Mom's Chicken Florentine Pasta Casserole
A Chicken Florentine Pasta Casserole that's ready for the oven in just 5 minutes! No pasta pre-cooking required for extra-easy prep.
made it? tap the stars to add your rating!
Ingredients
1

pound

boneless skinless chicken breast

diced

2

teaspoons

Italian seasoning

2

cloves

garlic

minced

12

oz

short pasta shapes

2

cups

chicken stock

2

cups

whole milk

¼

cup

cornstarch

1 7-

oz

jar sun-dried tomatoes

drained and roughly sliced

¼

cup

grated parmesan

¾

cup

shredded melty cheese

such as mozzarella

2

heaping cups

baby spinach
Instructions
Prep: Preheat the oven to 430°F (220°C). Get out a 9x13 casserole dish and a large piece of foil to cover it with.

Assemble: Place chicken, Italian seasoning, garlic and pasta into the dish. Whisk together stock, milk and cornstarch in a large measuring jug. Pour into the casserole dish and stir.

Bake: Cover the dish with foil and bake for 30 minutes.

Finish assembling: Remove the dish from the oven and very carefully remove the foil. Stir in the sun dried tomatoes, both cheeses and the spinach. Bake for 10-15 minutes, uncovered, until bubbly. Serve immediately.
Want to save this recipe?
Create an account for free to start your personal recipe box. Save any recipe by tapping the heart in the bottom right corner.
Join Now
Nutrition
Calories:
501
kcal
Carbohydrates:
64
g
Protein:
35
g
Fat:
11
g
Saturated Fat:
5
g
Cholesterol:
73
mg
Sodium:
433
mg
Potassium:
1183
mg
Fiber:
4
g
Sugar:
13
g
Vitamin A:
470
IU
Vitamin C:
7.8
mg
Calcium:
258
mg
Iron:
3
mg
Nutrition is an estimate.
More recipe information
P.S: For more easy chicken dinners, check out our collection here: Easy Chicken Recipes