Broccoli Rabe Pasta, signing in. And she made quite the entrance! Just look at all these adorable Orecchiette nestled between gorgeous wilted greens, smoky chickpeas (you got that right, kitten), garlic, lemon, parmesan… I'm so in love.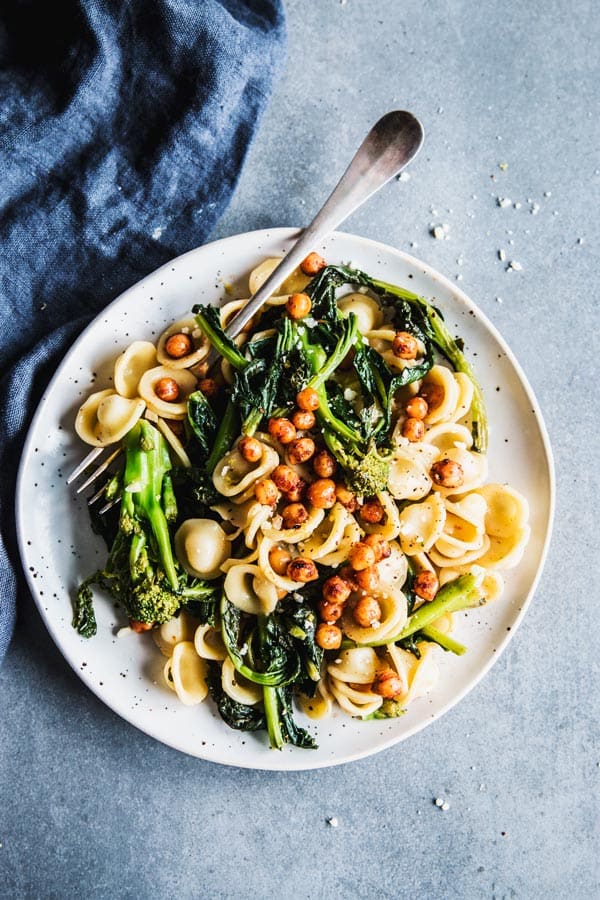 This pasta is kind of important to me, because it is SO delicious (obviously) but also because it is actually easy to make. Like, foolproof. Your girlfriend who doesn't know how to boil pasta could make this. Oh wait, that didn't sound quite right…
Anyways, you know those recipes that tell you you're going to need three ingredients, but really its thirteen? And then it says it's going to be ready in 20 minutes, but really it's 20 HOURS?? This is not one of said recipes. I said it's ACTUALLY easy to make, and I wasn't lying.
Why this broccoli rabe pasta is super easy:
There are 12 ingredients
No really, 12. I even counted the pasta cooking water you need to reserve (don't forget!!) and salt and pepper as separate ingredients. Twelve.
It's ready in a flash. Three flashes if you happen to have tiny tyrants humans running around your kitchen.
Prep is rinsing and draining a can of chickpeas, mincing some garlic and trimming some broccoli rabe. C'est tout.
You need a pot to boil the pasta and a skillet. Nothing is going to be sticky or anything, so clean up is done in yet another flash. And you can do it listening to Edith Piaf, so you won't care anyways. Win win win win win.
You should know that I'm always a supporter of all things a) full of carby pasta, b) white wine scented, c) vegetarian, d) green and e) quick and easy. I mean, ⅘ of these criteria for my last post and 5/5 for this oldie should be proof enough. So, naturally, I'm smitten with this broccoli rabe pasta.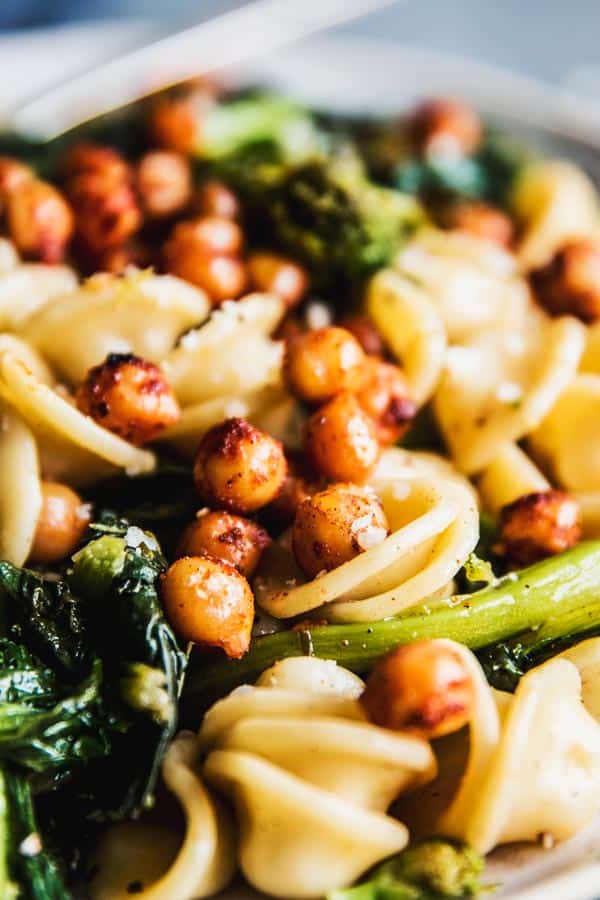 Now let's have a look at how we're going to make this, shall we?
Here's a few things you're going to need:
Obviously, broccoli rabe.
Aren't they too pretty for words? If you can't find broccoli rabe or don't know what they are and just want delicious pasta, you can sub in some broccoli florets and a leafy green. Spinach or kale would both work well.
I was so happy to spot it at the supermarket last week, and I was just running with my bag stuffed full of it to find my husband and tell him the good news, when he tapped me on the shoulder and excitedly told me to pick up some broccoli rabe. I guess we're a pretty special pair.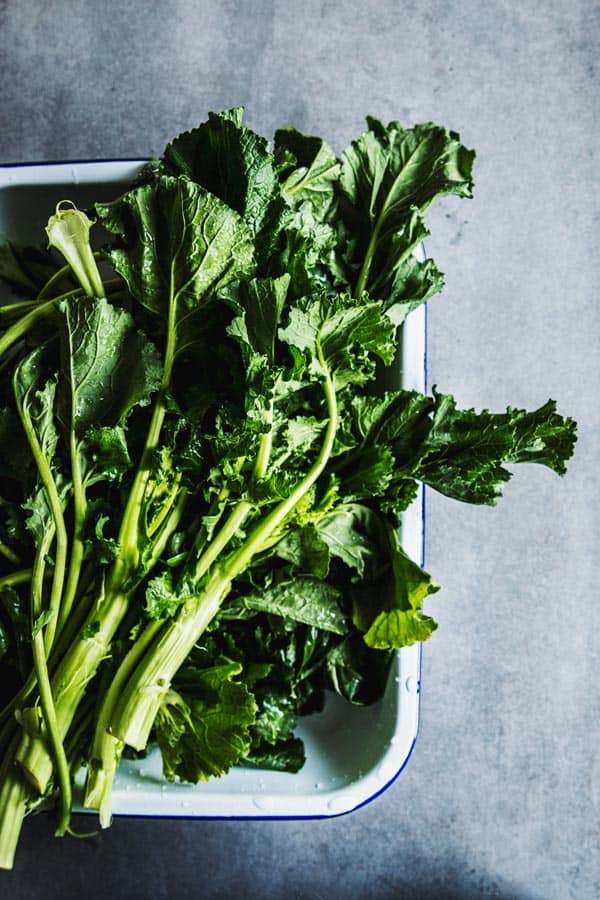 Next up: Orecchiette. AKA the cutest pasta to have ever walked the earth, apart from Hello Kitty pasta, and did I just say this out loud on The Internet?
You can obviously use any other kind of pasta, but orecchiette are the traditional thing to use, I hear.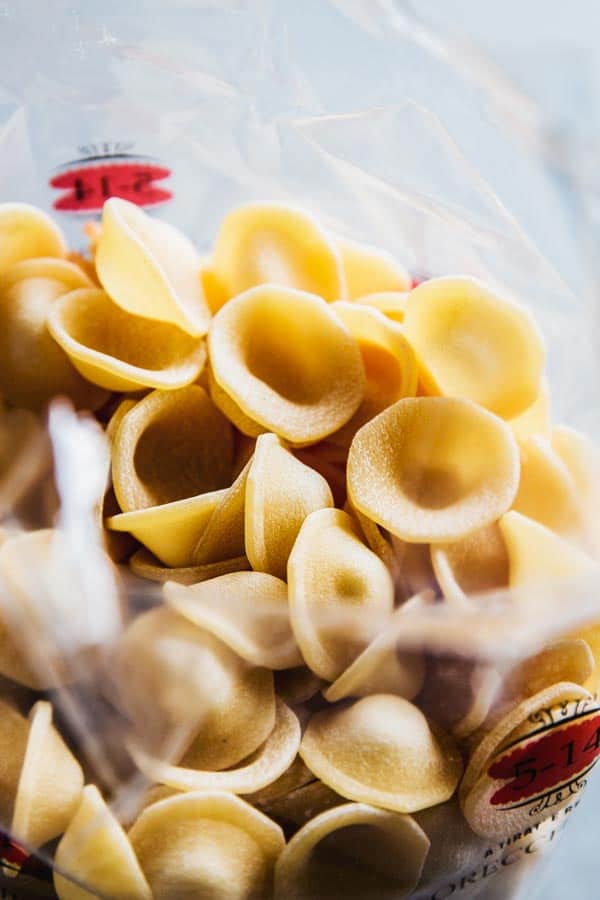 Once you got your pasta boiling, you'll want to toast that can of rinsed and drained chickpeas. It's going to take a bit of olive oil, but don't worry. We like olive oil. Olive oil is good to us.
There's also a smoked paprika situation, and if you don't have any in your pantry you need to hop on Amazon and order some ASAP. No, really. Click here and do it now.* I'll wait.
::
Because look: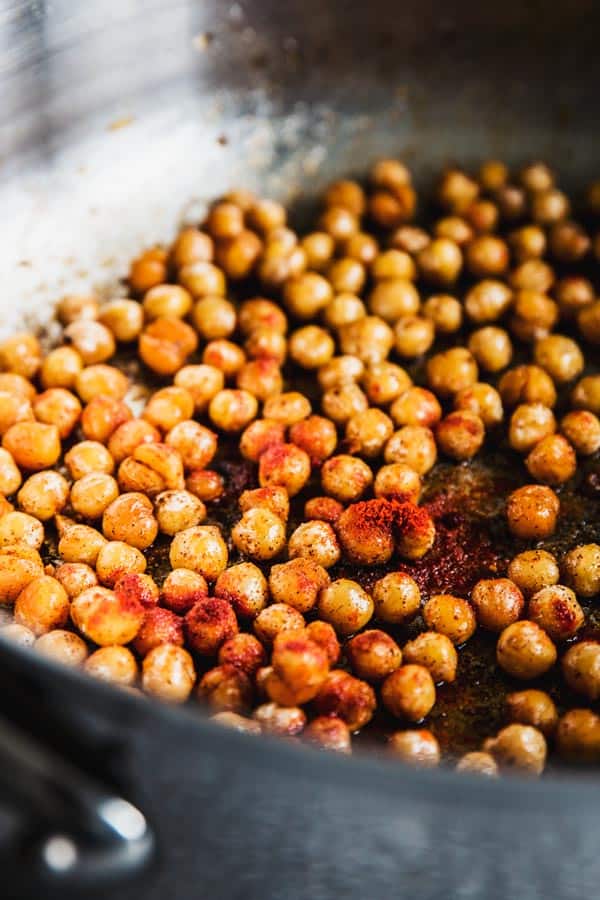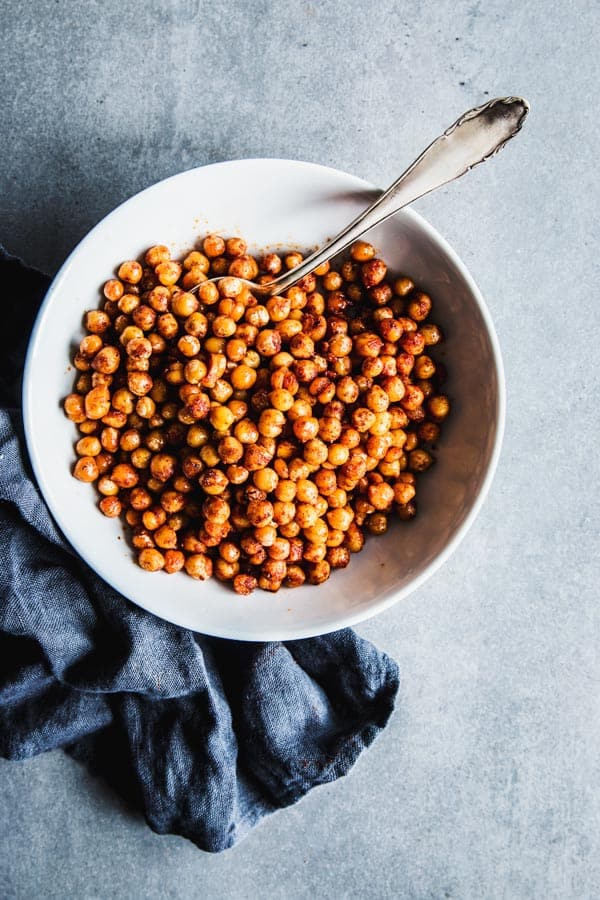 Aaaah ????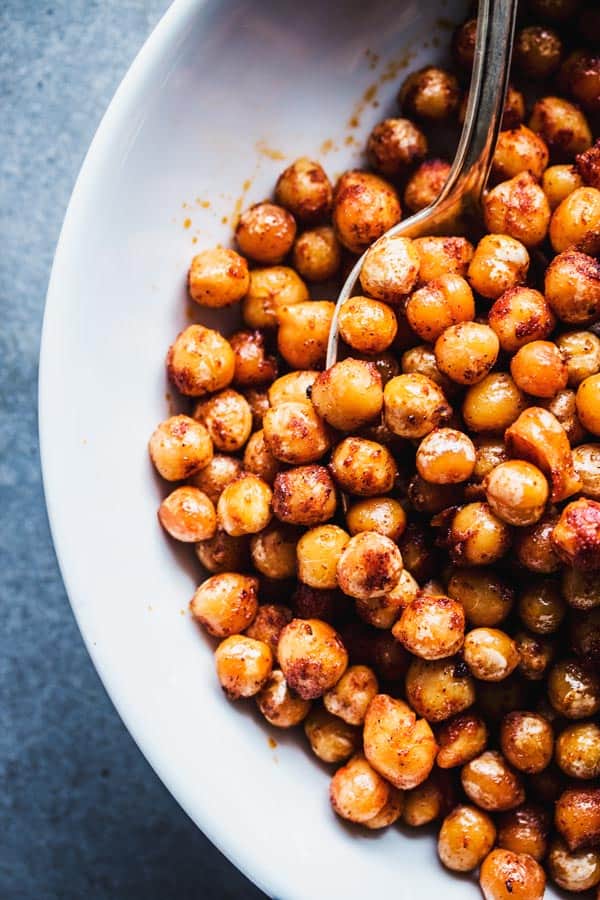 You can use the same skillet you used for the chickpeas to wilt the broccoli rabe. No need to wipe, keep as much of the smoky goodness as you can – free bacon flavor, sans the actual bacon.
The greens just need a quick stir fry with some garlic, then you'll pour in the vino. Biootiful.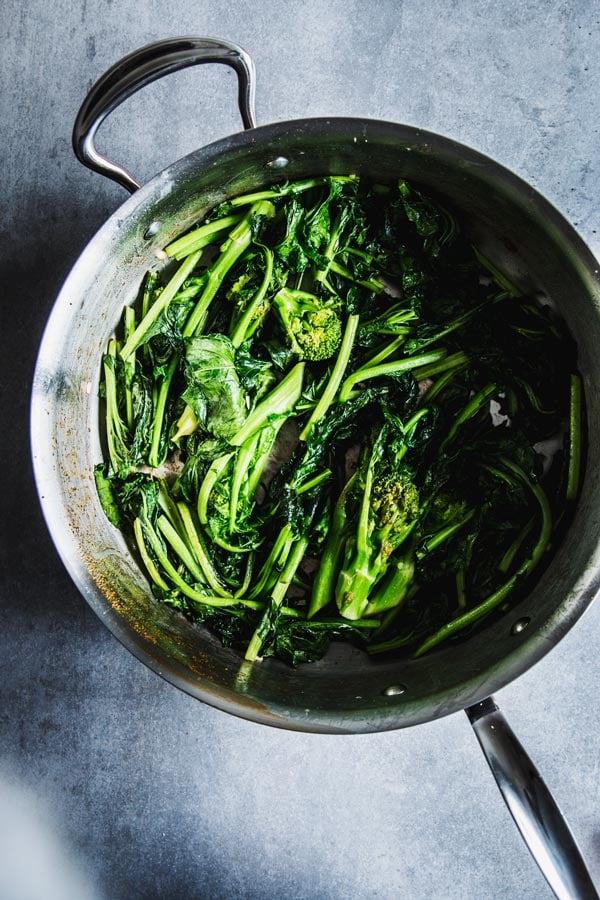 In goes the pasta, a cheeky toss on the stove with a bit of pasta cooking water (you did remember to reserve some, didn't you??) and parmigiano until the entire pan is all luscious and saucy and sexy… Then take off the heat and squeeze in lotsa lemon… Perfect. [insert awkwardly stereotypical Italian chef, kissing three fingers]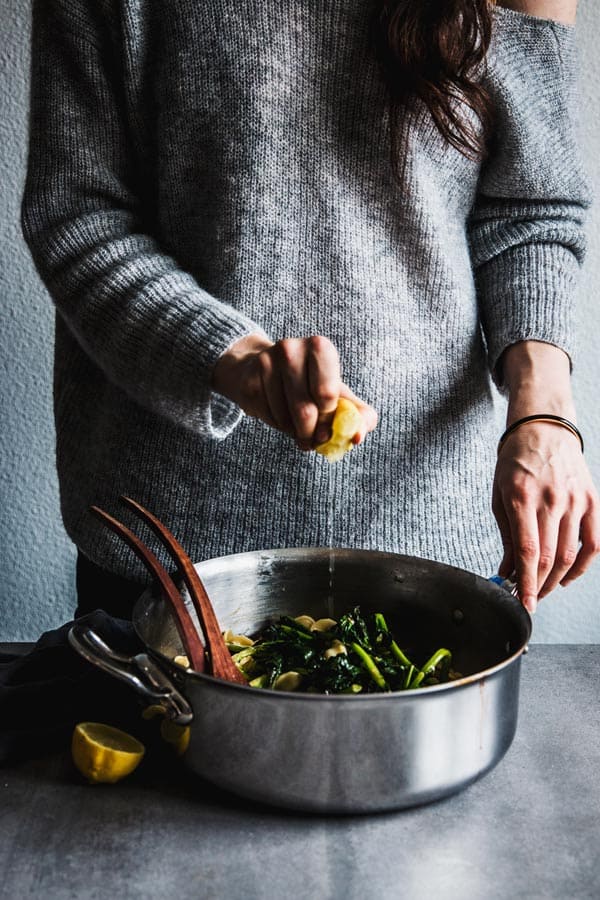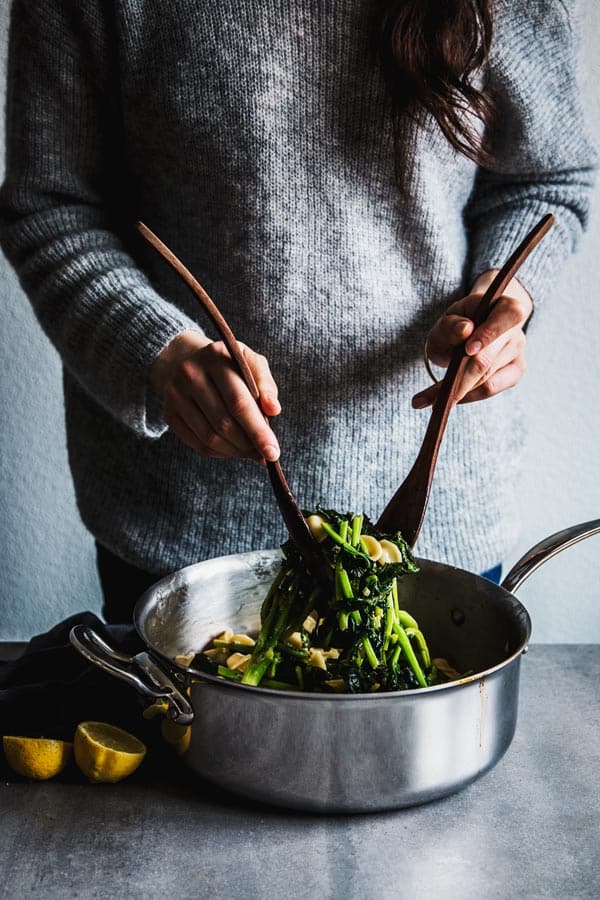 Why squeeze in the lemon juice off the heat, you ask? Well… Because I said so. And also, because the broccoli rabe is already slightly bitter, so you want to add tang without risking the lemon juice to burn and turn bitter on you, too.
Plate up, plate up! Or, just, you know… Put on a plate. P.S: I prefer scattering the chickpeas all over the pasta on the plate vs tossing in the skillet, to keep all of that smoky paprika from dissolving into the sauce.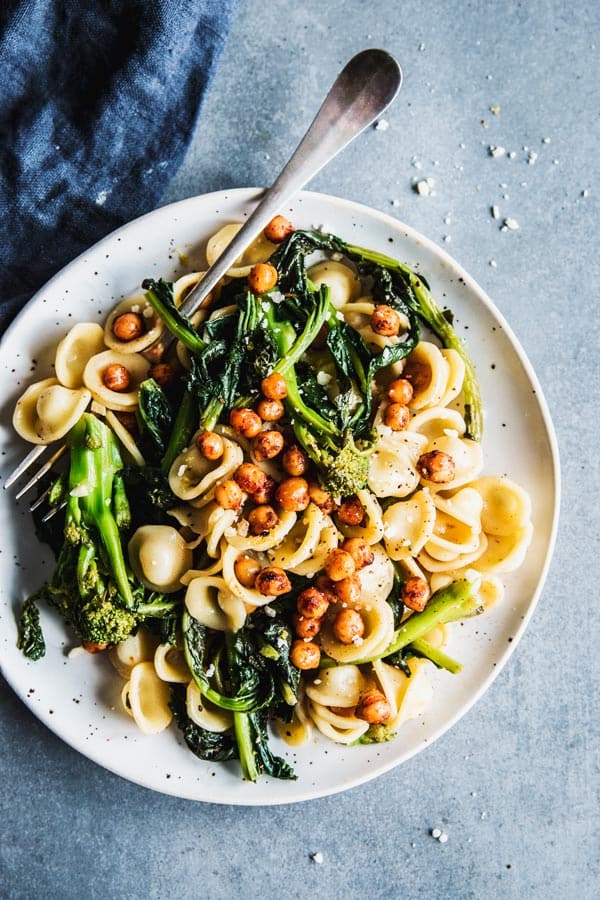 There will probably be a lot of silence and very little complaints when you serve this up for dinner. Don't fret. That's the sound of a delicious meal – everybody too busy to talk because they have to stuff their faces with your amazing food.
Pat yourself on the back and pour a celebratory glass of vino – ah, the good life.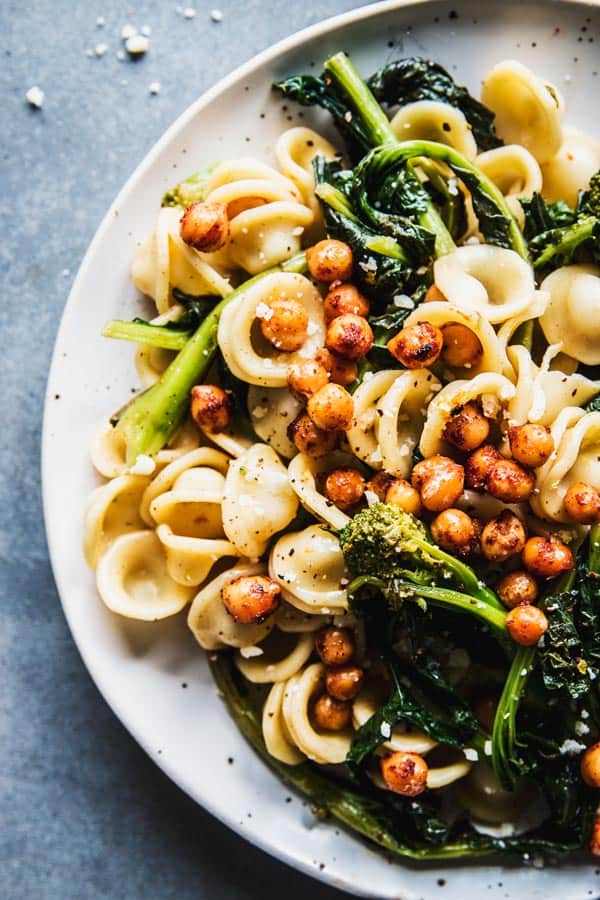 Grab the recipe and hush, go make it.
Printable recipe
Printable Recipe Card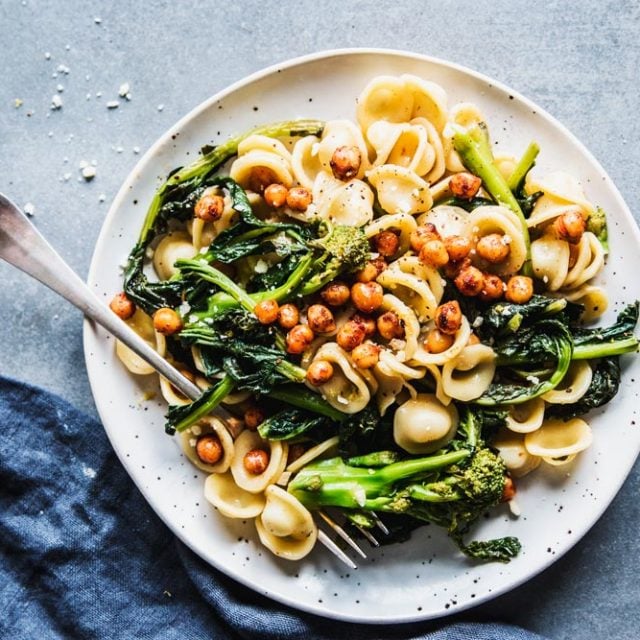 Broccoli Rabe Pasta with Smoky Chickpeas
Broccoli Rabe Pasta with Smoky Chickpeas: A quick and easy vegetarian dinner.
made it? tap the stars to add your rating!
Ingredients
6

oz

orecchiette pasta

Olive oil

1

can chickpeas

rinsed and drained

Salt + freshly ground black pepper

1

heaping teaspoon smoked paprika

1

large bunch broccoli rabe

1-2 pounds, depending on how much you love your greens, trimmed and cut into thirds

2

cloves

garlic

minced

⅓

cup

white wine

¼

cup

finely grated parmesan

plus more to serve

a few tablespoons reserved pasta cooking water

Zest and juice of 1 small lemon

plus more to serve
Instructions
Cook the pasta: Bring a large pot of water to a boil. Salt generously and cook the pasta 1 minute less than the package says. Remember to reserve a mugful of pasta cooking water before you drain it.

Roast the chickpeas: While the pasta is cooking, heat some olive oil over medium-high heat in a large skillet. Add the chickpeas and season with salt and pepper. Toast until starting to brown, about 3 minutes. Add the smoked paprika and toast for another minute. Remove from the pan and set aside.

Wilt the greens: Without wiping the skillet, bring it back up to medium-high heat. Add a little more oil if necessary and cook the broccoli rabe until starting to wilt, about 2 minutes. add the garlic and cook for another 30 seconds. Pour in the white wine and cook until the raw alcohol smell is gone, about 2 more minutes.

Tossing party: Add the cooked pasta to the greens in the skillet, along with the parmesan and a few tablespoons of pasta cooking water. Keep gently tossing everything until the sauce looks smooth and luscious and the pasta is fully cooked. You can add more pasta cooking water if necessary, but don't overdo it.

Season: Take the skillet off the heat and add the zest and juice of the lemon. Check for seasoning and add salt and freshly cracked black pepper to your liking. Serve immediately with the toasted chickpeas, extra parmesan, black pepper and lemon.
Want to save this recipe?
Create an account for free to start your personal recipe box. Save any recipe by tapping the heart in the bottom right corner.
Join Now
Nutrition
Calories:
624
kcal
Carbohydrates:
88
g
Protein:
29
g
Fat:
15
g
Saturated Fat:
3
g
Cholesterol:
11
mg
Sodium:
608
mg
Potassium:
836
mg
Fiber:
14
g
Sugar:
3
g
Vitamin A:
6055
IU
Vitamin C:
46.8
mg
Calcium:
449
mg
Iron:
7.7
mg
Nutrition is an estimate.
More recipe information
* I make a commission for purchases made through these links.