This Garlic Butter White Wine Pasta with Fresh Herbs recipe is SO good! The creamy sauce is easy to make but impresses even the most complicated guests with parmesan and lemon flavors!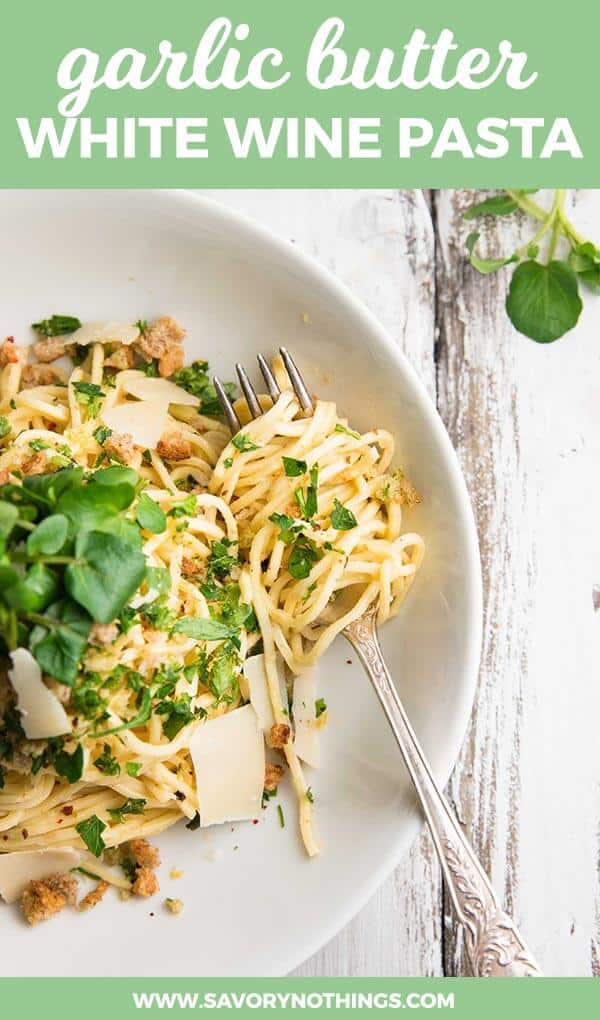 Are you seeing what I'm seeing? Oh garlic butter white wine pasta bliss, how I love thee.
Plus this whole fresh herb thing. I'm just saying yes, yes and yes again to covering my spaghetti first in garlic-butter-white-wine-creamy goodness and then sprinkling them with ultra flavorful greens.
Do I even need to mention the cheese? It's pasta's best friend after all.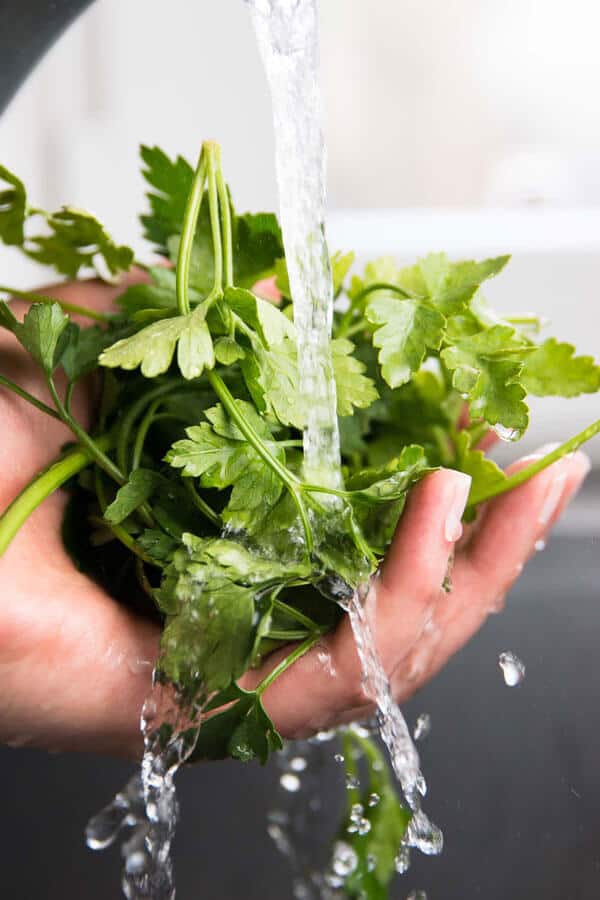 Today I'm super live blogging your way because I have not exactly been the epitome of efficiency lately.
As in, this spaghetti dish will take you less than 30 minutes to prepare, yet it took me about a million hours with styling and photographing.
I've been trying really hard to get things done in a speedier way but somehow my brain capacities have seen a considerable decrease.
I want to say I fully blame Baby Savory's sleeping habits but I guess I have to attribute more of it to other circumstances.
Something like the grey and horrible and just plain evil weather we've been having over the past few weeks.
Today spring seems to FINALLY have arrived in Switzerland, just when I wanted to start fretting about it.
But I'm happy I don't have to do this now, because if there's one thing that's out of my character it's complaining (<- LIES, I'm the queen of whining).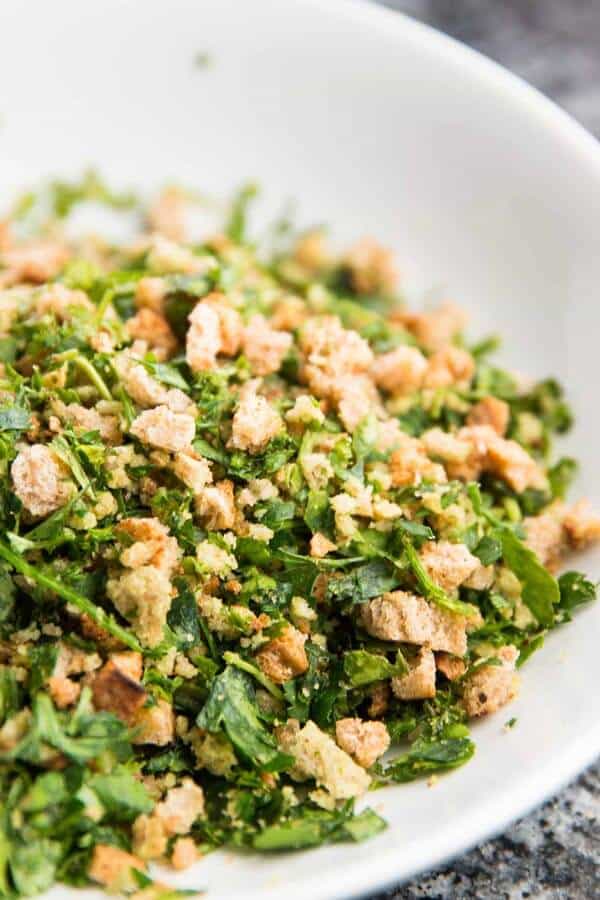 So, back to this pasta dish. As I just said, it's usually extremely quick and easy to make.
Just don't try to do it in the fashion of me, which involves burning the onions because OH-EM-GEE I have to photograph this, turning the bread crumbs and herbs into mush because NO, they don't need to be roasted and then finally plating the food in seven different ways.
It could always look better, right?
Right. Nora being efficient since nineteenhundrednever. It's probably old age's fault.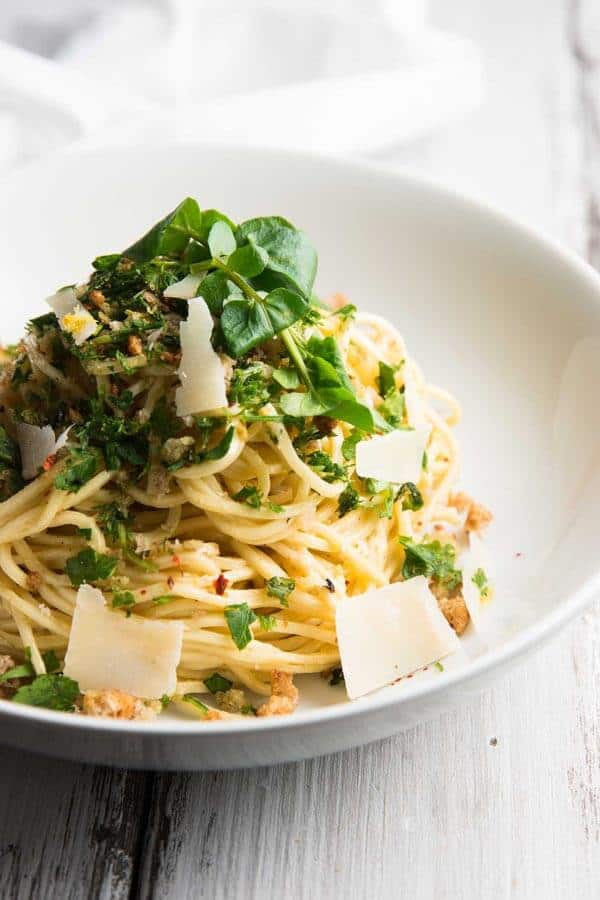 But if you just take some pasta (I made fresh but that's entirely optional and it works like a charm with whatever you have sitting in your pantry), cook the easy-peasy sauce and make some herbed breadcrumbs along the side – it's a seriously quick and tasty affair.
I'd even say it's pretty and sophisticated enough to serve to dinner guests and you can always add some chicken or shrimp if you wish.
You can change it up and make it your own by using your favorite blend of herbs or add baby kale, baby spinach or wild garlic for a bit of a twist.
Now if you'll excuse me, Baby Savory has once again discovered the merits of crawling underneath the kitchen table and I need to go free her.
Printable recipe
Printable Recipe Card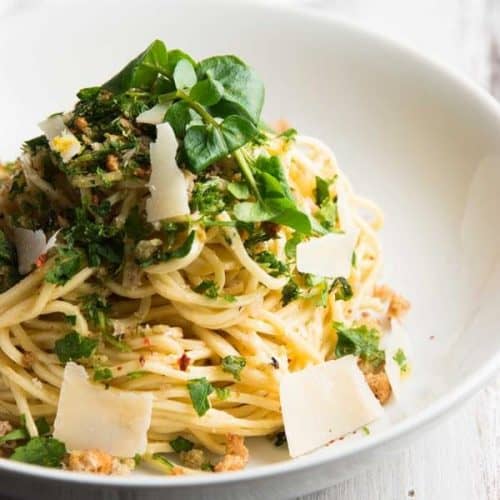 Garlic Butter White Wine Pasta with Fresh Herbs
This Garlic Butter White Wine Pasta with Fresh Herbs recipe is so easy but SO good! Made with a delicious sauce, fresh herbs, breadcrumbs, lemon and cheese.
made it? tap the stars to add your rating!
Ingredients
1

(12-oz) box

spaghetti

or other long pasta shapes

1

cup

crusty bread

torn into small pieces

3

tablespoons

olive oil

divided

2

cups

fresh herbs

(I used a mix of parsley chervil and tarragon)

2

shallots

chopped

5

cloves

garlic

finely minced

½

teaspoon

chili flakes

1

cup

white wine

1

bayleaf

1 ½

cups

chicken stock

or more as needed

½

cup

heavy cream

or moree as needed

2

tablespoons

butter

salt & pepper

to taste

finely grated lemon zest

extra chili flakes, parmesan cheese and watercress, to serve
Instructions
Make the breadcrumbs by roasting the bread in one tablespoon olive oil until completely toasted, about five to ten minutes. Chop the herbs and add to the breadcrumbs right before serving to prevent from getting soggy.

Bring a large pot of water to the boil, salt generously and cook the pasta just al dente.

In the meantime, heat 2 tablespoons olive oil in a large frying pan over medium-high heat. Add the shallots and cook for a minute. Add the minced garlic and chili flakes and cook for another two minutes. Deglaze with the white wine, add the bayleaf and simmer for three minutes. Pour in 1 ½ cups chicken stock and cook for another five minutes. If the sauce seems too dry, add more stock. Take off the heat, stir in the cream and butter and season with salt and pepper to taste. Again, if the sauce seems too dry, add more cream tablespoon by tablespoon until you like the consistency.

Toss the hot pasta with the sauce, divide between four plates and top with breadcrumbs, finely grated lemon zest, extra chili and parmesan cheese. Serve with watercress, if desired.
Want to save this recipe?
Create an account for free to start your personal recipe box. Save any recipe by tapping the heart in the bottom right corner.
Join Now
Notes
Alternatively, make your own pasta from 125g all-purpose flour, 125g durum semolina and 2 ½ extra large eggs OR use store bought fresh.
Nutrition
Serving:
1
serving
Calories:
547
kcal
Nutrition is an estimate.
More recipe information