These Sticky Sweet Chili Chicken Wings are deliciously crispy underneath a sticky made-from-scratch Thai Sweet Chili Sauce full of Asian flavors.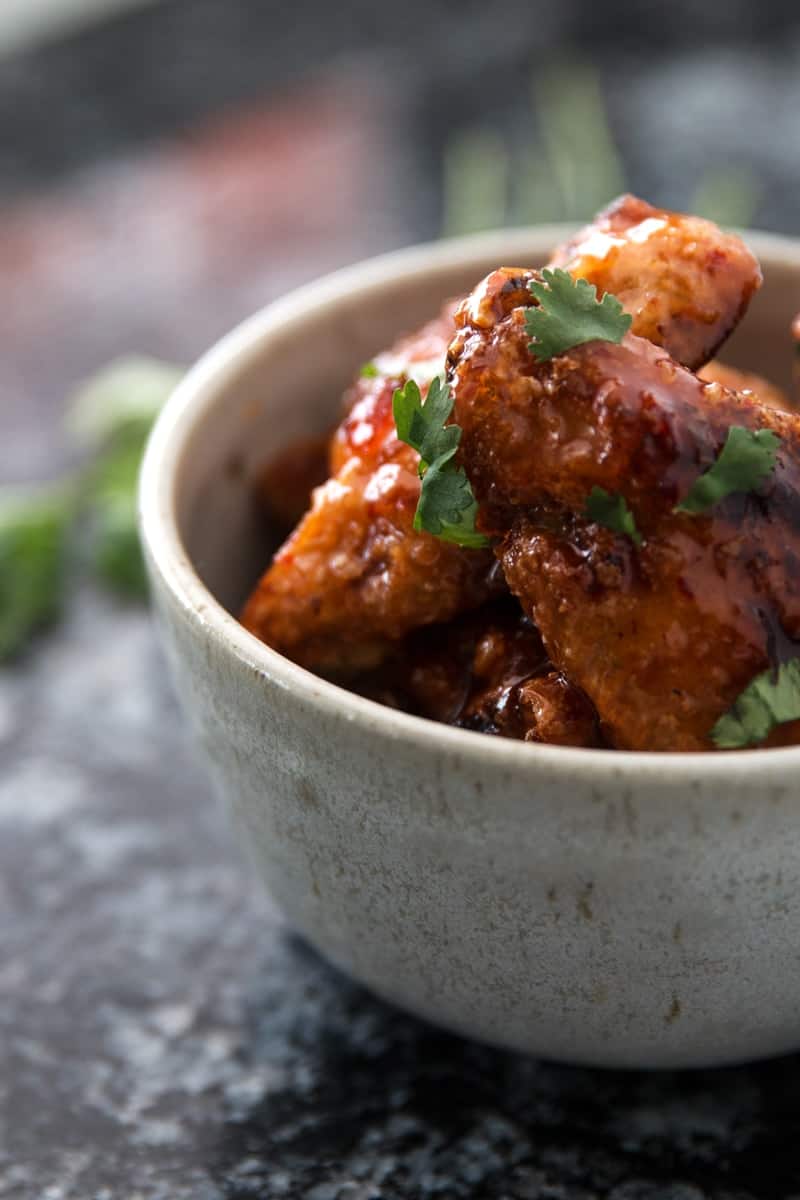 I've always felt like there's two different kinds of people:
The ones who eat meat from bones like they've never done anything else in their lives and then those who cringe at the very thought of it.
I've belonged to the latter group for as long as I can remember – never would I have imagined myself eating something like chicken wings. But recently I decided to give them another try and I was blown away by how delicious bone-in meat actually can be.
Now if eating chicken wings is something sounding not in the least appealing to you – stick with me (no pun intended).
There is so much more punch and juiciness involved than you'd ever get with boneless chicken breasts – a whole new depth of flavor waiting to be discovered by your taste buds.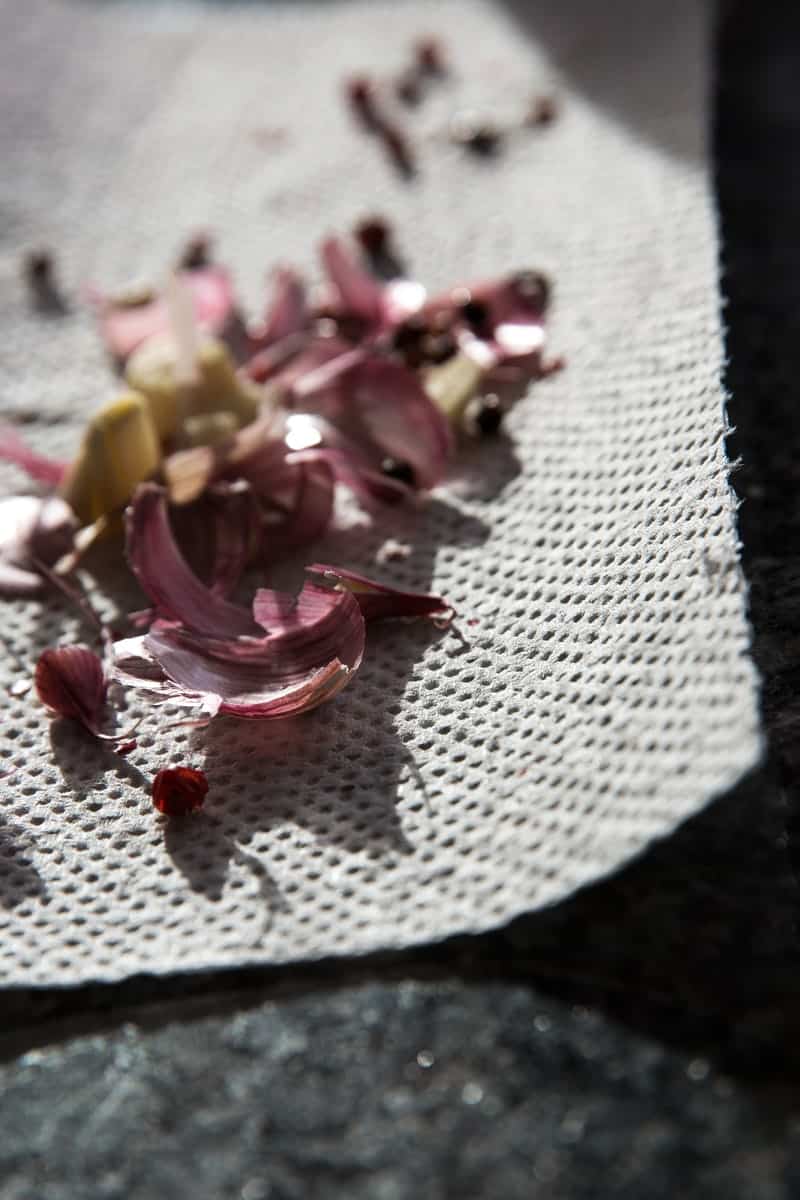 We've been having an awful lot of snow lately, and today hasn't turned out to be a friendly spring awakening either – it's raining.
Not a downpour mind you, but just enough to take away the magic of winter and overshadow everything with a dull grayness. This is exactly the weather making me dream of sunny shores somewhere far away. Of white beaches and deep blue water. And of good food eaten in the sunset while the soft sound of distant music is blown away by a soft breeze.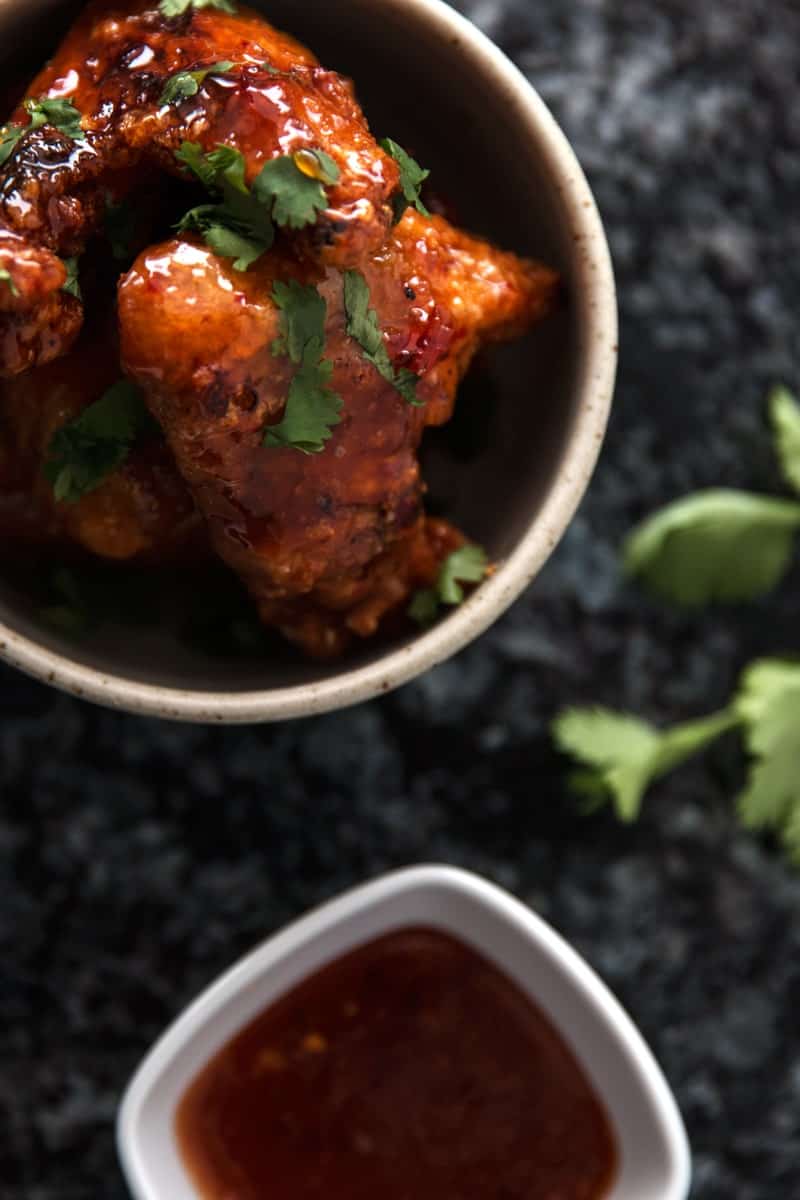 And it is with a deep sigh I then return back to the wet and dreary reality – to whip up something reminiscent of my daydreams.
Enter Sticky Sweet Chili Chicken Wings to satisfy my cravings for a sunnier day. The crispy golden texture of fried chicken gets coated with the most delicious and fragrant homemade Thai sweet chili sauce – which is infinite times better than any bottled variety.
The result is a wonderful parining of flavors and textures you simply cannot get enough of.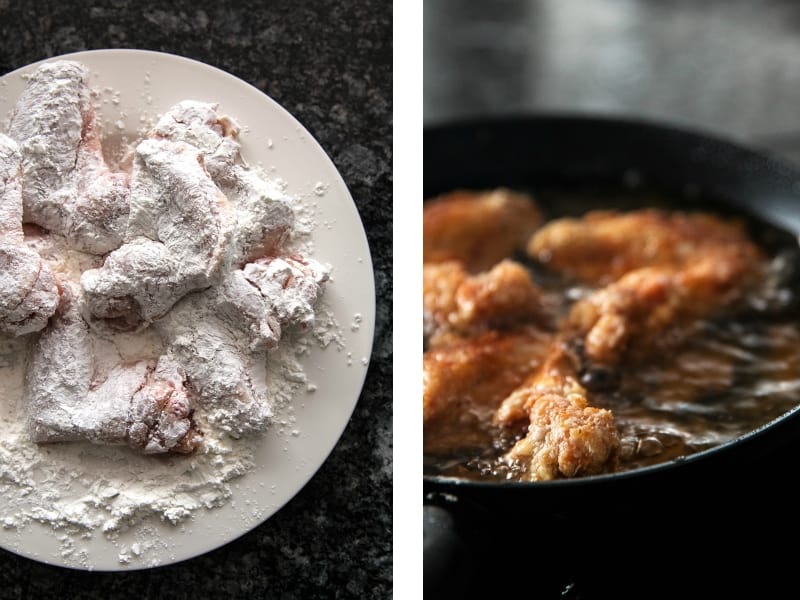 After coating the wings with lightly seasoned cornstarch they are fried to crispy-golden perfection.
No need to be afraid of the deep frying process either – the trick is to allow the oil to get hot enough (test this with a wooden spoon – if bubbles appear around it you are good to go) and not crowding the pan.
If this means frying the chicken in three batches – so be it. It's much more desirable to end up with something you'll actually enjoy eating than with a half-done soggy pile of meat.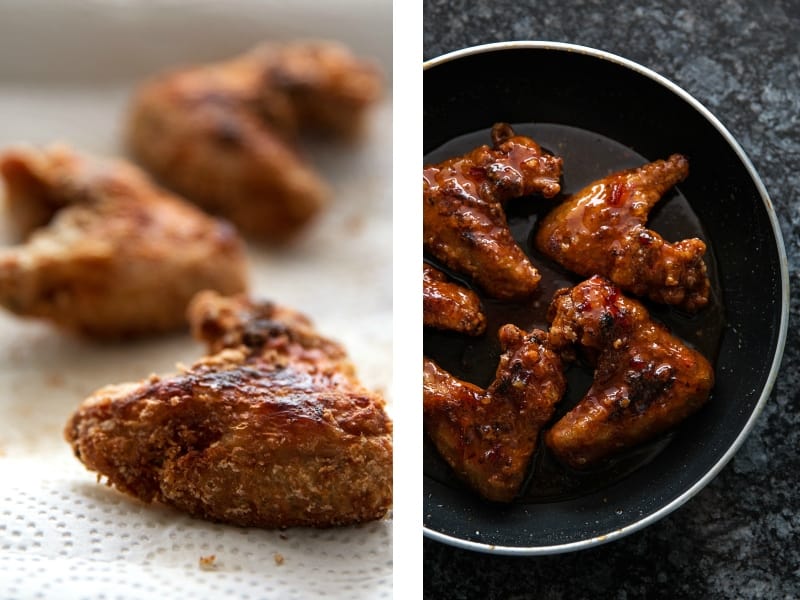 Once the wings have all been fried and drained the sauce gets done in minutes.
This recipe couldn't be any easier – a mix of vinegar, sugar, minced garlic and water gets boiled down a bit before stirring in chili paste and cornstarch. The crispy wings are then heated through right in the sauce for an irresistibly sticky finish.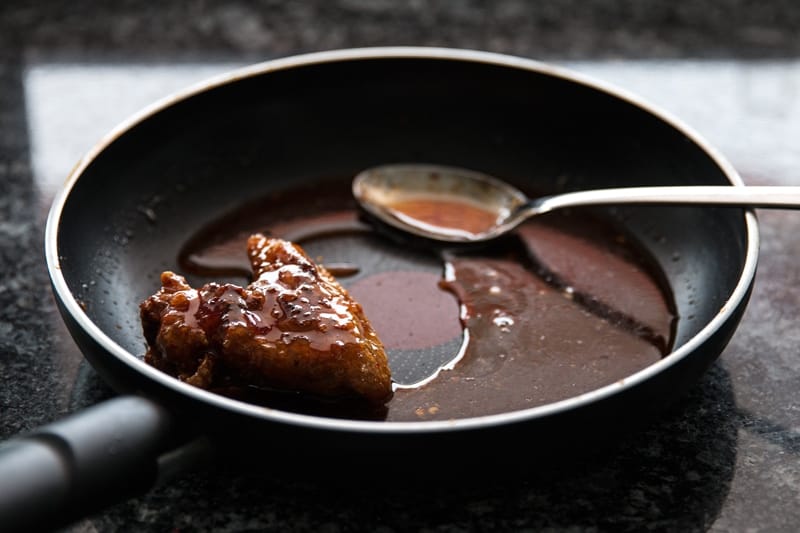 Served hot immediately after finish them, these wings just beg to be eaten by hand even if this means getting a bit messy.
They are perfect as a part of a meal, as a snack or as simple finger food – just like their counterparts, these Honey Lime Crispy Chicken Wings. Gather your friends around and share the food love – or keep them all to yourself and devour them while watching your favorite show. Either way – there will not be a single one left, bone-in meat lover or not.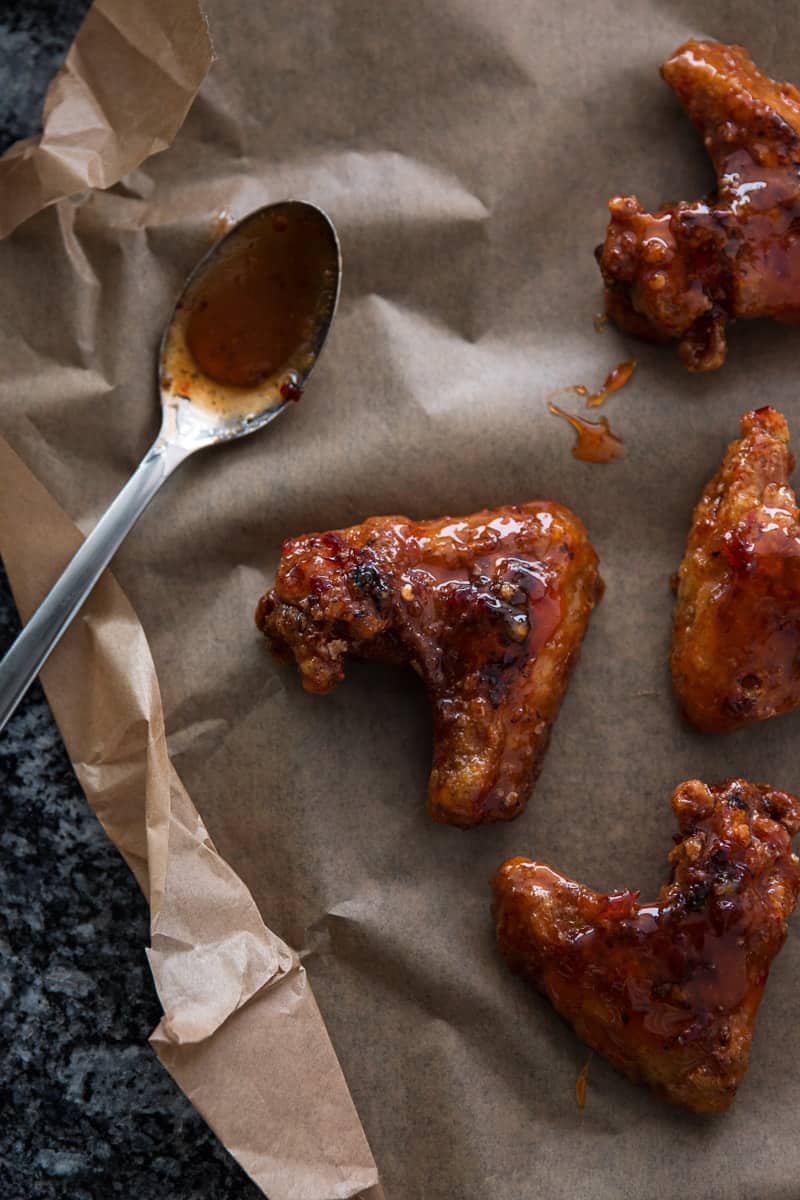 Need more party food inspiration?
Printable recipe
Printable Recipe Card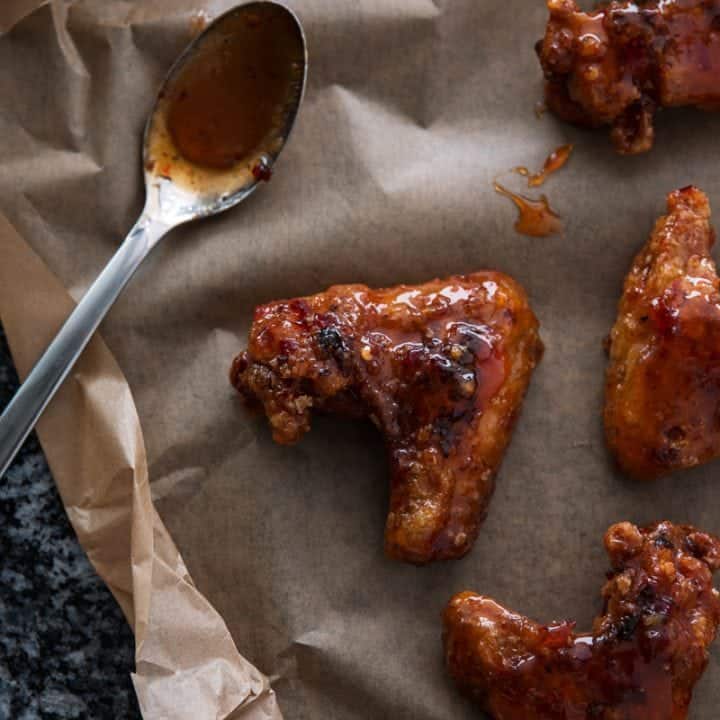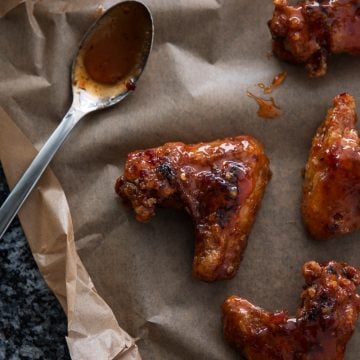 Sticky Sweet Chili Chicken Wings
These Sticky Sweet Chili Chicken Wings are deliciously crispy underneath a sticky made-from-scratch Thai Sweet Chili Sauce full of Asian flavors.
made it? tap the stars to add your rating!
Ingredients
vegetable oil

for frying

½

cup

cornstarch

½

teaspoon

salt

2

pounds

chicken wings

rinsed and patted dry
To Make the Sauce
½

cup

rice vinegar

1 ½

cups

water

⅔

cup

sugar

1

teaspoon

salt

3

cloves

garlic

finely minced

1 ½

tablespoons

chili paste

2

tablespoons

cornstarch mixed with 3 tablespoons water to make a slurry
Instructions
Heat about 2 inches of vegetable oil in a large deep skillet or use a deep fat fryer.

Mix the cornstarch with the salt in a shallow dish and coat the chicken with the mixture. Shake off any excess.

Fry the chicken wings in the hot oil until the exterior is golden brown and crispy and they are cooked through on the inside, about 12 minutes. Turn a few times to ensure even cooking and avoid burning.

Once all the wings are ready, mix all sauce ingredients except for the chili paste and the cornstarch slurry in a large frying pan. Bring to the boil and cook until slightly thickened, about 3-4 minutes. Stir in the chili paste and bring to the boil again. Stir in the cornstarch slurry and continue cooking until thickened, about 1-2 minutes. Add the chicken wings to the sauce, toss until coated and cook over low heat until heated through. Serve immediately.
Want to save this recipe?
Create an account for free to start your personal recipe box. Save any recipe by tapping the heart in the bottom right corner.
Join Now
Nutrition
Serving:
1
serving
Calories:
450
kcal
Nutrition is an estimate.
More recipe information