Printable recipe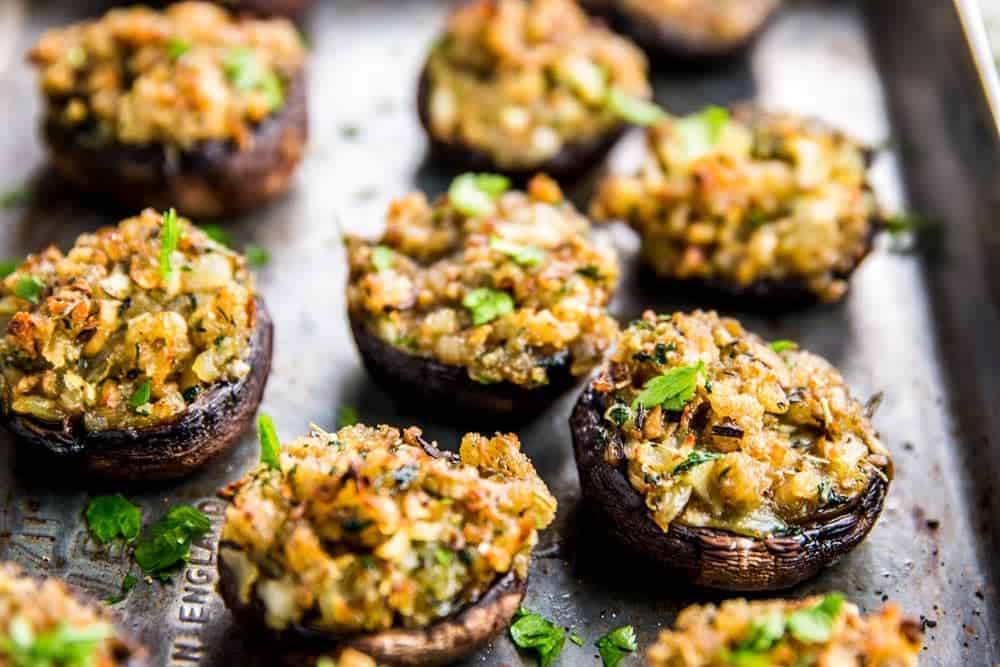 made it? tap the stars to add your rating!
My Easy Stuffed Mushrooms are so simple to make – the perfect appetizer! They're full of garlic and parmesan flavors and we like them so much, we don't even wait for a party to come up. We just make them for lunch with a big salad or a pot of veggie soup on the side (same with the Sticky BBQ Slow Cooker Meatballs – they've turned form party food to dinner staple around here).
I recommend you sneak a few fresh out of the oven while you're in the kitchen and the kids can't stop you from popping just one more of these cheesy, crunchy yet soft, deliciously easy stuffed mushrooms into your mouth.

Ingredients
1

pound

whole button mushrooms

(I used brown ones)

¼

cup

butter

1

small onion

(finely chopped)

3

cloves

garlic

(finely minced)

⅔

cup

breadcrumbs

1

tablespoon

Italian seasoning

(I used one without added salt)

4

tablespoons

grated parmesan

(or more to taste)

1

tablespoon

chopped fresh parsley

Salt and black pepper

(to taste)

Lemon juice

(to serve (optional))
Instructions
Prep the mushrooms: Carefully remove the stems from the mushrooms. Set the caps aside and chop the stems finely.

Sauté the mushroom stems: Melt the butter in a wide skillet over medium heat. Add the onion and garlic and gently cook until softened, about 2-3 minutes. Add the chopped mushroom stems and sauté until softened, about 5 minutes.

Finish the filling: Add the breadcrumbs and Italian seasoning to the mushrooms in the pan and stir well, to coat everything with butter. if it seems dry, add a little more butter. Cook for another 3-4 minutes, take off the heat and stir in the parmesan, parsley and salt and pepper (if needed). Then set aside to cool.

Stuff and bake the mushroom caps: Preheat the oven to 350°F. Evenly distribute the filling between the mushroom caps, pushing it slightly down as you fill them. Place the mushrooms on a baking sheet lined with nonstick silicone mats and bake until the top is browned, about 20-25 minutes.

Serve: Serve hot or warm, with a bit of lemon juice if you like.
Add Your Review
Nora's Tips
Ingredient Notes:
Mushrooms: Pick evenly sized ones to make sure they bake in about the same amount of time. It's best to use ones that have a relatively large cap "opening". When I make these as a finger-food type of thing, I buy the smallest mushrooms I can find. For a more sit-down appetizer occasion, ones that are a little bigger/need to be even with knife and fork are fine.
Breadcrumbs: I just use regular, plain breadcrumbs. But you can use Panko or Italian seasoned instead, if that's what you have on hand.
Garlic: If you don't have any fresh, you can use 1 teaspoon dried garlic powder instead.
Butter: If you don't like using butter, just use olive oil. But PSA: Butter is delicious.
Parmesan: You can add more parmesan to the filling if you want to go for the full-on cheese experience, but I don't recommend sprinkling the stuffed mushrooms with it – the full-on exposure to the heat in the oven easily burns it.
Cooking Tips:
Chopping: Do chop the garlic, onion and mushroom stems quite finely. It's worth the extra effort, because the filling will be more evenly distributable between he mushroom caps.
Butter amount: The cooked filling should be a bit mushy and moistened (sorry) everywhere. Definitely add more butter/oil if there's dry breadcrumbs left.
If you want your stuffing to crisp up more, don't press it all the way down into the mushrooms, but leave it more lose.
Make Ahead Instructions:
And if you want to make them ahead? Just make the filling, stuff the mushroom caps and chill them for up to a day. Allow the mushrooms to come to room temperature before baking.
Nutrition
Calories:
27
kcal
|
Carbohydrates:
2
g
|
Fat:
1
g
|
Cholesterol:
3
mg
|
Sodium:
36
mg
|
Potassium:
52
mg
|
Vitamin A:
60
IU
|
Vitamin C:
0.7
mg
|
Calcium:
14
mg
|
Iron:
0.2
mg
More recipe information
Join my Newsletter to Get Recipes in Your Inbox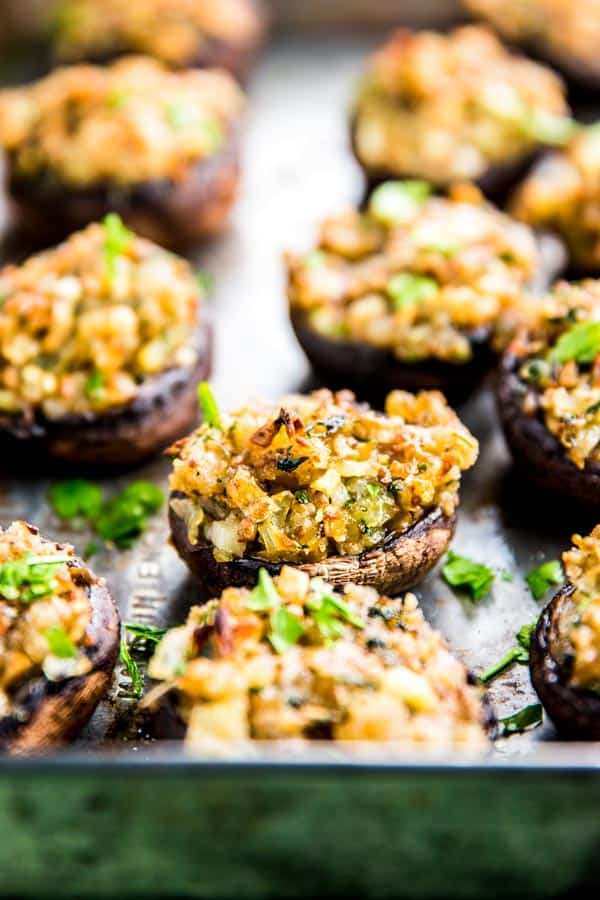 Try these appetizer recipes next: