A simple but impressive garlic butter shrimp pasta recipe. Everything is tossed in a delicious homemade tomato sauce, easy for weeknight dinners but elegant enough for guests as well!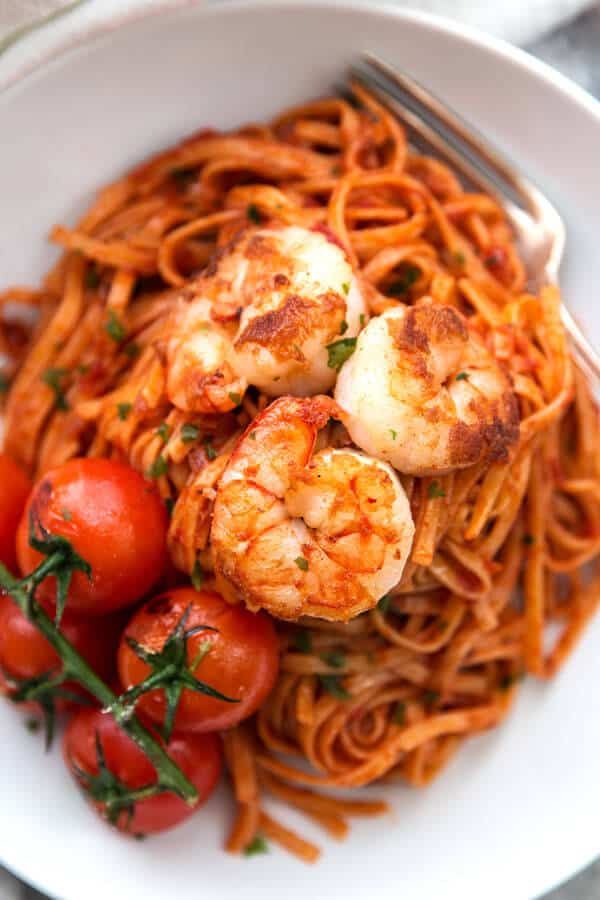 I'm serious. Garlic. Butter. Tomato. Shrimp. Linguine. SO GOOD!
Good as in a garlicky, buttery tomato sauce (full of chopped up shrimp for extra delicious flavors) hugging linguine topped with pan roasted cherry tomatoes and crispy-tender shrimp. Garlic butter pasta always wins.
An entirely different drama going on here: IT'S COLD. Really, really cold.
The weather forecast told me it wouldn't be so cold, it told me it wouldn't continue snowing like crazy but it's all happening, right now. We can't leave our home because we'd never get back.
And I'm not even sure the car would move through all of this snow. I know I'm complaining on a high level ESPECIALLY because I've been complaining about the lack of snow until about three days ago but THIS. This weather calls for loads of butter and garlic and all the good things.
In addition to this we've all been having this horrible, horrible cold which seems to be lasting forever, please go away and never come back OK thanks bye. My way of making things better? Going to pasta heaven.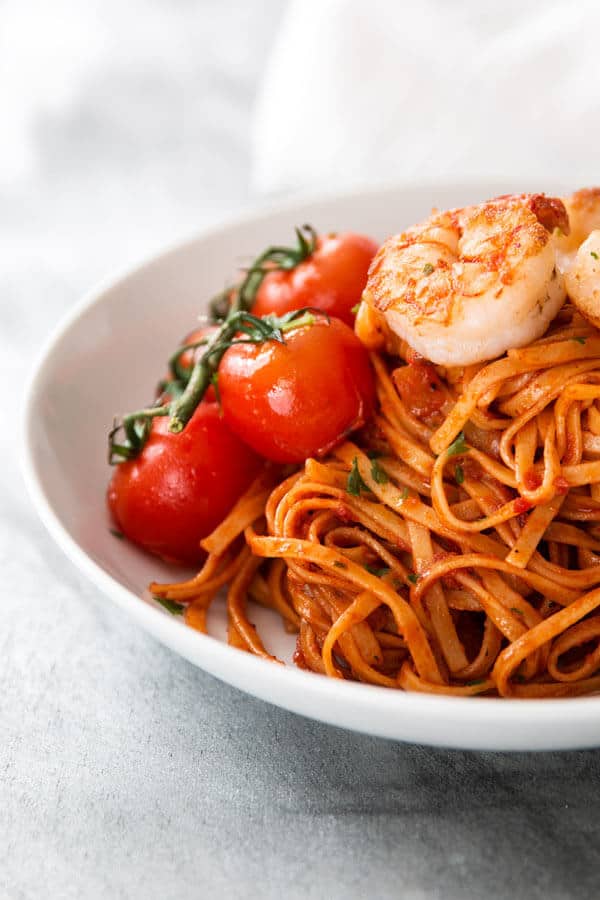 This is a recipe Branimir and I have been making pretty much since we met. In fact, he cooked it for me on our first New Year's Eve together and it was also one of the first recipes I ever made for this blog, decided it looked horrible and never posted. But now its time to shine has come!
Right now all I want to do all day long is cuddle my baby, watch a gazillion episodes of The Million Dollar Critic and Hell's Kitchen (hello Giles and Gordon, I love you both!) and eat all the slow cooked pasta, one pot pasta and soupy pasta in the world.
Which just made me realize this is the third pasta recipe I posted in a row. That's what cold, snow and winter does to me. It might also be the fact that I can't really leave the house without a) freezing my nose off or b) getting stuck in the snow.
Anyways, if you're like me and you're the pasta loving kind of person then you and me both don't mind. Right? Please say yes because I'd hate for us to have an interwebs-argument!
This garlic butter tomato shrimp linguine recipe is perfect for those times you want something a bit more special but are not in the mood to slave over one dish all day.
Let's ignore the fact that I basically just described my life.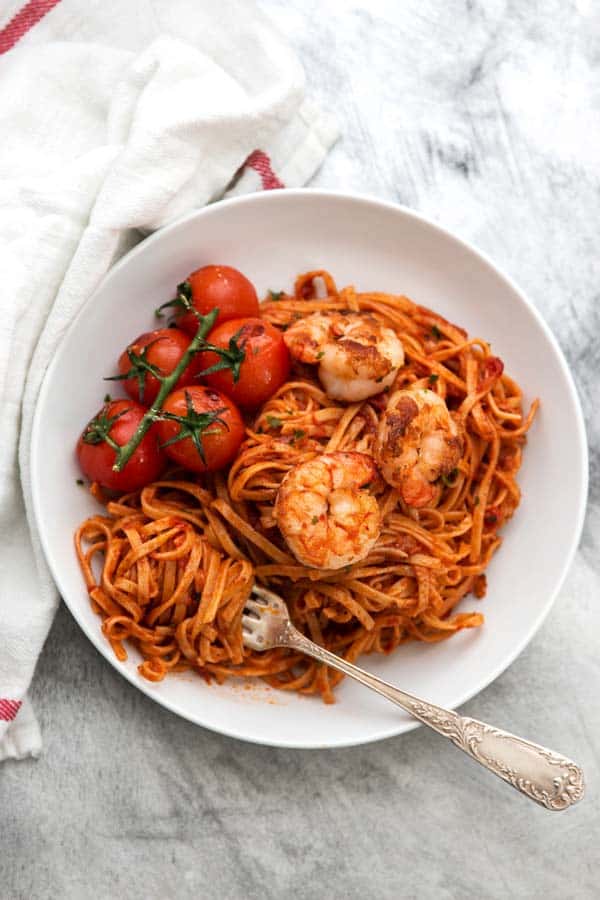 One thing I like most about this buttery and delicious pasta dish is the chopped shrimp in the sauce. It takes on so much more flavor this way and I don't know about you but I'm alllll about saucy and fragrant deliciousness.
Plus it adds so much texture and you don't need to mess around with your shrimp because you'll get some with every forkful of linguine. Now if that's not food paradise then I don't know what is!
So if you happen to be snowed in with some linguine, butter, garlic, tomatoes and shrimp – get your pans out and whip up some pasta deliciousness. Then eat under your covers until the sun comes out again.
Though it might take a while.
Printable recipe
Printable Recipe Card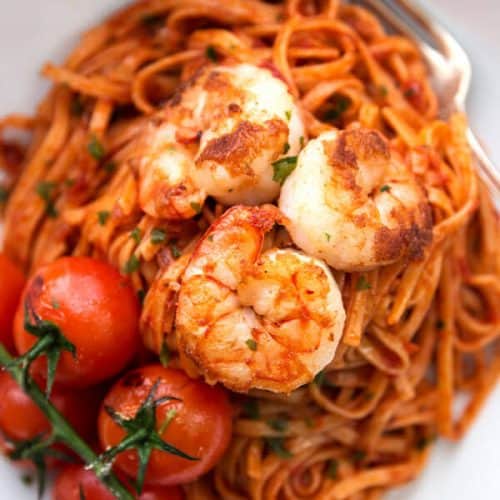 Pin Recipe
Garlic Butter Tomato Shrimp Linguine
Delicious Garlic Butter Tomato Shrimp Linguine made with sautéed garlic, lots of tomatoes and buttery shrimp. A simple but stunning pasta dish!
made it? tap the stars to add your rating!
Ingredients
3

tablespoons

olive oil

plus extra

1

large onion

chopped

5

cloves

garlic

minced

14

ounces

king prawns

4 pieces chopped and the rest set aside

2

tablespoons

tomato paste

½

cup

red wine

1

(14.5-oz) can

diced tomatoes

1

bay leaf

½

teaspoon

hot smoked paprika

1

pinch

of sugar

salt & pepper

to taste

1

(12-oz) box

linguine pasta

12

cherry tomatoes

on the vine

3

tablespoons

butter
Instructions
Heat a large skillet over medium heat. Add the olive oil and sauté the onion for about 5 minutes. Add the garlic and continue cooking for another minute. Add the chopped shrimp and cook for another 3-4 minutes.

Increase the heat to medium-high and stir in the tomato paste. Roast until fragrant while stirring frequently. Deglaze with the red wine and cook for 2-3 minutes or until it's the consistency of a thick syrup before adding the chopped tomatoes. Stir in the bay leaf, paprika, sugar, salt and pepper and simmer for 15-20 minutes on low heat.

Meanwhile, cook the linguine according to package directions. To roast the tomatoes, heat a frying pan over high heat and add a very small amount of olive oil. Add the tomatoes and cook for 2 minutes on each side. Remove from the pan and add a bit more oil. Add the whole shrimp you set aside and cook about 3 minutes on each side or until done on the inside and browned on the outside. Season with salt and pepper to taste. Add the tomatoes back to the pan, remove from the heat and set aside until ready to serve.

To assemble, stir the butter into the finished sauce. Toss with the linguine and divide between four plates. Top with the tomatoes and the shrimp.
Want to save this recipe?
Create an account for free and start your personal Savory Nothings recipe box. Save any recipe by tapping the heart in the bottom right corner.
Join Now
Nutrition
Serving:
1
serving
Calories:
660
kcal
Nutrition is an estimate.
More recipe information