Wondering how to make homemade teriyaki sauce? It's so easy and only requires a few simple ingredients. A great make ahead stir fry sauce or glaze for Teriyaki Salmon.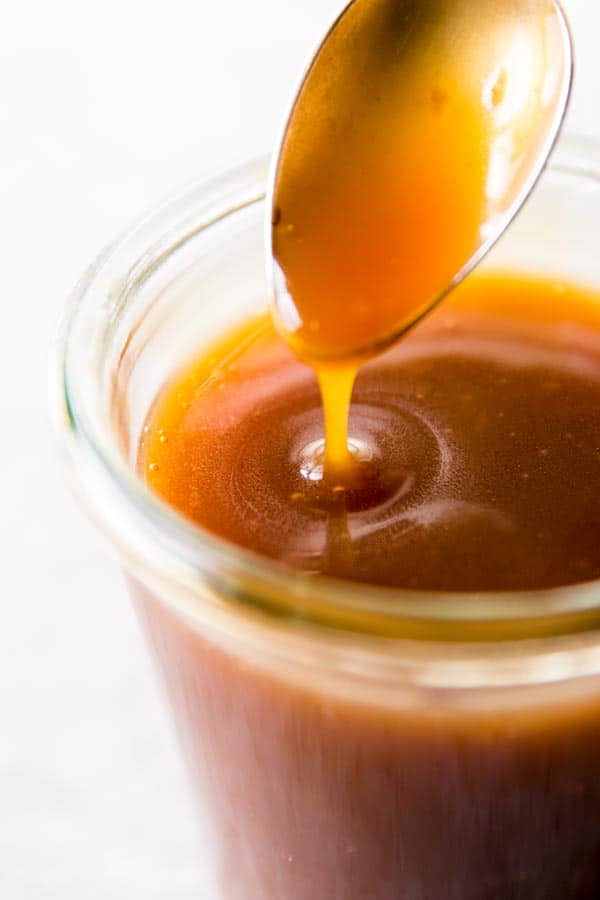 Do you buy a lot of bottled sauces? I know I used to.
But you're reading this post now, so you probably started turning those bottles around to read the labels – and ugh! You were shocked, just like I was.
Probably not even because you found the ingredients so gross, but because you didn't even UNDERSTAND what the ingredients were supposed to be.
You felt so overwhelmed by all the gibberish that, in the end, you gave up and threw it into the cart anyways.
Grocery shopping with toddlers doesn't really come with a gigantic amount of patience or liberal time to study labels.
At home you put it away, but you felt that nagging guilt for not properly doing your research. I mean, all you're wanting to do is get the right nutrition into your kids for them to grow up well, right?!
So you pulled that bottle out after bedtime to research a little on the Internet… And now you're here.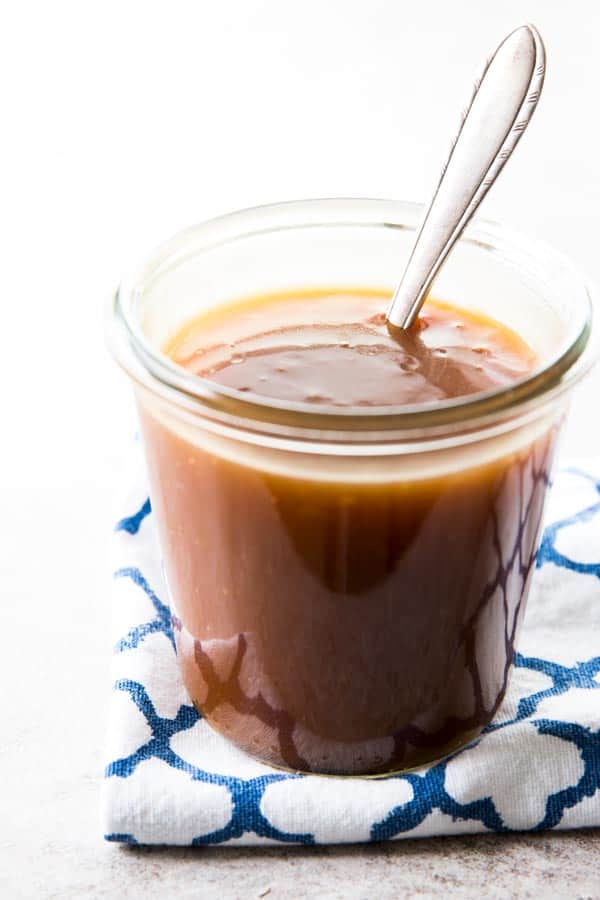 When I started changing our diet more and more about a year ago, we already didn't have many bottled sauces or dressings around.
But I didn't feel like making my own either, because I thought it would be way too hard. So dinner was often a little boring or… Dry?
But now I'm starting to figure out how SIMPLE it is to make certain sauces at home, so I want to share my excitement with you. I mean, everyone knows you can make healthy peanut sauce at home, but teriyaki sauce?
This Asian inspired honey sweetened version comes together in no time and you can keep it in the fridge if you have extra.
What ingredients are in teriyaki sauce?
What surprised me the most was that you only need a handful of really simple ingredients you can find at any grocery store:
water
soy sauce
cornstarch
honey
brown sugar
garlic
butter (which is 100% optional!)
How To Make Teriyaki Sauce:
It's so easy, you won't believe you haven't made this yourself before!
Whisk everything together.
Bring to a boil.
Simmer for 2 minutes or until thickened.
REALLY. This teriyaki sauce recipe couldn't be any simpler.
If you're wondering about substitutions, here are a few of my suggestions:
Make it dairy free
I do love the added butter, but if you're vegan or dairy free you can easily substitute coconut oil.
You can even leave it out, but it does give the sauce a silky smooth finish, some shine and a little richness.
Skip the brown sugar
I'm using a bit of sugar here. If you want to nix it completely, you can add 1-2 tablespoons extra honey.
Omit the cornstarch
I just use cornstarch whenever I need to thicken a sauce like this teriyaki sauce or something like my favorite Homemade Pineapple BBQ Sauce, it's SO easy.
I do have a jar of arrowroot powder here though, so if you know how to use it – please enlighten me 🙂 I'm sure you could use it to thicken this sauce somehow?
Otherwise you can just simmer the sauce for longer, until it has thickened to your liking. It might take a while though.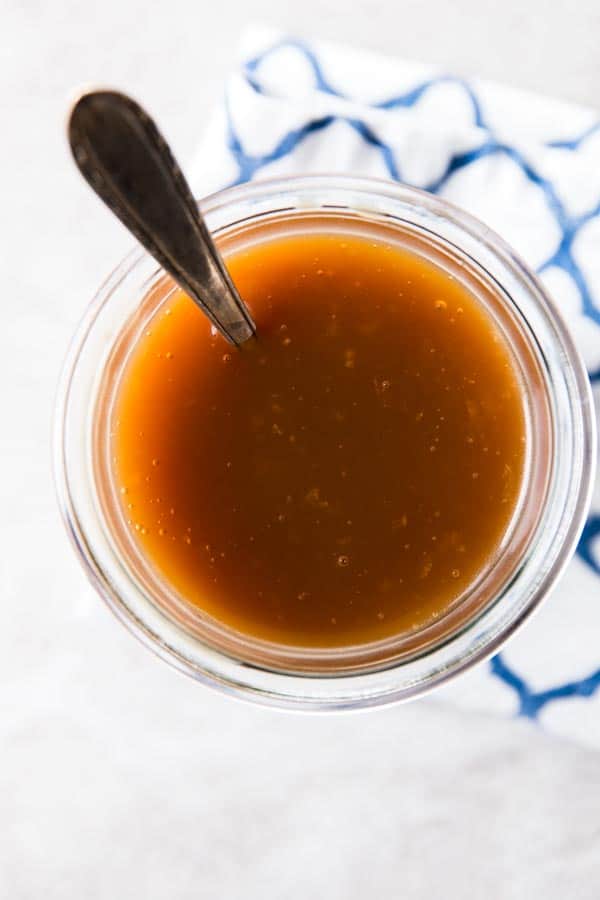 Seriously, though. This is the BEST teriyaki sauce.
I use it on so many things now – even on teriyaki meatballs! Teriyaki anything, I'll make it.
Next up: Teriyaki Chicken! Probably Pineapple Teriyaki Chicken? I guess I'll have to make both ?
And if you tried this and loved it, I'm pretty sure you're going to love my Homemade Korean BBQ Sauce, too!
Watch How To Make Homemade Teriyaki Sauce in this recipe video here:
Here's the printable recipe for How To Make Homemade Teriyaki Sauce:
Printable recipe
Printable Recipe Card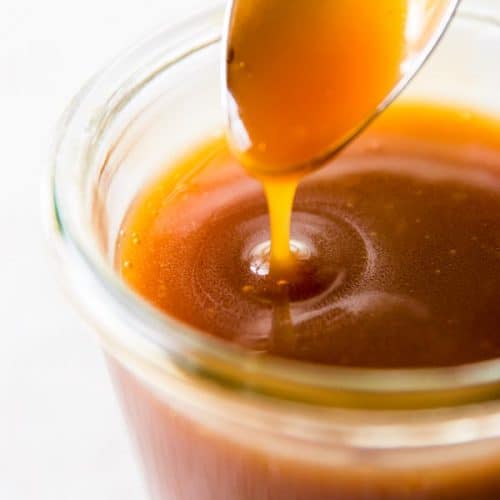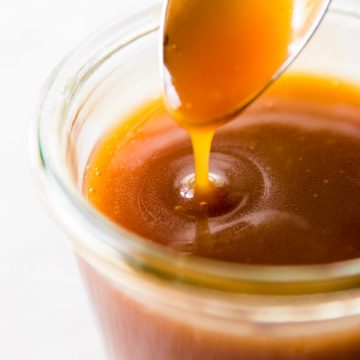 How To Make Homemade Teriyaki Sauce
Wondering how to make homemade teriyaki sauce? It's much easier than you think, and way healthier than the bottled kind. A great make ahead stir fry sauce!
made it? tap the stars to add your rating!
Ingredients
1

cup

water

6

tablespoons

soy sauce

2

tablespoons

cornstarch

3

tablespoons

honey

2

tablespoons

raw sugar

OR light brown

1

clove

garlic

minced

1

tablespoon

butter
Instructions
Whisk together the water, soy sauce and cornstarch in a medium pot. Whisk in the honey, sugar and garlic. Add the butter and bring to a boil, simmer for 2 minutes.

Either use immediately or fill into a clean jar, cool down completely before closing and storing in the fridge, where it will keep for about a week.
Want to save this recipe?
Create an account for free to start your personal recipe box. Save any recipe by tapping the heart in the bottom right corner.
Join Now
Notes
The recipe makes about 6 ¼-cup-servings.
Nutrition
Nutrition is an estimate.
More recipe information