One Skillet Lasagna is one of the easiest dinner recipes you can make on a weeknight. Everything is made in one single skillet (even the pasta cooks right in the sauce!), without the time-consuming layering or the many components in traditional lasagna. Yet it tastes just as comforting and delicious as the original!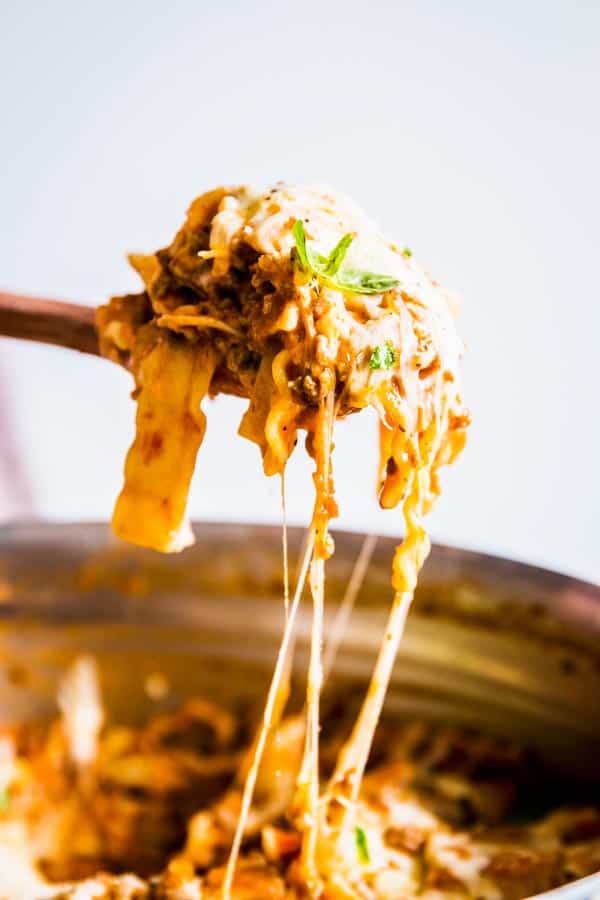 One pot meals are one of my all-time favorite things to cook. I mean, how could anyone complain about less dishes to wash? I most certainly never do ?
My One Pot "Baked" Ziti is a personal favorite, but so is One Pot Garlic Butter Parmesan Mushroom Pasta – that one has SO many great reviews on Pinterest!
Want to hear another fun fact about lasagna? Lasagna was actually the first dish I ever cooked for the blog. It took me six hours, with homemade pasta (needless to say, that was pre-kids, haha) and another 3 hours to photograph.
It was the dish that almost made me send back my camera, close my website and call it quits – before I had even started. Needless to say, you won't find that lasagna in the archives here…
Lasagna is one of those dishes that get incredibly time-consuming for something as simple as a casserole. Which is why we almost never make it. But ever since I discovered the beauty of a one pot meal, we've been enjoying the same creamy-carby-decadent flavors in this one pot meal, just without all of the hassle!
All the healthy vegetables in the sauce help stretch the meat to make this not only a quick, but also a budget-friendly meal you can whip up with very little effort.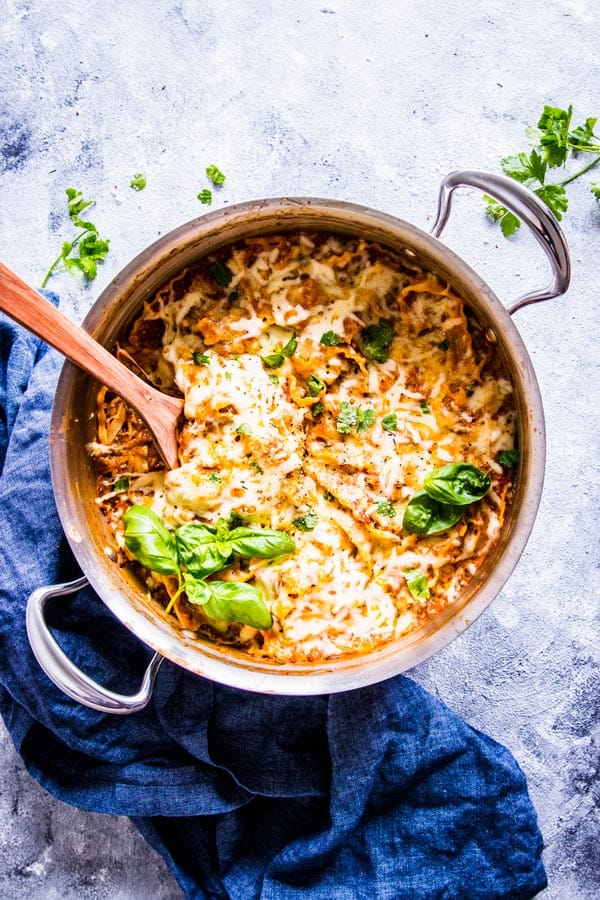 How To Make One Skillet Lasagna:
How to make this Skillet Lasagna a cheap meal:
Stock up on ground beef when it's on sale in large packets (large packet = usually even cheaper!). Just divide it into freezer bags at home, label and freeze!
Watch out for pasta sales – I usually stock up when Barilla is on sale, because at our local grocery store it will cost the same as the store brand when it's on sale, but I think it tastes way better!
Don't go overboard on the cheese, as it tends to be an expensive ingredient. I often buy shredded cheese and grated parmesan on sale and then throw the bags into the freezer.
The veggies already help stretch the meat, but if you want to go even more frugal, you can substitute half of the meat with cooked lentils. Just stir them in 5 minutes before the pasta is done!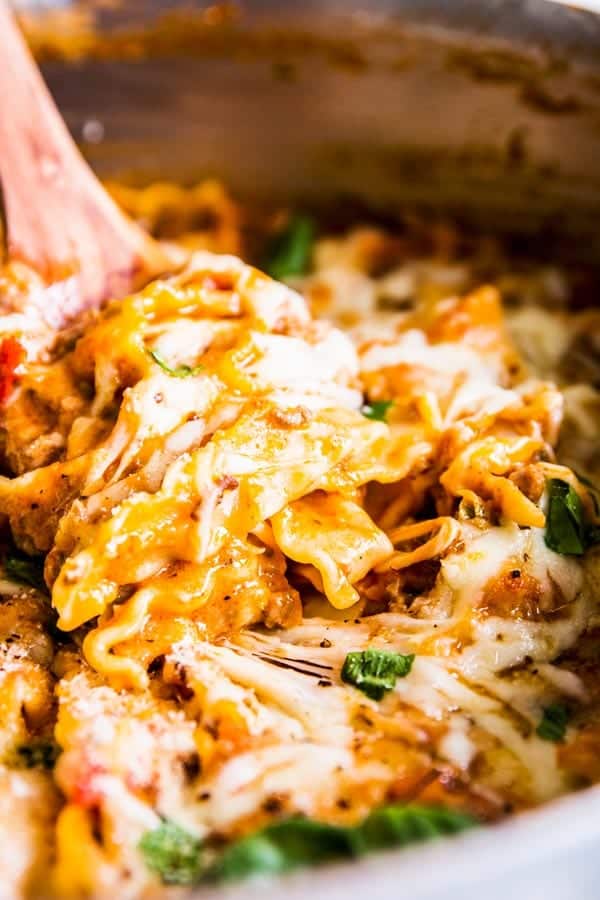 How to make this Skillet Lasagna extra easy:
Have batches of browned beef on hand in the freezer – it shaves a bit off the cooking time.
Use your food processor to finely chop all veggies at once! Such an easy hack that saves a ton of time. I love my large Breville one you can get here on Amazon, it's a little pricier but it's SO worth it. We've had it for nearly five years now and I have yet to meet something it can't handle. FYI, I make a commission for purchases made through that link.
Use a skillet that's wide and deep – it makes it easiest and mess-free to toss all ingredients together. Mine is 11 inches in diameter for reference – and I LOVE it. It's big and deep and perfect. You can see it here on Amazon. Not the cheapest, but I believe in saving up for one quality product that lasts for a very long time vs having to buy a new pan every year. We collected our set of pots and pans over half a decade! Again, I make a commission for purchases made through that link.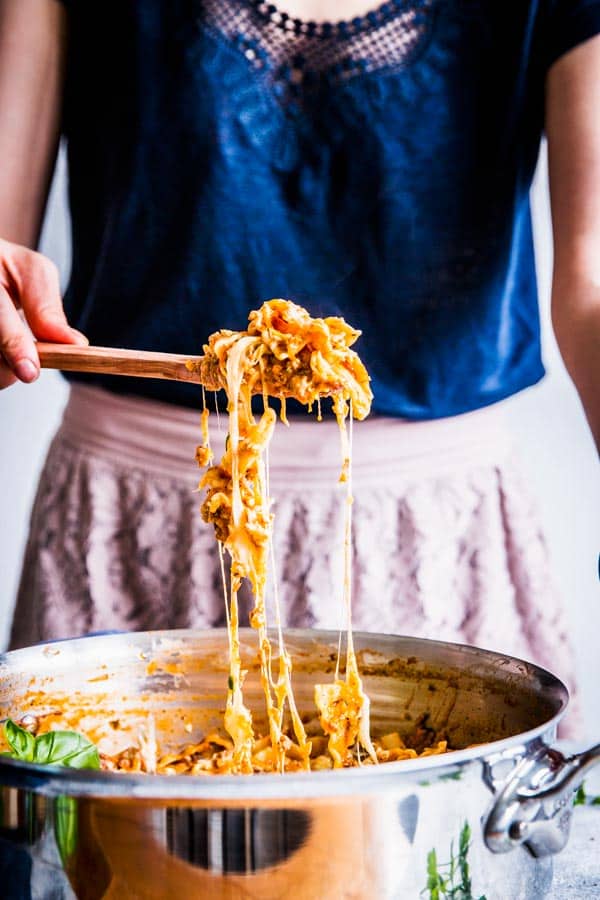 Some extra tips for foolproof cooking:
Browning the meat: Use medium-high heat to brown the meat instead of boiling it in its own juices – way better flavors! No need to stir too much, just break it up as it browns.
Cooking the vegetables: The finely chopped veggies can all go in at the same time once the meat is browned. No need to do them one by one, or to remove the meat from the skillet first! Remember, easy is the name of my dinner game 😉
Seasoning the dish: I like using salt-free Italian seasoning instead of measuring out individual dried herbs, because it just makes it so much faster and easier. You can use fresh garlic, but I'm using dried powder here – with the kinds I find it easier to gauge the sharpness of the flavor with dried garlic vs fresh. I'm also adding some tomato paste for extra flavor, but don't worry if you don't have any on hand. It tastes amazing without it, too.
Deglazing the pan: Deglazing is just a fancy word for saying you're pouring liquid into a hot pan. Scratch the browned bits off the bottom of the pan while stirring, to distribute all the extra flavor in your pasta dish!
Cooking the pasta: All that's left to do is adding the diced tomatoes and the uncooked pasta – it will cook right in the sauce and make everything nice and creamy! Don't add the cheese until the pasta is done, I find the dish turns out creamier that way. I also like to sprinkle some cheese on top and cover the skillet with a lid for a few minutes before serving – gives it that nice melty cheese lasagna top!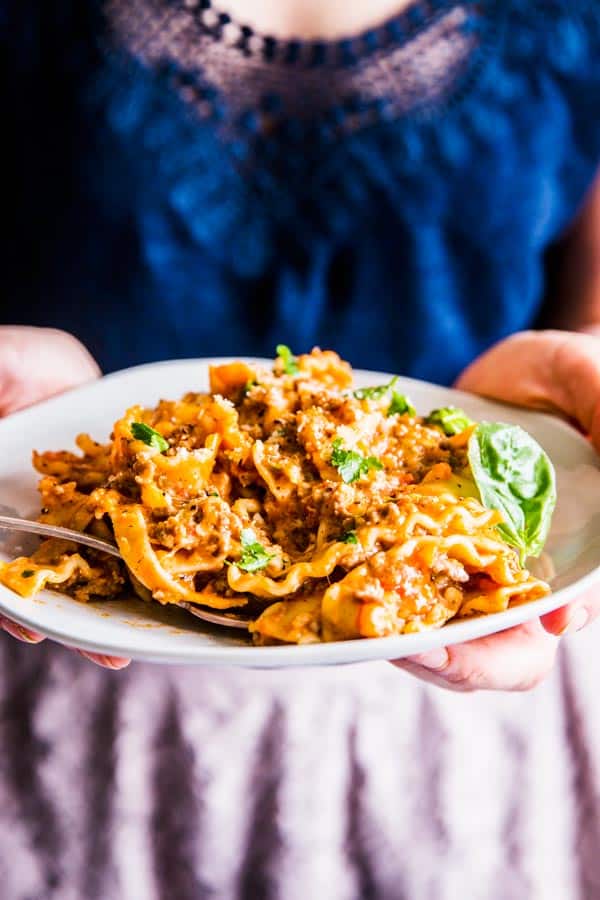 I sure hope this easy skillet lasagna makes up for not ever posting my very, VERY time consuming lasagna.
But one pot, easy peasy work AND less than 45 minutes to dinner on the table? Pretty sure that ticks all the boxes 😉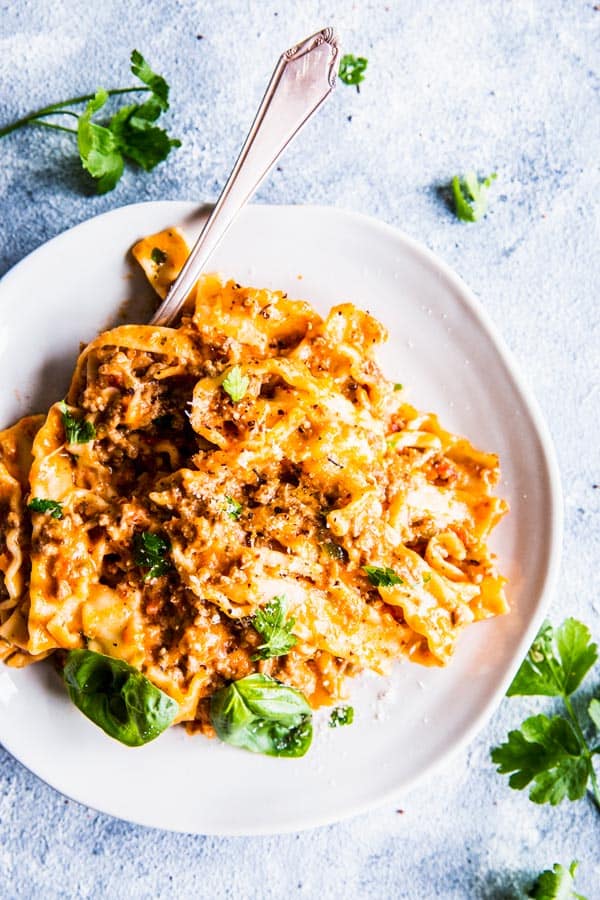 Get a FREE download with the recipe and all cooking tips from this post:
Or if you'd rather just have the simple recipe card, scroll down and you'll be right there!
[convertkit form=5190736]
Get the printable recipe for my one skillet lasagna here:
Printable recipe
Printable Recipe Card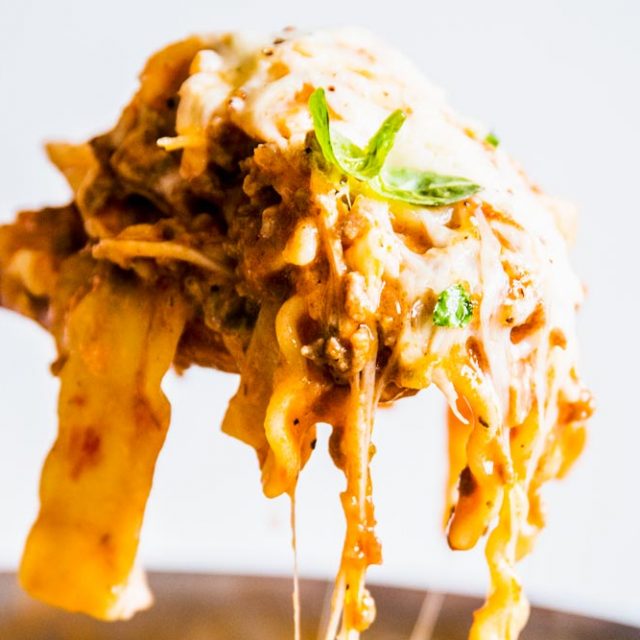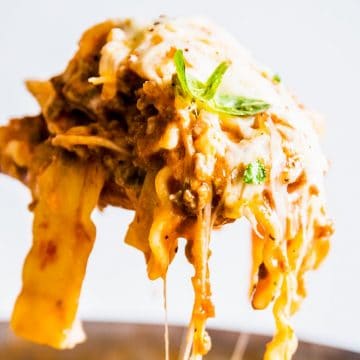 One Skillet Lasagna
One Skillet Lasagna is one of the easiest dinner recipes you can make on a weeknight. Cooked in one single skillet for easier clean up, you get all the lasagna flavors without the hassle!
made it? tap the stars to add your rating!
Ingredients
1

lb

ground beef

2

medium yellow onions

finely chopped

1

carrot

finely chopped

1

celery stalk

finely chopped

1

green pepper

finely chopped

¼

teaspoon

garlic powder

1

teaspoon

Italian seasoning

1

tablespoon

tomato paste

4

cups

beef broth

1

can

(14.5-oz) diced tomatoes

12

oz

short pasta shapes, uncooked

I used broken up Mafaldine because they look a little like lasagna noodles!

½

cup

shredded mozzarella cheese

3

tablespoons

light cream cheese

Garnish: shredded mozzarella grated Parmesan cheese

optional
Instructions
Brown the beef: Add the beef to a large skillet over medium-high heat and cook until browned, adding a touch of olive oil if necessary.

Cook the vegetables: Add the finely chopped vegetables to the skillet with the beef and cook over medium heat, stirring often, until softened.

Season and deglaze: Add the garlic powder, Italian seasoning and tomato paste to the pan. Stir until mixed in well. Pour in the beef broth, scratching the browned bits off the bottom of the pan.

Cook the pasta: Add the diced tomatoes and uncooked pasta to the skillet, making sure to stir everything in until the pasta is covered with liquid. Bring to a boil, then reduce the heat to a simmer and cook until the pasta is done, about 10-15 minutes.

Finish the dish: Stir in ½ cup shredded mozzarella and ¼ cup cream cheese until melted. If you like, sprinkle the top of the pasta with another ¼ cup of mozzarella and ¼ cup of parmesan. Cover and let sit for 4-5 minutes or until the cheeses have melted.
Want to save this recipe?
Create an account for free to start your personal recipe box. Save any recipe by tapping the heart in the bottom right corner.
Join Now
Notes
Please refer to the post for extra tips!
Nutrition is an estimate without the extra cheese for garnish, as that will be individual.
Nutrition
Calories:
610
kcal
Carbohydrates:
78
g
Protein:
44
g
Fat:
12
g
Saturated Fat:
5
g
Cholesterol:
87
mg
Sodium:
1313
mg
Potassium:
1190
mg
Fiber:
6
g
Sugar:
9
g
Vitamin A:
3040
IU
Vitamin C:
39.6
mg
Calcium:
194
mg
Iron:
5.8
mg
Nutrition is an estimate.
More recipe information
P.S: Check out our collection of easy dinner recipes with ground beef for more ideas!