This One Pot Italian Sausage Pasta is an easy weeknight dinner you can make in 30 minutes. Add it to your meal plan this week!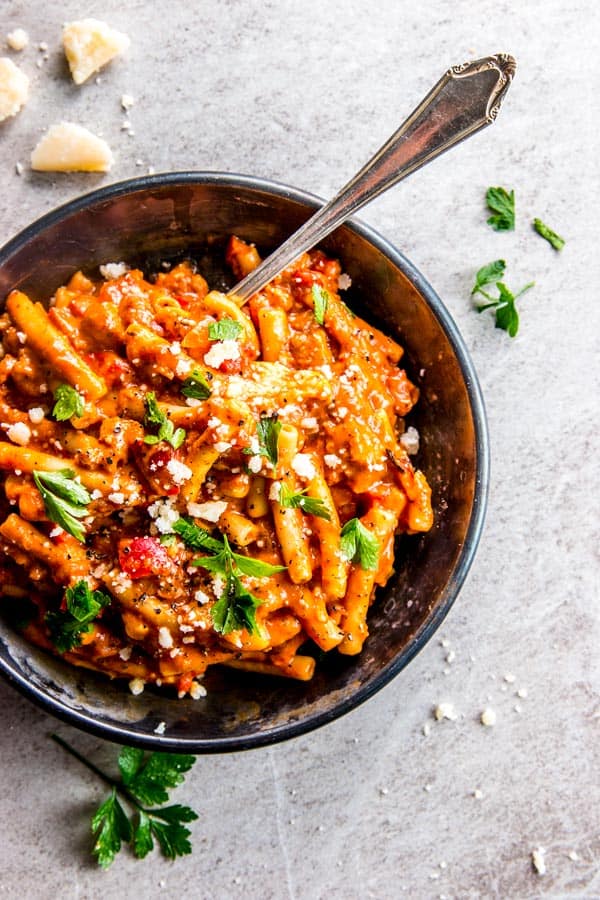 In this post:
About This Recipe
Cooking Tips
Video Instructions
Printable Recipe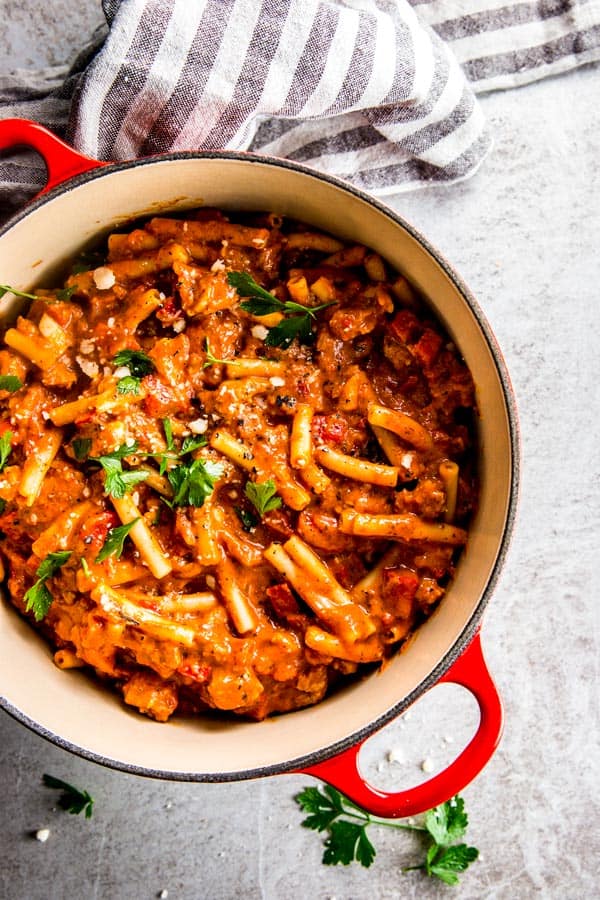 I recently found a great deal at our local supermarket for Italian sausages and went a little crazy.
Is our freezer stocked with sausages for about a year? Why yes, it is.
I had wonderful plans of spending a day stocking up the freezer with my favorite crock pot spaghetti sauce and other goodies – but then my 11 month old started climbing. And walking. And going up the stairs at lightning speed.
Needless to say, my days have become a lot less relaxed. I mean, not that they were incredibly relaxed before (when are they ever with small kids?) – but having a little monkey around definitely adds to the stress factor.
Now I'm relying on quick and easy dinner recipes more than ever. Because I'm constantly switching between making sure the babe isn't hurting herself, the preschooler isn't up to any mischief and my food isn't burning.
Sounds familiar? I'm sure you can relate – otherwise you wouldn't be here 😉
This here is a simple one pot pasta that truly packs in the flavor. My husband is a huge fan of all the sausage, one kid is a huge fan of all the cheese and one kid is all about the pasta – and me? Well… I'm all about the small amount of dishes to wash, hehe.
Recipe tips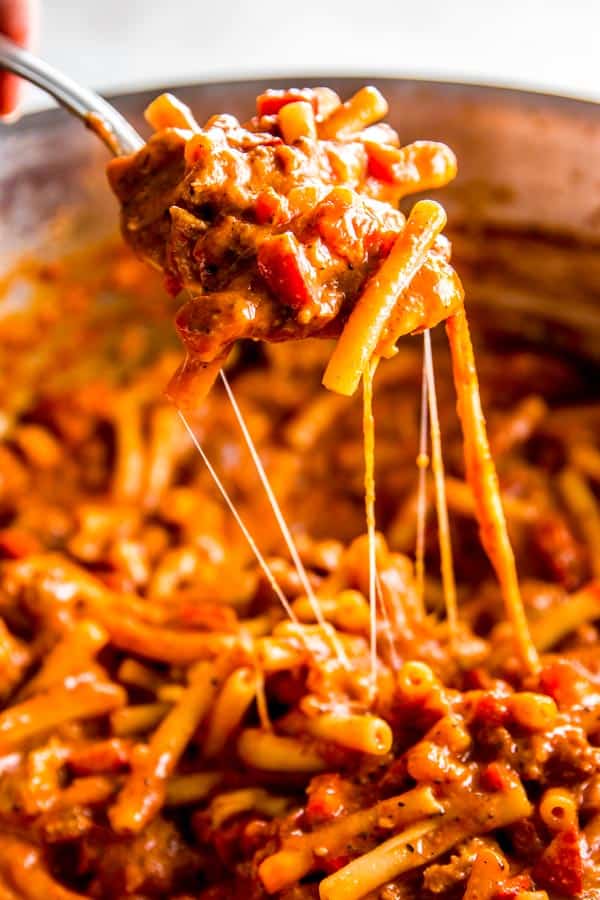 Spices
I used an Italian spice mix in this recipe that doesn't contain any salt.
If you have one with added salt, make sure to pay attention to how much you're using and omit the extra salt added in the recipe!
Also watch out for chili in Italian seasoning. It is sometimes added and not very kid-friendly if added in the amount this recipe suggests. Speaking of experience over here…
Prep ahead
It's a fairly quick and straight-forward recipe, but if you're anything like me and get a little frazzled with recipes around dinner time, here's what I do to make this super fast:
Measure out all ingredients except for the cheeses (and wash the veggies), grab a chopping board and a knife
Brown the sausage
While the sausage is cooking, chop all the veggies
While the pasta is cooking, clean up and measure out the cheeses
Finish the dish and admire your tidy kitchen
Serve, collect all raving compliments and be mighty proud of yourself
Pasta cook time
There's not much worse than pasta that's been cooked to mush.
Since the pasta cooks IN the sauce, it will continue to soak up liquid even after you take it off the heat. So make sure to check the pasta often for doneness and stop cooking once it's just done.
Leftovers
I keep saying this for all my one pot pasta recipes: They just don't make great leftovers.
The pasta will get very soft and it will be hard to reheat. Unless you're OK with this, don't plan for leftovers – and if you NEED leftovers because you want a work-free dinner the next day, just make this One Pot Tuscan White Bean and Sausage Gnocchi tomorrow instead – it's almost as effortless as doing nothing.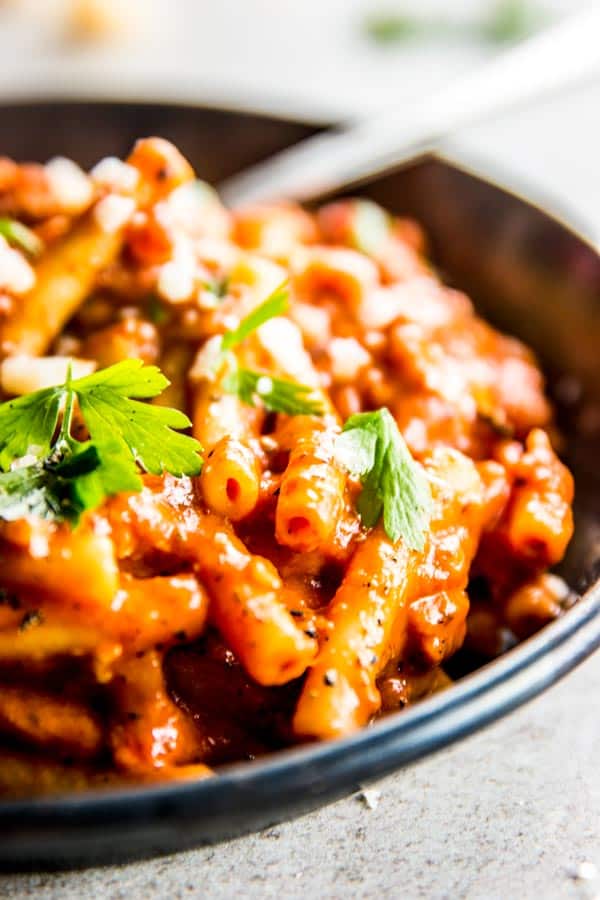 Watch the recipe video
Printable recipe
Printable Recipe Card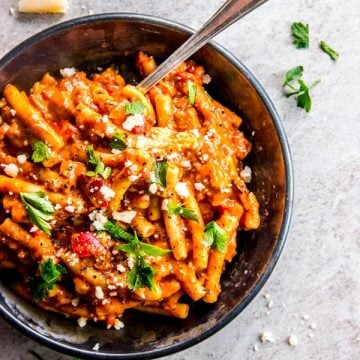 One Pot Italian Sausage Pasta
This one pot Italian sausage pasta is an easy weeknight dinner you can make in just 30 minutes. Delicious tomato basil flavors and roasted red peppers make for a creamy pasta that's almost like a special version of mac and cheese!

made it? tap the stars to add your rating!
Ingredients
1

pound

Italian sausage

1

onion

chopped

2

red peppers

chopped

2

garlic cloves

minced

¼

cup

tomato paste

2

tablespoons

Italian seasoning

½

cup

roasted red peppers

chopped

12

oz

uncooked macaroni

1

can (15-oz)

tomato sauce

4

cups

water

4

ounces

cream cheese

¼

cup

grated parmesan

½

cup

mozzarella cheese
Instructions
Add the sausage to a large and deep skillet and brown. Add the onion, peppers and garlic and cook for one minute. Add the tomato paste and Italian seasoning and cook for one more minute.

Add the roasted red peppers, macaroni, tomato sauce and water. Stir, then bring to a boil and simmer until pasta is just done, about 8-10 minutes.

Stir in all three cheeses. Cover the pan with a lid and let stand for 2-3 minutes or until cheeses have melted. Serve immediately.
Want to save this recipe?
Create an account for free to start your personal recipe box. Save any recipe by tapping the heart in the bottom right corner.
Join Now
Nutrition
Calories:
619
kcal
Carbohydrates:
52
g
Protein:
24
g
Fat:
35
g
Saturated Fat:
14
g
Cholesterol:
89
mg
Sodium:
997
mg
Potassium:
610
mg
Fiber:
4
g
Sugar:
6
g
Vitamin A:
1850
IU
Vitamin C:
62
mg
Calcium:
187
mg
Iron:
3
mg
Nutrition is an estimate.
More recipe information