Make One Pot Spaghetti and Meat Sauce on nights you don't have a lot of time to spend in the kitchen.
This recipe is easy to put together with minimal prep, little clean up – but dinner will be so good, nobody will ever guess how quick it was to make.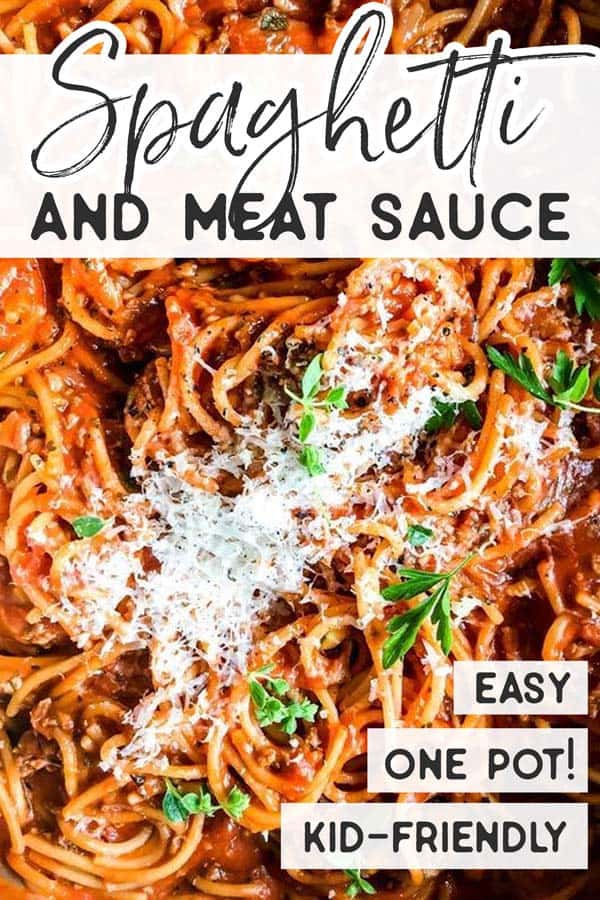 You know those kinds of nights, right? When you really don't want to cook. Or you really don't have any time to cook. Or maybe even both.
It's usually both for me, to be honest.
But, sigh, you and me, we know the drill: That crazy bunch of ours… They want to eat. Every single night.
I mean, multiple other times throughout the day, too. But we're focussing on dinner right now.
So you might be able to get away with build-your-own sandwich dinners for a while. But sooner or later, your kids will start demanding cooked food.
Or is that just mine?
Anyways, if your kids decide one day it's time for mom to get her act together and put a home cooked meal on the table, you're in for a treat.
One Pot Spaghetti and Meat Sauce to the rescue!
I've been a one pot pasta convert for a long time. And by that I mean I scoffed at it until I had my first baby, ha!
Whenever you see me make my one pot ham and pea pasta over on my Instagram Stories, you'll know it's been a really tough day.
I also make One Pot "Baked" Ziti, One Pot Garlic Butter Parmesan Mushroom Pasta, One Pot Tuscan White Bean and Sausage Gnocchi and the like on a regular basis.
But we do love a classic spaghetti sauce, so I figured it would be time to add it to my one pot wonder rotation.
How to Make One Pot Spaghetti and Meat Sauce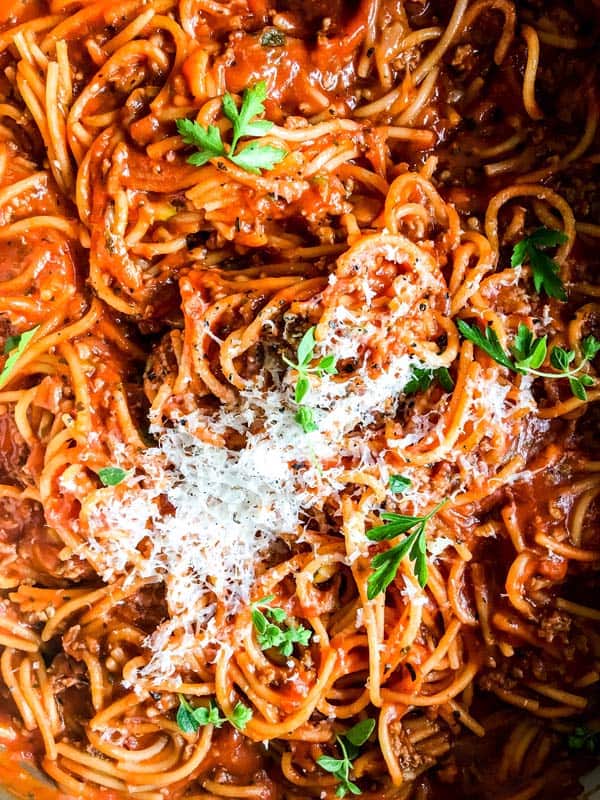 It is seriously easy to put together, and I absolutely love that I only have one pot to clean (OK, I put it in the dishwasher, shhhhh) once we're done with dinner.
Other things that are amazing about this recipe:
It has vegetables, but it's not a lot of work to prep them.
I love adding some healthy stuff to dinner, but I recently realized I don't even have to chop the veggies when I add them to spaghetti sauce.
I just shred them on my insanely sharp Microplane box grater! It's so fast and easy, and they practically disappear in the sauce – perfect for picky eaters! (FYI, that's an affiliate link and I make a commission for purchases made through it.)
The sauce gets so creamy and decadent!
Thanks to the pasta cooking in the same pot as the sauce, the entire dish turns into a luscious and decadent dinner – without adding a ton of fat or doing much work at all.
You can totally switch things up.
Use ground sausage in place of the ground beef.
Use any pasta shape you like (spaghetti can get messy with little kids!).
Shred any veggies you have on hand – I've done both carrots and celery before in place of the zucchini, and it's awesome.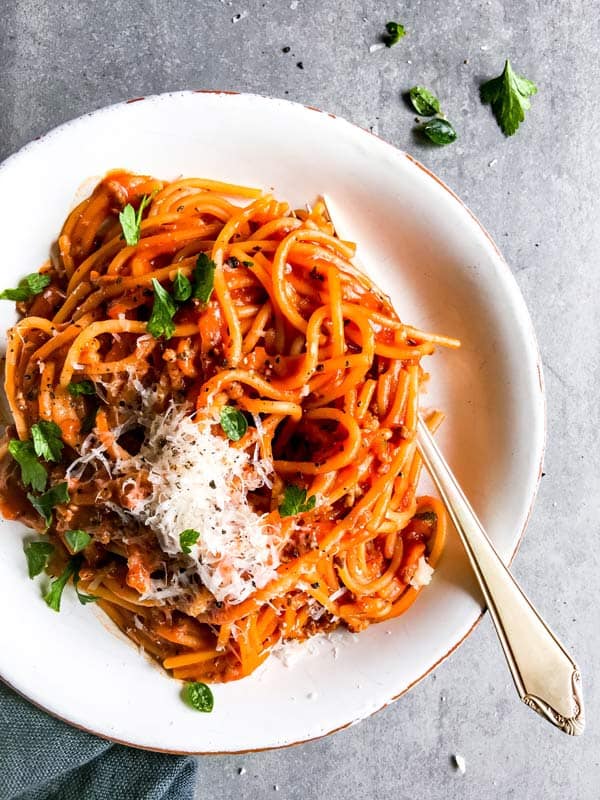 I'll still give you a handful of tips in addition to the video to make sure your spaghetti night is an amazing success:
Brown the meat first by itself.
Don't stir too much, or your hinder the browning.
And don't drain the meat – wait for the meat juices to cook away and then give it a minute to really brown. Extra flavor without any work!
Add the shredded veggies next, and cook them with the meat until they're softened.
This will only take a minute, since they're small pieces.
Stir in the seasoning and tomato paste…
… and quickly roast it all before adding water (or broth if you're feeling fancy) and tomato sauce.
Quickly roasting the tomato paste vs just stirring it in helps increase the yummy flavors!
Check out the video for an easy way to add the pasta without breaking it into pieces!
I hate broken up spaghetti, so I make sure to add them whole.
Simmer the dish over medium heat (uncovered!)
Stir occasionally to avoid it sticking to the bottom. It's done when the spaghetti is just ready and the sauce has thickened.
If it's too thick, add a little more liquid.
If it's too thin, boil it for a minute and then let it stand off the heat (again, uncovered) for a minute.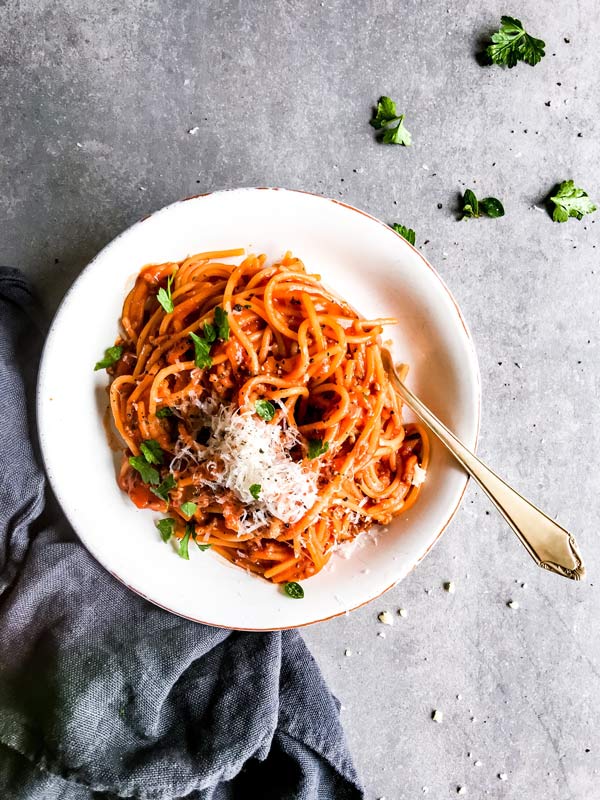 One Pot Pasta FAQs:
Finally, let me answer a few burning questions I get every time I share a one pot pasta dish:
Can I make this ahead?
I don't recommend it. The pasta will keep soaking up liquid from the sauce, which leads to mushy pasta and dried up sauce.
OK, I'm exaggerating a little. It's not the end of the world to eat one pot pasta leftovers, but I wouldn't purposefully make this ahead.
So… What should I do with leftovers?
Even though I don't love the leftovers from one pot pasta and never make this ahead on purpose, I usually still have some left.
Here's a tasty way I found to revive leftover spaghetti and meat sauce:
Place the leftovers in a casserole dish
Sprinkle generously with shredded cheese – I like using a blend of parmesan and mozzarella
Bake at 400°F for 15-20 minutes, or until the pasta is piping hot and the cheese is bubbly
Can I freeze this?
Again, not my first choice.
But if you're looking for simple freezer meals and don't mind mushy pasta, freeze it in a casserole dish.
Reheat it in the oven, sprinkled with cheese, for a simple spaghetti bake.
My kids and husband both gobble this up without any complaints.
And they definitely never complain about me being so lazy in the kitchen when they get this spaghetti and meat sauce for dinner 😉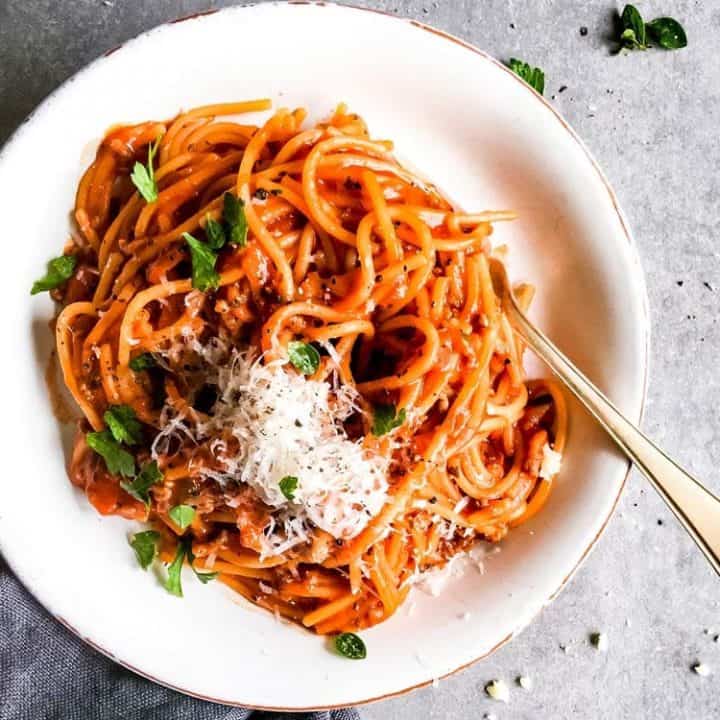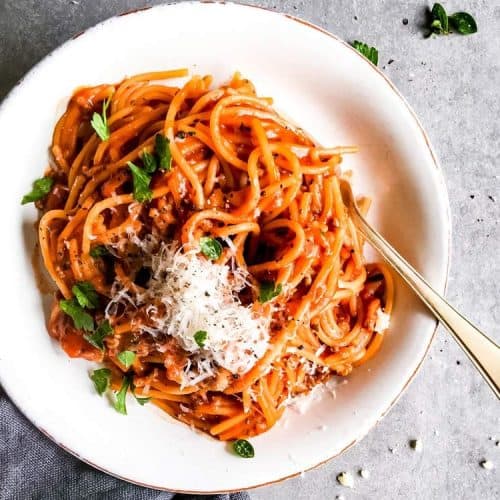 One Pot Spaghetti and Meat Sauce
made it? tap the stars to add your rating!
Make One Pot Spaghetti and Meat Sauce on nights you don't have a lot of time to spend in the kitchen.
Ingredients
1

pound

ground beef

1

onion

(shredded)

2

medium zucchini

(shredded)

1

tablespoon

Italian seasoning

salt and pepper

(to taste)

2

tablespoons

tomato paste

3-4

cups

water or broth

(start with 3 cups and add more as it cooks, if it seems dry)

24-

oz

jar tomato sauce

1

pound

dry spaghetti

Grated parmesan

(to serve)
Instructions
Brown the meat: Heat a large, deep skillet over medium-high heat. Add the ground beef and cook until browned.

Add the vegetables: Add the shredded onion and zucchini and cook, stirring from time to time, until starting to soften (this will only take a minute).

Season: Stir in the Italian seasoning, salt and pepper. Add the tomato paste and cook it, stirring, for 30 seconds.

Add the liquids: Stir in the water or broth first, then add the tomato sauce (if you add the tomato sauce first, it will splatter everywhere). Stir well.

Add the pasta and cook: Add the spaghetti and simmer until the spaghetti is cooked and the sauce has thickened, about 10-15 minutes. The spaghetti will not be submerged in liquid at first, but make sure it goes down as it cooks!

Serve: Stir well and serve with grated parmesan.
Add Your Review
Nutrition
Calories:
654
kcal
|
Carbohydrates:
102
g
|
Protein:
43
g
|
Fat:
8
g
|
Saturated Fat:
3
g
|
Cholesterol:
70
mg
|
Sodium:
1045
mg
|
Potassium:
1601
mg
|
Fiber:
8
g
|
Sugar:
15
g
|
Vitamin A:
1076
IU
|
Vitamin C:
33
mg
|
Calcium:
101
mg
|
Iron:
7
mg
More recipe information: