Printable recipe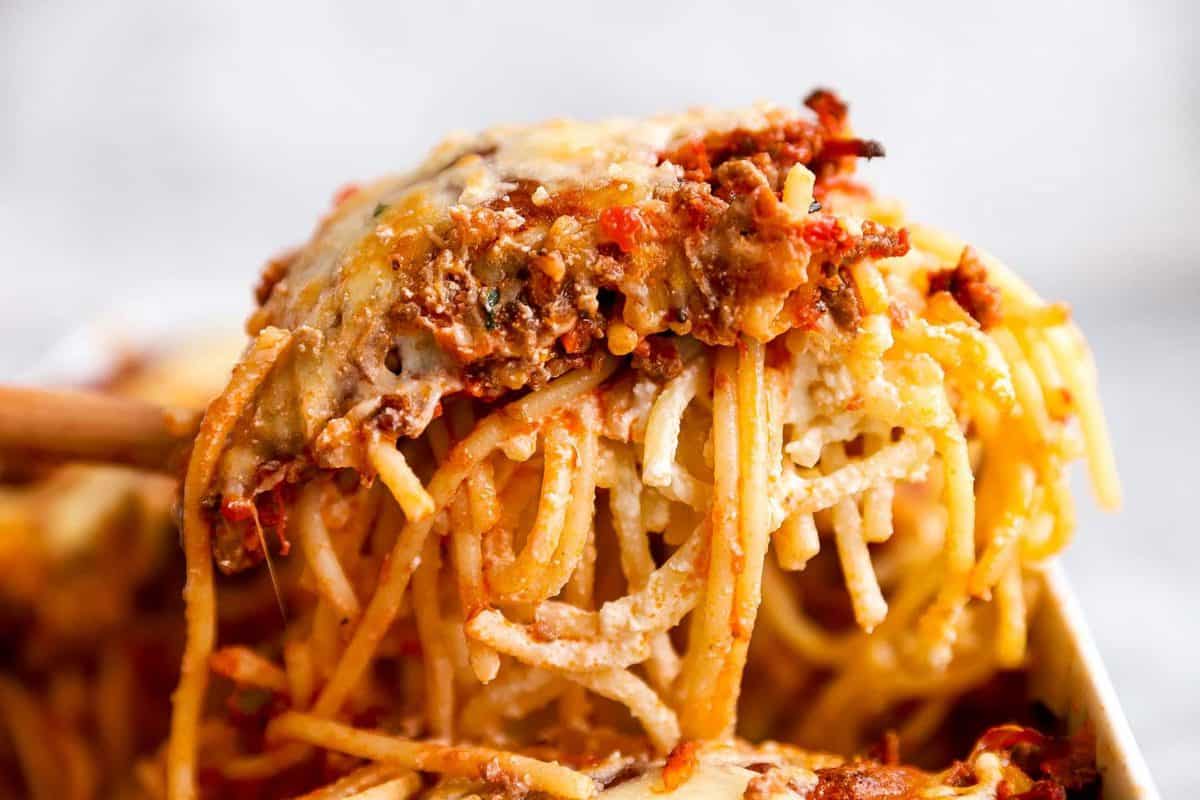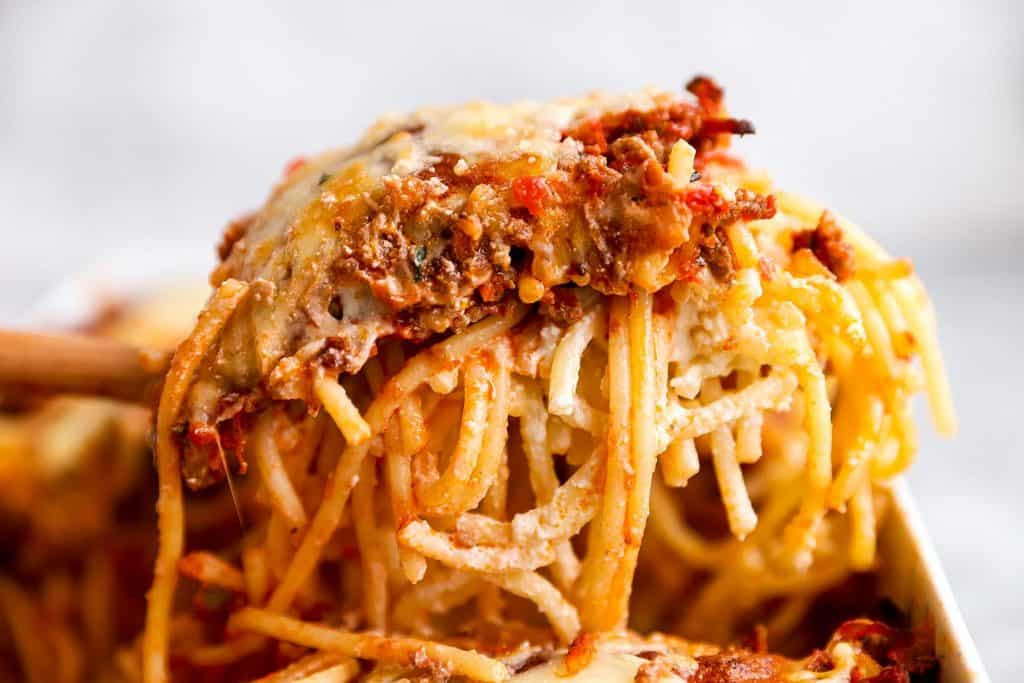 made it? tap the stars to add your rating!
Ready In:
1

hour
10

minutes
Enjoy the hearty comfort food flavors in this cheesy baked spaghetti casserole packed with ground beef or sausage, mozzarella, ricotta and spaghetti – perfect for an easy and delicious dinner.
Recommended Equipment:
Mixing Bowl

Casserole Dish
Ingredients
For the spaghetti:
1

package

(16oz spaghetti, uncooked)

½

tablespoon

olive oil
For the spaghetti sauce:
½

tablespoon

olive oil

1

pound

ground beef

½

teaspoon

salt

½

teaspoon

garlic powder

Black pepper

(to taste)

1

medium onion

(finely diced)

2

medium celery stalks

(finely diced)

2

teaspoon

Italian seasoning

2

tablespoons

tomato paste

1

can

(15oz diced tomatoes)
For the cheese sauce:
1

package

(8oz cream cheese, softened)

1

cup

ricotta cheese

¼

cup

sour cream
For topping:
1

package

(8oz shredded mozzarella cheese)
Instructions
Prep: Preheat oven to 350°F. Lightly grease a deep 13×9 inch pan. Cook spaghetti according to package directions; drain and put back in the pot. Drizzle with ½ tablespoon olive oil, cover with a lid and set aside.

Make tomato sauce: While the spaghetti are cooking, in a skillet over medium heat, season ground beef with salt pepper and garlic powder, then cook until browned in remaining ½ tablespoon olive oil. Add onion and celery and cook until softened. Stir in Italian seasoning and tomato paste, then stir in diced tomatoes and simmer for 5 minutes. Set aside.

Make cheese sauce: Combine all ingredients for cheese sauce until smooth. Set aside.

Assemble: Place half of the cooked spaghetti in the prepared baking dish. Top with cheese sauce and remaining spaghetti. Spread spaghetti sauce on top and sprinkle with mozzarella cheese.

Bake, uncovered, at 350°F for 35 ro 45 minutes, or until bubbly and cheese is melted. Makes 8 to 10 servings.
Add Your Review
Nora's Tips
Make Ahead Instructions:
This dish can be fully assembled ahead of time. Cover it tightly with plastic wrap and refrigerate for up to 3 days (I like to leave out the mozzarella cheese and add that right before baking). Remove the casserole from the fridge and leave out on the counter while the oven is heating up, then bake as directed. The cassrole may need an extra 5 minutes.
Freezer Instructions:
To freeze the baked casserole: Bake and cool the casserole. Wrap tightly in plastic wrap, then in aluminum foil and freeze for up to 3 months. When ready to use, unwrap straight from the freezer (no need to defrost). Loosely cover with aluminum foil and bake at 375°F until hot in the middle, about 1 hour. Remove foil, sprinkle with additional cheese if you like and finish baking for 10-15 minutes.
To freeze the unbaked casserole: Line the casserole dish with aluminum foil before layering the casserole inside, leaving an overhang. Freeze the assembled but unbaked spaghetti pie in the dish until firm. Remove from the baking dish by holding the edges of the foil. Fold the edges over the pasta, then wrap in additional foil, making sure it is tightly sealed to keep out the air and freeze for up to 2 months. When ready to use, remove the foil and place in the lightly greased casserole dish (use the same one you used to freeze the casserole for best results). Bake at 350°F for 1h30mins, or until baked through and bubbly.
Nutrition
Serving:
1
g
|
Calories:
517
kcal
|
Carbohydrates:
28
g
|
Protein:
31
g
|
Fat:
31
g
|
Saturated Fat:
15
g
|
Polyunsaturated Fat:
12
g
|
Trans Fat:
1
g
|
Cholesterol:
111
mg
|
Sodium:
574
mg
|
Fiber:
2
g
|
Sugar:
5
g
More recipe information
Join my Newsletter to Get Recipes in Your Inbox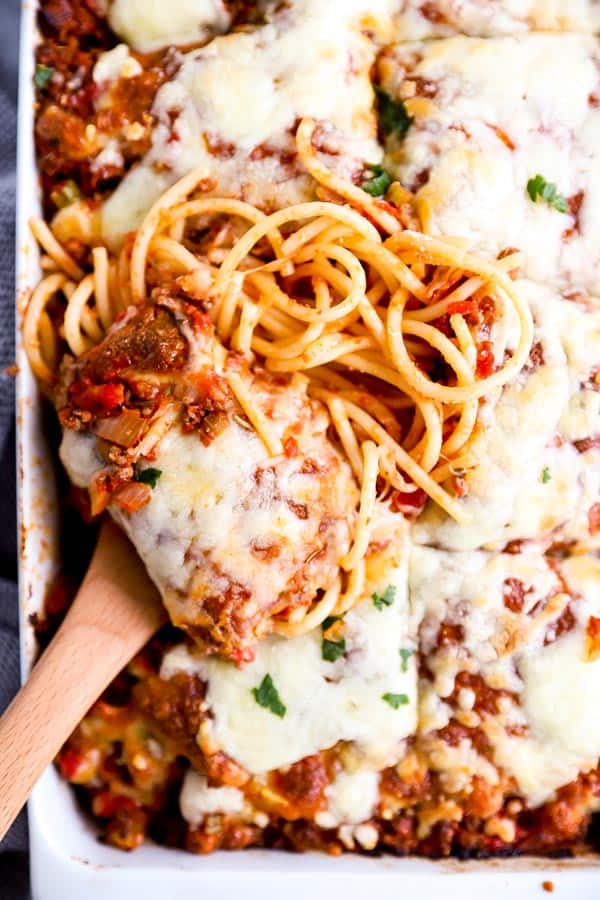 My kids love spaghetti, but I have to say… It's not my favorite to make because it gets so messy once we sit down to eat.
They can always convince me to make a baked spaghetti casserole though… Because who can resist layers of oodles of noodles, ricotta sauce, spaghetti sauce and melty mozzarella?
I definitely can't, and neither should you 😉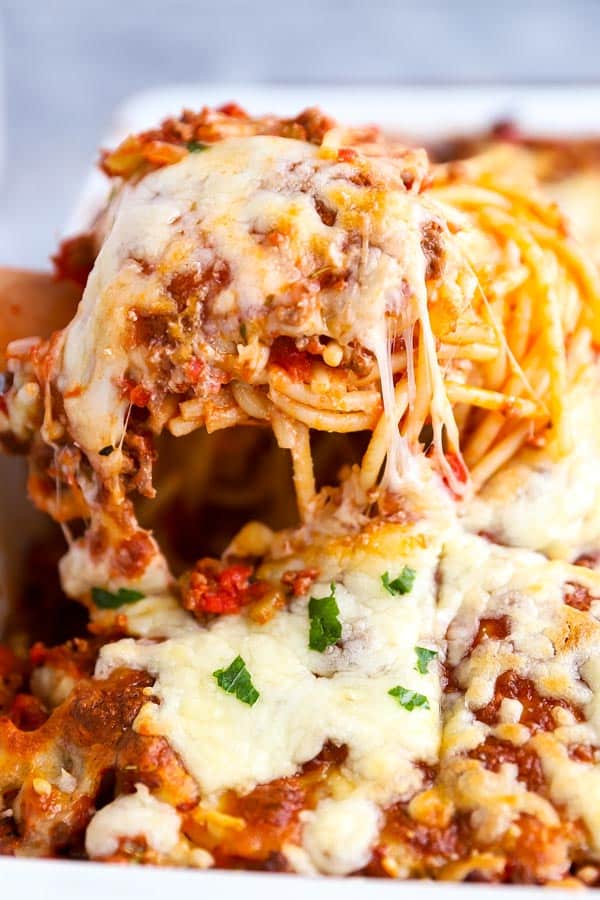 I'm full disclosure, I always find casseroles a little cumbersome to make. There's a few different elements to be made before assembling them into a dish, and it can easily break into chaos mid-cooking.
I'm not even going to pretend that this baked spaghetti casserole is any different: You need to cook the spaghetti, cook the spaghetti sauce and stir up the ricotta sauce.
But luckily each of those steps is easy to accomplish, so once you get those spaghetti layered in the baking dish and into the oven, and send the crying kids to do the dishes… 😉 you will still have the strength to pour yourself a glass of grape juice and relax until dinner is ready.
Enjoy!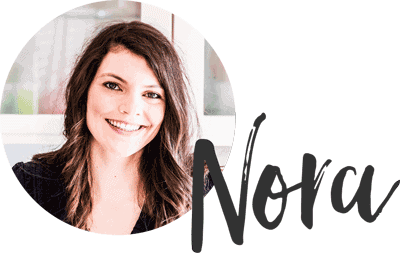 Try these casseroles next: