This Pumpkin Coffee Cake is a great recipe for cozy holiday brunches (or even for an easy fall dessert). The streusel topping takes this from good to great!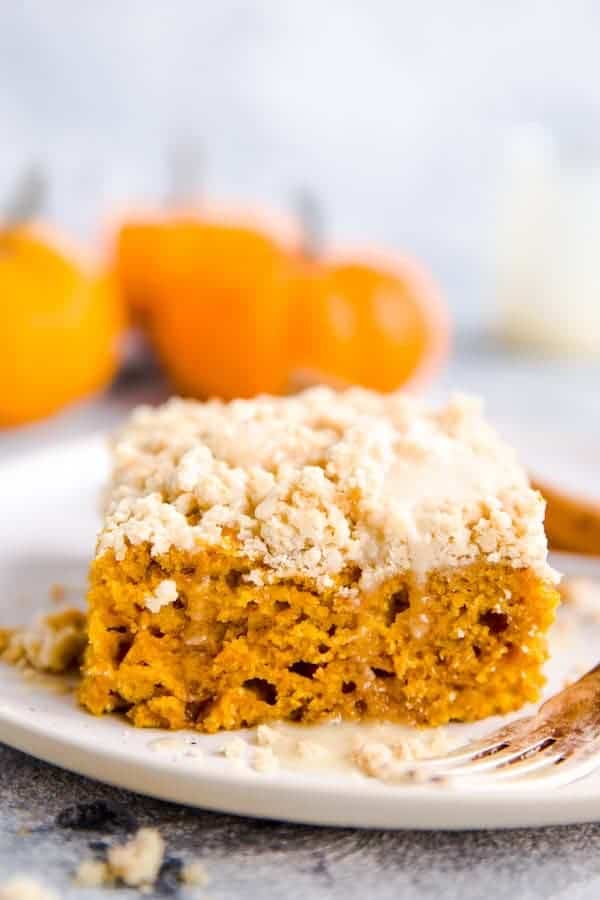 Pumpkin Streusel Coffee Cake
This is one of my all-time favorite recipes for the busy holiday season – be it for Thanksgiving, for Halloween or just to sit back and relax on a lazy Saturday morning amidst the holiday bustle.
I make my Pumpkin Coffee Cake with a load of streusel AND with a maple glaze – because sometimes more is more and there is absolutely no point in being a coffee cake minimalist. It's quite similar to my Pumpkin Crumb Muffins and my Streusel Pumpkin Bread, but scaled up and baked in a 9×13 inch pan to feed those holiday crowds.
Watch the recipe video
What goes into a pumpkin coffee cake?
Here is a visual overview of the ingredients in the recipe. Scroll down to the printable recipe card at the bottom of this post for quantities!
This coffee cake needs pretty basic pantry staples, so you might already have everything on hand.
Cake ingredients
Wet ingredients
melted butter – you can also use a neutral vegetable oil in place of this; when using butter, make sure to let it cool a little or you may end up with scrambled eggs in your cake
eggs – make sure they are large sized; the cake turns out better if the eggs are at room temperature. If you don't have time to let the eggs warm up, place them in a bowl with room temperature water (not hotter!) for 10 minutes.
granulated sugar and brown sugar – I used light brown sugar; if you don't have any you can substitute dark brown or use all granulated
canned pumpkin – this cake uses an entire can, yay for no leftovers! Make sure to use a high quality product (this doesn't mean expensive; Taste of Home just crowned Walmart's Great Value as the best canned pumpkin!), lower quality products tend to be too watery and your cake will be too dense. Homemade pumpkin puree is also acceptable as long as it's not watery.
Dry ingredients
all-purpose flour – make sure to spoon the flour into the measuring cup until heaping full, then level off with the back of a knife.
pumpkin pie spice – if you don't have this, use 2 teaspoons ground cinnamon, ½ teaspoon ground ginger, ¼ teaspoon ground allspice and ¼ teaspoon ground nutmeg. Or take a look at my Homemade Pumpkin Spice Mix!
baking powder – no substitutes for this; please don't use baking soda as it is not the same.
salt – pretty self-explanatory 😉
For the streusel, you need a few of pretty much the same ingredients again – just flour, sugar, ground cinnamon, salt and butter.
To make the optional maple glaze, just stir together ½ cup of powdered sugar with 1-2 tablespoons maple syrup. If you don't have any maple syrup, use half-and-half and a touch of maple extract or vanilla extract.
Important note about the butter
The one difference that's important to note: For the cake, you need melted butter. And for the topping, you need butter COLD FROM THE FRIDGE. Please do not use oil, spreadable margarine or buttery spread for the crumb topping, or it will not work. Stick margarine may be used in place of the butter, it will slightly alter the taste.
How to Make a Pumpkin Coffee Cake
This recipe is very straight forward and easy to follow: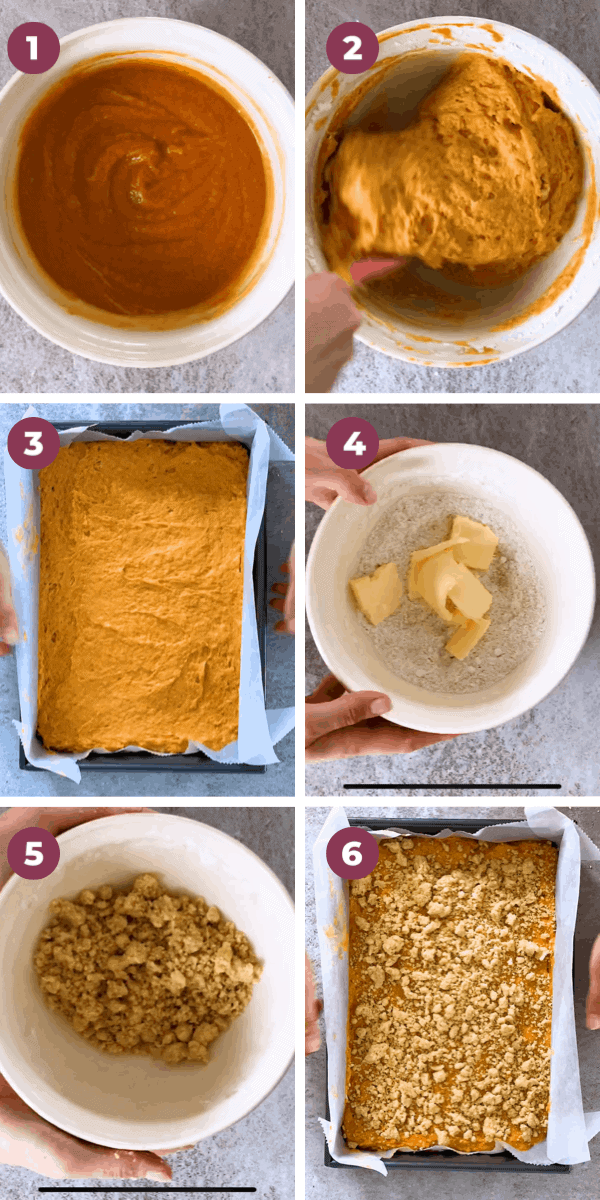 Note about the pan size: If you don't have a 9×13 inch cake pan, you can bake the coffee cake in two 8×8 inch pans, or in two 9 inch round pans. You can also cut the recipe in half and bake it in one 8×8 inch pan, or in one 9 inch round pan.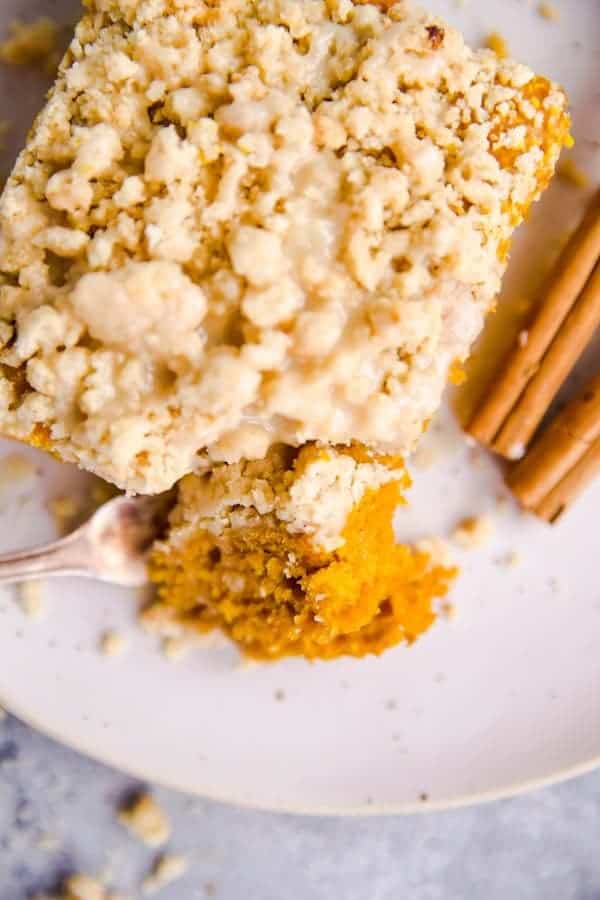 Recipe tips
Don't overmix the batter, or you'll end up with a dense and gummy cake – this is especially important when baking with pumpkin. (Do fold enough to make sure there's no dry flour left though, or you'll be serving up mouthfuls of flour).

Test the cake after about 30 minutes baking time, then ever 5 minutes to make sure you're not overtaking. You can also test it with a kitchen thermometer for accuracy, the middle should reach F to be baked through.

The glaze sets after a while at room temperature; if you prefer it runny add it right before serving.

To store the cake: The cake keeps well at room temperature for up to 3 days. Store it unsliced and tightly covered with plastic wrap to keep it from drying out.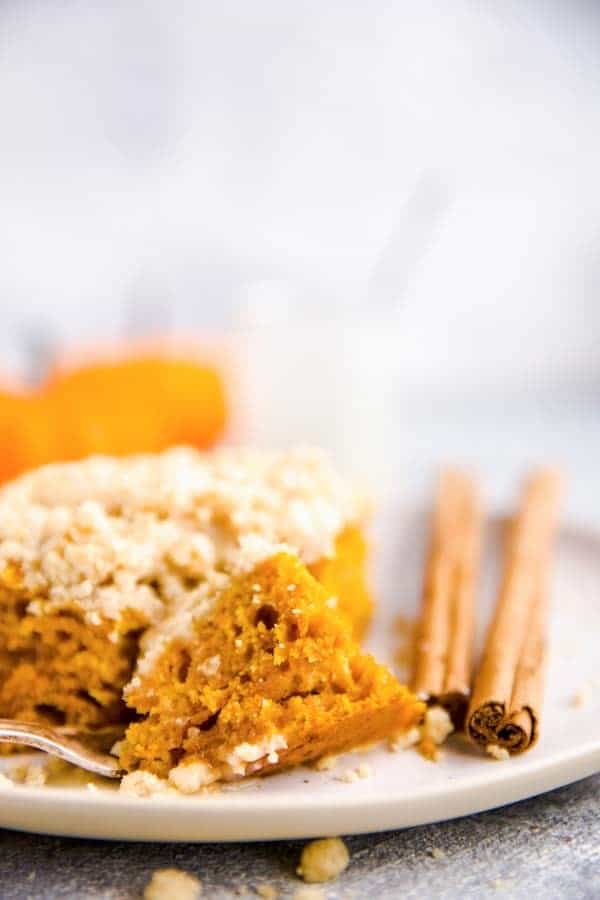 Serving suggestions
Wondering what goes with your Pumpkin Coffee Cake? This is a great cake for brunch or to serve with tea or hot cider in the afternoon. And nobody is ever against whipped cream, right?!
More pumpkin breakfast recipes
PS If you try this recipe, please leave a review in the comment section and add a star rating in the recipe card – I appreciate your feedback! Follow along on Pinterest, Facebook or Instagram.
Printable recipe
More pumpkin recipes to try