Making Mushroom Sauce from Scratch isn't hard at all! You only need a few ingredients, and you'll have made your own mushroom gravy in no time at all. Goes great with anything from meatloaf to meatballs, pork chops or chicken – or plain over mashed potatoes or noodles!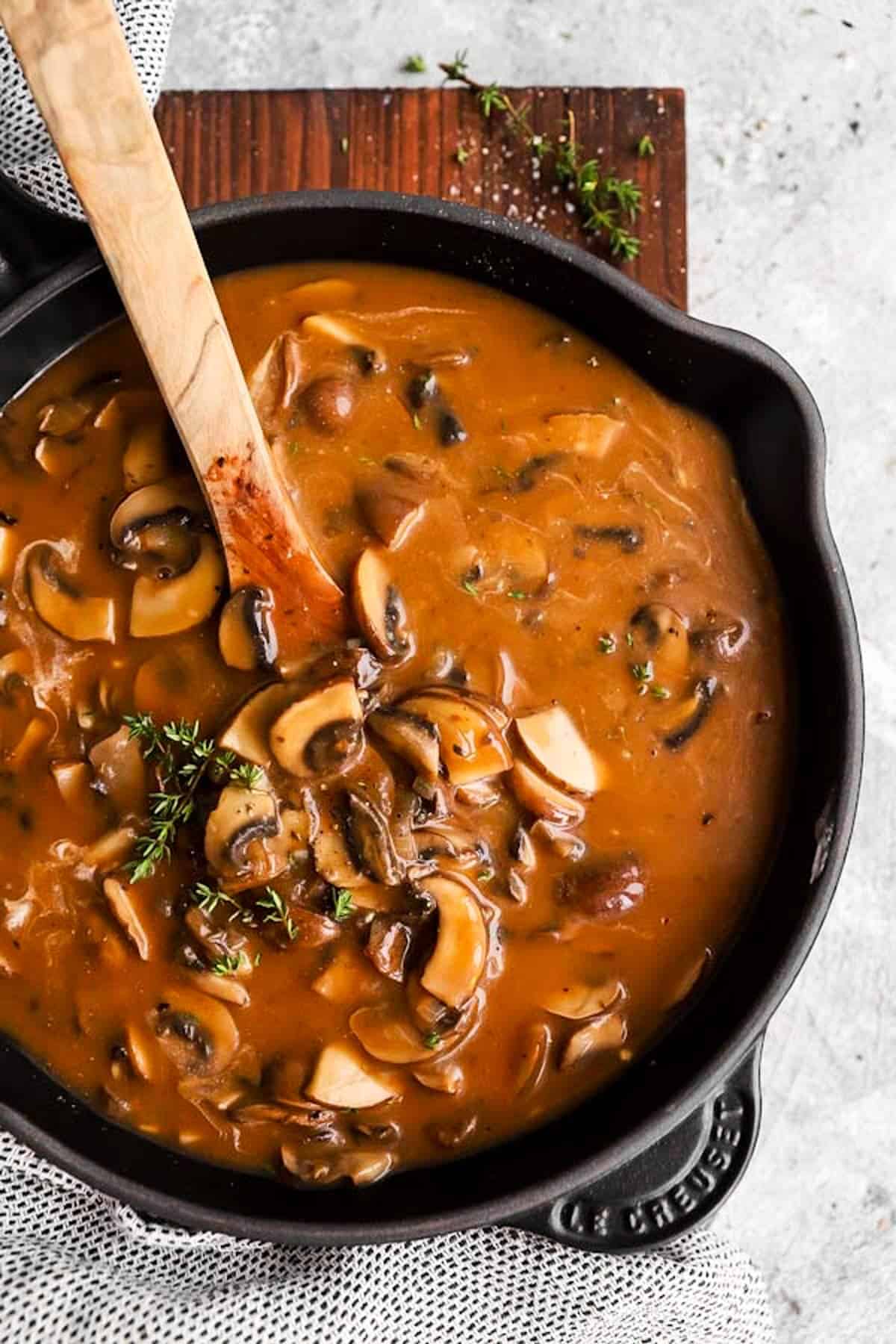 I cannot even begin to describe my love for mushrooms – and especially when they're smothered in a delicious gravy like here in my Mushroom Sauce.
While I do have one kid who refuses to eat mushrooms… The rest of the family LOVES them, and we frequently make this because it's so tasty and so easy. It's especially great for a holiday dinner (think Thanksgiving or Christmas), but it works just as well on a busy weeknight. It's so easy you can have it any day of the week.
Try it and see for yourself – so much better than any of the packaged stuff!
Ingredients you'll need
Here is a visual overview of the ingredients in the recipe. Scroll down to the printable recipe card at the bottom of this post for quantities!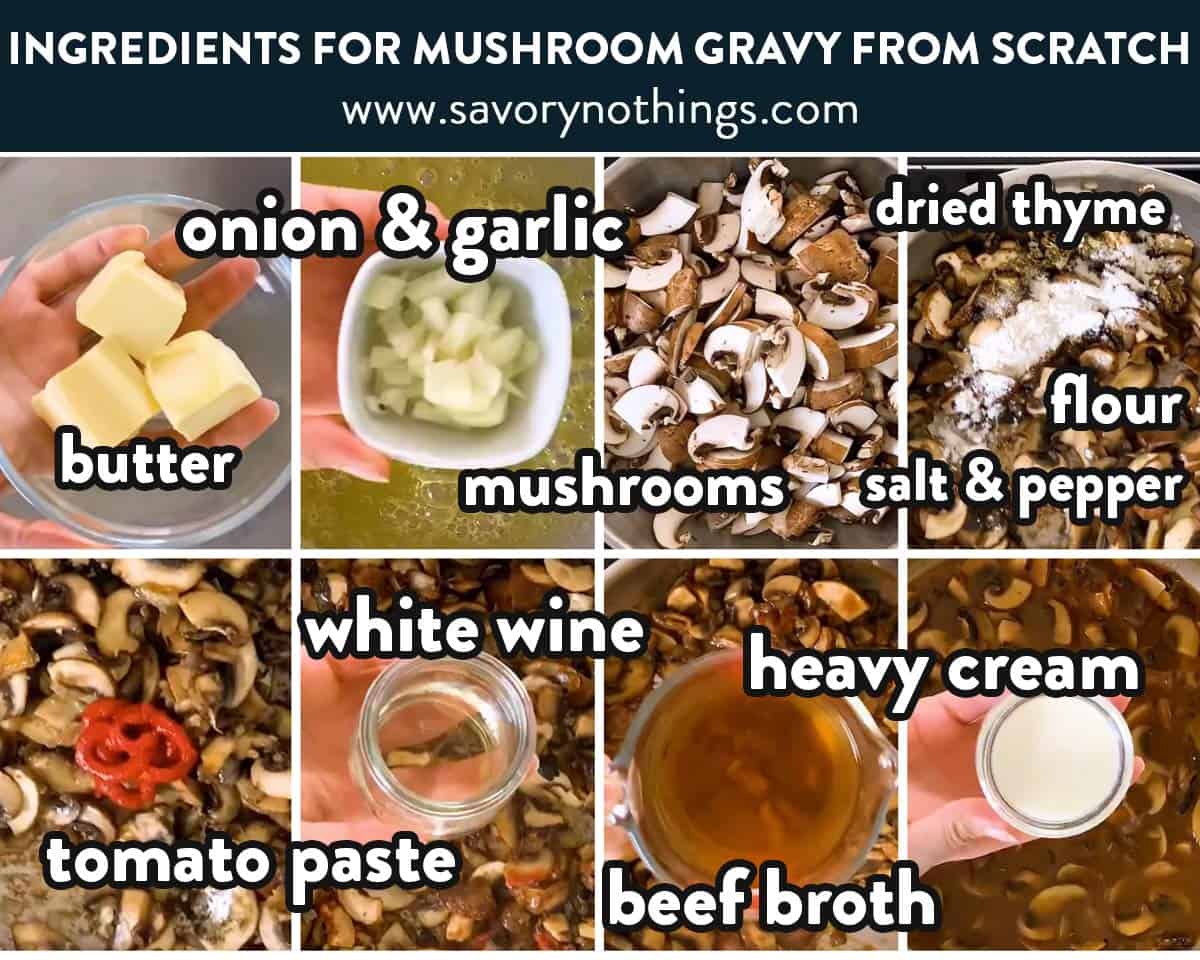 Ingredient notes
For the mushrooms, I like brown button mushrooms best. You can also use a mix of different ones for more interesting flavors. I always slice them myself, but feel free to buy pre-sliced ones to cut down on prep time.
If you don't want to cook with wine, you can replace it with an equal amount of extra beef stock.
If you're wondering what kind of white wine to use, a Pinot Grigio or Sauvignon Blanc works great. Make sure it's a dry variety, and stay away from wines labelled as "cooking wine" that have additives in them.
You can use a dry Marsala in place of the wine for a nice flavor twist.
It's perfectly fine to use vegetable stock in place of the beef stock for a vegetarian sauce, but the color and flavor will be slightly different. If you're not vegetarian but don't have beef stock on hand, chicken stock works well, too.
The couple of tablespoons of heavy cream are optional, they don't make a creamy sauce but a slightly richer one. If you don't have any on hand, the gravy is delicious without, too.
Try using bacon fat in place of the butter… And then you can thank me later.
How to make mushroom sauce
Once you know how to make a basic gravy-style sauce, a mushroom sauce is the easiest thing to make from scratch:
sauté onions and mushrooms in butter
sprinkle with flour and season with herbs, spices and tomato sauce
deglaze the pan with white wine
add beef stock and simmer until thickened
stir in cream, if desired, and serve
Step by step photos
Just FYI, if you're freaking out about the amount of butter, please don't. Traditional gravy is made with drippings from meat. Unfortunately, mushrooms don't have any fat, so it needs to come from the butter for a rich and flavorful gravy!
Sauté and season the mushrooms
Once the butter has melted (1), sauté the onions and mushrooms over MEDIUM HEAT for 5-10 minutes. You don't want them to get crispy-browned, but they should get some nice color on them, or your gravy will be pretty flavorless (2).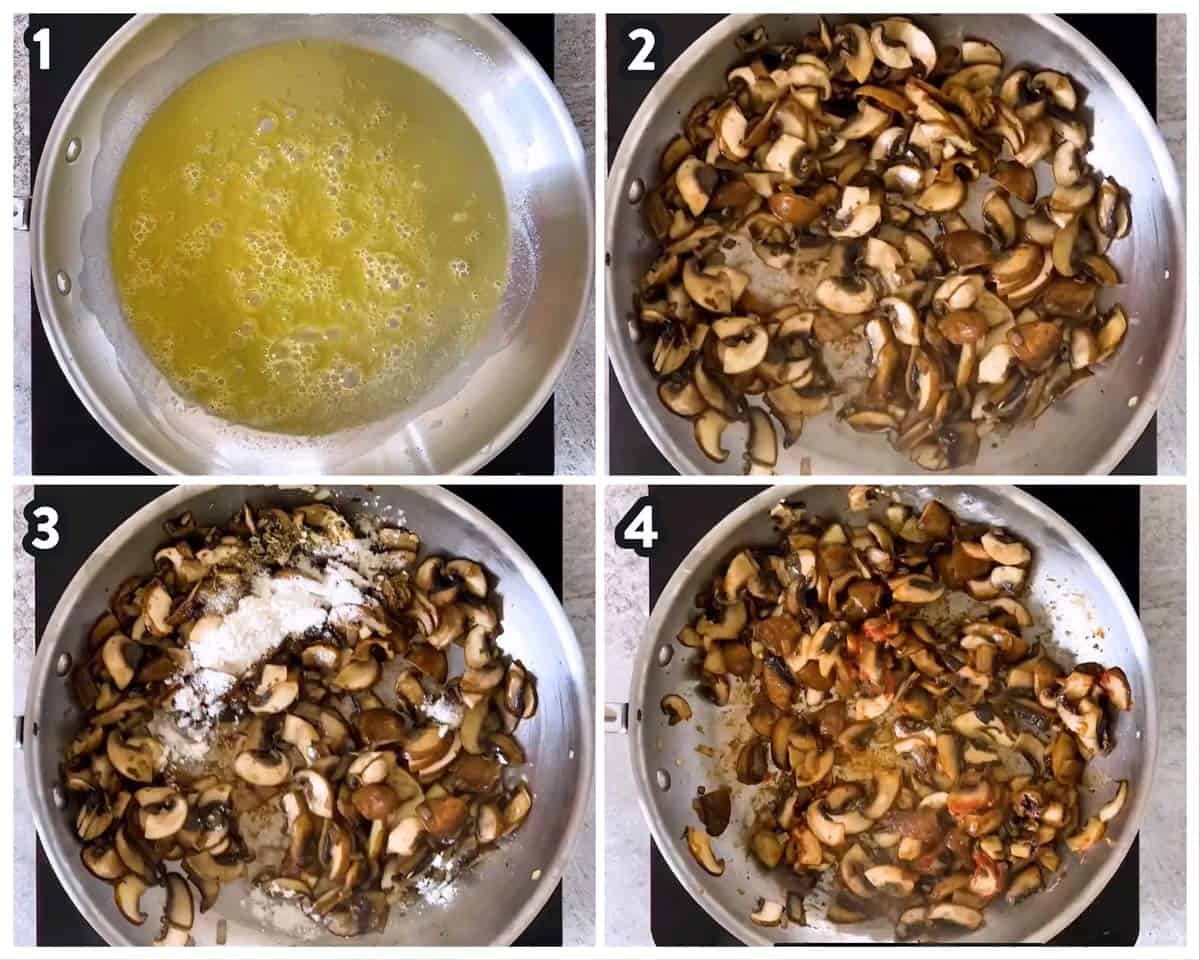 Once the mushrooms are sautéed, you'll want to stir in thyme, salt and pepper. Then, stir in some flour to help thicken the gravy later. Here you have to be fairly quick with your stirring, or you'll have lumpy gravy later on (3).
For added flavor and color, stir in the tomato paste before adding any liquid to the pan. Make sure to stir it in well and to cook it for 30 seconds or so, or it won't lose its raw taste (4).
Deglaze the pan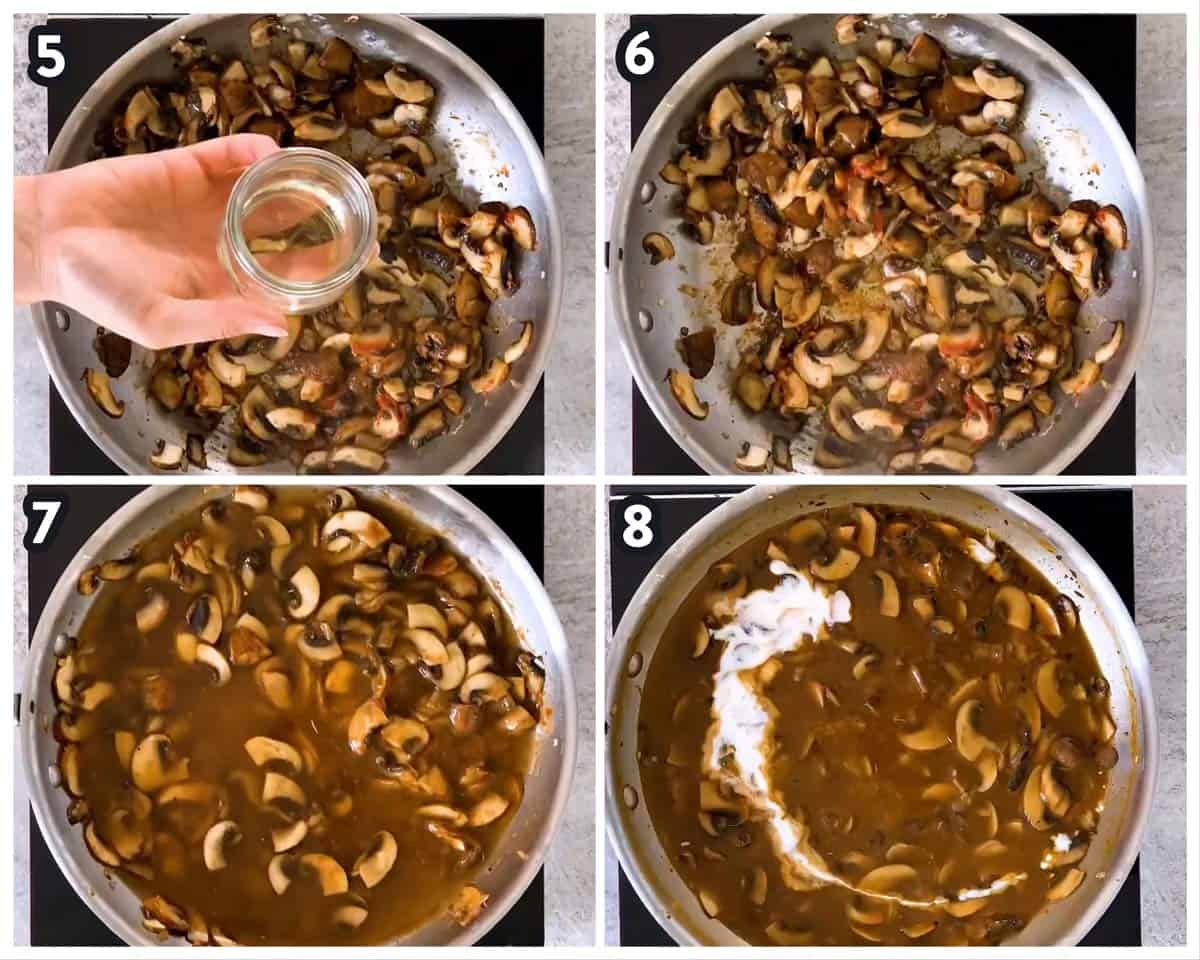 Next, you'll want to deglaze the pan. I always use white wine as outlined in the ingredient list above, but you can also use a dry Marsala or extra broth if you don't want to use alcohol (5).
Deglazing means to pour liquid into the hot pan, scraping any browned bits off the bottom. Try to catch all of the browned bits, because that's all flavor right there. It will seize up and thicken, don't worry, that's normal. Just keep stirring until most of the wine has evaporated (6).
Cook the sauce
Finally, you'll want to add the stock (7). Stir it in very well, then simmer the gravy until the liquid has reduced by about half and the sauce has your preferred consistency.
If you like a very thick gravy, you may want to stir in a slurry of cornstarch and cold water to thicken it further. Reducing the sauce can take up to 10 minutes, depending on the size of your pan, so be patient.
Finish the sauce
Depending on your taste, you can finish the sauce with various flavorful add-ins.
For a rich and robust gravy, stir in a few tablespoons of heavy cream (8). This goes well with most things, especially with comfort foods like meatloaf or meatballs.
You can also add a bit of lemon juice and chopped parsley in the end for a more refreshing taste, this is especially delicious served over chicken.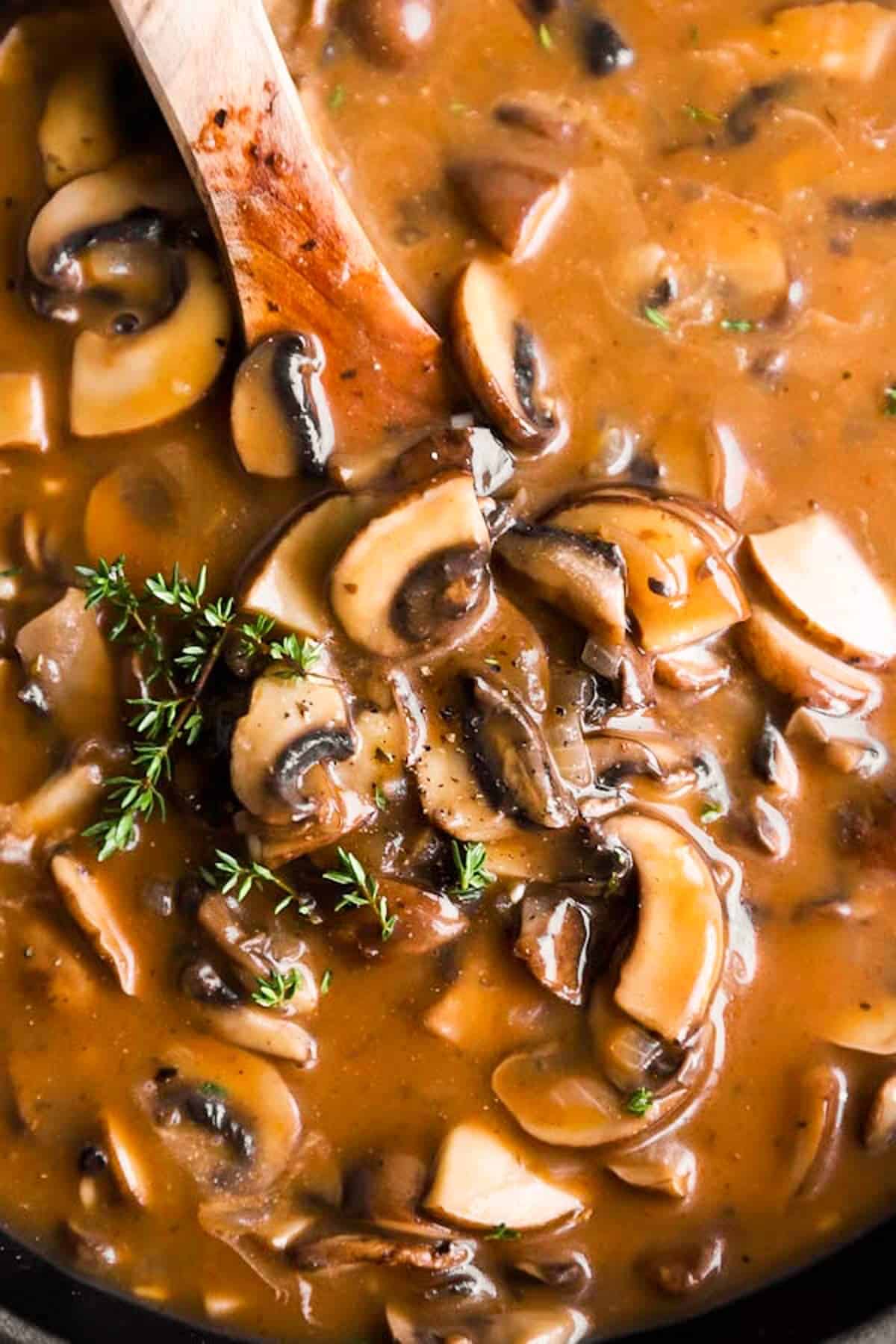 How do you serve mushroom gravy?
We like this gravy in many different ways. It's delicious with meat dishes, but it's also great by itself over mashed potatoes or buttered noodles.
Or even as a brunch dish with eggs and a crusty bread!
PS If you try this recipe, please leave a review in the comment section and add a star rating in the recipe card – I appreciate your feedback! Follow along on Pinterest, Facebook or Instagram.
Printable recipe
Printable Recipe Card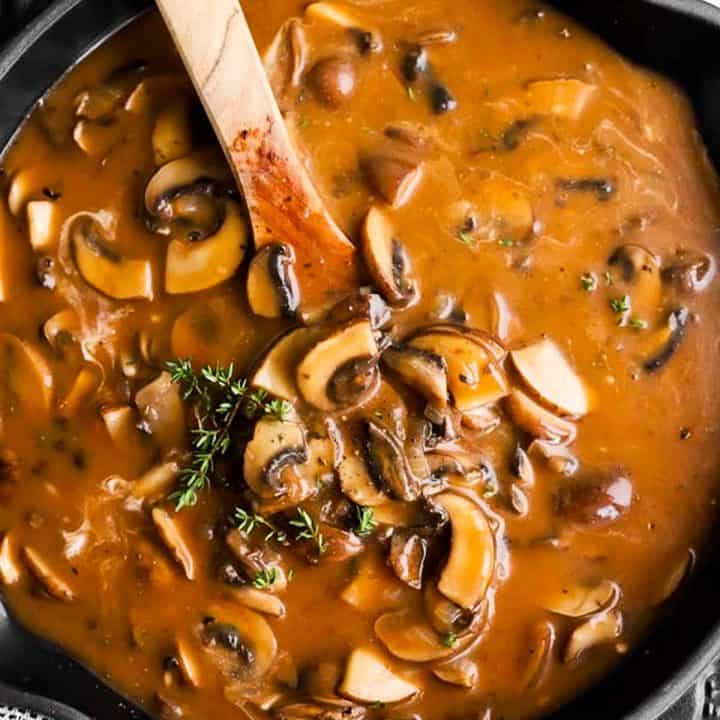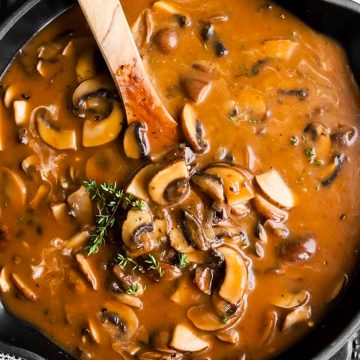 Mushroom Sauce
This mushroom sauce is a great all-round sauce you can use for pretty much anything: It tastes great with chicken, steak, pasta, mashed potatoes or rice.
made it? tap the stars to add your rating!
Ingredients
4

tablespoons

butter

1

medium onion

chopped

2

cloves

garlic

minced

1

pound

brown button mushrooms

sliced

½

teaspoon

dried thyme

salt + pepper

to taste

1

tablespoon

flour

½

tablespoon

tomato paste

¼

cup

white wine OR extra stock

2

cups

beef stock

2-3

tablespoons

heavy cream

optional
Instructions
Sauté: Heat the butter in a deep and wide skillet over medium heat. Add the onion, garlic and mushrooms and cook until they're soft and lightly browned, about 5-10 minutes.

Season: Stir thyme, salt and pepper into mushrooms. Sprinkle pan with flour and stir in well. Stir in tomato paste and cook for 30 seconds, stirring constantly.

Deglaze the pan: Increase the heat to medium-high. Wait until pan sizzles, then pour the wine or extra stock over the mushrooms, scratching the browned bits off the bottom of the pan. Reduce the heat to medium-high and cook until almost all of the wine has evaporated.

Cook the sauce: Stir in the stock. Simmer the sauce until it has reduced by half. If sauce doesn't thicken/you want a thicker gravy, stir in a slurry of cornstarch and water.

Finish: Take the sauce off the heat and stir in the cream, if using.
Want to save this recipe?
Create an account for free to start your personal recipe box. Save any recipe by tapping the heart in the bottom right corner.
Join Now
Notes
Serves 2 as the main part of a vegetarian meal (such as the sauce for pasta) or 4-6 as an actual sauce on a protein.
Nutrition
Serving:
1
serving
Calories:
134.1
kcal
Carbohydrates:
7.13
g
Protein:
4.56
g
Fat:
9.8
g
Saturated Fat:
6.03
g
Cholesterol:
26.92
mg
Sodium:
242.73
mg
Potassium:
435.79
mg
Fiber:
1.12
g
Sugar:
2.99
g
Vitamin A:
327.07
IU
Vitamin C:
3.55
mg
Calcium:
20.18
mg
Iron:
0.83
mg
Nutrition is an estimate.
More recipe information
More easy mushroom recipes