Printable recipe
made it? tap the stars to add your rating!
Ready In:
8

hours
45

minutes
I can never get enough of comfort food recipes I can let cook in my slow cooker all day!  I love coming home to the delicious aroma of his family favorite classic waiting in the slow cooker: My Crockpot Beef Tips and Gravy is one of my favorite easy weeknight dinners, and it doubles as an elegant enough meal to serve to company for a nice Sunday dinner.
Ingredients
FOR THE MEAT
2

tablespoons

oil

2

tablespoons

flour

1.5

pounds

beef tips

(an inexpensive cut like beef stewng meat or chuck roast is perfect)

salt & pepper
FOR THE GRAVY
1

yellow onion

(choopped)

2

cloves

garlic

(sliced)

1

pound

mushrooms

(sliced)

½

teaspoon

ground paprika

½

teaspoon

dried parsley

¼

teaspoon

dried thyme

⅓

cup

red wine

(OR beef stock)

3

cups

beef stock

2

tablespoons

Worcestershire sauce

1-2

teaspoons

salt or less

(depending on what kind of stock you're using)

Black pepper to taste
TO THICKEN
1

tablespoon

tablespoon cornstarch + cool water

(or up to 4 tablespoons plus cool water, as needed)
Instructions
1: Brown beef: Add oil to large skillet over medium-high heat, then add beef (work in 2 batches if necessary; do not overcrow the pan). Season beef with salt and pepper and sprinlkle with flour; then cook until browned on all sides. Remove to a 5-6 quart slow cooker.

2. Cook mushrooms: Add onion, garlic and mushrooms to the hot skillet over medium heat. Cook until softened, about 4-5 minutes. Season with gorund paprika, parsley and thyme; then add wine (or extra broth), beef broth and Worcestershire sauce, scraping any browned bits off the bottom of the pan. Bring to a boil, then take off the heat and season with salt and pepper to taste.

3. Slow Cook: Carefully transfer mushroom and beef broth mix to meat in the slow cooker. Stir well, then cover with a lid and cook on LOW for 8 hours or on HIGH for 4 hours.

4. Thicken: Once cooking time is up, open the slow cooker and stir. Stir in a cornstarch slurry, then cook with the lid OPEN for 5-10 minutes or untul thickened. Serve immediately.
Add Your Review
Step by Step Recipe Video
Nora's Tips
Step Photos:
brown the beef tips & cook the mushrooms — transfer to the slow cooker — thicken the gravy before serving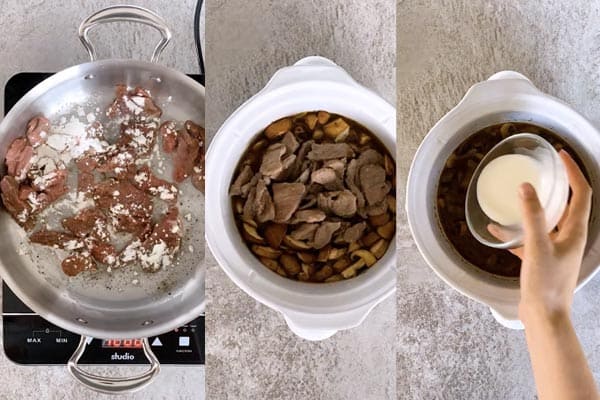 Ingredient Notes:
Best beef cut: Since this is cooked in the slow cooker for a long time, there's no need to use a prime cut. On the contrary, it would be a shame to cook an expensive cut of meat for such a long time!
Simply use beef stew meat, it's budget friendly and will be fork-tender from the slow and low cooking. If you want to use a different cut, I recommend using a chuck roast you cut into pieces yourself.
Mushrooms: You can skip the mushrooms if you don't like them; the gravy will have less flavor but will still be delicious.
Gravy Seasoning: You can use a packet of gravy mix in place of the herbs and spices called for in the recipe – you will need less cornstarch to thicken the gravy in the end.
Stock/Broth: Use chicken stock in place of the beef stock if you don't have any on hand; the gravy will be a bit less rich and a little lighter in color but it still turns out really well.
Note: Why add flour to the beef?
The flour helps the beef to brown nicely, and it will also help thicken the gravy as the beef cooks. If you prefer not to use it, you can skip the flour. For a thick gravy, you'll need to add more cornstarch in the end.
Cooking Tips:
What if my gravy doesn't thicken?
Sometimes it's hard to gauge how much cornstarch slurry you need to thicken the gravy (it depends on ho much juices your meat releases, how much your gravy thickened from the flour alone etc).
First, make sure you only use a couple of tablespoons of cool water to stir up your cornstarch slurry. Do not add the cornstarch dry to the gravy, or it will only clump up but not thicken your juices. If your gravy hasn't thickened after 5-10 minutes, add more cornstarch slurry.
Don't skip browning the meat
Browning the beef before slow cooking it adds so much extra flavor!
It also helps give the beef chunks and nice color and caramelizes the meat. It's absolutely worth the extra time and skillet to wash!
CAN THIS DISH BE MADE AHEAD AND FROZEN?
Ok so the internet is divided on this, but I'm a stickler when it comes to food hygiene and food safety when freezing/reheating. And I do not reheat mushrooms, ever.
You can make ahead and freeze this beef tips and gravy recipe if you skip the mushrooms.
To make ahead and eat later: Transfer the finished dish (cooker without mushrooms!) to a shallow container to cool quickly to room temperature. Cover and refrigerate up to 3 days.
To reheat, bring to a simmer over medium heat and simmer for 5 minutes or until piping hot all the way through. You can also reheat it in the microwave, just make sure to stir from time to time to make sure it reheats evenly.
To freeze: Transfer the finished dish (cooker without mushrooms!) to a shallow container to cool quickly to room temperature.
Then, transfer to a freezer bag or container, label with the name and use-by date (freeze for up to 3 months) and place in the freezer.
To reheat, defrost in the fridge overnight. Reheat as you would refrigerated beef tips as instructed above.
Nutrition
Calories:
317
kcal
|
Carbohydrates:
11
g
|
Protein:
27
g
|
Fat:
18
g
|
Saturated Fat:
6
g
|
Cholesterol:
78
mg
|
Sodium:
391
mg
|
Potassium:
928
mg
|
Fiber:
1
g
|
Sugar:
4
g
|
Vitamin A:
97
IU
|
Vitamin C:
4
mg
|
Calcium:
43
mg
|
Iron:
4
mg
More recipe information
Join my Newsletter to Get Recipes in Your Inbox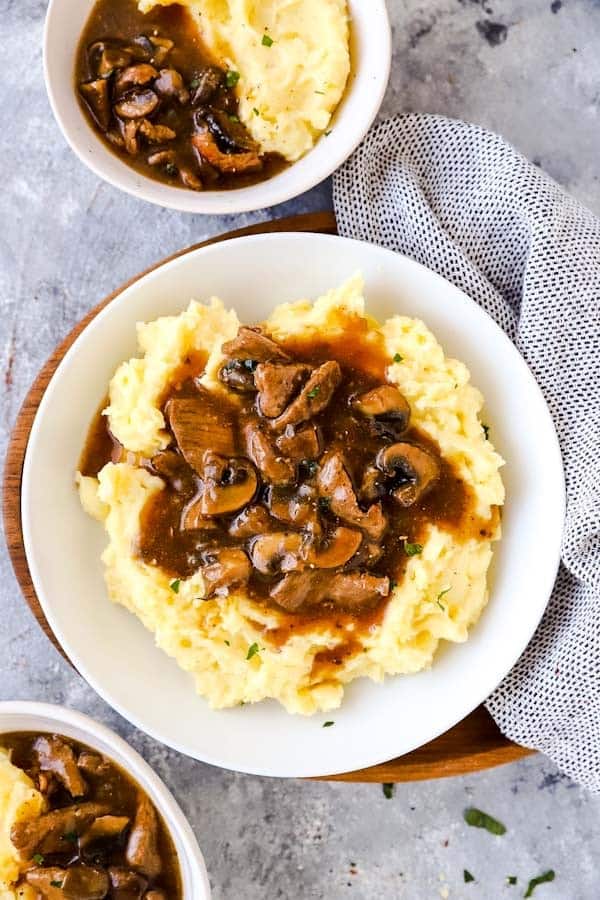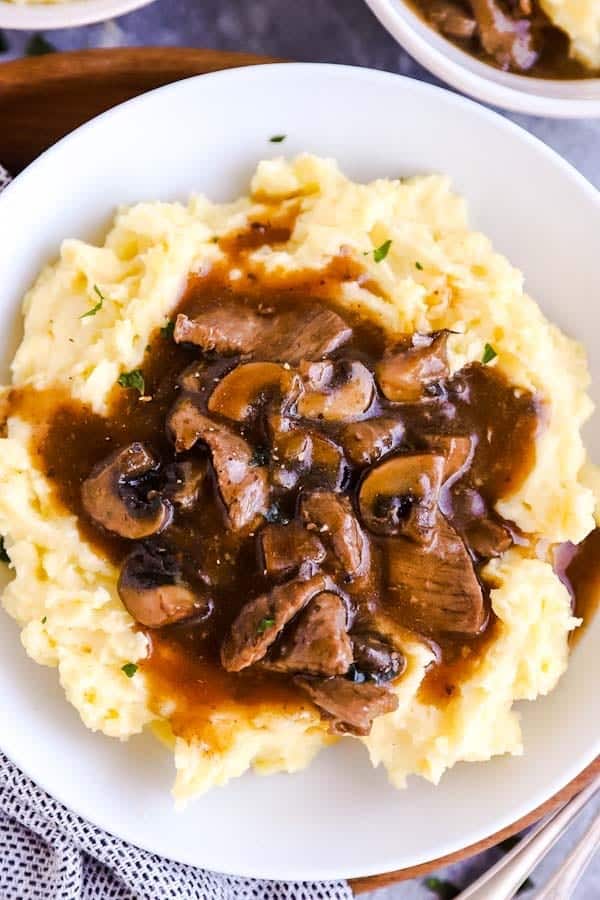 Our favorite dishes to serve with beef tips:
Try these next: