Summer Fruit Salad is the refreshing side dish you need for your BBQs and potlucks this outdoor season! Full of healthy fruit and made without refined sugar, it's not only delicious but also light and fresh. Try it this week!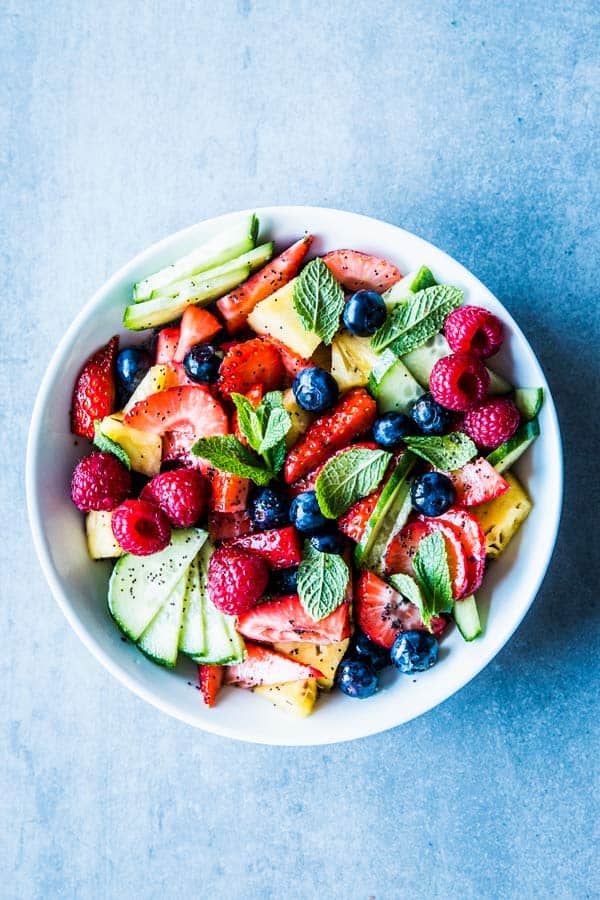 One of the first recipes I ever shared here on Savory Nothings was a Melon Cucumber Fruit Salad with Mint. Sounds pretty innocent, but the behind-the-scenes? Quite spectacular.
I r-e-a-l-l-y wanted to make it all Pinterest-y and cute and cut out all these cookie-cutter shapes from the melons. Only, somebody cut the melon the wrong way. And cutting out shapes was a lot harder than anticipated. I frustration-ate a lot of melon that day.
But I also happened to be about a million weeks pregnant with my oldest, and if you've ever been a million weeks pregnant and ate your own body weight in melon, you'll know that's a bad idea for your digestions.
Also, taking the photos was a majorly frustrating part. BUT, that's the post that raised some attention with the right people and got me my first salary from the blog.
Since it's been nearly FOUR years of me running this little corner of the world wide interwebs, I thought I'd honor that old recipe with a new summer fruit salad. Also, I have a winter fruit salad on the blog already, so I definitely needed a summer one, too. I know, my logic is unbeatable at times.
This time around I combined a bunch of summer berries with pineapple and cucumber 💚 and before you knock it because you think cukes in fruit salad sounds gross, think again. Because it's deliciously refreshing.
My favorite things about this summer fruit salad:
It's so refreshing. All the fruit has a high water content and really cools you down on a hot summer day. Cucumbers can also help with water retention (which I suffer from a lot, even when not pregnant!), so I'm really loving this little salad.
Easy peasy to make! If you know how to cut a pineapple, this salad is ready in 15 minutes. If you don't, let me know and I'll write a post about it!
It's refined sugar free. The dressing is sweetened with orange juice and honey for a truly healthy summer side dish or dessert. Win!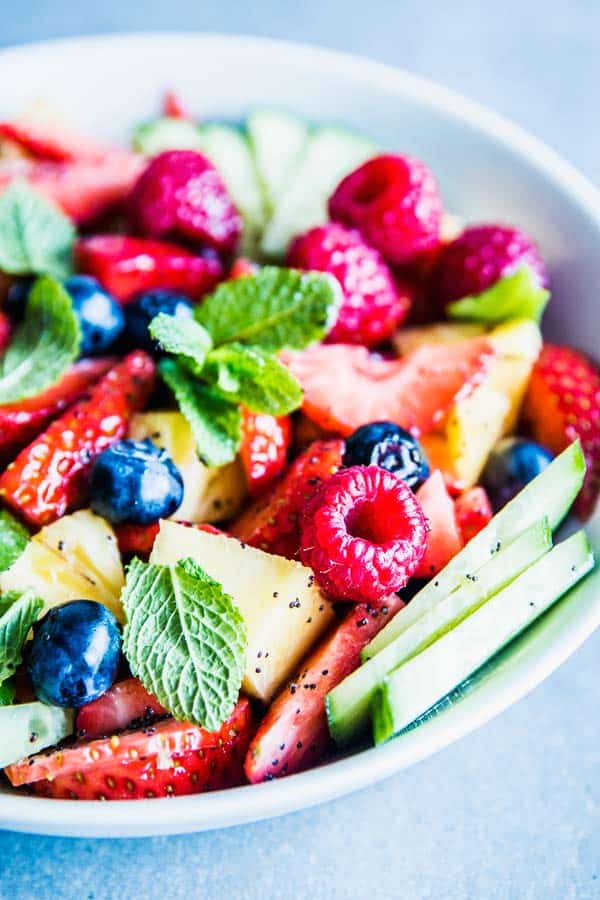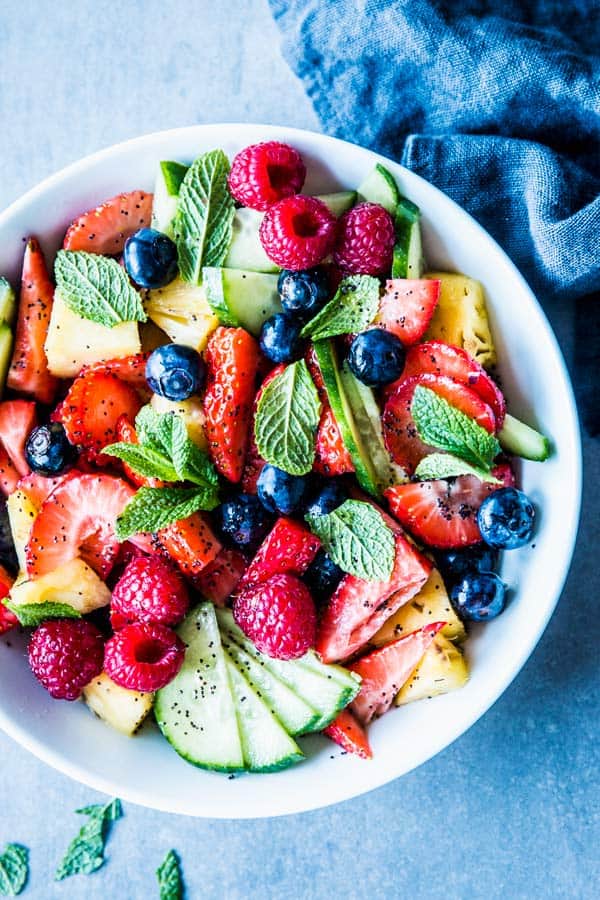 Also, maybe first and foremost, it's absolutely beautiful to look at! Fresh ingredients are always pretty, but this fruit salad is something else. So many colors, shapes and textures 😍
And just as an FYI, if you're planning on making this with a creamy dairy-based dressing such as my Greek Yogurt Fruit Salad Dressing, my Creamy Fruit Salad Dressing or my Creamy Poppy Seed Fruit Salad Dressing, you'll need to leave out the pineapple.
Enzymes in fresh pineapple, kiwi fruit or papaya break up the yogurt and leave a bitter and metallic taste. You can use canned pineapple without any issues, though!
Fruit salads are really the easiest of things to make (and I have many more here on the blog – Greek Yogurt Fruit Salad, Berry Cheesecake Fruit Salad…), so I don't think you'll need a lot of direction here.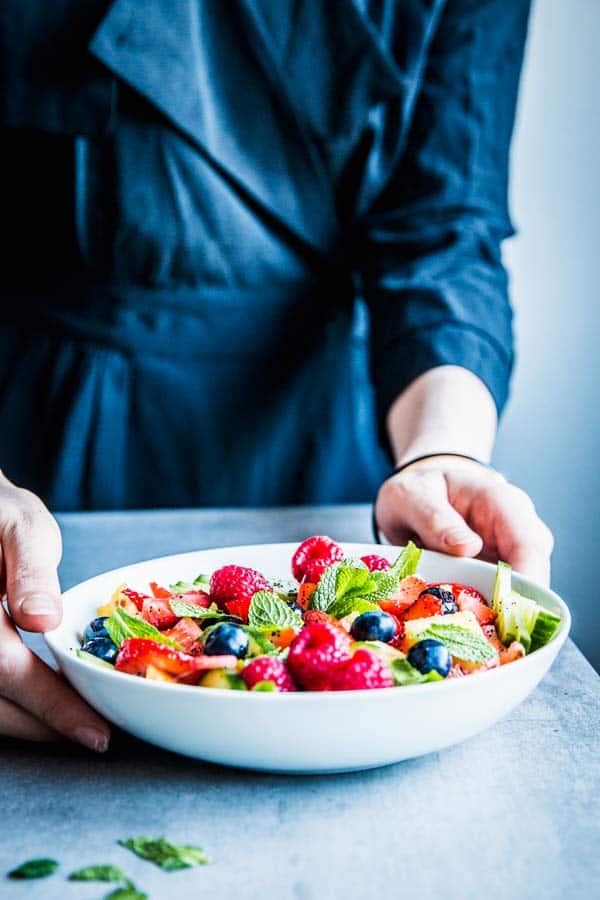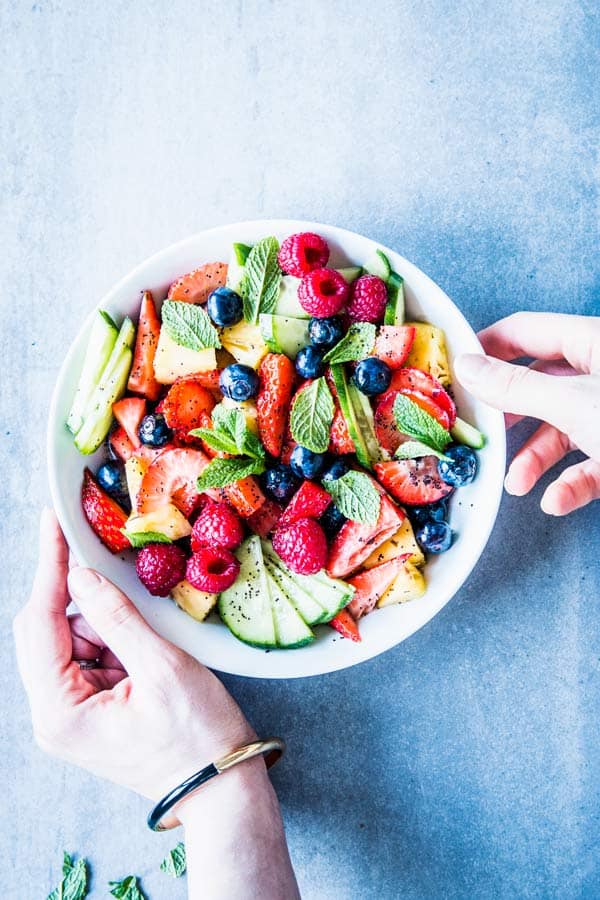 But just to be safe, here's the tl;dr:
How to make a summer fruit salad:
Pick the best produce – since there's no artificially flavored dressing, the fruit really is the star of the show.
Prep the dressing and keep it in the fridge until you're ready to use it.
Slice all the fruit and mix it with the fruit in a large bowl when you're ready to serve.
---
For more tips and details on making the best-ever fruit salads, read on in my Ultimate Guide to Making the Best Fruit Salad!
---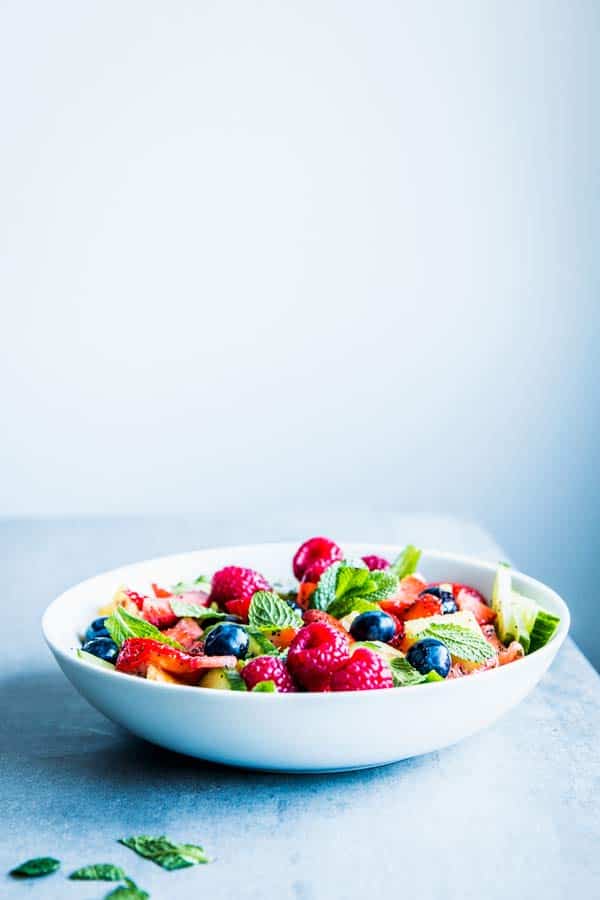 I will say that I generally never make fruit salad ahead of time, because I don't like the way it gets watery and soupy. I either keep the sliced fruit and the dressing in separate containers until we're ready to eat, or I make the whole thing just before serving it.
All of this to say, the most amazing thing to me is that it took 10 minutes for me to take the pictures for this post, vs about 10 hours for the old melon salad. Crazy what 4 years of semi-persistent work can do for your skills.
Get the printable recipe for this summer fruit salad here:
Printable Recipe Card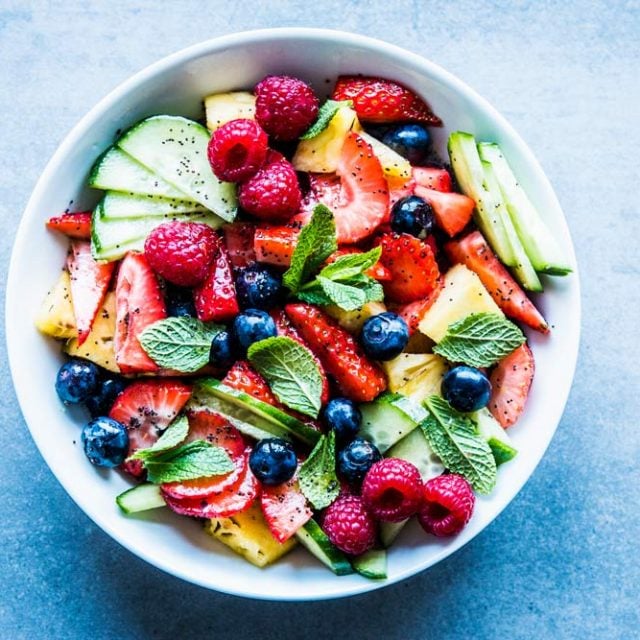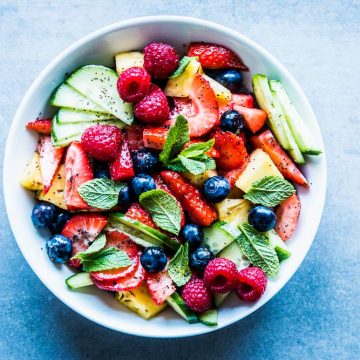 Summer Fruit Salad
Summer Fruit Salad is the refreshing side dish you need for your BBQs and potlucks this outdoor season! Full of healthy fruit and made without refined sugar, it's not only delicious but also light and fresh.
made it? tap the stars to add your rating!
Ingredients
For the dressing:
¼

cup

fresh lemon juice

Zest of ½ lemon

⅓

cup

honey

¼

cup

orange juice

2

tablespoons

olive oil

2

tsp

poppy seeds
For the salad:
4

cups

fresh strawberries hulled and sliced

1

small pineapple

peeled cored and diced

1

small cucumber

halved and sliced

1 ½

cups

blueberries washed and patted dry

1 ½

cups

raspberries washed and patted dry

Handful of mint leaves

optional
Instructions
Make the dressing: Whisk all ingredients for the dressing together and chill in the fridge until ready to use.

Make the salad: Gently toss the fruit with the dressing in a large bowl just before serving. Scatter with mint leaves, if you like.
Want to save this recipe?
Create an account for free to start your personal recipe box. Save any recipe by tapping the heart in the bottom right corner.
Join Now
Nutrition
Calories:
179
kcal
Carbohydrates:
37
g
Protein:
1
g
Fat:
4
g
Sodium:
3
mg
Potassium:
342
mg
Fiber:
5
g
Sugar:
28
g
Vitamin A:
120
IU
Vitamin C:
98.4
mg
Calcium:
45
mg
Iron:
1
mg
Nutrition is an estimate.
More recipe information