This Greek Yogurt Fruit Salad Dressing is a healthy way to dress up your fruit salad. Perfect for Easter, Mother's Day or the BBQ season – and it's amazing for red, white and blue fruit salads! Try it this summer!
Being in Switzerland definitely has its upsides. Mountains, snow, pretty landscapes, really good health care.
And then it has its downsides. Like having to wait for years until new products become widely available here. I used to have my own private little analysis on this as a teen, when I would track the time it took for a certain chewing gum brand to release flavors in Switzerland vs the UK. I think one time it was 3 years. THREE YEARS.
The same happened with Greek yoghurt. Due to my job (uhh, this blog, WHAT!) I'm obviously hanging out around the Internet all day long. And when healthy Greek yogurt exploded all over the American market in, oh, 2008? I guess I'm still waiting for that to happen around here. The thing we call Greek yogurt in Switzerland is just regular yogurt with cream added. What even.
It's a good thing I can just head to France to do my shopping, because the one grocery store I found stocking Fage is a million miles away, and one pot is almost 3$. So, the Greek yogurt for this dressing came from France.
Consider yourself lucky I have this option to go shopping in different countries, because otherwise I wouldn't be able to share this amazing Greek Yogurt Fruit Salad Dressing with you today.
It's really the simplest thing ever, but it adds such a nice twist to fresh fruit. Unlike my Creamy Fruit Salad Dressing and my Creamy Poppy Seed Fruit Salad Dressing , this one is no-cook and incredibly easy. I'm almost ashamed to call it a recipe, but alas, here I am. Sometimes simple is best.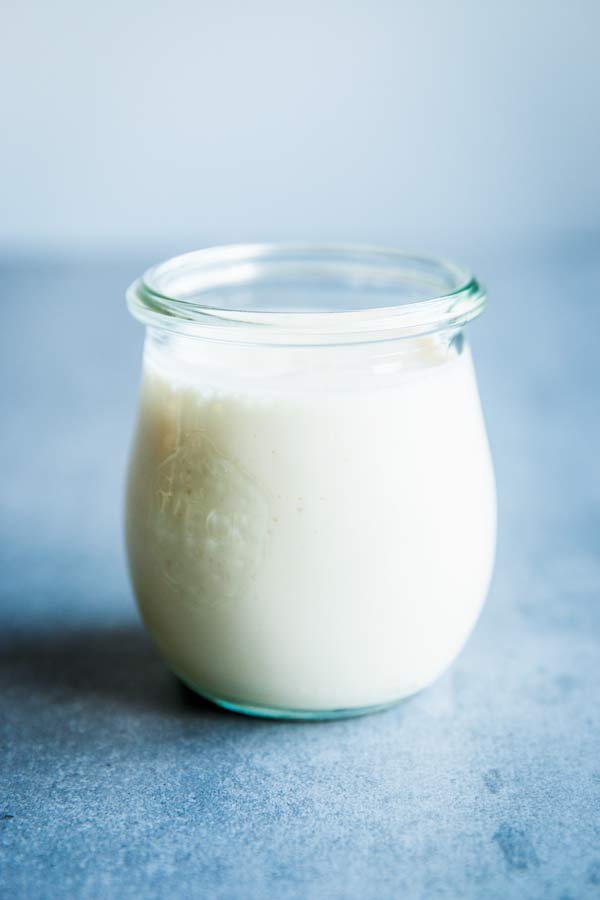 What I love about this Greek Yogurt Fruit Salad Dressing:
It's ready in a flash. Literally, not even 5 minutes. Perfect for a last-minute dessert!
It's refined sugar free. I sweetened it with a touch of honey, but you could use maple syrup as well.
It's nice and tart. The lemon juice gives this a really nice, fresh twist. If you're more into very sweet creamy fruit salads, you might want to try the recipes I linked above instead. They're made with all-natural ingredients too, just a little sweeter.
Now one word of warning: Do not use this on fresh kiwi, papaya or pineapple (canned fruit is fine!). The enzymes in those types of fresh fruit break up the yogurt, giving it a bitter and metallic taste. Ugh, found that out the hard way when I ignored what my science teacher taught me in school.
#sorebellious
If you're planning on using any of this fresh fruit in your salad, you should really make my non-creamy poppy seed fruit salad dressing instead. It's pretty amazing, too ?
Now this recipe literally has one action step and two side steps.
How to make Greek Yogurt Fruit Salad Dressing:
Whisk all ingredients together.
Chill until ready to use.
Try not to eat in its entirety before it hits the fruit.
See why I was embarrassed to call this a recipe? But it's too good to hide it from you.
You'll find this adds just the right amount of creamy tartness to a bowl of fresh fruit – perfect for warm spring weather on Easter or Mother's Day, or to cool down during summer at a picnic, potluck or BBQ. Also, always thinking of my American friends, because it's so white it makes the perfect healthy dressing for your Fourth of July red white blue dessert.
Also also, kind of fell in love with California when I was there this month. So, I now feel qualified to share all your holidays with you. Right? I knew we were on the same page with this ♡
Get the Greek Yogurt Fruit Salad Dressing recipe:
Printable recipe
Printable Recipe Card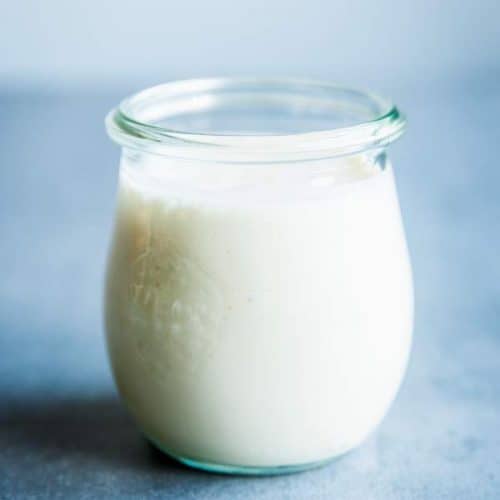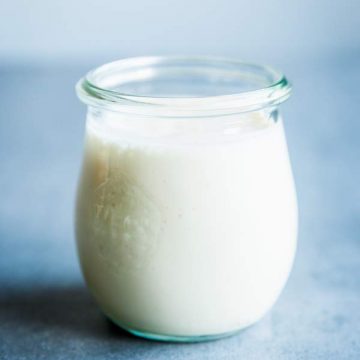 Greek Yogurt Fruit Salad Dressing
This Greek Yogurt Fruit Salad Dressing is going to be your new favorite thing to smother your fruit in. Made with all natural ingredients, this refined sugar free healthy yogurt dressing will turn your fruit salad into a wonderfully creamy dessert!
made it? tap the stars to add your rating!
Ingredients
1 ½

cups

Greek yogurt

Juice of 1 lemon OR ½ orange

3

tablespoons

honey

2

teaspoons

vanilla extract
Instructions
Whisk all ingredients together until smooth. Chill until ready to use.
Want to save this recipe?
Create an account for free to start your personal recipe box. Save any recipe by tapping the heart in the bottom right corner.
Join Now
Notes
I suggest not using this on fresh kiwi, pineapple or papaya (canned is fine!). The enzymes in the fresh fruit will break up the yogurt and turn it bitter and metallic.
Nutrition
Calories:
49
kcal
Carbohydrates:
8
g
Protein:
3
g
Cholesterol:
1
mg
Sodium:
13
mg
Potassium:
52
mg
Sugar:
7
g
Vitamin C:
1.5
mg
Calcium:
41
mg
Iron:
0.1
mg
Nutrition is an estimate.
More recipe information