Berry Cheesecake Fruit Salad is going to be your new favorite way to eat fruit! Loaded with fresh berries and the creamiest homemade HEALTHY custard. A swimsuit season friendly dessert that tastes absolutely decadent.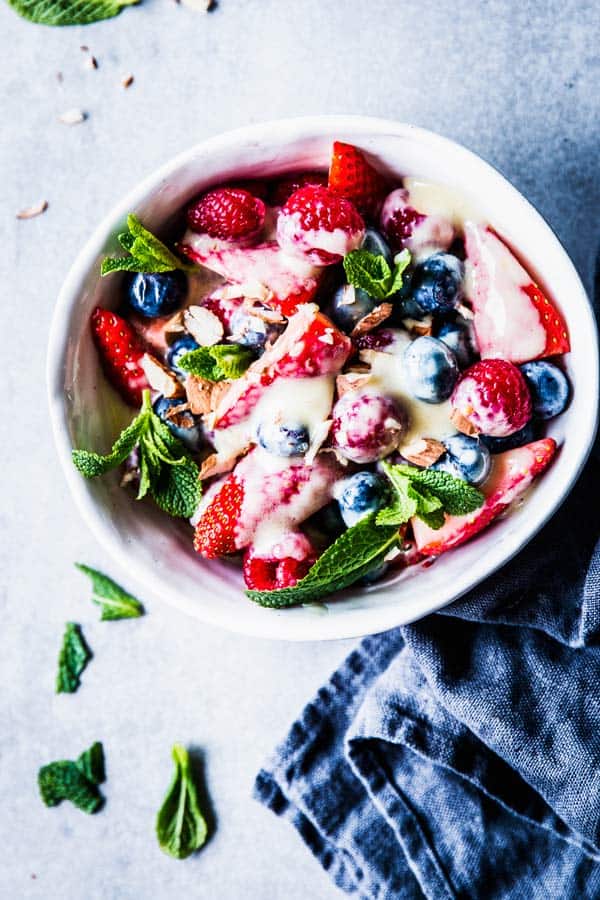 Things I never thought I'd say:
"Don't step on your sister's hair!"
"Stop licking the stairs!"
"Cheesecake Fruit Salad"
But hey, that's just the excitement and surprise of real life, amirite?
Leaving stepping on hair and licking stairs firmly aside for today, let's focus on the more important things: Fruit salad. With berries. Called a Berry Cheesecake Fruit Salad. What even, internet?!
But the time for my winter fruit salad was coming to and end, so I needed to look for alternatives. That's pretty much when I was hit by whipped-topping-instant-pudding-mix cheesecake "salads" on Pinterest.
If you're on the same page as me here, please hear me out. There is a way to make this very delicious without touching any of the usual things you'd find in a cheesecake salad. No, really, I mean it.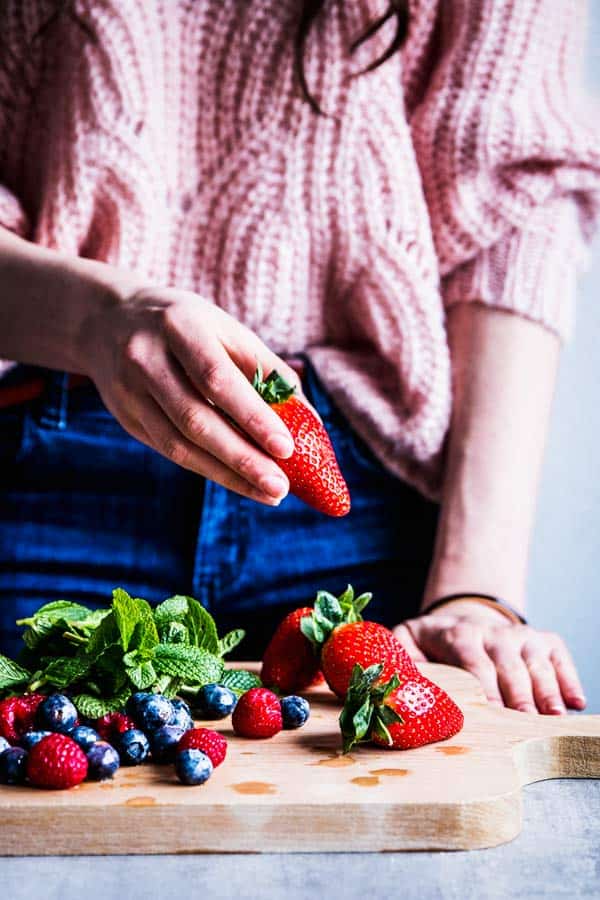 What I love about my berry cheesecake fruit salad:
No artificial anything. That's right. No processed food needed to make this delicious spring and summer dessert! A homemade healthy creamy fruit salad dressing (no refined sugar!) goes on top of fresh berries. That is it.
Easy peasy to make. Start with the (easy) dressing, as it needs to cool for a bit. The rest is basically carefully washing and draining berries and slicing a few strawbs. And yes, I am in fact too lazy to write out strawberries, but I guess I now did it anyways.
Swimsuit friendly! You know those kind of "fresh fruit" desserts that are laden with sugar? Not this one, mi amore. Just sweetened with a touch of honey and orange juice, you can enjoy the natural sweetness of fresh summer berries without having to size up your swimsuit.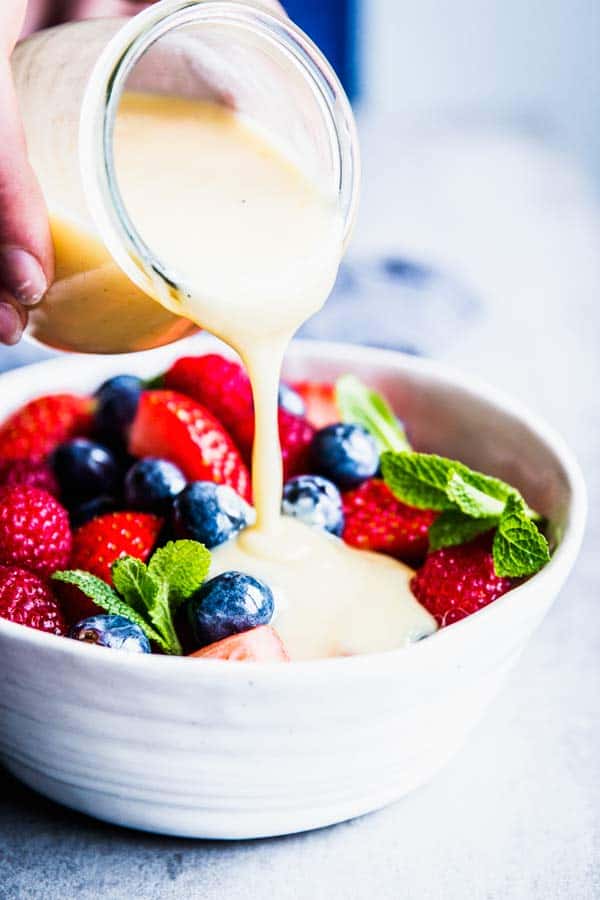 I will say one downside of this salad is that you can't really make it ahead. With the yogurt custard and the berries, it just becomes soupy too quickly to make it ahead.
BUT, I obviously have a solution for you. You can prep and mix all the fruit and also make the dressing ahead. Store everything in the fridge (or in a cooler) and mix just before serving.
How to make berry cheesecake fruit salad:
Start with making the dressing so it has time to chill.
Prep the fruit: Carefully wash all berries. Pat the strawbs dry. Set the raspberries and blueberries aside on paper towels to dry.
Trim and slice the strawberries. I like to slice them in a few different ways (rounds, half moons, slices) to make the salad more interesting!
Mix the berries in a medium bowl.
Add the dressing, mint and sliced almonds just before serving.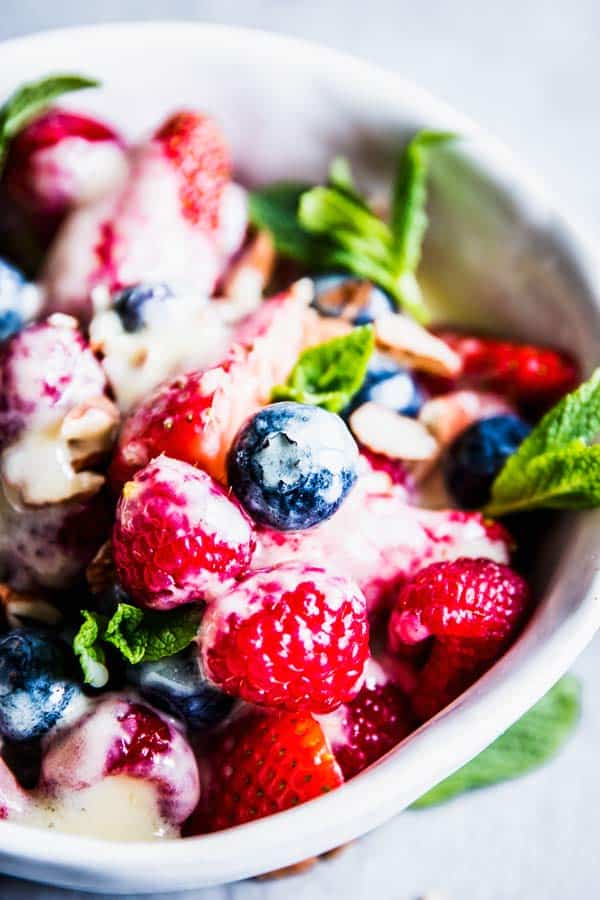 You'll probably want to set some aside in a secret spot before taking the finished salad to your family. I set this on the table, stepped into my studio for a minute to switch off the camera – and poof, like magic, it was all gone.
It tastes so decadent and dreamy, without all the chemicals or calories you'd usually find in something called cheesecake anything.
If you want to switch things up, you can also try adding my Creamy Poppy Seed Fruit Salad Dressing, or if you don't have time to chill the syrup for the custard, you can try my Greek Yogurt Fruit Salad Dressing – it's no cook and ready in less than 5 minutes.
You can obviously also make an entirely different fruit salad with these dressings, say a Greek Yogurt Fruit Salad, or a Summer Fruit Salad.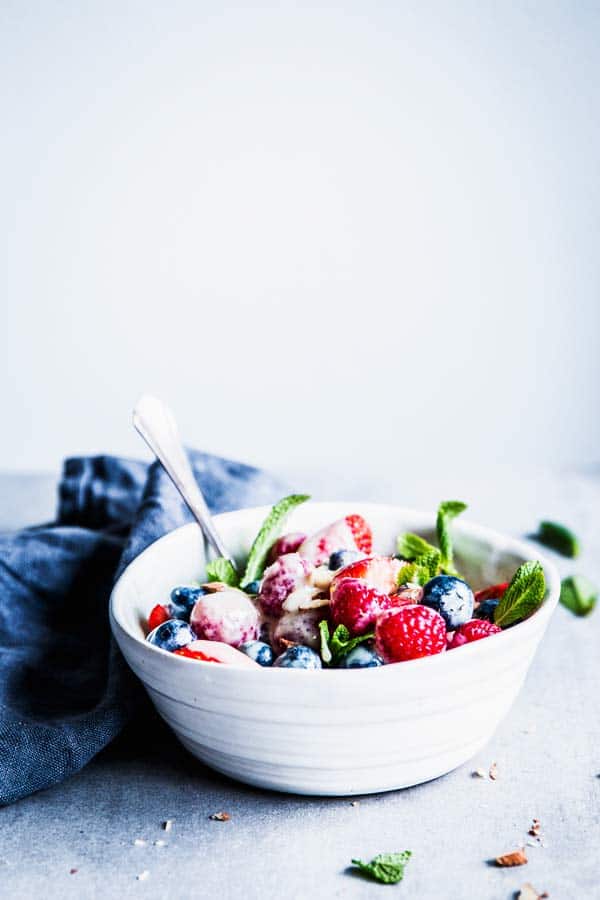 So, bottom line, don't shun the cheesecake salad. Just make it my way and it'll be love at first sight ?
Get the Berry Cheesecake Fruit Salad recipe:
Printable recipe
Printable Recipe Card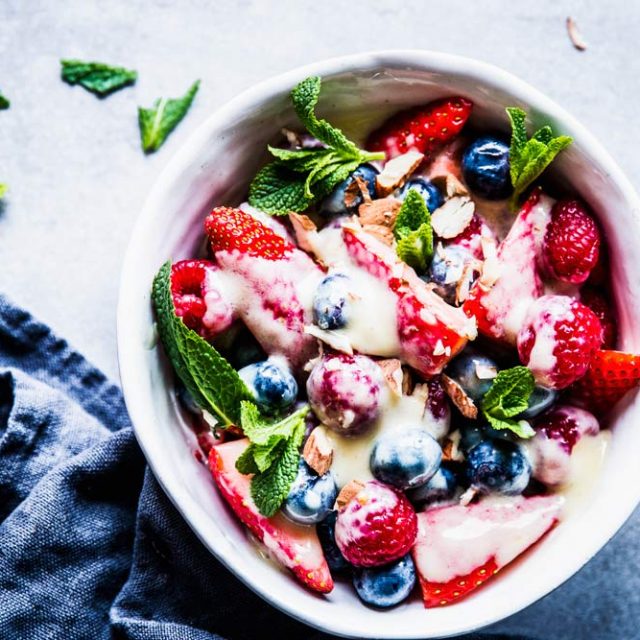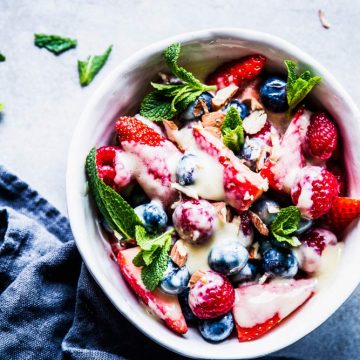 Berry Cheesecake Fruit Salad
Berry Cheesecake Fruit Salad is going to be your new favorite way to eat fruit! Loaded with fresh berries and the creamiest homemade HEALTHY custard. A swimsuit season friendly dessert that tastes absolutely decadent.
made it? tap the stars to add your rating!
Ingredients
For the dressing:
1

cup

orange juice

1

tablespoon

vanilla extract

¼

cup

honey or maple syrup

1

tablespoon

cornstarch

½

cup

plain Greek yogurt
For the fruit:
1

pound

fresh strawberries

8

ounces

fresh blueberries

8

ounces

fresh raspberries
For the garnish:
Handful sliced almonds

optional

Handful mint leaves

optional
Instructions
Make the dressing:
Mix the syrup: Place the orange juice, vanilla extract, honey and cornstarch in a saucepan. Whisk well until smooth and there are no more dry lumps of cornstarch.

Cook the syrup: Whisking constantly, bring to a boil and simmer for 1-2 minutes or until thickened to a medium syrup consistency.

Cool the syrup: Take the syrup off the heat. For a shorter cooling time, pour it into a bowl. Cool to room temperature. Whisk from time to time to avoid a skin on top.

Finish the dressing: Whisk the Greek yogurt into the cooled syrup. Chill in the fridge until ready to use.
Prep the fruit:
While the syrup for the dressing is cooling, carefully wash the fruit. Pat the strawberries dry, then trim and slice. Place the raspberries and blueberries on paper towels to dry.
Make the salad:
Combine all fruit in a medium-large bowl. Just before serving, carefully mix the dressing with the fruit. Sprinkle with almonds and mint, if you like.
Want to save this recipe?
Create an account for free to start your personal recipe box. Save any recipe by tapping the heart in the bottom right corner.
Join Now
Notes
Nutrition is an estimate without almonds or mint, as these ingredients are optional.
Nutrition
Calories:
152
kcal
Carbohydrates:
33
g
Protein:
3
g
Fat:
1
g
Cholesterol:
1
mg
Sodium:
10
mg
Potassium:
291
mg
Fiber:
4
g
Sugar:
25
g
Vitamin A:
135
IU
Vitamin C:
78.7
mg
Calcium:
50
mg
Iron:
0.8
mg
Nutrition is an estimate.
More recipe information