This Creamy Fruit Salad Dressing is going to be your new favorite thing to smother your fruit in. Pass the berries, please!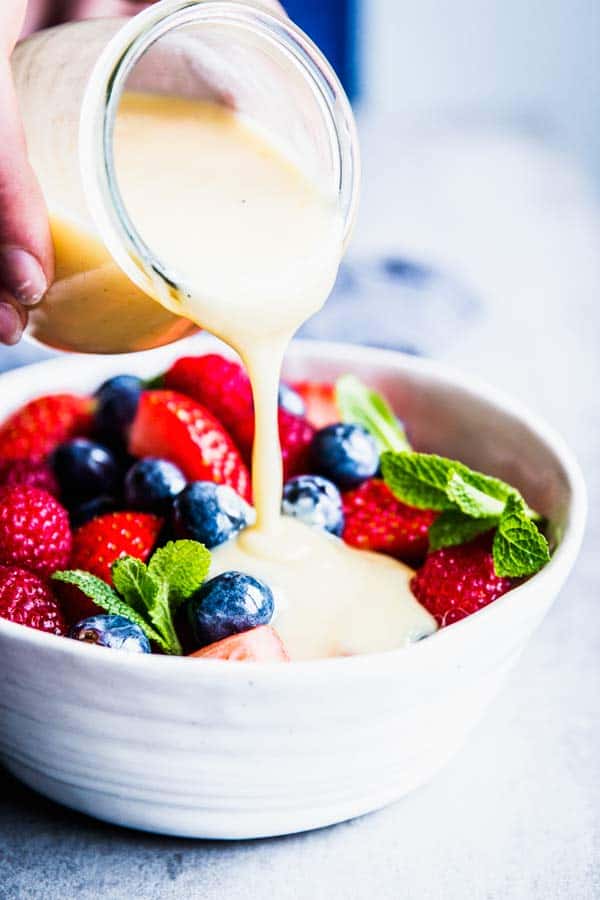 I remember the first fruit salad I ever made. I was a sweet elementary school student and we were covering the topic of healthy eating.
Mind you, that was the 90ies and healthy eating meant artificial sweeteners and low fat back then. So much for setting the scene, ahem.
In small groups, we were to go to a school buddy's house, prepare a healthy brunch recipe and bring it back to school to eat together. My group made fruit salad in my mom's kitchen.
The recipe said to add lemon juice and 1 tablespoon of sugar to the fruit. One. Tablespoon.
We added more than that.
Maybe five. Or ten. Or more. I will never publicly confirm the actual amount, but even our baby year old selves knew this was in no way healthy. We made dorky jokes about it, the kind only awkward kids can make. That fruit salad? Totally inedible, haha!
I've come a long way in my fruit salad making skills since then and now I know a handful of amazing fruit salad dressings I want to pass on to you because they are too good to keep to myself.
This one, though. This Creamy Fruit Salad Dressing. This is probably my favorite one.
It's essentially the same as my Creamy Poppy Seed Fruit Salad Dressing, just without the poppy seeds. For when you simply want pure, creamy decadence.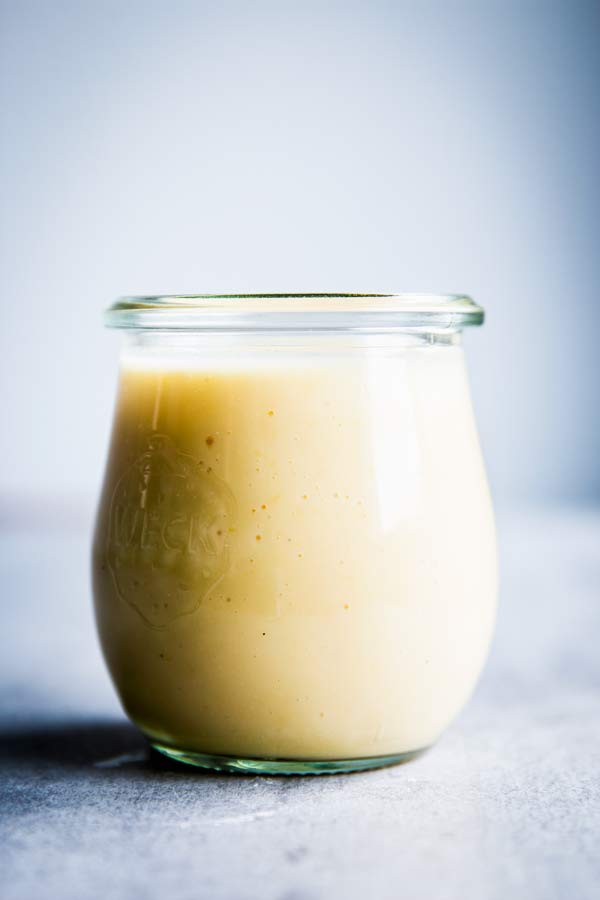 What I love most about this Creamy Fruit Salad Dressing:
It's refined sugar free! No more sugar bombing your fruit salad. This dressing is naturally sweetened with orange juice and honey. Win!
No whipped cream or pudding mix! Yes, that's right. This dressing makes a healthy fruit salad with Greek yogurt (but this is still more custard-like – if you want it super yogurt, I suggest trying my Greek Yogurt Fruit Salad Dressing!). And before you click away – it tastes like a delicious and light custard. I eat this dressing with a spoon.
It's easy to make! Almost as quick and easy as whisking pudding mix into whipped topping – but the extra 5 minutes make a huge difference.
One word of warning though: You shouldn't mix it into fruit salads that have fresh pineapple, papaya or kiwi fruit in them (canned is OK).
Enzymes in those types of fresh fruit break up dairy products, giving them a bitter/metallic taste. That's makes one science class lesson that paid off in actual, real life, ha!
A better dressing for these types of fruit is my poppy seed fruit salad dressing – just as delicious, but you will not risk a spoiled fruit salad!
I didn't think you'd need step-by-step photos for this recipe, as it is very, incredibly easy. Let me just give you a quick run-down of how this recipe works:
How to make creamy fruit salad dressing:
Whisk orange juice, cornstarch, vanilla and honey together in a small saucepan until smooth.
Bring to a boil and simmer for a minute, whisking constantly, until sirupy.
Set aside to cool.
Stir in Greek yogurt. Chill.
Pour over fruit and commence face plant.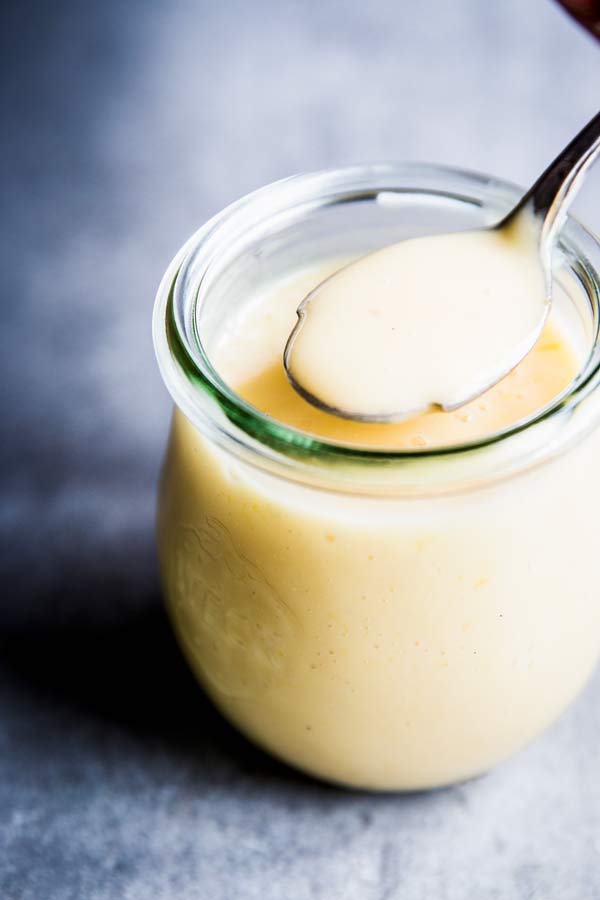 You will not believe how decadent this tastes. My husband drank it. From the jar. And then proclaimed I need to open a restaurant.
It's a fruit salad dressing.
Yes, it is that good.
And yes, it's really made from 100% natural, good-for-you ingredients. Actual healthy, not 90ies healthy.
Go. Make it. Come back and tell me how much you love me. KIDDING. Sort of. Just do it.
Get the printable recipe for this creamy fruit salad dressing:
Printable recipe
Printable Recipe Card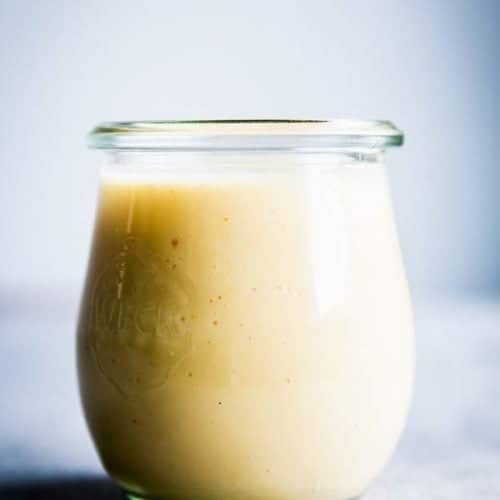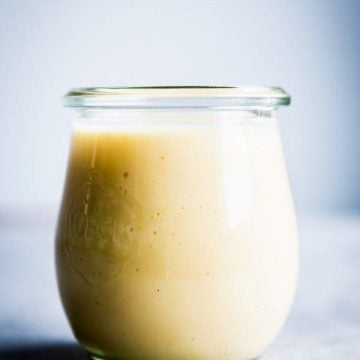 Creamy Fruit Salad Dressing
This Creamy Fruit Salad Dressing is going to be your new favorite thing to smother your fruit in. Pass the berries, please!

made it? tap the stars to add your rating!
Ingredients
1

cup

orange juice

1

tablespoon

vanilla extract

¼

cup

honey or maple syrup

1

tablespoon

cornstarch

½

cup

plain Greek yogurt
Instructions
Mix the syrup: Place the orange juice, vanilla extract, honey and cornstarch in a saucepan. Whisk well until smooth and there are no more dry lumps of cornstarch.

Cook the syrup: Whisking constantly, bring to a boil and simmer for 1-2 minutes or until thickened to a medium syrup consistency.

Cool the syrup: Take the syrup off the heat. For a shorter cooling time, pour it into a bowl. Cool to room temperature. Whisk from time to time to avoid a skin on top.

Finish the dressing: Whisk the Greek yogurt into the cooled syrup. Chill in the fridge until ready to use.
Want to save this recipe?
Create an account for free to start your personal recipe box. Save any recipe by tapping the heart in the bottom right corner.
Join Now
Notes
I suggest not using this on fresh kiwi, pineapple or papaya (canned is fine!). The enzymes in the fresh fruit will break up the yogurt and turn it bitter and metallic.
Nutrition
Calories:
87
kcal
Carbohydrates:
18
g
Protein:
2
g
Cholesterol:
1
mg
Sodium:
9
mg
Potassium:
90
mg
Sugar:
16
g
Vitamin A:
95
IU
Vitamin C:
20.7
mg
Calcium:
27
mg
Iron:
0.1
mg
Nutrition is an estimate.
More recipe information