This Creamy Poppy Seed Fruit Salad Dressing is the single best thing you'll be putting on your fruit salad. Careful – you might just want to eat it by the spoonful, that's how crazy delicious this is!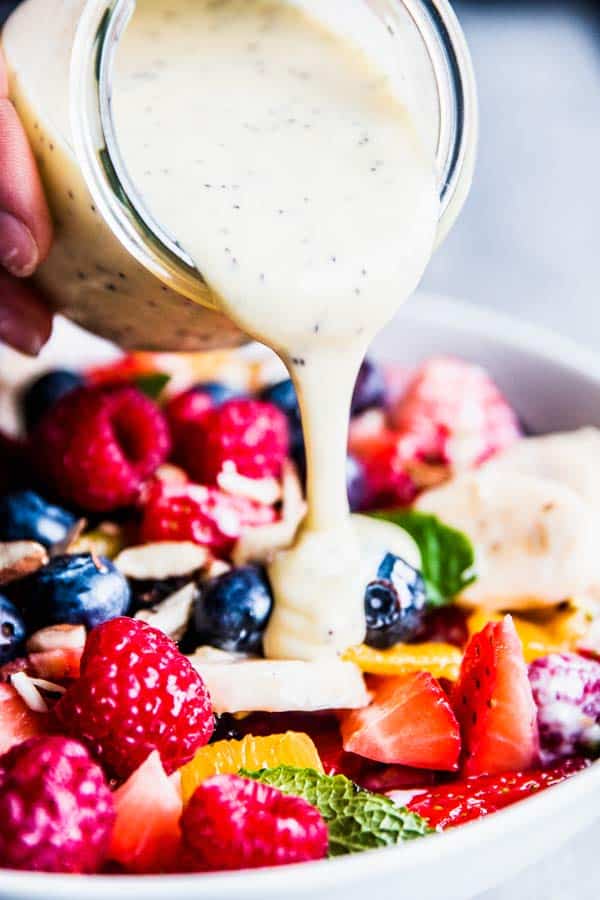 Whenever I share a creamy anything recipe here on the blog, I have to stress that I can't stand whipped cream or cream-laden dishes.
Sure, a spoonful of freshly made whipped cream on ice cream, spread into a thin layer so it freezes? A few tablespoons to refine a sauce? I'll take that. Any other way, stay away from me.
I've always been like this. I didn't eat ice cream as a kid (gasp, I know) and refused to eat anything cooked with cream. I've gotten a little bit better about it with old age (kidding, I know I'm still a spring chicken, but at least let me feel old, haha). But I still refuse to add large amounts of cream or whipped cream to anything, let alone a fruit salad!
I've already said in my Creamy Fruit Salad Dressing that I've learned to make fruit salad the healthy way as I've gotten to this stage of old-age wisdom inhabiting every inch of my body. Let me have my moment.
This one is actually the same dressing, just with poppy seeds added. But it is such a nice touch, I thought it deserved its own post.
The creaminess here comes from Greek yogurt, but it's more of a custard-texture. If you want a yogurt-y dressing, I recommend my Greek Yogurt Fruit Salad Dressing!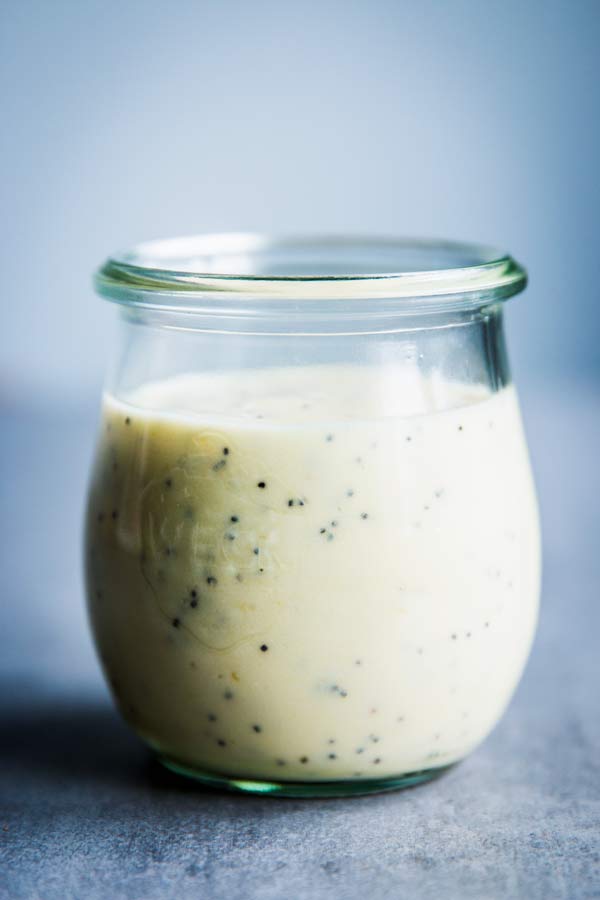 What I love most about this Creamy Fruit Salad Dressing:
It's naturally sweet. Orange juice and honey add more than enough natural sweetness to this dressing! If you're looking for a less sweet dressing, you can even decrease the amount of honey called for in the recipe!
It's custardy without any packaged ingredients. My husband DRINKS this dressing, because he loves it so much. It turns out like a really fresh and fruity custard without frozen whipped topping, instant pudding mix or any other nasties.
It's allergy-friendly. The recipe is naturally gluten-free. You can also easily make it dairy free by using a non-dairy yogurt and vegan if using maple syrup in place of the honey.
I'm just going to add the same warning here as I do with all my yogurt-based fruit salad dressings: It's not something you'll want to use on fresh pineapple, kiwi or papaya. Canned fruit is OK!
These kinds of fresh fruit contain enzymes that will start splitting up the yoghurt, which results in a bitter, metallic taste. Consider yourself warned.
This is really a very simple recipe, let me just give you a quick overview:
How to make creamy poppy seed fruit salad dressing:
Whisk juice, honey, cornstarch and vanilla together in a small sauce pan until smooth (important, otherwise you'll have lumps).
Bring to a boil, then simmer for a minute, whisking constantly. Always keep whisking to get a smooth custard!
Take the thickened syrup off the heat and cool to room temperature. This works out faster of you transfer it to a clean bowl.
Whisk in the Greek yogurt and poppy seeds. Chill until you need it.
Eat by the spoonful, then make a second batch because nothing is left for the actual fruit salad.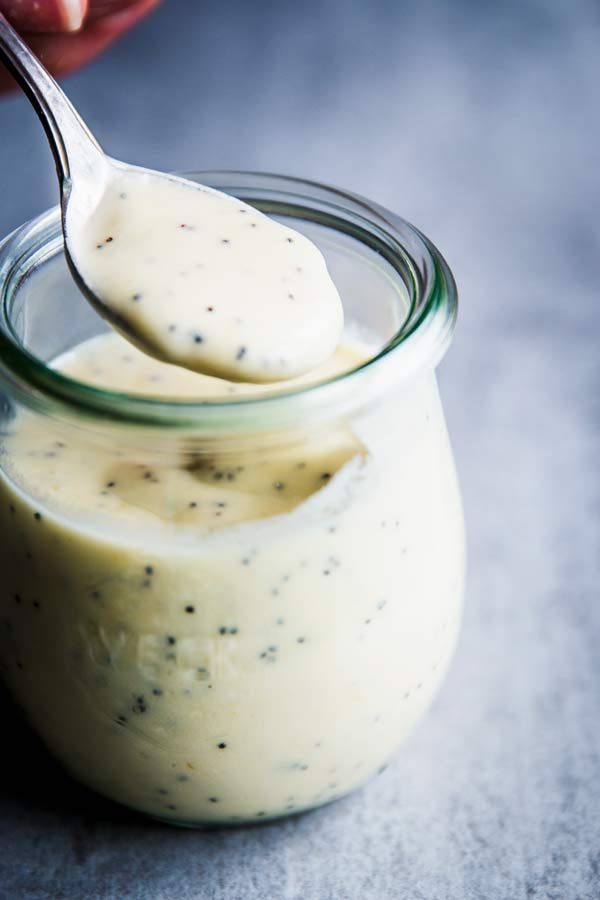 This is one of our all-time favorite fruit salad dressings. It reminds me of the first warm days of spring, and it's just perfect for Easter or Mother's Day.
And not only does it taste like the freshest custard you'll ever taste, it's also made from all-natural ingredients that will leave you feeling light and fresh. No whipped cream food coma after this in your fruit salad. Win win win!
P.S: If you want a non-creamy dressing for your fruit salad, I've got a regular Poppy Seed Fruit Salad Dressing, too!
Get the printable recipe for this creamy poppy seed fruit salad dressing:
Printable recipe
Printable Recipe Card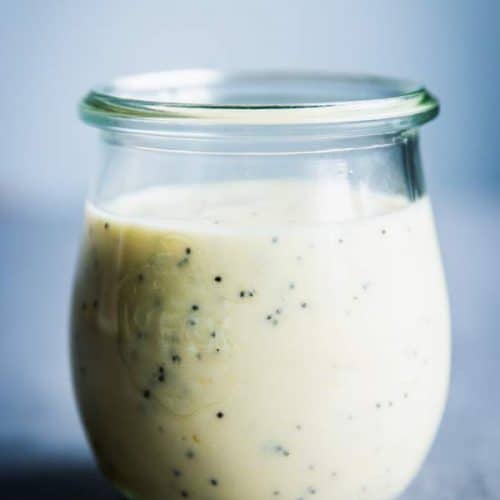 Creamy Poppy Seed Fruit Salad Dressing
This Creamy Poppy Seed Fruit Salad Dressing is the single best thing you'll be putting on your fruit salad. Careful - you might just want to eat it by the spoonful, that's how crazy delicious this is!
made it? tap the stars to add your rating!
Ingredients
1

cup

orange juice

1

tablespoon

vanilla extract

3

tablespoons

honey or maple syrup

1

tablespoon

cornstarch

½

cup

plain Greek yogurt

1-2

teaspoons

poppy seeds
Instructions
Mix the syrup: Whisk together the orange juice, vanilla extract, honey and cornstarch in a small saucepan until smooth and there are no more dry patches of cornstarch.

Cook the syrup: Keep whisking and bring to a boil. Simmer for 1-2 minutes or until thickened to a medium syrup consistency, whisking constantly to avoid any lumps.

Cool the syrup: Take the syrup off the heat. For a shorter cooling time, pour it into a bowl. Cool to room temperature, whisk every so often to avoid a skin from forming.

Finish the dressing: Whisk the Greek yogurt and poppy seeds into the cooled syrup. Chill in the fridge until ready to use.
Want to save this recipe?
Create an account for free to start your personal recipe box. Save any recipe by tapping the heart in the bottom right corner.
Join Now
Notes
I suggest not using this on fresh kiwi, pineapple or papaya (canned is fine!). The enzymes in the fresh fruit will break up the yogurt and turn it bitter and metallic.
Nutrition
Calories:
78
kcal
Carbohydrates:
15
g
Protein:
2
g
Cholesterol:
1
mg
Sodium:
9
mg
Potassium:
82
mg
Sugar:
13
g
Vitamin A:
95
IU
Vitamin C:
20.7
mg
Calcium:
34
mg
Iron:
0.2
mg
Nutrition is an estimate.
More recipe information