Fruit salad are some of the best healthy desserts out there. Filled with fresh fruit and a delicious dressing, everybody loves this refreshing treat.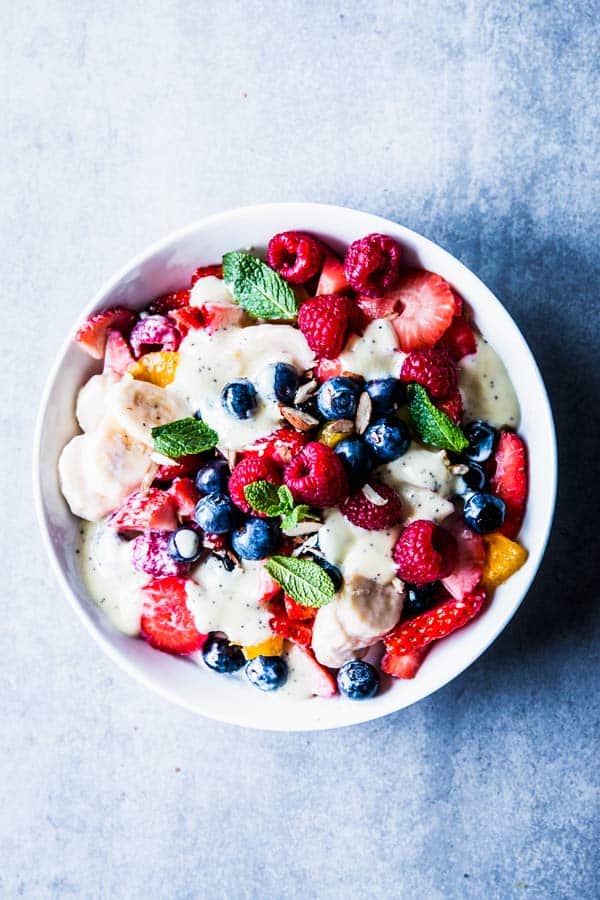 This complete guide to making fruit salad talks you through the process of making the best fruit salad ever – step by step! It will show you how to make this healthy dessert just right, with the best fruit salad dressing and amazing fruit combinations.
This Fruit Salad Step by Step tutorial covers:
The elements of a great fruit salad
It may seem silly to talk about the elements of a fruit salad – isn't it just fruit and a dressing?
In short, yes.
But in more detail? There's much more you can add to a fruit salad!
We'll cover everything in-depth further down in this post, so I'm just going to give you a quick overview here.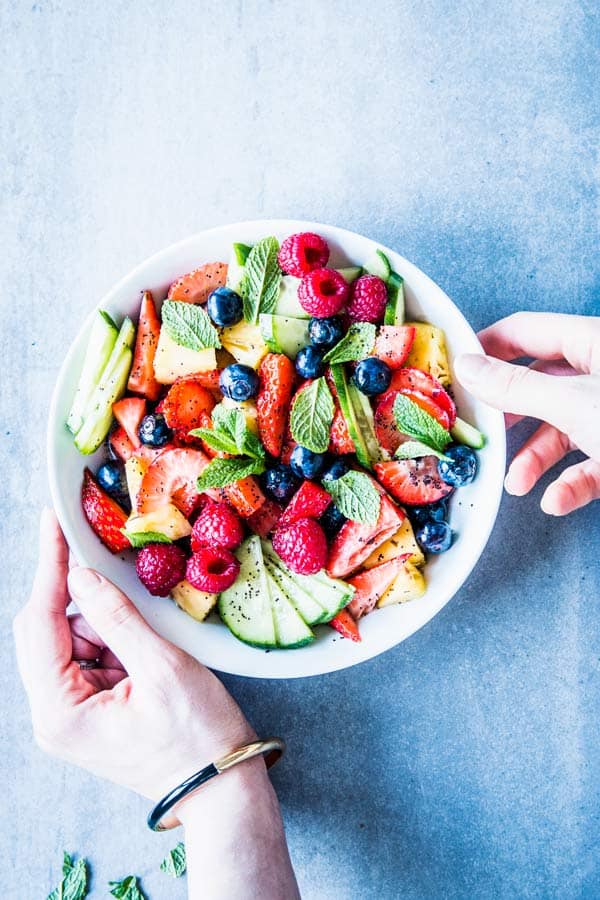 The fruit
Obviously the first thing you need to think about is the fruit. You can use both fresh and canned fruit, though I usually prefer to go heavy on the fresh fruit.
Seasonal is always best flavor-wise, but depending on your climate it's definitely not always possible.
Carefully choose which fruit you're going to combine – more is not always better!
The dressing
There are many ways to make a fruit salad dressing! I'll share my favorite dressings further down, but generally there's two camps here:
Creamy dressing and non-creamy dressings. You can definitely just stir in some Greek yogurt or a little juice, too, if you don't want to bother with a full-on dressing.
The extras
What would life be without a little sparkle? The same is true for fruit salad.
No matter if you choose to use some fresh herbs, citrus zest or chopped nuts, a little something extra takes most fruit salads from good to great.
Though in some cases, basic is definitely best, so use your best judgment ?

Which fruit to use?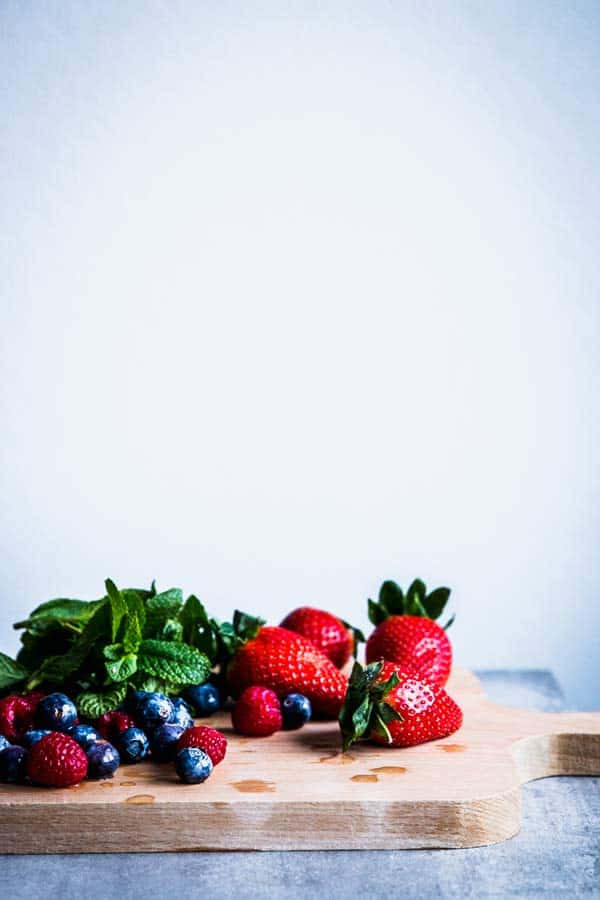 Canned fruit vs fresh fruit

I generally don't use much canned fruit, fresh is just so good!
But it's definitely OK to make fruit salad with canned fruit. In some cases like mandarin oranges, it's actually way easier!
And if you want to use a dairy-based yogurt on pineapple, you should always use canned pineapple, because fresh pineapple reacts with dairy and adds a metallic and bitter taste.
Pay attention to the sugar content if using canned, so you can adjust the dressing accordingly.
Using seasonal fruit

As I already said, this is definitely not always possible! But when it comes to taste it's best to use fruit that's in season.
During summer:
Fresh berries
Peaches
Plums
Melons
Mango
Cucumber (surprisingly delicious – see my Summer Fruit Salad)
During fall:
Apples
Pears
Figs
Blackberries
Cranberries
Grapes
During winter:
Pineapple
Pomegranate
Citrus
Kiwi
Persimmon
Apples
Pears
Some things like banana are available all year.
Spring is a little more difficult ? at least until the first strawberries start popping up!
The best fruit combinations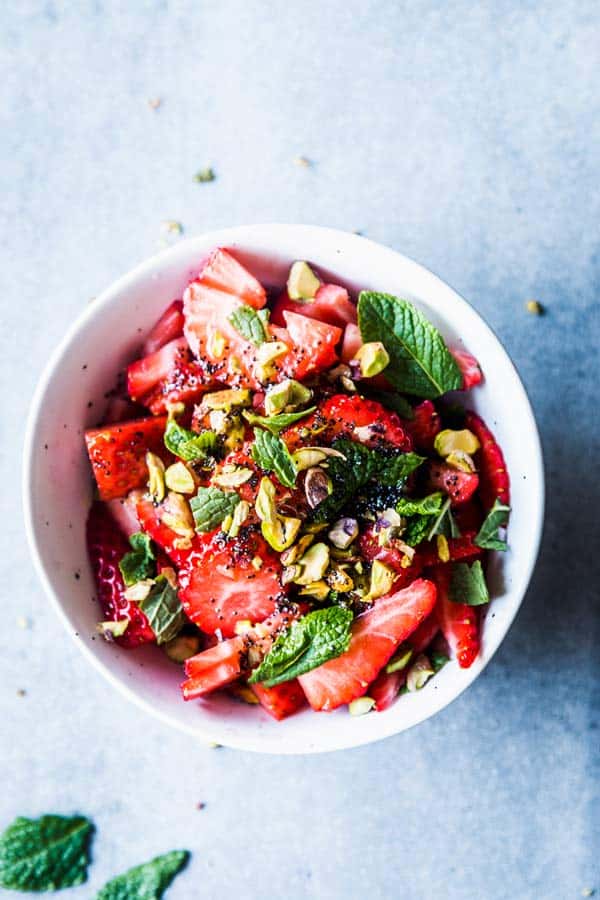 You can generally go three ways here:
A mono fruit salad
A mono fruit salad is a fruit salad made from just one fruit. Sounds boring? Wait until you try a strawberry fruit salad!
We also love this kind of salad with pineapple or watermelon.
A one-kind fruit salad
This is when you mix one kind of fruit, only.
Think: mixed berry salads, mixed melon salads or mixed citrus salads. One of my favorite is this Berry Cheesecake Fruit Salad!
Mixing it up
Obviously you can also mix it up and go wild with your food combinations!
Some of my favorites:
Mixed berries with bananas
A mix of winter fruit – my winter fruit salad is great for the colder months!
Mango, peach and raspberry
Grapes, apples, pomegranate and blackberries
The best fruit salad dressings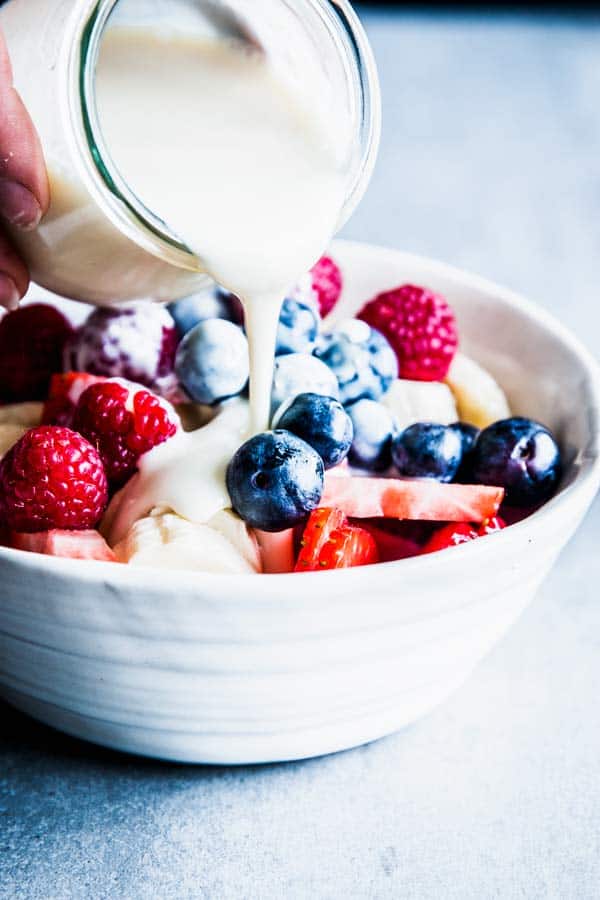 I usually go one of four ways when it comes to dressing my fruit salad:
A custard dressing
This is the most decadent and dessert-y one! You can do classic vanilla custard, or you can make one of my easy faves:
A creamy fruit salad dressing or a creamy poppy seed fruit salad dressing.
They are simple to make and made lighter than a traditional custard, for a swimsuit friendly dessert ?
A yogurt dressing
One of my favorites for hot summer days! These are excellent on berries.
I make a delicious Greek Yogurt Fruit Salad Dressing that's ready in less than 5 minutes.
A juice-based dressing
This is for when you don't want a creamy fruit salad!
You can really use any kind of juice, I love a mix of orange and lemon like I do in my Poppy Seed fruit salad dressing.
Winging it
Finally, you can just wing it if you lack a) headspace and/or b) time ?
If I'm in this position I just pour some juice over the fruit, add a drizzle of maple syrup and maybe some poppy seeds. Done!
Mixing the right fruit with the right dressing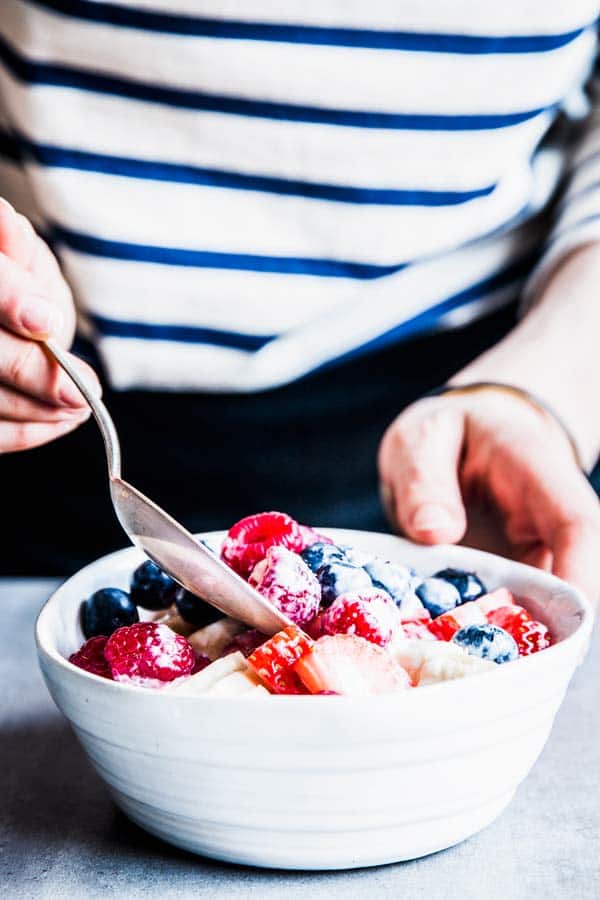 I already mentioned this earlier, but there's some fruit you shouldn't mix with dairy based dressings (especially not with Greek yogurt based ones – custard ones can be OK if you eat them absolutely immediately!)
Fresh kiwi, papaya and pineapple have an enzyme that reacts with the protein in dairy, adding a metallic and bitter taste. It's really gross, so you basically have to throw it out if it happens.
For that reason I recommend using canned pineapple if you want to add a dairy based dressing. Or just leave it out – my Greek Yogurt Fruit Salad has lots of other delicious fruit in it!
If you're set on using the fresh fruit AND want a creamy dressing, I recommend not using a yogurt based one as that turns bad the fastest.
You may get away with using a custard-based or cream cheese based dressing if you serve the fruit salad immediately and don't have any leftovers. But you do this at your own risk ?
How to cut fruit for a fruit salad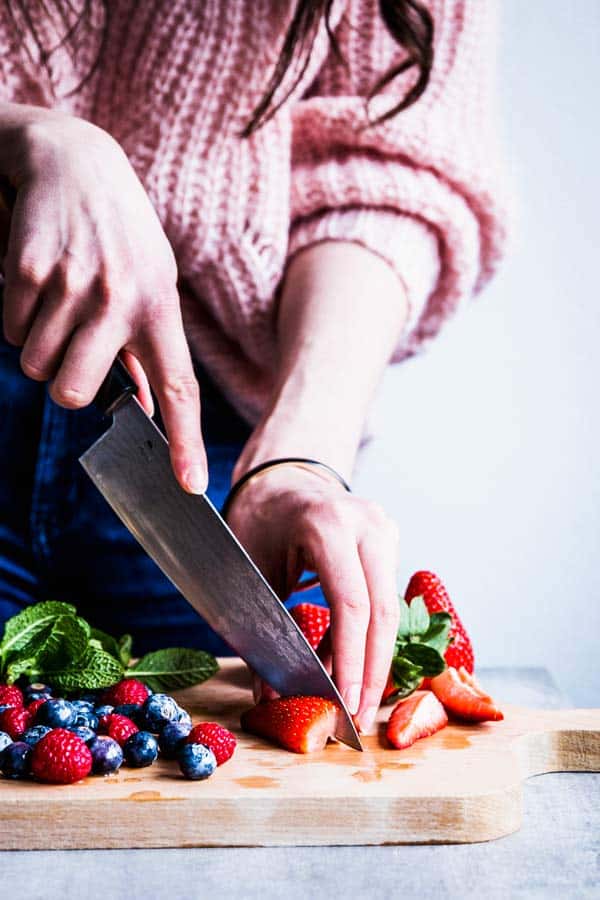 I generally like cutting the fruit so it can be eaten as-is, without choking.
Bite sized pieces are perfect, but they absolutely don't all have to be the same size or shape!
In fact, I slice strawberries in a few different ways (half moons, rounds and wedges) whenever I add them to a fruit salad – just makes it prettier to look at and more fun to eat!
Make sure to remove any part of the fruit that's not edible (like the skin from kiwi or the apple core – I've had fruit salads with both left in there, not pleasant!).
Fruit salad extras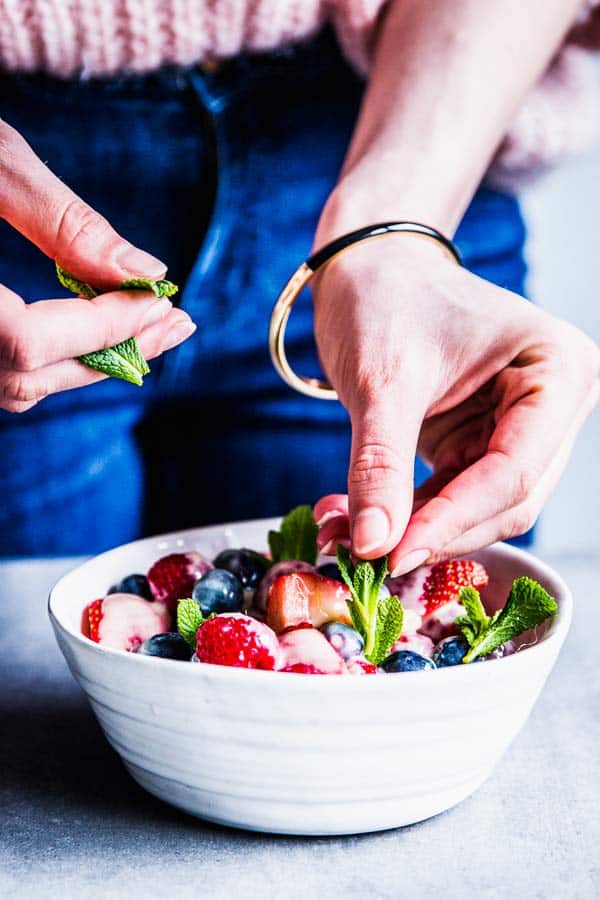 Aaah the extras! They make your fruit salad experience even better.
Though I don't use them in every single case, I will often add something special to a fruit salad to make it more interesting.
A few of my top choices:
Chopped pistachios
Chopped almonds
Shredded coconut
Finely grated lemon or orange zest
Fresh mint
Chocolate chips
Can you make fruit salad ahead of time?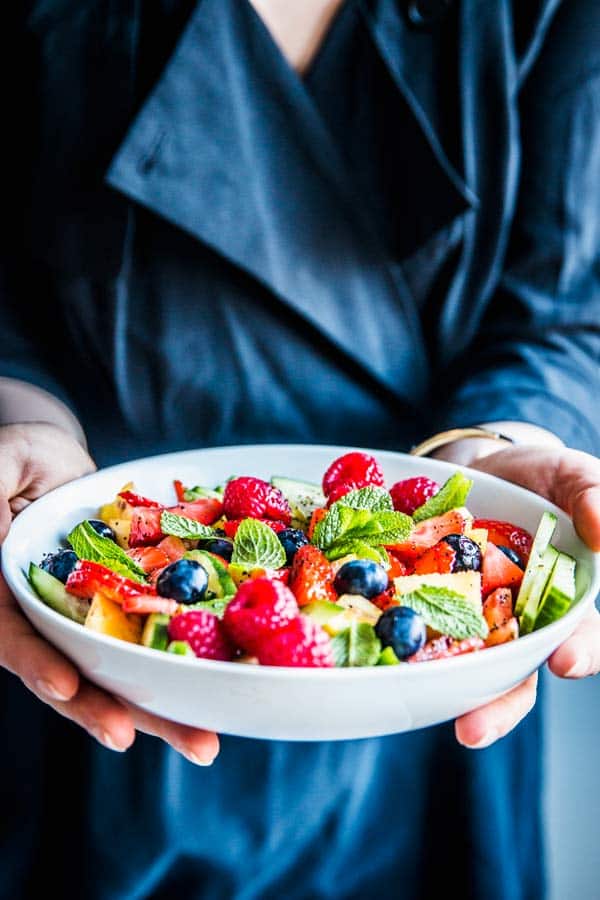 The answer to this question is not straightforward… sometimes you can, sometimes you can't.
There are three possible scenarios:
Make and assemble the entire fruit salad ahead of time
Prep the fruit and the dressing separately and mix them right before serving
Prep the dressing but have to prep either all of the fruit or some of the fruit right before serving
I generally never mix fruit salad ahead of time because I like it best fresh.
I always prep the dressing ahead of time and keep it in the fridge, unless I'm making a last-minute fruit salad.
Apart from very delicate things that brown/get mushy easily, I like prepping the fruit ahead of time so I just have to assemble later.
Fruit I only ever prep/mix in right before serving:
Pears
Banana
Raspberries and blackberries
Apples
How to store fruit salad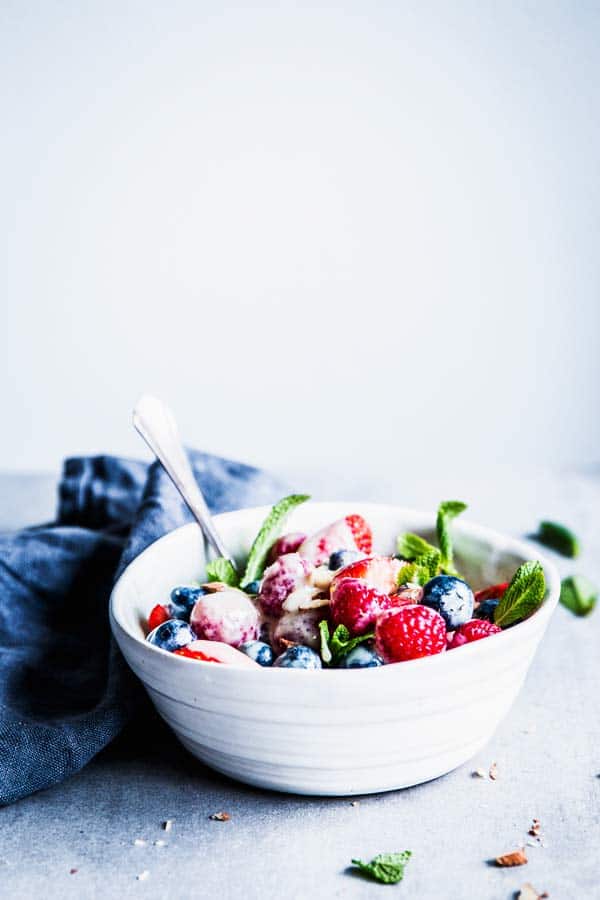 I try not to plan for leftovers. If I want to make a very large batch (for example if I have to use up an entire pineapple) I try to only mix as much as we're going to eat right away with the dressing and store the rest in separate containers in the fridge.
If you end up with leftovers either way, you need to store the fruit salad in a tightly closed container in the fridge and eat it within a day.
Keep in mind, the fruit salad can get watery/mushy the longer it stands for, so try to eat it as soon as possible.
The best fruit salad for keeping:
Berry salads
Non-creamy fruit salads
Mono fruit salads
The worst fruit salad for keeping:
Banana-heavy fruit salad
Greek yogurt based dressings
Fruit salads with a lot of pear
Conclusion: Making the best fruit salad requires a little bit of planning, but it's simple to do!
Whipping up a great fruit salads works best when follow a few simple rules and make sure you pick the right fruit and the right dressing to get exactly the kind of fruit salad you want. Anyone can make a great fruit salad – just don't mix yogurt and pineapple, please ?