Watch this video to see how I make homemade meatballs from my post How To Make Meatballs From Scratch!
The Ultimate Guide to Homemade Meatballs is everything you ever wanted to know about homemade meatballs!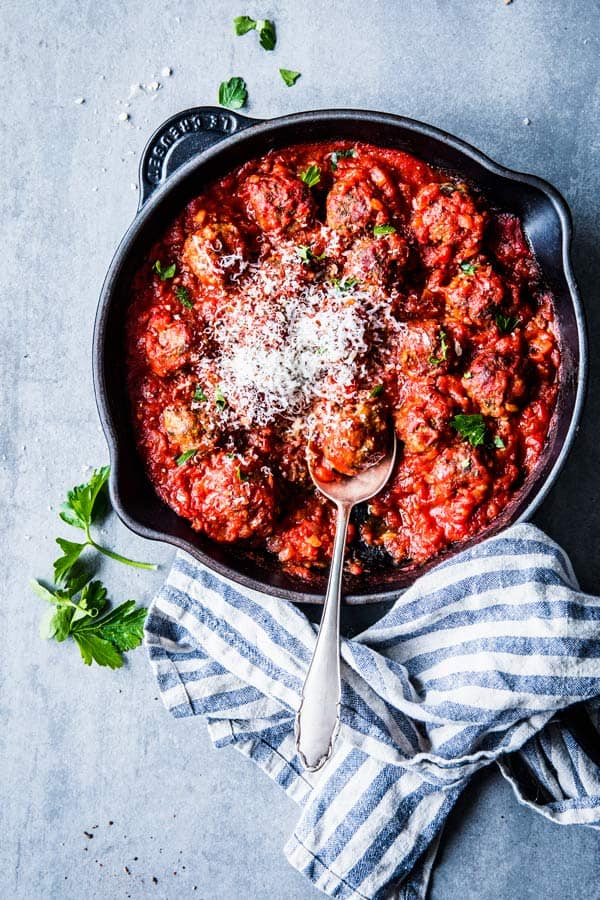 From the best meat to use to how to shape and cook them – this guide has all the information you need to make the best meatballs, ever. It will teach you exactly what you need to know about making your own meatballs from scratch.
This guide to making meatballs from scratch covers:
The best meat to use for making meatballs
When it comes to picking the type of meat for your meatballs, you have a few options.
Ground Beef
The classic is of course ground beef. It's very simple to work with, all you have to pay attention to is to use lean beef, because fattier ground beef yields very greasy meatballs.
Ground Pork
Ground pork is especially nice for Asian-style meatballs.
Pork meatballs are a little lighter in color than beef meatballs. Again, use lean ground pork.
Ground turkey
Ground turkey is perfect for making healthy meatballs. It's lower in fat and calories than most beef.
I prefer beef for Italian-style meatballs, but love turkey for pretty much anything else.
With ground turkey it's important to not overlook the meatballs and add something to the mix that adds moisture, otherwise they quickly turn out very dry.
Others
You can also use meats like ground lamb or chicken for meatballs. They work well, but are a bit less common.

What to add to the meatball mix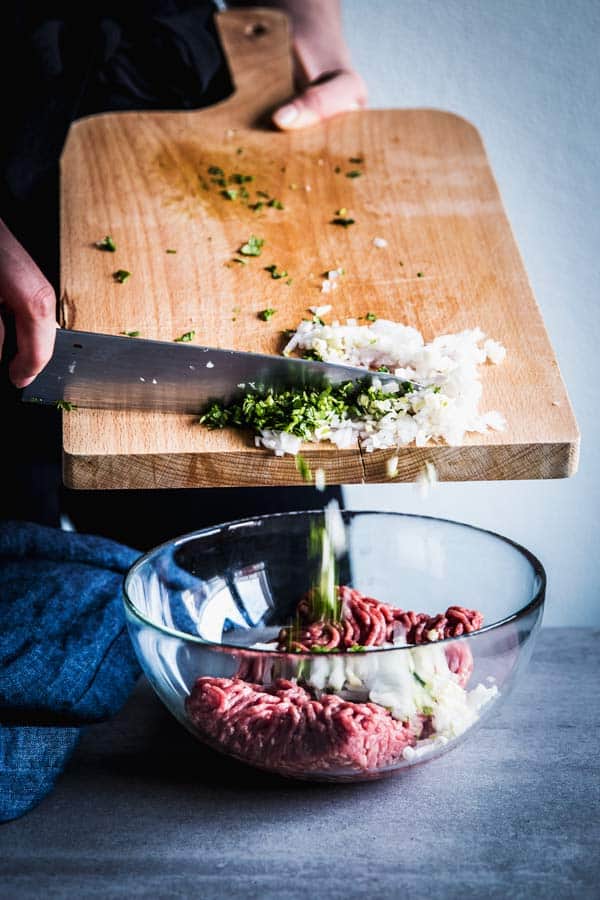 To make delicious meatballs that hold their shape, you'll need to add a few things to the ground meat:
Eggs for binding
A dry binder like breadcrumbs, crushed crackers, sesame seeds or old bread soaked in milk
Finely chopped or shredded vegetables (onions and garlic are classics, zucchini is delicious in turkey meatballs)
Seasoning
These all help to make delicious, flavorful and juicy meatballs that hold together even when cooking them in a sauce.
To learn more about what I put in meatballs, read my post on how to make homemade meatballs with step photos!

The best flavor combinations
There are endless possibilities to combine ingredients for meatballs.
You can experiment with different vegetables, fillers and seasonings to find the combos your family loves the most!
Some of our favorites:
Asian: pork meatballs with sesame seeds, chopped scallions, ground ginger and garlic
Greek: turkey meatballs with breadcrumbs, shredded zucchini, feta cheese and oregano
Italian meatballs: beef meatballs with breadcrumbs, garlic and onion and Italian seasoning
Homestyle: mixed beef and pork meatballs with old bread soaked in milk, finely chopped onion, garlic, green pepper and celery and chopped parsley
A mess-free way to mix the meat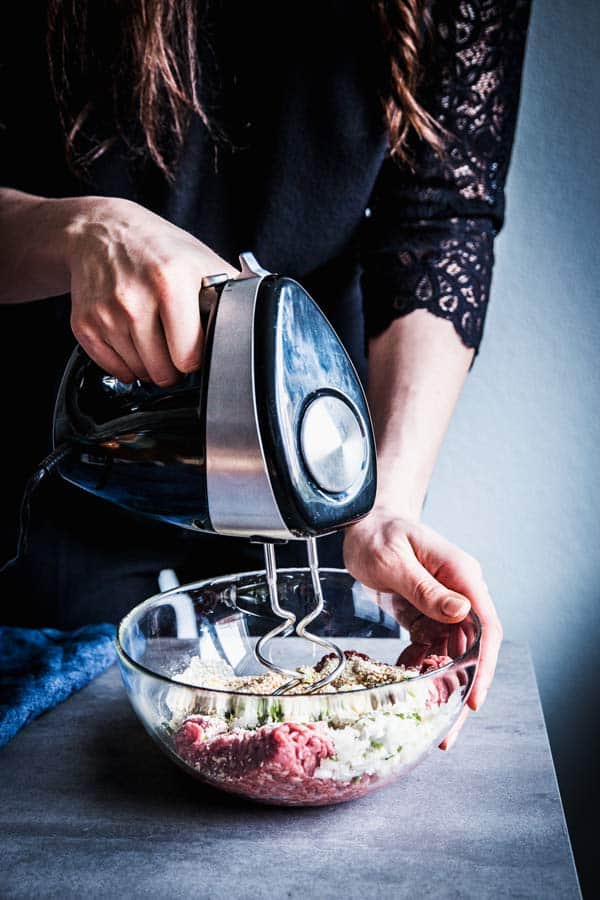 I HATE kneading ground meat with my hands. Even if I'm wearing disposable gloves!
Because I want to mix the meat for meatballs quite well, otherwise the meatballs tend to end up very crumbly and don't hold their shape too well, a little stirring won't do.
That's why I use a handheld mixer with the dough hook attachments! FYI, I make a commission for purchases made through that link.
This makes a quick job of yielding a well-mixed meatball base without getting your hands dirty.
To avoid splattering small bits of ground meat everywhere, just place the bowl in your kitchen sink for mixing.

How to shape even meatballs
To shape even meatballs, I like using a small cookie scoop like this one. Mine holds about 1 ⅕ teaspoons and I think that's the perfect size. FYI, I make a commission for purchases made through that link.
We're no fans of dinner-sized meatballs here, so that's what I always use.
Have a clean plate with a layer of baking parchment on hand before starting. Scoop meat mixture with the cookie scoop and place it in your hand.
Cupping the meat between your palms, tightly roll it into a ball. The tighter you do this, the better it will hold its shape.
Place the shapes meatball on the lined plate and freeze them for 10 minutes before cooking. This helps to firm them up.

How to cook your homemade meatballs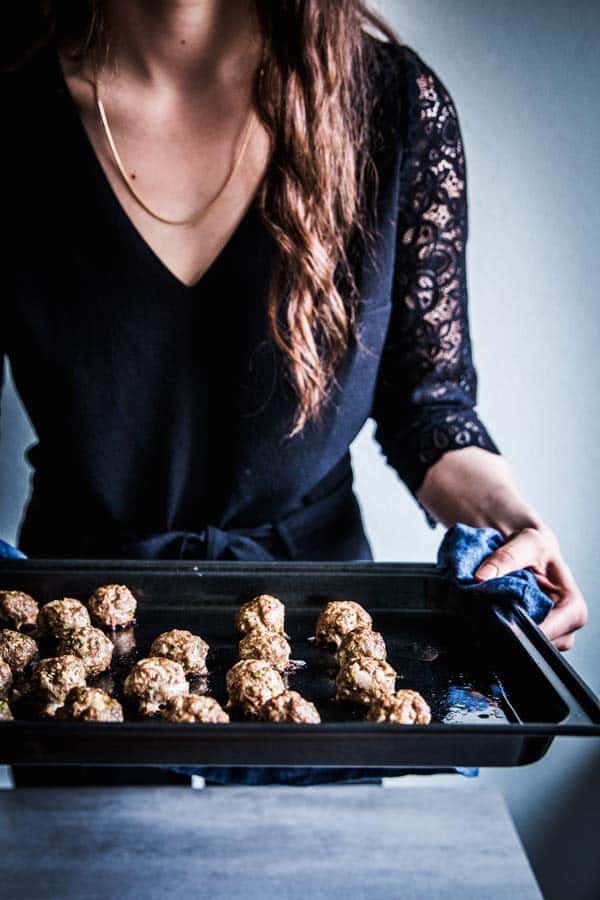 There are some super easy ways to cook meatballs.
One the stovetop
The most obvious one is probably a skillet on the stove. You just heat some oil in a skillet and cook the meatballs until browned on both sides and no longer pink in the middle.
This works well for meatballs you want to make a gravy for from the pan drippings.
To read more, check out my post on how to cook meatballs on the stove.
In the oven
This is actually my favorite way, because it's so hands off.
Just place the meatballs on a lightly oiled, unlined baking sheet and bake for around 12-15 minutes, or until no longer pink in the middle.
Read more in my recipe for easy baked meatballs!
In sauce
I do this with my italian meatballs. Just quickly brown the meatballs on the outside (for better flavor and a better shape!), then gently poach them in the sauce you're using.
In the crockpot
You can easily make crockpot meatballs (like my Cranberry BBQ Crockpot Meatballs!) by cooking meatballs in a sauce in the crockpot.
I always prefer to at least brown them in a skillet or the oven beforehand. I'm too scared they'd disintegrate in the sauce if they're not at least browned.
To cook the pre-cooked meatballs in the crockpot, just place in the crock with your sauce and cook on low for 4 hours.

How to keep meatballs spherical when cooking them
Now comes the magical question: How do meatballs keep their round shape while cooking?
The best way would be to deep-fry them, but I've never done that and I'm not planning to, to be honest!
The next best way I've found is baking the meatballs. You don't have to flip them, so one side stays completely round. If you know any better ways, please share ?

Can you freeze meatballs?
Yes, absolutely! You can freeze them raw OR cooked.
Either way, freeze them in a single layer on a lined sheet pan until solid. Then plop them into freezer bags and label.
That way you can always take out just as many as you need.
I defrost raw meatballs and then pan fry or bake like fresh ones. Pre-cooked meatballs I don't defrost, just plop them straight into the sauce and cook until done!

The best sauces for homemade meatballs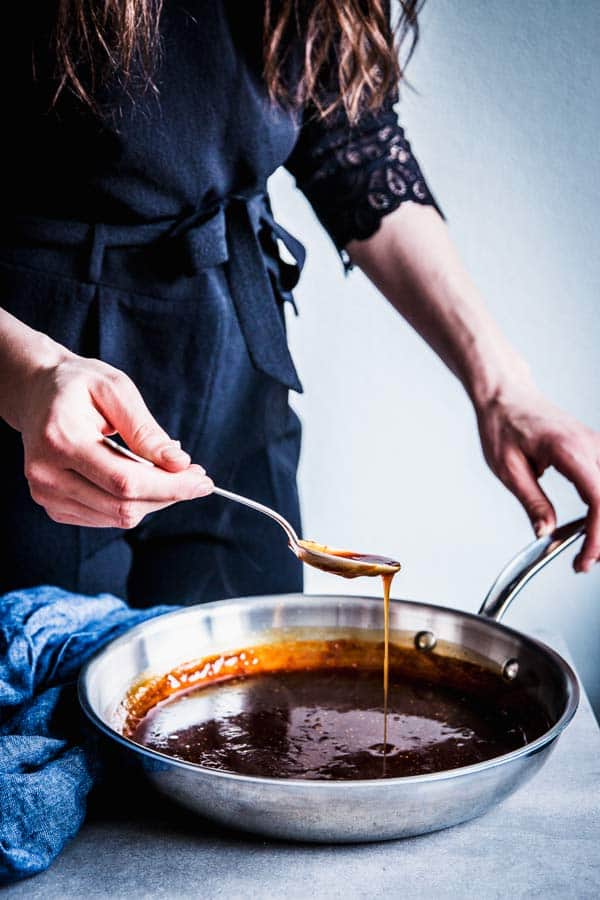 I know I've been talking a lot about meatballs cooked in a sauce in this post… But what kind of sauces work best?
Tomato Sauce
Of course there's tomato sauce, for example in Italian meatballs or spaghetti with turkey meatballs. Always delicious!
Gravy
I love meatballs in gravy! Swedish meatballs are my favorite.
BBQ Sauces
BBQ Meatballs are another favorite around here. Especially Pineapple BBQ Sauce for Pineapple BBQ Meatballs!
You can also just use bottled BBQ sauce, like I do in my Sticky BBQ Slow Cooker Meatballs.
Asian Style Sauces
We love sauces like honey garlic on meatballs. Korean BBQ Meatballs are kind of a cross between Asian and BBQ meatballs, and absolutely delicious with the homemade Korean BBQ Sauce!
One of my quick and easy favorites to make is homemade teriyaki sauce. I just add the baked meatballs and heat a little until they're glazed – delicious teriyaki meatballs!
Glazes
I know BBQ sauces act like a glaze as well, but they're still saucy. For an appetizer meatball, thicker glazes are delicious! One of my favorite holiday recipes are my crockpot cranberry glazed turkey meatballs. So easy to put together and absolutely delicious!
The best side dishes for meatballs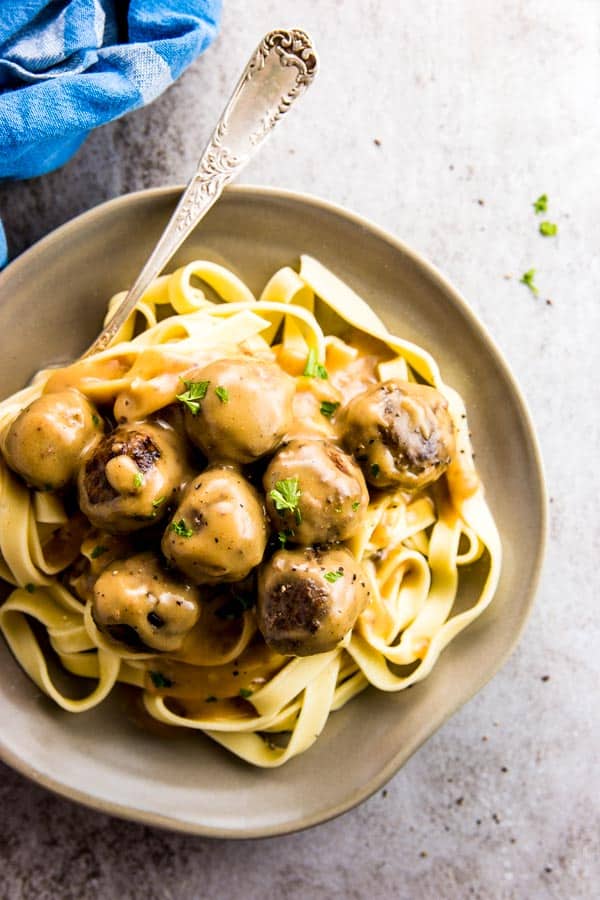 The biggest question… How to turn those meatballs into a meal? I mean, if you're not making them as an appetizer ?
There are many ways to serve meatballs, depending on the kind of meatballs you're making and which sauce you're adding.
Noodles, spaghetti, mashed potatoes, salads… Meatballs are so versatile!
To read more, check out these posts on meatball sides:
In conclusion: Making homemade meatballs is easy and delicious!
You just need to know a few tips and tricks and then you can whip up a batch of delicious meatballs in no time at all.