This No Bake Strawberry Pie with Cream Cheese Filling is everything you want in a spring and summer dessert: Easy to make, full of fresh fruit (3 pounds of strawberries in there!) and with a cool and creamy layer of cheesecake filling. Yum!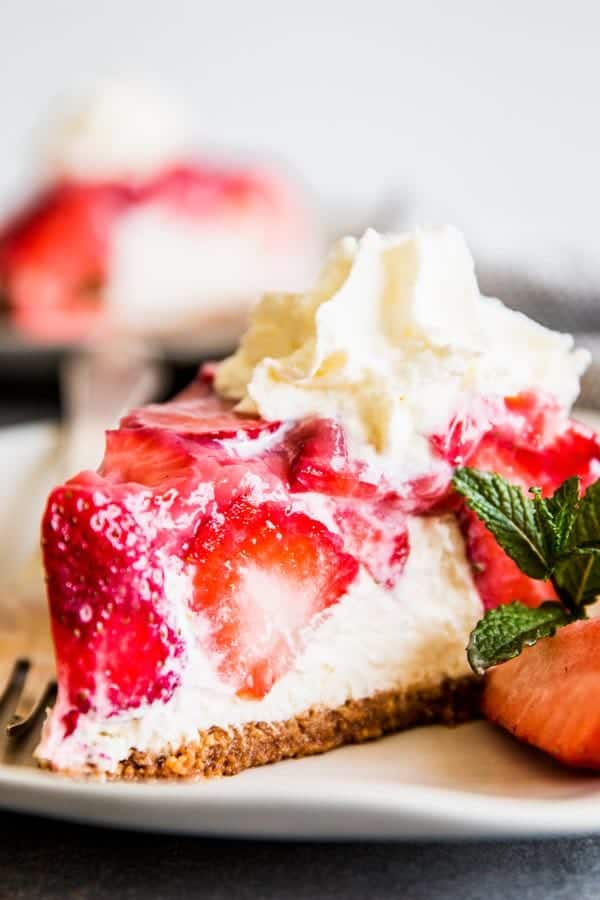 I don't know why, but the archives here on Savory Nothings are not exactly filled with dessert recipes.
No, that was a lie. I do know why: I hate taking photos of desserts. The last time I made a strawberry dessert for the blog was my strawberry rhubarb crisp, and that took me a million hours to photograph.
But you guys instantly fell in love with my Vanilla Strawberry Overnight Oats so I figured I'd have to make a strawberry dessert and get over my fear of photographing it.
I don't know why, but desserts a struggle. I love making them, I LOVE eating them… I guess I'll need to work on getting better at photographing them. Which means lots of desserts coming to Savory Nothings this summer ? Because THIS: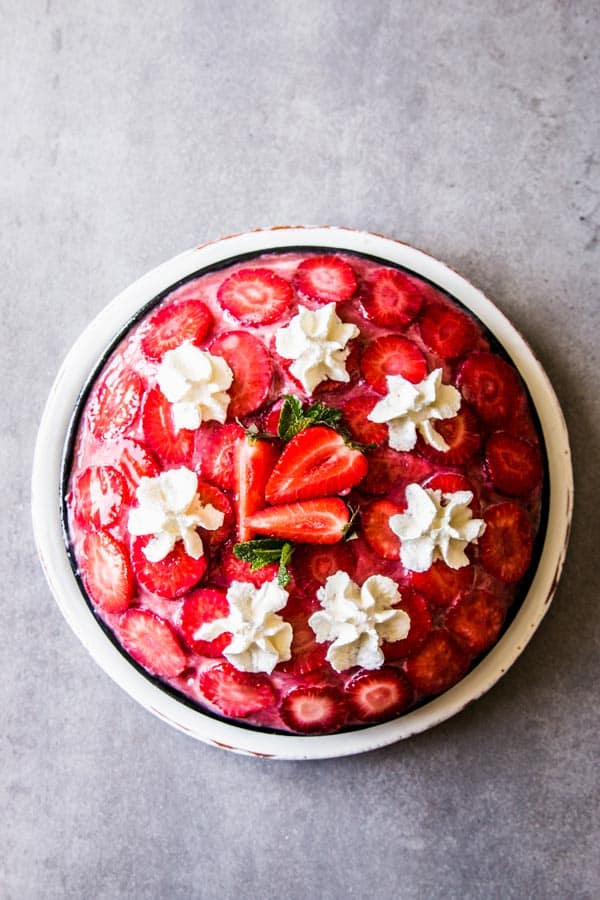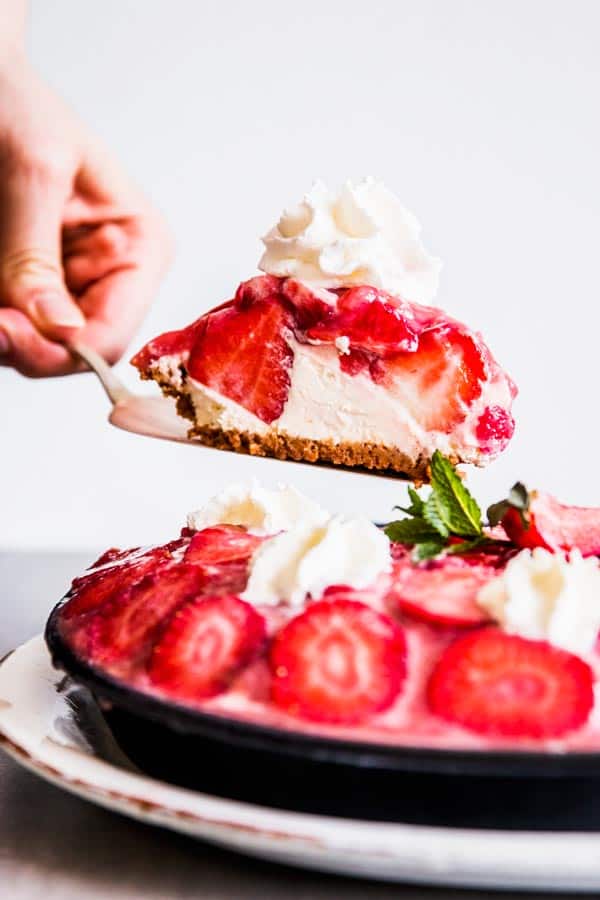 It's so delicious. And sooo simple to make! I adore no bake desserts during the summer, because nothing is worse than heating up the house with the oven when it's a million degrees outside.
You can always make berry cobbler in the crockpot if you need a hot dessert! This is probably the reason why I don't make too many summer fruit pies (give me apple pie and pumpkin pie during the fall any day!), which is something I'm going to change this year.
Starting with this no bake strawberry pie today!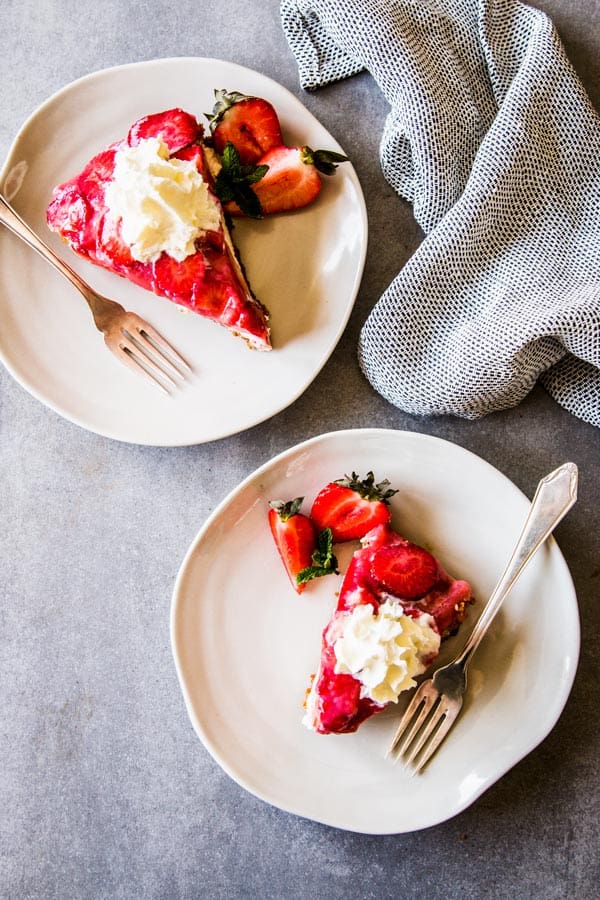 Simple to make with just a few ingredients you can find at any grocery store
Filled with fresh fruit: 3 pounds of fresh strawberries go into this pie!!
No artificial flavors or colors: I make my strawberry pie without strawberry gelatin, because I want all natural strawberry flavor.
Actually it's without any gelatin at all because I wanted this to be a creamy pie and not a full-on cheesecake, so if you're entertaining vegetarians, this would be the perfect recipe.
My kids love this pie and every time there's strawberries on sale at the store, they ask me to make it for them. I almost never say no ? and how could I if it's this easy to make?!
How to make my creamy no bake strawberry pie: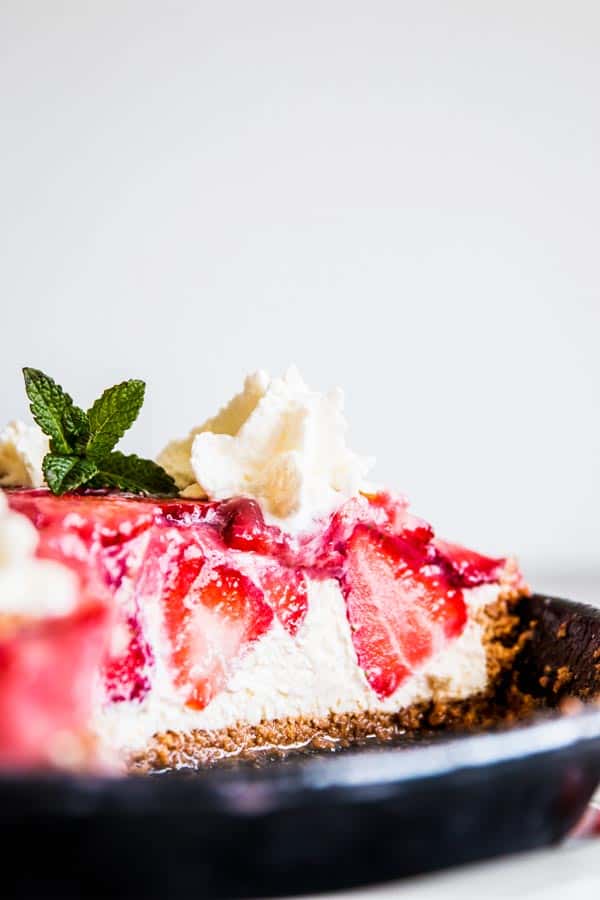 The short version:
If you opt to make your own graham cracker crust, this is your first step.
Make the strawberry sauce for the topping.
While the sauce is cooling, combine whipped cream and softened cream cheese. Fill the cooled crust with the cream filling.
Pick around 1.5 pounds of evenly medium-sized strawberries and hull. Gently press them pointy side up into the cream filling.
Evenly spread strawberry sauce on top, filling all the gaps between the berries, reserving 1 tablespoon.
Slice the remaining strawberries into rounds and arrange on top of the pie. Brush with the remaining sauce and chill overnight.
Easy peasy!
More detailed step by step instructions:
Step 1: The pie crust.
I love graham cracker crusts in no bake pies. They get soft and delicious and they're probably my favorite part of summer pies.
You can use your favorite recipe to make a crust or you can use a store-bought one. No judgment here! I know how crazy life can get.
If you're making your own, it's not 100% no bake if you opt to bake your crust to set it. But you'll forgive me that, right?
Step 2: The strawberry sauce.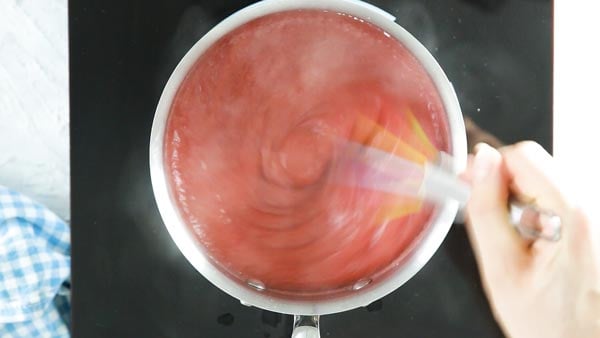 I'm not a huge fan of flavored gelatin, so I make my strawberry pie without it.
The strawberry sauce for this pie is made with one entire pound (!) of blended strawberries, sugar and cornstarch for maximum fruit flavor. All you have to do is hull and blend 1lb of strawberries, add enough water to yield 2 cups and whisk in sugar and cornstarch.
Then bring it to a boil while whisking and simmer until thickened (this will take less than a minute). Set aside to cool completely while you assemble the rest of the pie. So simple!
Step 3: The creamy filling.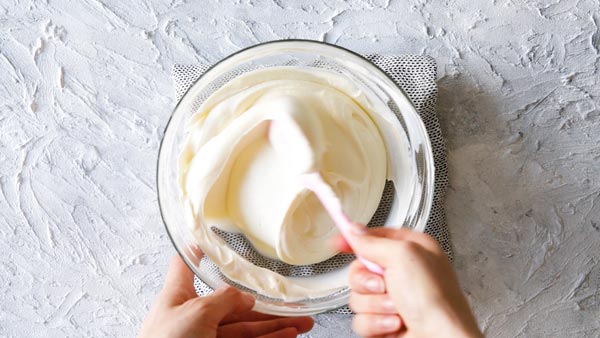 Now comes the fun part! The cheesecake layer ? You need softened cream cheese and whipped cream for this. Yes, that's all!
Feel free to use store-bought whipped cream or frozen whipped topping. If you opt to make your own whipped cream, you can follow my easy tutorial here!
The most important part in this step is to be gentle when folding the whipped cream and cream cheese together, so you don't knock out too much air and keep the fluffy texture of the whipped cream.
Step 4: Assembling the pie.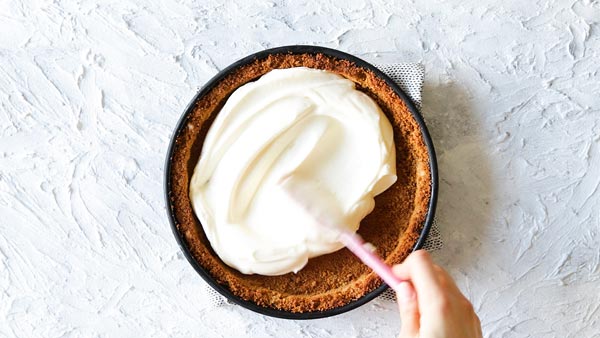 Now you're already ready to assemble the pie!
First, pour the creamy filling into the graham cracker crust. Then top with a layer of hulled strawberries, pointy side up. Really cram that pie with strawberries to have as little gaps as possible.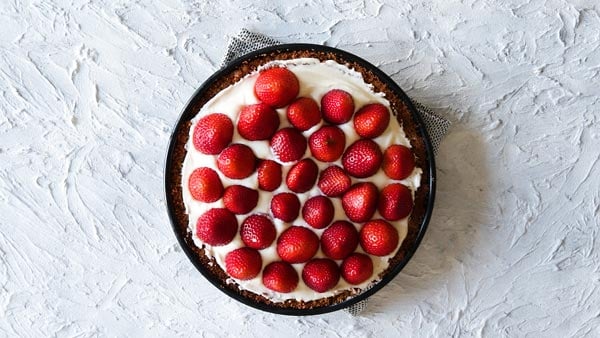 Little tip on the side: Try to use evenly sized strawberries for a nice finish! Or if you want your pie to have a little dome towards the center, use larger strawberries in the middle of the pie and smaller ones on the outside.
Spread the cooled strawberry sauce all over the pie, reserving around 2 tablespoons. Make sure to fill all the small nooks between the strawberries.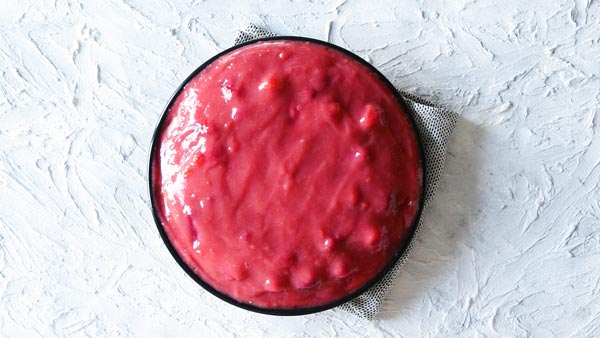 Then top with a layer of sliced strawberries and brush with the remaining sauce.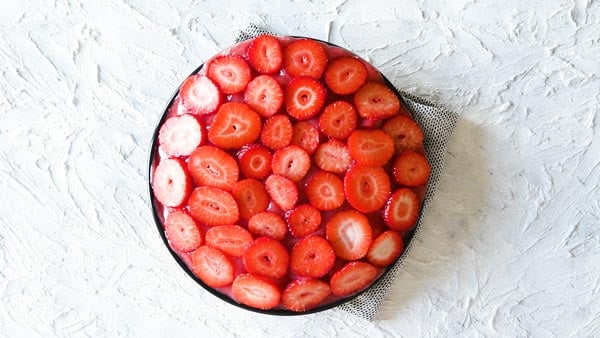 Step 5: Chilling the pie.
Now comes the hardest part: Waiting for the pie to chill ? I usually do overnight for best results, but it's slice-able after about 6 hours in the fridge.
For easiest slicing, freeze the chilled pie for 20-30 minutes before serving. This will yield clean and even slices for the prettiest look!
You can garnish the pie however you like before serving – I like using some whipped cream, more fresh strawberries and a few mint leaves.
Can you freeze the leftovers?
Yes, you can! Not that there's ever any leftovers of this pie, though ? Just defrost it in the fridge.
The strawberries do change their texture a bit, but it's still nice to eat.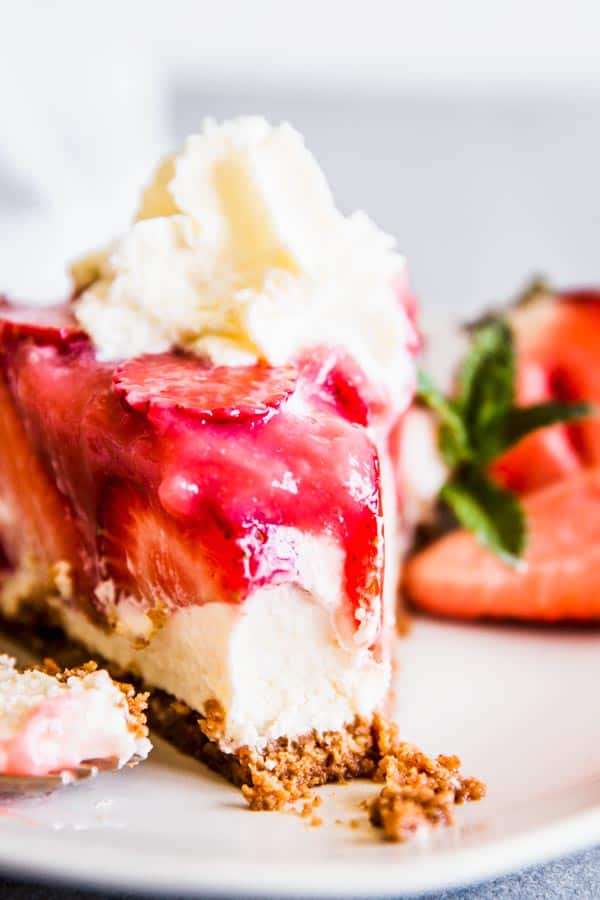 I hope you're as thankful as I am that I'm getting over my dessert photography reluctance. Watch this space, way more delicious desserts headed your way the next few months!
Get the printable recipe for this no bake strawberry cream cheese pie:
Printable recipe
Printable Recipe Card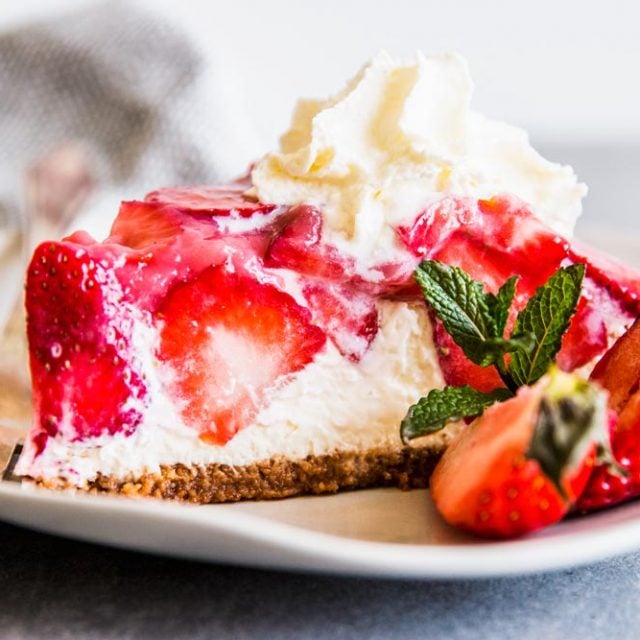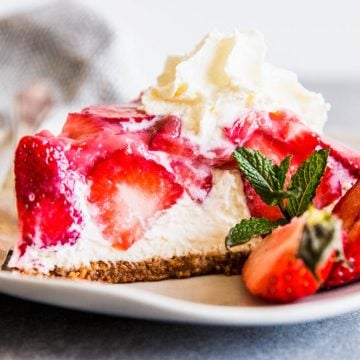 No Bake Strawberry Pie with Cream Cheese Filling
This No Bake Strawberry Pie with Cream Cheese Filling is everything you want in a spring and summer dessert: Easy to make, full of fresh fruit (3 pounds of strawberries in there!) and with a cool and creamy layer of cheesecake filling. Yum!
made it? tap the stars to add your rating!
Instructions
Prep strawberries: Set aside 2 pounds of the strawberries. Blend the remaining pound (about 1 ½ cups) until smooth. Add water to equal 2 cups, then pour into a small saucepan.

Make strawberry sauce: Add the granulated sugar and cornstarch to the blended strawberries in the saucepan. Bring to a boil, stirring, for one minute. Remove from the heat and cool completely.

Make cream layer: While the strawberry sauce is cooling, make the cheesecake layer. Beat the softened cream cheese, then carefully fold in the whipped cream until smooth.

Assemble the pie: Spread cream cheese mix in the bottom of the pie crust; arrange enough reserved berries on top with the pointy end up to fill the entire pie. Pour cooled strawberry sauce over the top and spread between all the nooks. Slice the remaining strawberries into rounds and layer on top of the pie.

Chill the pie: Refrigerate for at least 6 hours, better overnight. For easiest slicing, freeze the chilled pie 20-30 minutes before serving. To serve, top with whipped cream, extra berries and fresh mint, if you like.
Want to save this recipe?
Create an account for free to start your personal recipe box. Save any recipe by tapping the heart in the bottom right corner.
Join Now
Nutrition
Calories:
302
kcal
Carbohydrates:
31
g
Protein:
3
g
Fat:
18
g
Saturated Fat:
9
g
Cholesterol:
49
mg
Sodium:
160
mg
Potassium:
195
mg
Fiber:
2
g
Sugar:
19
g
Vitamin A:
575
IU
Vitamin C:
55.8
mg
Calcium:
55
mg
Iron:
0.9
mg
Nutrition is an estimate.
More recipe information