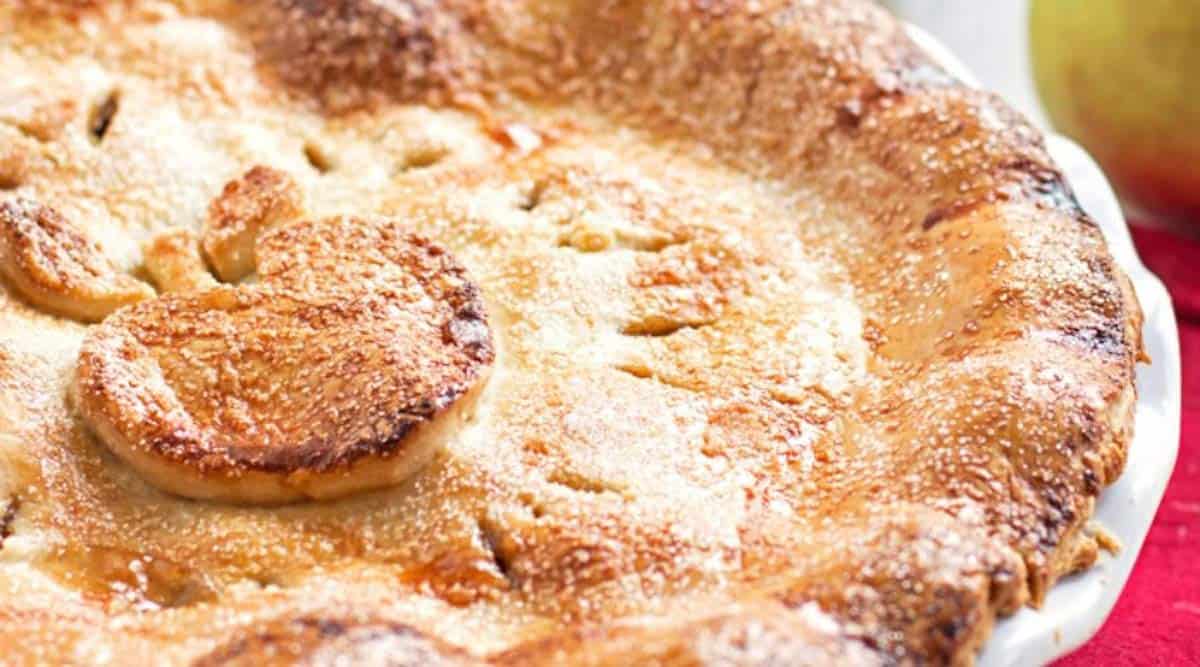 made it? tap the stars to add your rating!
I live for apple pie! I make both my crust and my apple pie filling from scratch, but you can defintiely use a store-bought double crust instead. This is my take on Sam Sifton's recipe for this Thanksgiving classic on the dessert table – just as traditional as his but a little easier and more foolproof to make. Your guests will definitely declare this the best pie they ever had!
If you're intimidated by pie crust, don't be! I have an entire post on all the detailed steps on
how to make pie crust from scratch
, so go read that if you need a little extra help.
Recommended Equipment:
2 Medium Mixing Bowls

Pastry Blender (OR your hands)

Pie Dish
Ingredients
For the crust:
2 ½

cups

all-purpose flour

½

teaspoon

salt

¾

cup

cold unsalted butter cubed

1

teaspoon

apple cider vinegar

½

cup

ice-cold water
For the filling:
2

tablespoons

unsalted butter

3

pounds

apples

(peeled, cored and sliced)

½

teaspoon

cinnamon

¼

teaspoon

allspice

¼

teaspoon

salt

½

cup

sugar

2

tablespoons

brown sugar

3

tablespoons

cornstarch

½

tablespoon

apple cider vinegar
Instructions
Make the crust:
Blend dry ingredients and butter: Mix flour and salt in a large mixing bowl. Add the butter and blend using pastry blenders or your fingers until you have a bowl filled with crumbs.

Make pastry: Mix vinegar and water in a measuring jug. Slowly pour over dry ingredients and mix just until it comes together into a dough. Push into a ball. Do not knead or overwork! Divide into 2 disks, wrap in foil and chill for 1 hour.
Make the filling:
Sauté Apples: Melt the butter in a large sauté pan or skillet over medium heat. Add the apples and toss to coat with butter.

Cook apples: Stir in cinnamon, allspice, salt and both sugars. Cook for around 5 minutes, or until the apples have softened.

Thicken: Sprinkle the cornstarch over the apple mixture and continue cooking 3 to five minutes, stirring occasionally until the juices have thickened.

Finish and cool: Stir in the vinegar, taste test and then cool completely in a bowl.
Assemble and bake the pie:
Place a baking sheet in the lower half of the oven and preheat to 425°F.

Roll out crust: Place 1 disk of the pastry between 2 sheets of baking parchment. Roll into a circle slightly larger than a 9 inch pie dish. Fit into the lightly greased pie dish and place back into the fridge to chill. Roll out top crust as directed for bottom crust into an about 10 inch circle, and chill between the parchment sheets until ready to use.

Fill pie: Remove the pie dish with the dough from the freezer and add the apple pie filling to it. Top with the remaining dough. Seal the edges, trim and crimp. Make several incisions in the top for steam vents.

Finish: Lightly brush the top of the pie with egg and sprinkle with sugar.

Bake: Place the pie on the hot baking sheet and bake for 20 minutes before reducing the heat to 375°F. Continue baking for 30-40 minutes or until the top is golden brown. Remove and cool for about 2 hours.
Add Your Review
Nora's Tips
Ingredient Notes:
Crust:
Butter: The crust turns out best with a high-quality European-style butter (it has a slightly higher fat content), but it's delicious with regular butter, too. Please don't use buttery spread or margarine.
Make sure to use butter cold from the fridge and ice-cold water. It yields the flakiest pie crust.
The apple cider vinegar doesn't affect the taste of the pie pastry, but it helps to make the pie crust flaky. Vinegar helps to stop the gluten from developing. Developing the gluten would make for a tough crust, so please don't skip it out of fear you're going to end up with a tart crust.
Crisco: If you prefer making a pie crust with shortening instead of butter, use all shortening/Crisco in place of the butter called for in my pies crust recipe above. Cut the flour back to 2 ¼ cup.
Vegan or dairy free crust: Follow the recipe as written, using solid coconut oil or vegan margarine in place of the butter.
Egg wash: If you can't use eggs, or don't want to, here are some alternatives to make your pie crust look good after baking:
Half-and-half or heavy cream can be used for a lightly shiny pie crust
Water or milk can be used for a browned crust
Filling:
Apples: Most people consider Granny Smith the best apples for apple pie. Though I do have to admit, I prefer Honeycrisp or Jonathan.
Allspice: If you don't have any allspice, you can try using pumpkin spice instead. It will change the taste a little, but I like my apple pie filling spiced.
Salt: The salt in the filling makes it more flavorful and compliments the sweet acidity of the apples. So don't skip! Thanksgiving isn't a day to count your sodium grams 😅
Brown sugar: You can use extra white sugar in place of the brown sugar, you'll lose some of the caramel notes in the filling.
Cornstarch: Can use the same amount of flour if you don't have any cornstarch on hand. It tends to get lumpy a little more, so make sure to stir well.
Apple cider vinegar: THIS is what makes Sam Sifton's apple pie filling SO special! It adds  something amazing I can't quite place my finger on to the taste of the finished apple pie. It definitely doesn't taste of vinegar in the end.
Baking Tips:
to speed up the cooling of the filling, spread it on a baking sheet or in a large casserole dish.
if your pie pastry is very chilled and hard, it can be easier to roll it after it's been at room temperature for 5-10 minutes. Do not let it stand for longer though or the butter will get soft and your pie crust could turn out dense and gummy.
do not skip pre-heating the baking sheet, it helps so much with browning the bottom crust!
if necessary, loosely cover the pie with a piece of aluminum foil after 20-30 minutes of baking time to prevent it from getting too dark on top
cool the finished pie on a cooling rack on the counter to keep a soggy bottom away
Make Ahead Instructions:
You can make apple pie up to 2 days ahead. Store it in the fridge or on the counter covered with a clean tea towel to keep flies and smells away.
Allow to come to room temperature or slightly warm in the oven before serving.
Freezer Instructions:
Apple pies can be frozen up to 2 months.
baked apple pie: cool completely, then wrap in plastic foil first, then in aluminum foil. Label with the name and use-by date before freezing. Bake at 300°F for 45-60 minutes to defrost and warm.
unbaked apple pie: carefully wrap in plastic foil first, then in aluminum foil, making sure you're not turning the pie or the filing will leak. Label with the name and use-by date before freezing, making sure the pie is level in the freezer. Thaw in the fridge before baking as directed in the recipe.
My favorite Pie Making Tools:
I will say that I almost never use a pastry blender, because I just prefer making pie crust by hand. But I know a lot of people love them, and this one from OXO is hands down the best I've ever tried.
More recipe information
Join my Newsletter to Get Recipes in Your Inbox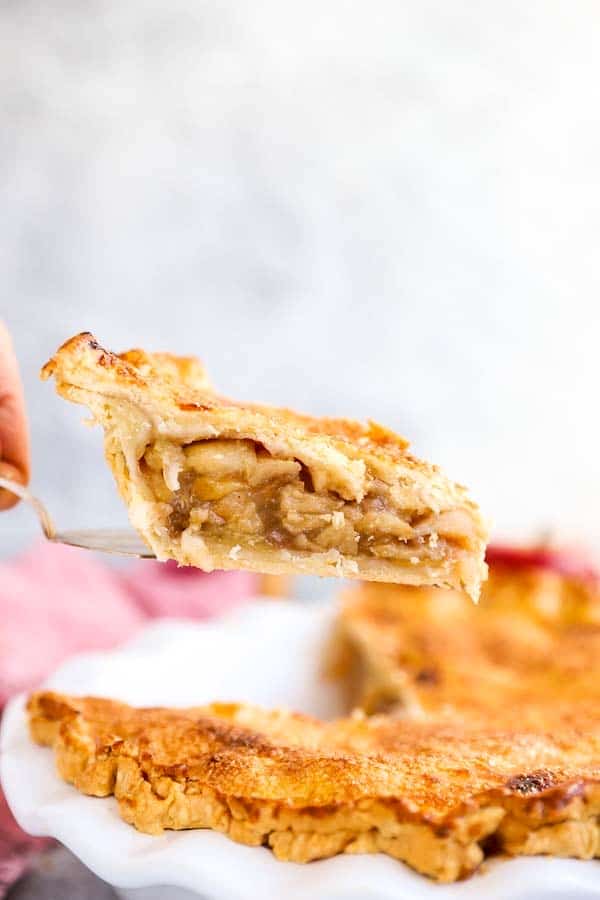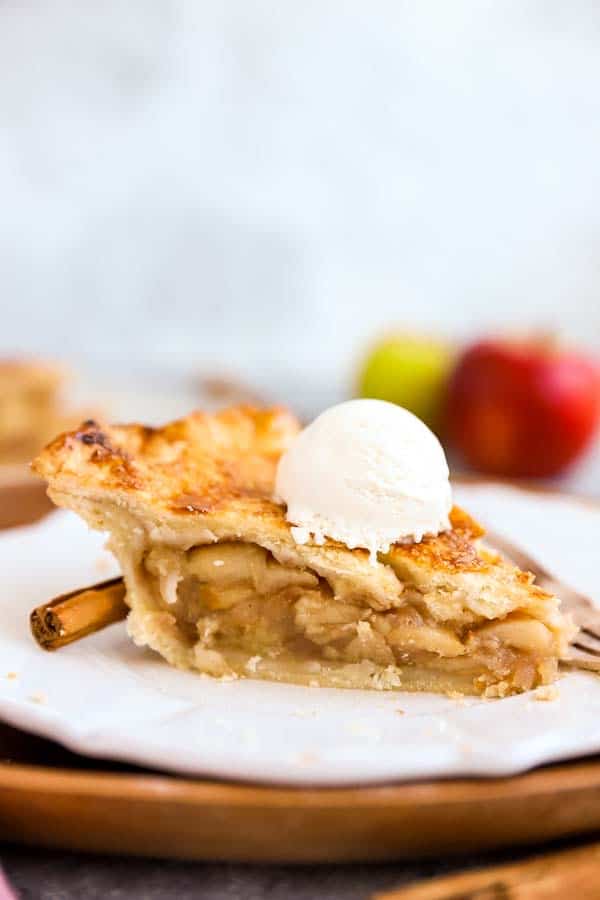 More Thanksgiving Desserts to Try:
Read my experience with Thanksgiving and Sam Sifton's original apple pie recipe on Goedeker's!