Are you looking for the BEST Apple Fritter recipe? You should give this easy homemade version a try. The apple rings are fried and then dipped into cinnamon sugar – fall perfection!
I love old fashioned desserts like grandma used to make, and these apple fritters are no exception. Full of all your favorite autumn flavors, they're the perfect treat to enjoy in your favorite sweater on the porch on crisp fall days! For more cozy apple recipes, see my Quick Apple Crisp and my Brown Sugar Cinnamon Apples!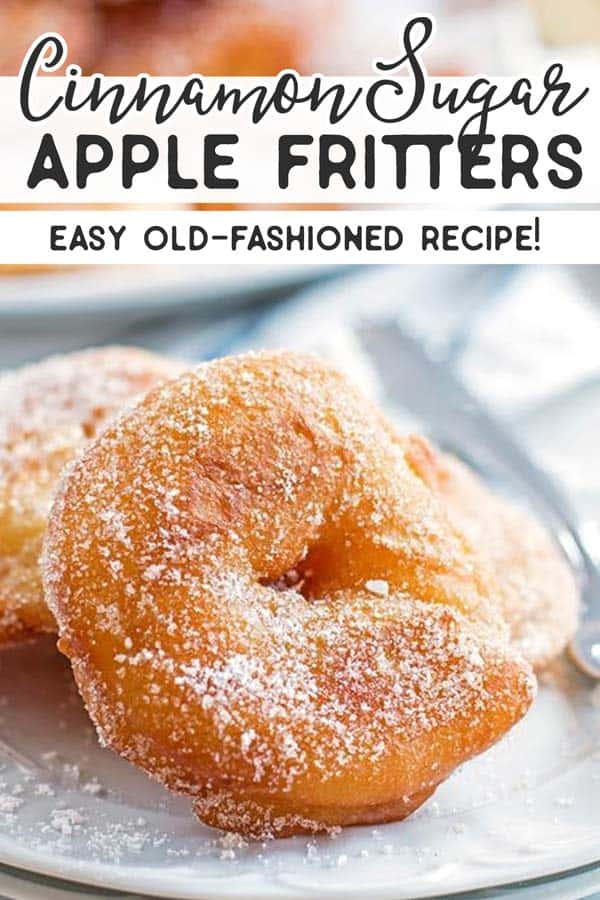 Old-fashioned apple fritters like from your best friend's German grandma? The ones you get at those tiny country fairs? Yes, they're the best.
These cute little apple rings are a favorite come fall with all the fairs around.
But what can I say – they can be hard to come by. And let's be honest: To buy them in the quantities the kids NEED to eat them gets way too expensive.
All you need to make a just as tasty but cheaper (and more accessible!) alternative at home are a few apples, ingredients for a simple batter and some oil.
Ok, a lot of oil…
And don't be afraid of the frying part, these apple rings are probably one of the easiest things to make!
This Old-Fashioned Apple Fritter Recipe
only needs a few ingredients you either have in your pantry already or can buy at the regular grocery store
is super easy to make – even though the apple fritters are such a special treat!
makes your home smell like fall – apples, cinnamon and all the warm and cozy flavors!
I'm really trying to make a few simple family traditions happen around the year, and these apple fritters are one I want to keep up for the autumn season.
Along with some other fall recipes (like my absolutely-not-healthy-but-oh-so-good Pumpkin Bread and my Pumpkin Waffles), these are the thing I want my kids to talk about when they remember the autumn days of their childhood ?
How to Make Apple Fritters
Read on for the detailed steps, or scroll down for more tips to make this recipe foolproof and the printable recipe card.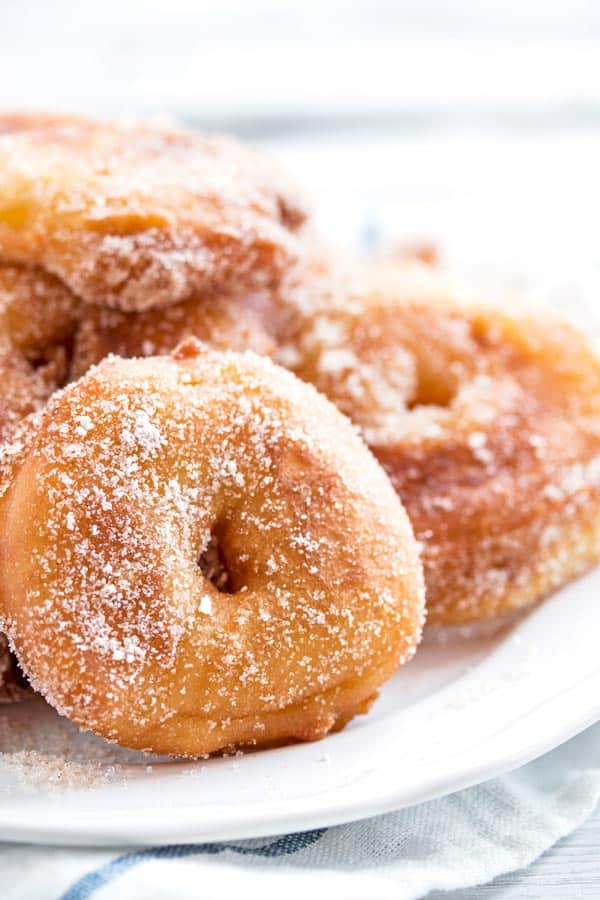 ► 1 Prep: Prepare your vessel for frying. You can either use a deep fat fryer (just follow manufacturer's instructions on how to preheat it). Or make them on the stove!
I don't even own a fryer, I just make them in a deep cast iron skillet. I slowly heat the oil over medium heat and check it often with a kitchen thermometer.
For further prep, put a few layers of paper towels on a large plate (for draining the hot fritters), along with a medium bowl of cinnamon sugar and a plate for the finished fritters.
► 2 Prepare Apples: I'm generally too lazy to peel things like peaches and apples when making desserts, but for apple fritters I take the burden of peeling upon myself ?
Peel, core and then slice the apples into ½ inch thick rings. If you want to keep them from browning, place them in a bowl with ice cold water plus lemon juice.
Coring works best with an apple corer, but if you don't have one you can first slice the apples and then cut out the core with a knife or a small round cookie cutter.
► 3 Make Batter: Combine all dry ingredients in a large bowl and whisk together well (you want to evenly distribute that baking powder!) – then add all the wet ingredients and whisk until a smooth batter forms. You cannot overmix this apple fritter batter. Easy peasy!
► 4 Make Apple Fritters: Drop a small amount of batter into the hot oil to check if it's ready. If the batter browns and floats to the surface, you're ready to go!
Using metal tongues coat an apple ring with batter and gently drop it into the hot oil (I can do 3 fritters at a time in my 12 inch skillet). Fry for 1-2 minutes on each side until golden and puffy.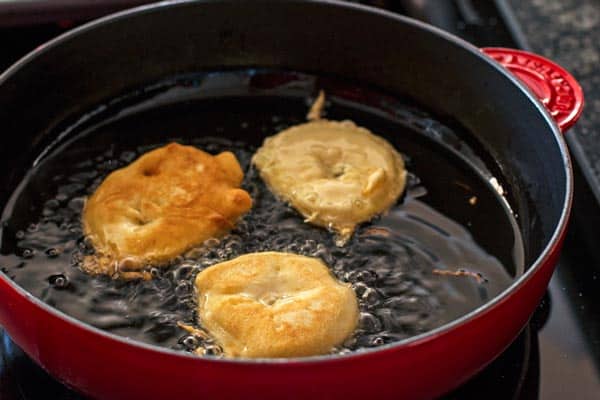 Remove from the oil and quickly drain on the paper towels. Toss it in the cinnamon sugar mixture while still warm (important, or the cinnamon sugar won't stick to the apple fritters) and set aside on the plate.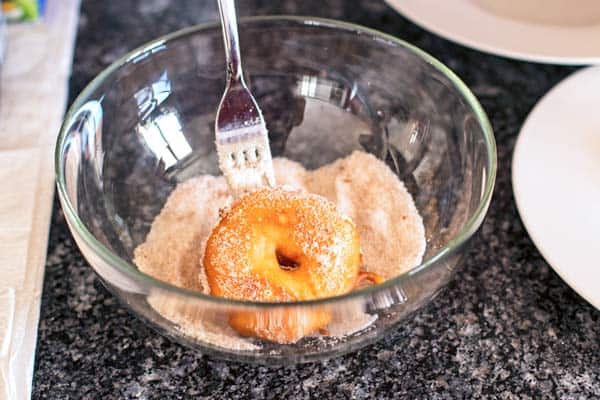 Keep going until you've used all the batter (or all the apple rings, but I usually run out of batter before I run out of apple).
Absolutely serve these warm! They serve warm vanilla sauce with the apple fritters at our country fair, but I usually don't feel like doing even more cooking ?
Tips for the BEST Apple Fritters:
use firm, tart apples for best results – definitely apples that hold their shape during cooking! Something like a Honeycrisp or Granny Smith would work well.
if you don't like cinnamon, you can just toss them in some sugar, or dust the apple fritters with powdered sugar instead
these don't keep well, so only make as many as you're wanting to eat immediately (scroll down to see how to scale down this recipe for less people)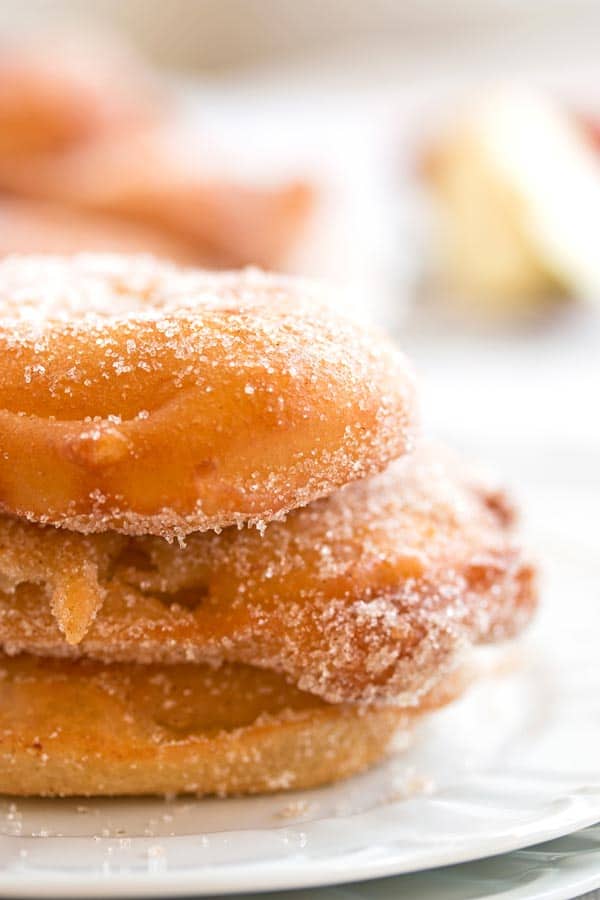 Can you make this apple fritter recipe with other types of fruit?
Yes, you can use this batter on many fruits!
You can coat banana pieces, firm peach slices, firm pears or even quartered plums in this batter and then deep fry it to make all kinds of fritters!
Healthy? Not so much (maybe a little, there's fruit in it?!). Worth it? You bet.
More Apple Recipes You'll Love:
And if you liked these recipes, there's plenty more to make family meals easier for you! Be sure to join my FREE recipe circle here to get easy recipes by email.
P.S: If you tried this apple fritter recipe, why not leave me a comment below to let me know how you liked it? I LOVE interacting with you and hearing about your experience with my recipe. Also, by adding a comment and star rating you're helping Savory Nothings grow and get even better for you!
Printable recipe
Printable Recipe Card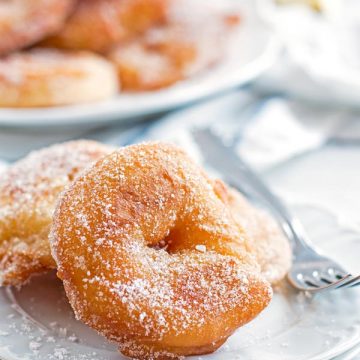 Cinnamon Sugar Apple Fritters
These Apple Fritter Rings are a delicious fall treat you can easily make at home with just a handful ingredients and time!
made it? tap the stars to add your rating!
Ingredients
For the Cinnamon Sugar
¼

cup

sugar

1

teaspoon

cinnamon
For the Fritters
1 ½

cups

flour

3

tablespoons

sugar

½

teaspoon

cinnamon

1

teaspoon

baking powder

⅛

teaspoon

salt

1

cups

milk

1

tablespoon

maple syrup

1

egg

1

tablespoon

oil

4

medium apples

peeled, cored and cut into ½ inch thick rings
Instructions
Prep: Slowly heat the 2 cups vegetable oil in a deep cast iron skillet or prepare the deep fat fryer. Set a plate next to your fryer with a thick layer of paper towels. Mix the sugar and cinnamon for the cinnamon sugar coating in a medium bowl and set it next to the paper towel lined plate. Add a large plate for the finished fritters.

Make apple fritter batter: In a large bowl whisk together the flour, sugar, cinnamon, baking powder and salt. Add the milk, maple syrup, egg and 1 tablespoon oil and whisk until a thick and smooth batter forms.

Check the oil: Check if your oil is hot enough by dropping a small amount of batter into it. If the batter browns and quickly floats to the surface you're ready to go!

Fry the apples: Using metal tongues coat an apple ring with batter and gently drop it into the hot oil. Fry for 1-2 minutes on each side until golden and puffy. Remove from the oil and quickly drain on the paper towels. Toss it in the cinnamon sugar mixture while still warm and set aside on the plate. Proceed in the same way with the remaining apple slices until the entire batter has been used. Depending on the size of your skillet or fryer you can do multiple rings at the same time.
Want to save this recipe?
Create an account for free to start your personal recipe box. Save any recipe by tapping the heart in the bottom right corner.
Join Now
Nutrition
Calories:
106
kcal
Carbohydrates:
18
g
Protein:
2
g
Fat:
3
g
Saturated Fat:
2
g
Cholesterol:
9
mg
Sodium:
24
mg
Potassium:
92
mg
Fiber:
1
g
Sugar:
9
g
Vitamin A:
55
IU
Vitamin C:
2
mg
Calcium:
30
mg
Iron:
1
mg
Nutrition is an estimate.
More recipe information