These Brown Sugar Cinnamon Apples are so sweet and delicious! Loaded with all the flavors of fall and winter, these are sure to be a new family favorite.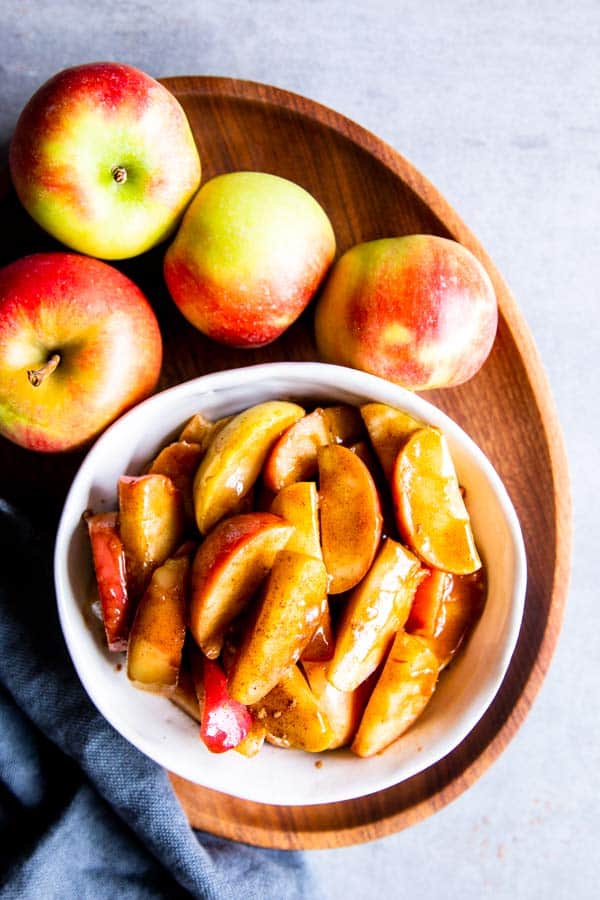 There's nothing I love more than warming, comforting food when it's cold outside.
I know, I know… Apples are so September. I should probably move on to gingerbread and Christmas cookies already, but let me hang on to one more second of fall. Actually, you can eat apples all winter long, so I don't feel bad one bit 😉
Both my girls are huge fruit-munchers, but my husband taught them that fruit can only be eaten sliced… Sigh. Not that I'd make them eat an apple in one piece, but a banana?? Please, give me a break from fruit slicing duty ?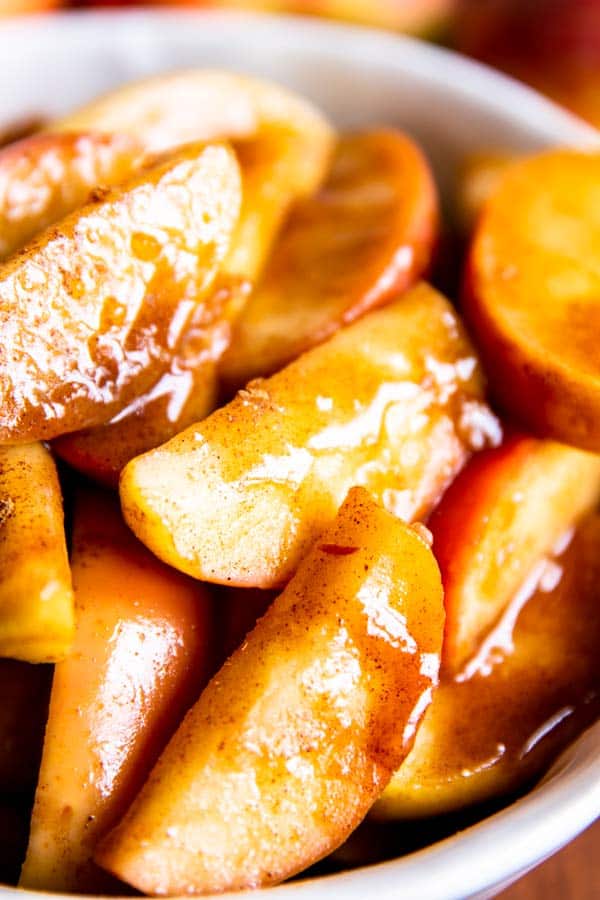 I have started turning to making something more exciting out of the fruit I already have to slice (I mean, when I'm too lazy to make apple cobbler, or apple crisp, or apple bars, or…), so we've been snacking on these delicious cinnamon apples a lot lately.
They are sweet without being too sugary (you know… they won't leave you with that sticky feeling all over your teeth), full of warming cinnamon flavors and coated in a delicious "caramel" sauce.
It's not actually caramel, because we're trying to keep snack time on the healthy over here. But it sure feels like caramel, and both me and the kids go absolutely crazy for it.
How to Make Cinnamon Apples:
Pick the right apples: This entirely depends on your preference – pick firmer apples if you want your apple slices to stay tender, use softer apples that break down easily if you want more of a chunky applesauce situation.
Peel – or don't peel: For me, this is a laziness thing. If I have to cut fruit, I don't want to have to peel it, too 😉 If you want more fall-apart soft apples, be sure to peel them, though.
Cook according to your taste: I've seen recipes that cook the apples for 2 minutes and I have seen recipes that cook the apples for an hour. I go with around 10 minutes, because that's how we like them best. You can experiment and see what works for you and your family!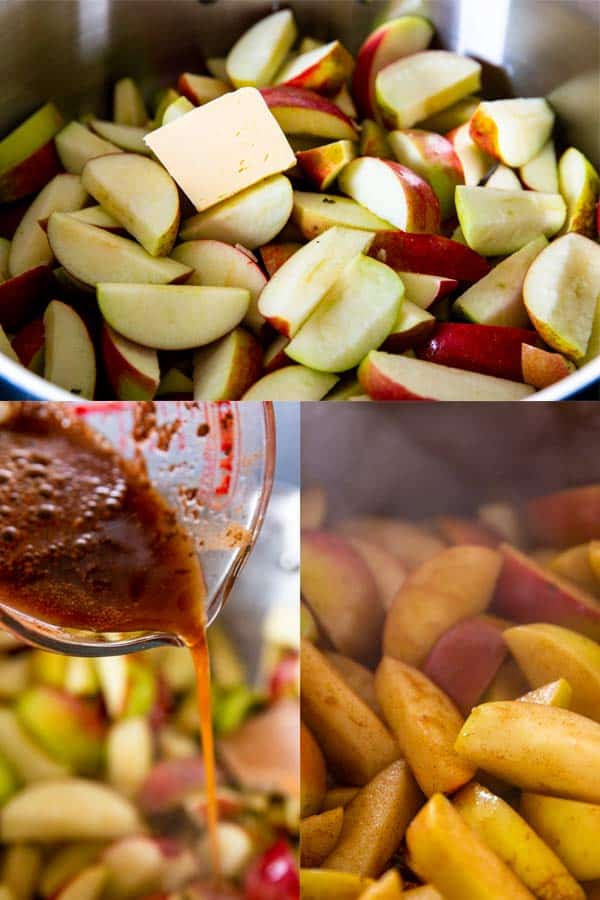 Can you freeze cinnamon apples?
Yes, you can! Just let them cool to room temperature, pack them into a freezer-safe container and freeze for up to 3 months.
Defrost and reheat until piping hot all the way through before serving.
Are cinnamon apples healthy?
I'm not going to start arguing over what's healthy and what's not. Everyone has their own definition.
In the big picture of things, this recipe is what I consider healthy. There's some sugar and butter, yes – but I'm a firm believer in eating everything, in balance and in not demonizing any ingredients.
If you don't want to use any sugar, you can substitute maple syrup or honey. If you don't want to add that little bit of fat… Well, then I don't want to be you 😉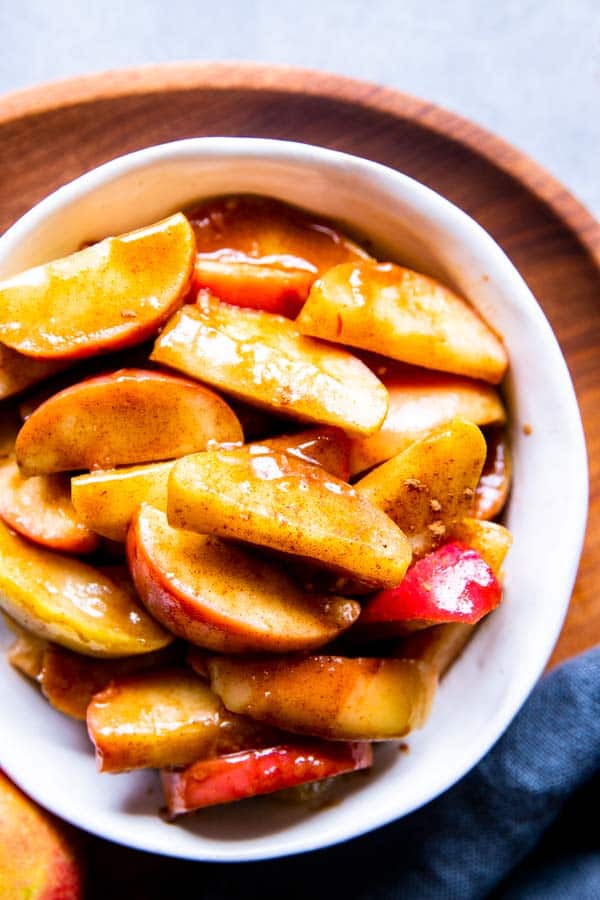 When do you even eat cinnamon apples?
You can serve these so many ways!
as a side dish to go along a nice pork main dish
topped with a scoop of vanilla ice cream as a light dessert
with yogurt and granola for breakfast or as a snack
Get the printable recipe here:
Printable recipe
Printable Recipe Card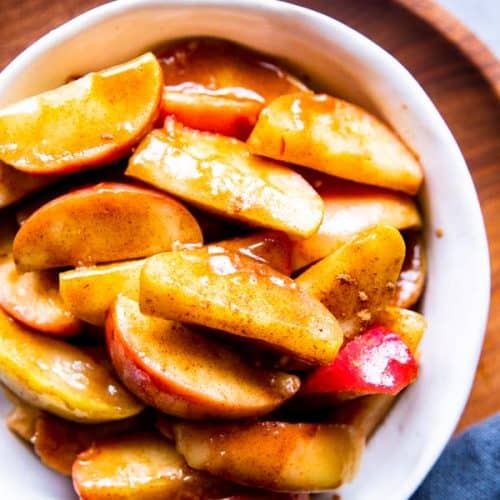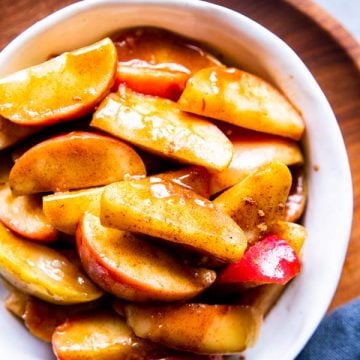 Brown Sugar Cinnamon Apples
These Brown Sugar Cinnamon Apples are so sweet and delicious! Loaded with all the flavors of fall and winter, these are sure to be a new family favorite.
made it? tap the stars to add your rating!
Ingredients
2

tablespoons

butter

2

pounds

apples

peeled if desired, cored and sliced (not too thin if you don't want them to break up - I like to cut each apple into 8 slices)

⅓

cup

apple juice

3

tablespoons

brown sugar

1

teaspoon

cinnamon

¼

teaspoon

allspice

Pinch

salt

½

tablespoon

cornstarch

½

teaspoon

apple cider vinegar
Instructions
Melt the butter in a large skillet. Add the apples and toss until coated.

Mix the apple juice, brown sugar, cinnamon, allspice and salt and stir into the skillet with the apples. Bring to a boil, then reduce to a simmer and cover. Simmer for 5-10 minutes, or longer, until the apples have softened to your liking.

Make a slurry from the cornstarch and 2 tablespoons cold water. Pour into the skillet with the apples and stir well until the liquids have thickened. Stir in the apple cider vinegar and serve warm.
Want to save this recipe?
Create an account for free to start your personal recipe box. Save any recipe by tapping the heart in the bottom right corner.
Join Now
Nutrition
Calories:
144
kcal
Carbohydrates:
29
g
Fat:
4
g
Saturated Fat:
2
g
Cholesterol:
10
mg
Sodium:
37
mg
Potassium:
183
mg
Fiber:
3
g
Sugar:
22
g
Vitamin A:
200
IU
Vitamin C:
6.9
mg
Calcium:
17
mg
Iron:
0.2
mg
Nutrition is an estimate.
More recipe information