No Bake Chocolate Peanut Butter Bars are a yummy dessert to make all year round. They are easy to make and taste delicious!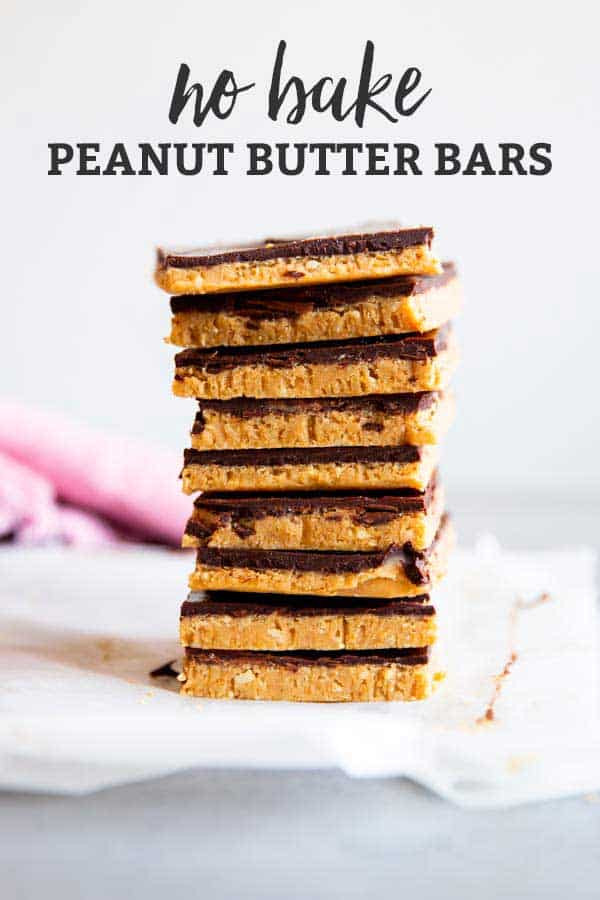 Here's a moment of truth for you.
I had my first ever peanut butter cup in March of this year. Idk. They always kind of freaked me out.
It wasn't even a Reese's. It was from Justin's. And then I tried a Reese's one and now I know why my husband is so obsessed with them.
So obviously I had to find a way to get my chocolate peanut butter fix if we just happen to run out of the actual peanut butter cups 😉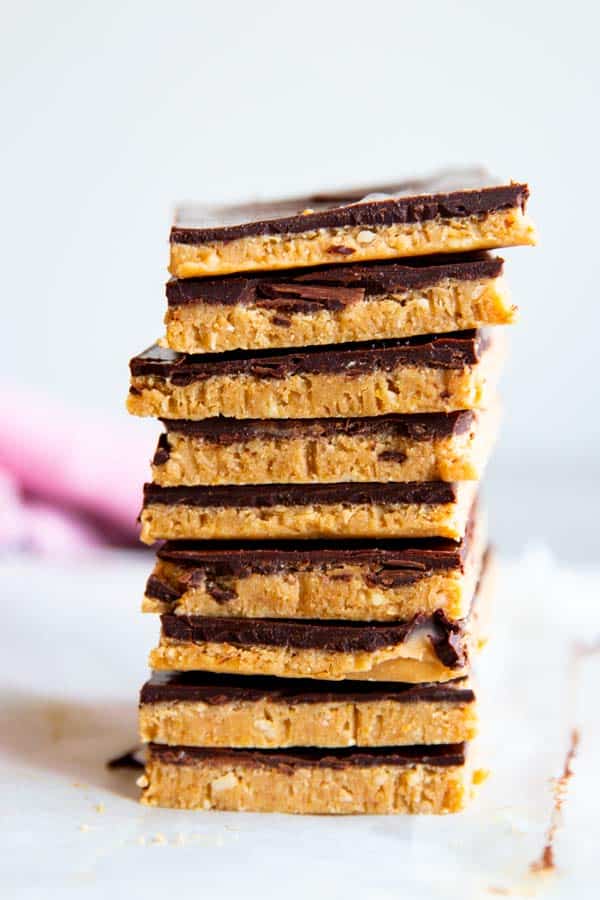 No Bake Chocolate Peanut Butter Bars
There's a sweet chocolate layer, a peanut-buttery peanut butter layer (I know, this is the best phrase you've read all day) – and they're EASY to make!
Even Hot Mess Proof if you buy graham cracker crumbs vs crushing your own, shhh, I won't tell anyone, sometimes a small shortcut saves the day.
They are kind of like a peanut butter cup with extra peanut butter filling. The no bake version of one of the best treats ever – Chocolate Chip Peanut Butter Cookies. And if you overdo it one night with these, you can always have a healthy start to your morning with a bowl of Healthy Chocolate Chip Peanut Butter Granola…
Ahem.
I first went off a recipe I found in my grandma's stack of magazine and back-of-carton clippings, but it was very 1970ies ? so I tweaked it a little and I think now it's perfect.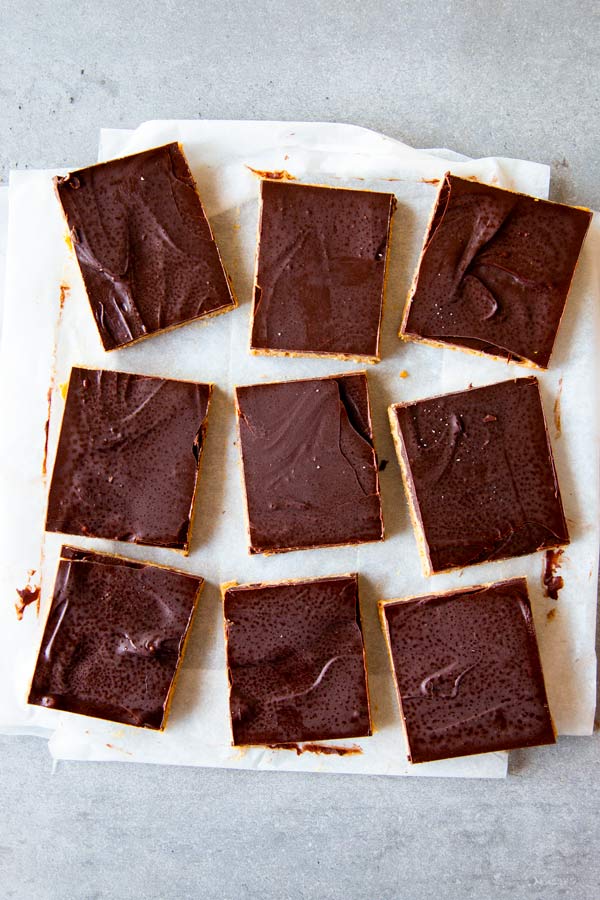 How do you make peanut butter bars?
Making no bake peanut butter bars is so easy!
The peanut butter layer is a melt-and-mix kind of deal, and the chocolate layer is… Well, too.
Prep time is pretty much 10 minutes, and then they just need to be chilled. I make them when I feel like I need a dessert bar, but I don't want to put in the extra work my No Bake Millionaire's Shortbread asks for (it's not a lot of extra work, but hey – I haven't slept through the night in 4.5 years ?).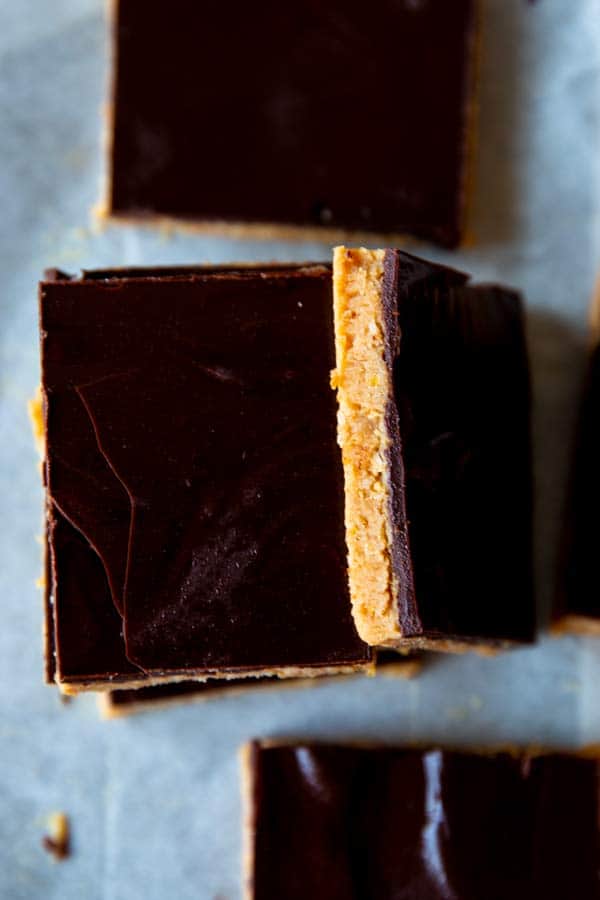 Here are my top tips:
Make sure to use icing sugar: Don't substitute granulated sugar, or your bars will have a gritty crunch to them. That's nice on molasses cookies, but not so much in a creamy peanut butter bar.
Use melting chocolate: Make sure to use melting chocolate chips! I once made the mistake of using chocolate that wasn't for melting, and it just turned into one big, seized-up ball.
Allow the bars to soften a little before slicing: Once the bars are chilled, they'll be very firm. Slicing is a lot easier if you leave them out on the counter for 10 minutes!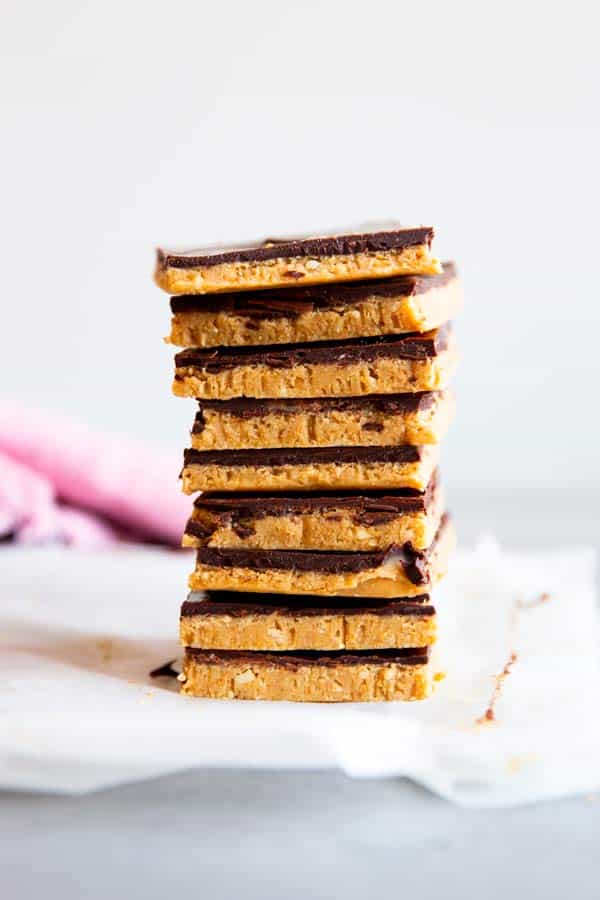 How to store Peanut Butter Bars:
Fridge: Pack the bars in an airtight container and store them in the fridge for up to a week.
Freezer: If you want to freeze these bars for longer, pack them in a container suitable for freezing and label them with the name and use-by date (freeze for up to 3 months). Leave them on the counter for 10 minutes to soften before eating.
Customize the bars:
Prefer all-natural peanut butter? The recipe still works OK, but the bars need to be kept in the freezer. The natural peanut butter is a lot runnier and the bars get very sticky if they're not frozen.
Want thinner bars? My husband actually prefers a thinner bar, so I make them in a 9×9 inch pan. Use an 8×8 inch pan for thicker bars.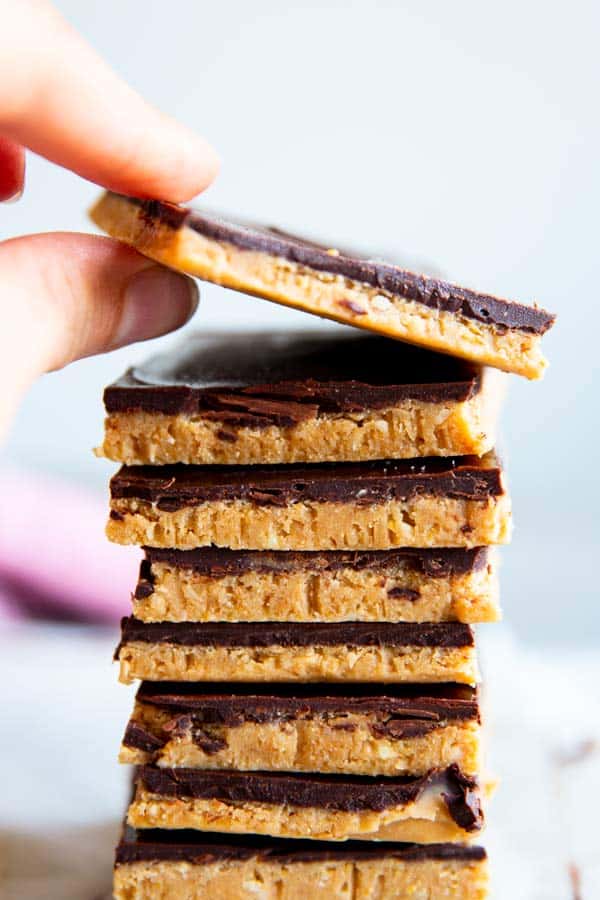 Grab the printable recipe here:
Printable recipe
Printable Recipe Card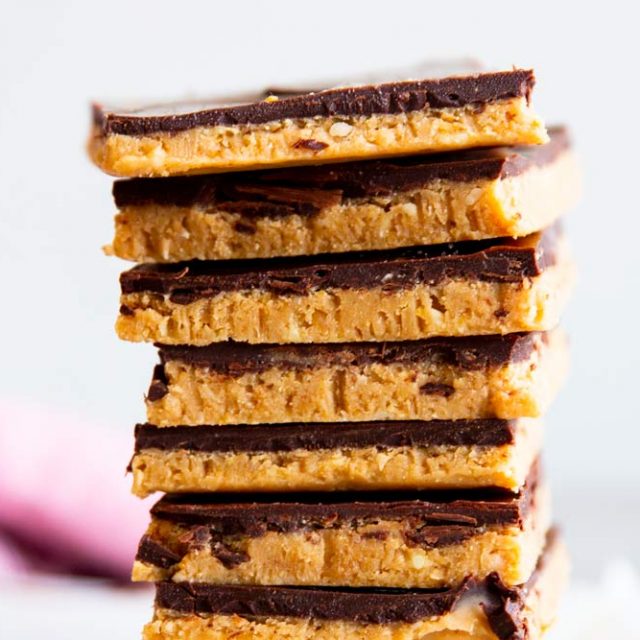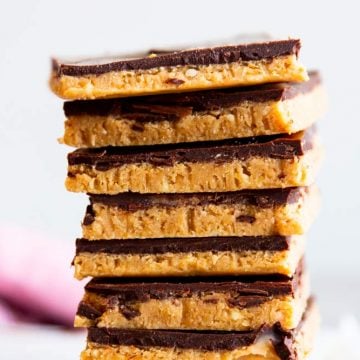 No Bake Chocolate Peanut Butter Bars
No Bake Chocolate Peanut Butter Bars are a yummy dessert to make all year round. They are easy to make and taste delicious!
made it? tap the stars to add your rating!
Ingredients
For the Peanut Butter Layer
½

cup

melted butter

1

cup

graham cracker crumbs

1

cup

powdered sugar

¾

cup

smooth peanut butter
For the Chocolate Layer
1

cup

semi-sweet melting chocolate chips

1

tablespoon

butter
Instructions
Line an 8x8 or 9x9 inch pan with parchment paper, leaving an overhang.

Stir together all ingredients for the peanut butter layer and spread in the prepared pan. Place in the freezer for 5 minutes.

In the meantime, melt the chocolate. Stir in the butter and pour over the peanut butter layer.

Chill the bars in the fridge until completely cooled and firm, about 4 hours. Leave them on the counter for 10 minutes before slicing them into bars.
Want to save this recipe?
Create an account for free to start your personal recipe box. Save any recipe by tapping the heart in the bottom right corner.
Join Now
Notes
The recipe makes 12 smaller bars OR 9 larger bars.
Nutrition
Calories:
264
kcal
Carbohydrates:
28
g
Protein:
5
g
Fat:
14
g
Saturated Fat:
5
g
Cholesterol:
3
mg
Sodium:
143
mg
Potassium:
205
mg
Fiber:
2
g
Sugar:
18
g
Vitamin A:
35
IU
Calcium:
20
mg
Iron:
1.5
mg
Nutrition is an estimate.
More recipe information