Peanut Butter Granola with Chocolate Chips is an easy and healthy breakfast you can prep ahead of time. It's my kids' favorite thing to eat in a fruit and yogurt parfait, or just plain with cold milk!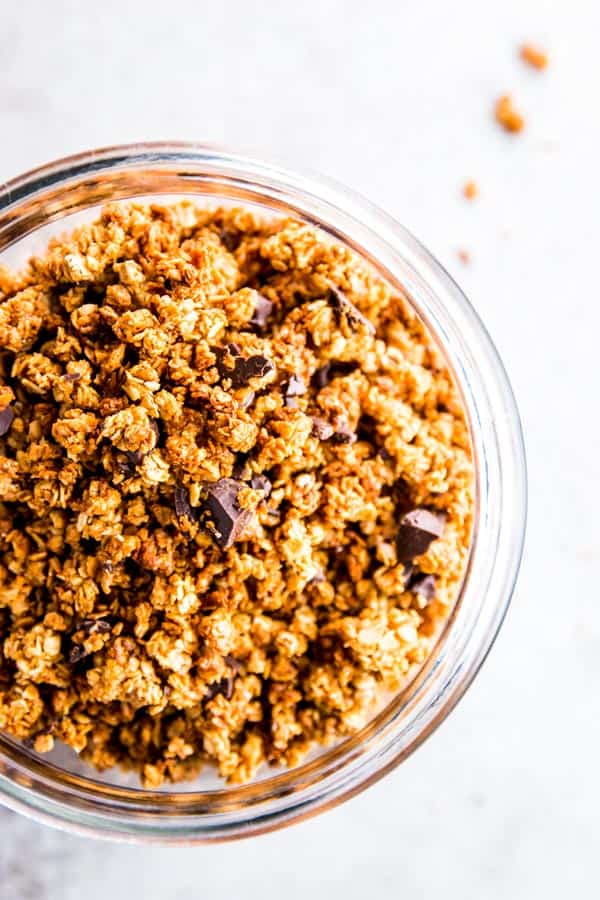 "Let's make granola!" has become a running gag in our household.
Because… I'm very slack-y about actually making the granola. Usually I will plan to make it, spend three weeks forgetting about it, go get the ingredients and then let them sit in the pantry for another month.
And then, out of the blue, I'll make that granola on a random day. One of our favorites is peanut butter granola – dark chocolate chunks NOT optional.
My recipe is made with minimal oil (I mean, there's peanut butter in there already!) and only honey as the sweetener.
I'd say it's doing pretty well on the wholesome side of things, and those chocolate chips? Well, they're pure soul food 😉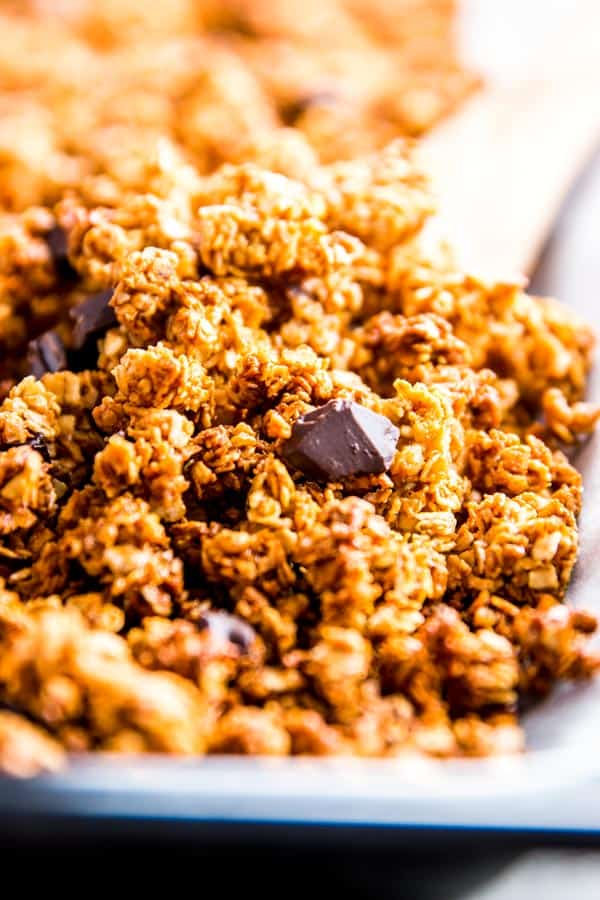 My top tips to make this peanut butter granola recipe foolproof:
Use small flake rolled oats. I love using part old-fashioned rolled oats in things like my baked oatmeal, but to get super cluster-y granola without adding a ton of oil, small flake is the way to go.
It's a bit of a science to get the granola to the right crunch-point. (Granola crunch-point is the technical term, yes.) It should turn into a nice, deep golden brown. If you take it out too pale, it will be chewy rather than crunchy (eww). If you bake it for too long, the honey will make it taste bitter and burnt. I bake mine around 20 minutes, but I always start watching it at 15 minutes. I just take out a small piece, blow on it to cool it quickly and test. If you catch it just slightly bitter, rest assured that it will go away after a few hours.
You can fix chewy granola. I've made this granola and realized after cooling that I took it out too early. It was still so chewy! But it's no problem at all. If this happens to you, just put it back on a baking sheet and bake it until it's crispy.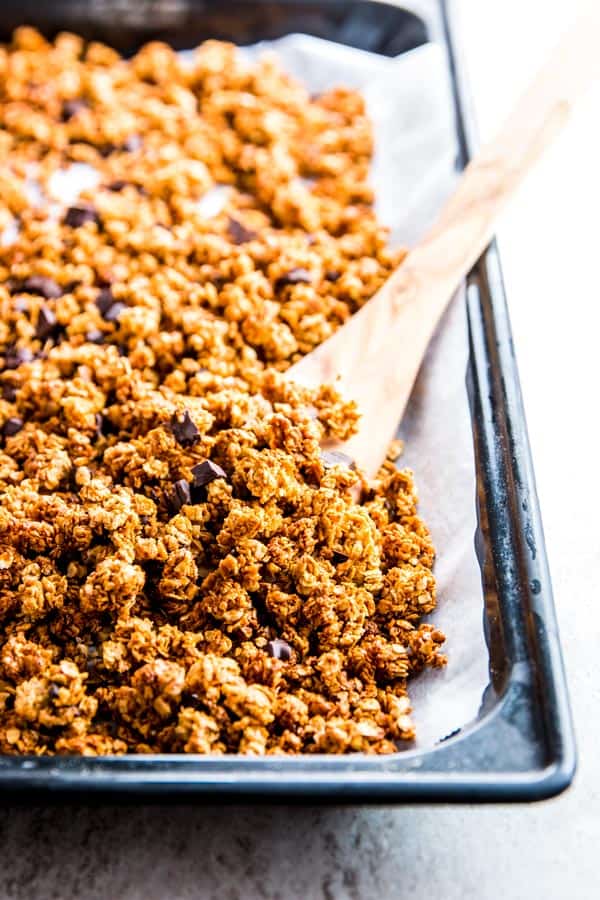 And finally, my top secret tip for the perfectly incorporated chocolate:
OK, I don't know that it's top secret (or just regular secret, haha!), but it's something I figured out after many batches of chocolate chip peanut butter granola, because:
I don't like it if the chocolate is just mixed in once everything has cooled, because then it will just be random dull pieces of chocolate floating around without any kind of attachment to the granola,
I don't like it if the chocolate melts and gets all messy and mixed into the granola, and
Apparently I'm very opinionated about chocolate in granolas.
Either way, here is what I do to perfectly incorporate the chocolate:
Make the granola:
Mix the ingredients as directed and bake the granola to golden-crispy perfection.
Cool the granola completely:
I know, this is the hardest part 😉 I eat about a quarter of each batch I make while it is cooling. Granola fresh out of the oven is just too hard to resist!
But know that this one tastes even better once the chocolate is added, so try to stay away from it until it is completely cool – even the baking sheet can't be warm anymore!
Mix in the chocolate:
Now, mix in the chocolate!
You can use chocolate chips, miniature chocolate chips, chocolate chunks or chop a bar yourself.
I usually do just chop some dark chocolate myself, because it gives it more texture and different sizes of chocolatey bits. But it's totally up to you – you just have to stir them in when the granola is cold!
Make sure they're evenly distributed, as where the chocolate sits now is where it will melt.
Melt the chocolate:
Now, put the tray of granola back into the hot oven for just barely half a minute.
It should just melt the chocolate, so that the chocolate chips are still intact but soft. Don't leave it in for too long or the chocolate will get too runny and make a mess of your granola.
Freeze the granola:
I know, this is starting to sound like complete craziness just to make granola… But hear me out: Once the pan is at room temperature again, you'll freeze your granola. If you don't have space in your freezer, just chill it or let it sit until the chocolate is hard again.
But freezing it makes it cool down way faster and more neatly (I find). And once the chocolate is hard again… You'll have the perfect chocolate chip peanut butter granola!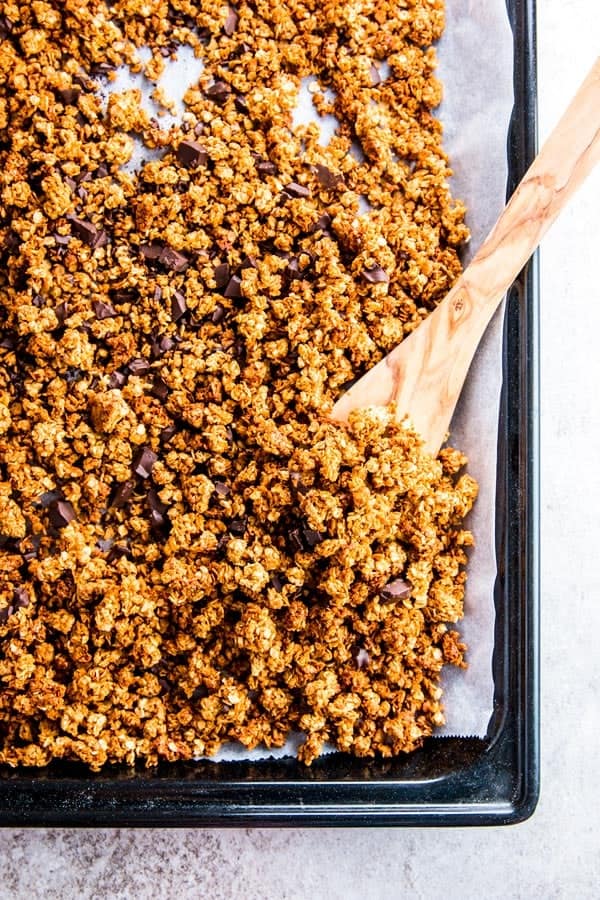 If this is too much for you…
… I'll cry a little. But it's OK, I understand.
You could technically just sprinkle the chocolate over the granola fresh out of the oven (the chocolate will melt from the residual heat), DO NOT STIR!!!!!, then wait for everything to cool and harden.
It IS waaaaay easier! BUT you cannot put your granola back into the oven if you happened to take it out while it's still chewy. You've been warned.
More easy breakfast recipes
PS If you try this recipe, please leave a review in the comment section and add a star rating in the recipe card – I appreciate your feedback! Follow along on Pinterest, Facebook or Instagram.
Printable recipe
Printable Recipe Card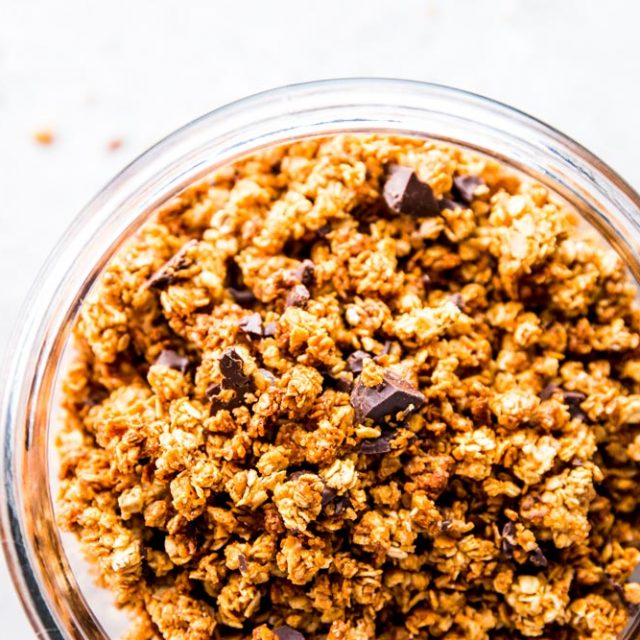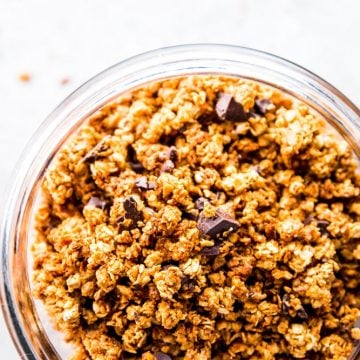 Peanut Butter Granola with Chocolate Chips
Peanut Butter Granola with Chocolate Chips is an easy and healthy breakfast you can prep ahead of time. It's my kids' favorite thing to eat in a fruit and yogurt parfait, or just plain with cold milk!
made it? tap the stars to add your rating!
Ingredients
4

cups

small flake rolled oats

1

cup

shredded coconut

½

teaspoon

cinnamon

¼

teaspoon

salt

½

cup

creamy peanut butter

½

cup

runny honey

2

tablespoons

oil

1

tablespoon

vanilla extract

yep, that's 1 whole tablespoon!

½

cup

dark chocolate chips
Instructions
Toast the oats:

Preheat the oven to 320°F. Evenly spread the oats on a rimmed baking sheet and toast in the hot oven for 10 minutes.

Mix the dry ingredients:

While the oats are toasting, mix the coconut, cinnamon and salt int a large mixing bowl. Once the oats are done toasting, add them to the bowl and mix them in carefully.

Warm the wet ingredients:

Combine the peanut butter, honey, oil and vanilla extract in a medium saucepan. Warm on medium-low heat (do not heat too much or the mix will seize and get lumpy).

Combine wet and dry:

Stir the warmed wet ingredients into the dry ingredients until fully combined. (If your oats happen to soak up a lot of liquid, you may need to add another tablespoon of oil if it seems dry.)

Bake:

Spread the granola mix on the rimmed baking sheets! For extra-crunchy granola and faster baking, divide it between two pans! Bake for around 20 minutes or until golden brown.

Add the chocolate:

Follow the directions in the post for adding the chocolate, OR sprinkle the chocolate chips over the hot granola (do not stir!) and let it sit untouched until it has fully cooled and the chocolate is hard.

Store:

Store in an airtight container for up to a week (I tend to find it loses its taste after then – but ours barely ever lasts that long anyways!)
Want to save this recipe?
Create an account for free to start your personal recipe box. Save any recipe by tapping the heart in the bottom right corner.
Join Now
Nutrition
Serving:
1
serving
Calories:
194
kcal
Carbohydrates:
22
g
Protein:
4
g
Fat:
10
g
Saturated Fat:
4
g
Sodium:
66
mg
Potassium:
158
mg
Fiber:
2
g
Sugar:
9
g
Vitamin C:
0.1
mg
Calcium:
27
mg
Iron:
1.1
mg
Nutrition is an estimate.
More recipe information