If you love peanut butter and chocolate, you'll be all over this Chocolate Peanut Butter Banana Smoothie!
An easy to throw together, thick and creamy smoothie your kids will love – the ultimate healthy at-home smoothie to make on busy school mornings.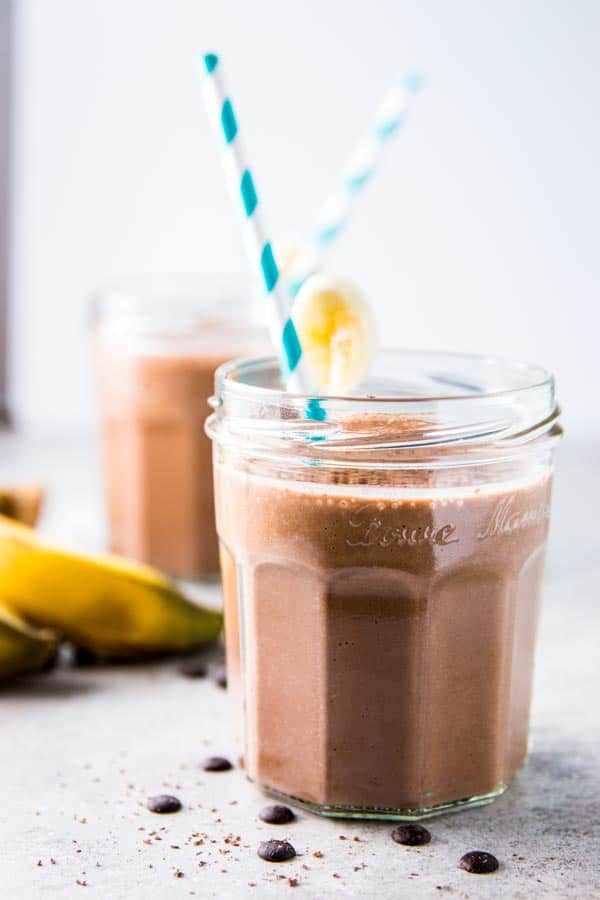 When it comes to smoothies, this Chocolate Peanut Butter Banana Smoothie is probably the one I make most often – this one and this Strawberry Banana one. Probably because my kids love it, it's easy to make and… Well, my kids love it.
I usually have all the things we need for this smoothie at home. I might will definitely slack with freezing the bananas, but alas… Throw in some ice cubes and you'll be fine – this is definitely a smoothie that tastes better cold.
So about freezing bananas… I'm really terrible at this. I had to start shooting this recipe video three (3!) times. The first time, I forgot to freeze the bananas. The second time, the munchkins troubled me until the bananas thawed. Yes, I let them sit on the counter for no apparent reason other than I'm scatter-brained ??‍♀
I really wanted to share this smoothie with you in January, but then the whole frozen banana disaster happened and I kept pushing it off and well… now I finally made it. Guess three time's a charm? ?
In case you want to avoid this whole smoothie dilemma, ha! here's exactly how to make it:
How to make a peanut butter banana smoothie: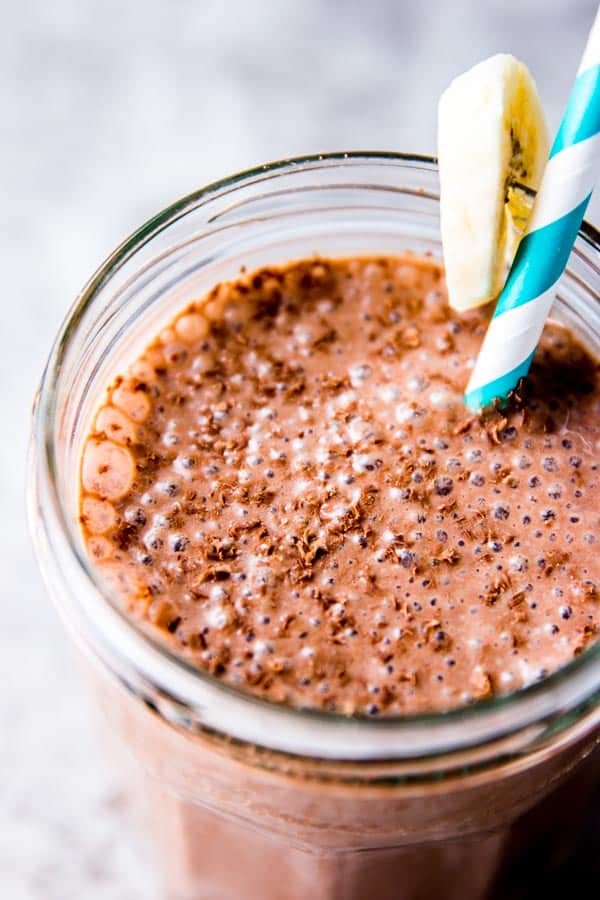 What goes into a chocolate peanut butter banana smoothie?
The ingredients for this smoothie are very simple:
½ cup milk
½ cup Greek yogurt
3 medium frozen bananas
1 tablespoon peanut butter
1-2 tablespoons cocoa powder
1 teaspoon vanilla
If you want to make substitutions, here are some easy ways I've tried and liked:
How to make a banana smoothie without milk:
Use almond milk
Use more Greek yogurt and thin it out with a little water
Use fruit juice – I prefer to leave out the cocoa when I do this, but that's up to you!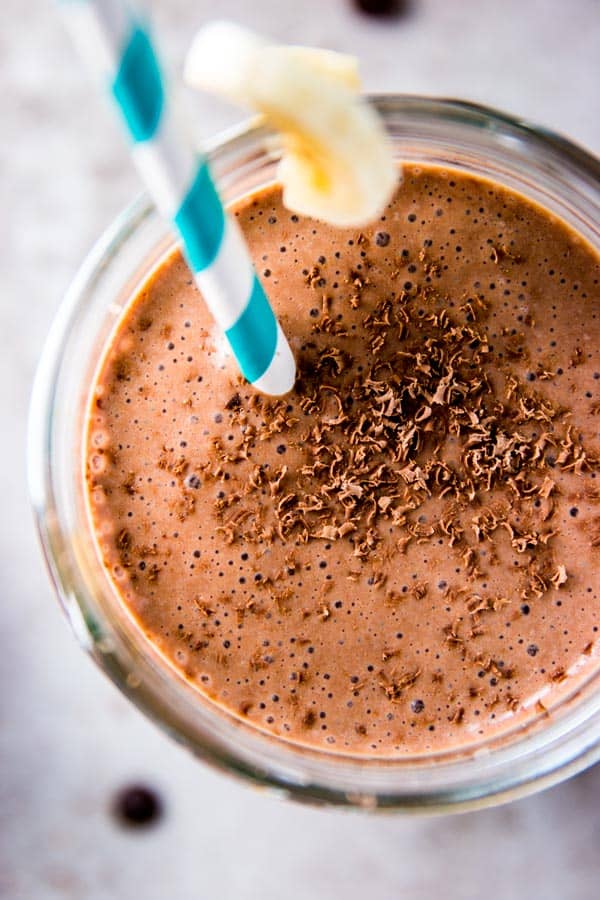 What if I want to make a chocolate PB banana smoothie without yogurt?
Easy peasy! Just sub in extra milk and throw in a few extra ice cubes to make up for the creaminess.
What are some good smoothies for kids?
Apart from this one and the strawberry banana one I already mentioned, my kids also love this Raspberry Mango Smoothie with Yogurt and this Banana Mango Smoothie.
How do you freeze bananas?
Peel and slice the evil yellow things, place them in a single layer on parchment paper and freeze until solid. Then pack in a labelled zip-loc bag and freeze for up to three months.
Do you even like bananas?
Honestly, not my favorites. UNLESS they're smothered in warm chocolate, baked into banana bread or fried ?
I can tolerate them amazingly well in this smoothie, some might even claim I like them this way… But shhhhh, I have a reputation to keep up ?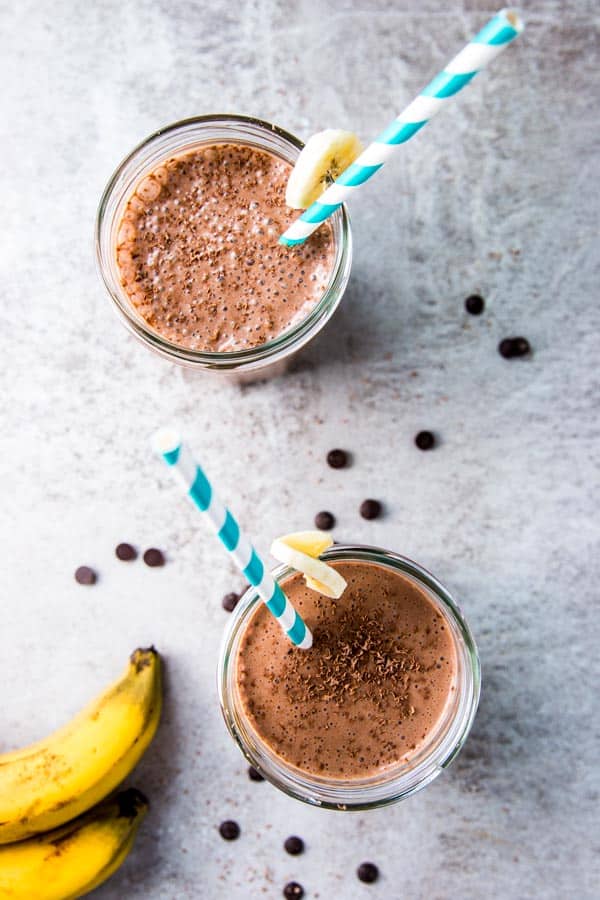 Look, OK, I didn't know if I should add this because I don't want to make people think this is a fatty-fat-fat weight gain smoothie (for the record, I don't believe in the term fatty-fat-fat and I don't believe a single food is going to make me gain weight).
But this smoothie is super special to me. When I first decided to recover from my disordered eating habits, I followed the MinnieMaud method. It. was. Hard. Basically, I had to eat 3200 calories + per day (and I still roughly do, I just don't count anymore).
I was HUNGRY. But I always had calories left at the end of the day, so I started making this smoothie as my bedtime snack. Banana, milk, cocoa powder and peanut butter. Oh, my sweet tooth was raging back then, so always a generous portion of maple syrup, too.
It became a big part of nourishing my body back to normalcy, so it's definitely a special recipe for me to share ❤
Watch how to make it:
Get the printable Chocolate Peanut Butter Banana Smoothie recipe:
Printable recipe
Printable Recipe Card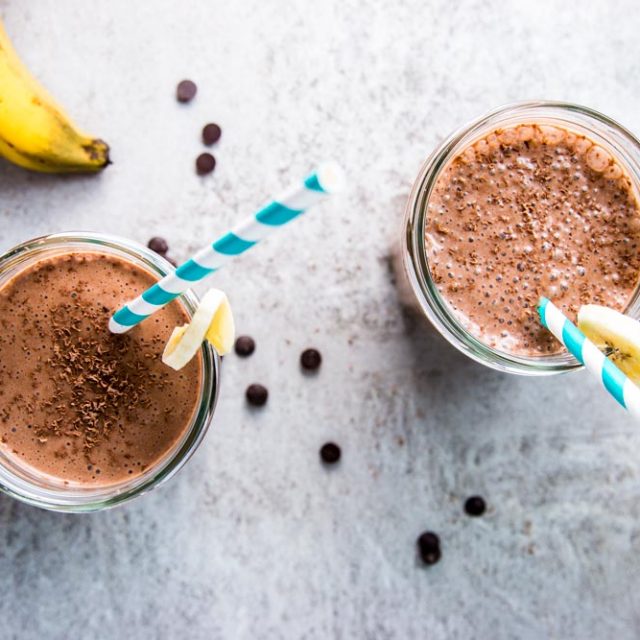 Chocolate Peanut Butter Banana Smoothie
If you love peanut butter and chocolate, you'll be all over this Chocolate Peanut Butter Banana Smoothie!
made it? tap the stars to add your rating!
Ingredients
½

cup

milk

½

cup

Greek yogurt

3

medium frozen bananas

1

tablespoon

peanut butter

1-2

tablespoons

cocoa powder

1

teaspoon

vanilla
Instructions
Place all ingredients in a powerful blender and blend until smooth. If it's too thick, add a little more milk. If it's too thin, add more ice.
Want to save this recipe?
Create an account for free to start your personal recipe box. Save any recipe by tapping the heart in the bottom right corner.
Join Now
Notes
Ingredient substitution ideas:
Use any milk you like - I use fresh whole milk. Almond milk, low fat, anything works.
If you want to avoid all milks, you can use fruit juice. It does make a bit of a different smoothie and I usually leave out the cocoa if I opt for the fruit juice. Pineapple or orange tastes best in my opinion.
If you don't want to add yogurt, leave it out and add extra milk. Throw in a few extra ice cubes to make up for the creaminess.
Small batch:
This makes two medium smoothie or one large smoothie. If you want to halve the recipe, only do it if you have a small blender. The halved recipe does NOT work in a large blender like a Vitamix!
Nutrition
Calories:
282
kcal
Carbohydrates:
48
g
Protein:
11
g
Fat:
7
g
Saturated Fat:
2
g
Cholesterol:
8
mg
Sodium:
83
mg
Potassium:
874
mg
Fiber:
5
g
Sugar:
27
g
Vitamin A:
210
IU
Vitamin C:
15.4
mg
Calcium:
133
mg
Iron:
1
mg
Nutrition is an estimate.
More recipe information