Printable recipe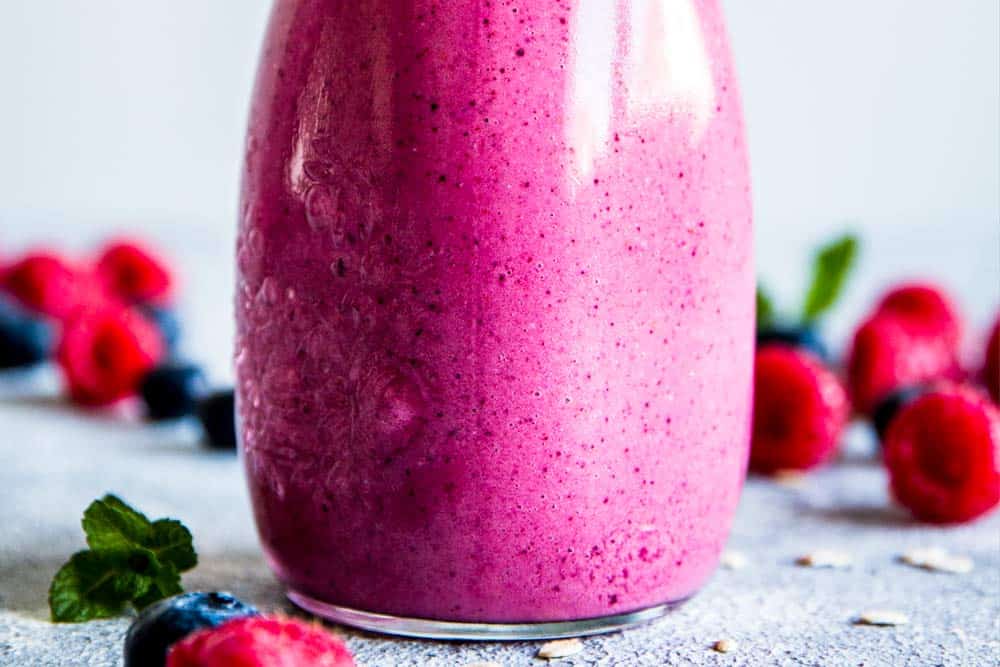 made it? tap the stars to add your rating!
Smoothies with berries are some of my favorite to make. Probably because both of my kids love them and will drink them without arguing over it. One of them because she genuinely likes the taste of it. The other one? Well… Because it's pink. I'll take it.
This one is super easy to make with mixed frozen berries. I like it because it has Greek yogurt for protein and oatmeal for fiber, and also because it tastes very delicious.
Ingredients
2

cups

orange juice

(OR water, use more for a thinner smoothie)

2

cups

mixed frozen berries

1

cup

vanilla Greek yogurt

(OR plain Greek yogurt)

¼ – ½

cup

rolled oats (use certified gluten free if necessary)

(optional to make the smoothie creamier and more filling)

your favorite sweetener (honey, maple syrup, stevia…)

(optional for more sweetness)
Instructions
Blend all ingredients until smooth. Either serve straight away or store in a clean and well-covered container for up to a day.
Add Your Review
Nora's Tips
This recipe makes 2 large smoothies or 4 small smoothies. It's enough for us (2 adults, preschooler and toddler) as a snack or part of a breakfast.
If you prefer a very creamy smoothie, add another ½ cup of yogurt.
Nutrition is an estimate using plain 0% Greek yogurt and ¼ cup of oats.
Ingredient Notes:
Greek Yogurt: You can use plain Greek yogurt, but if you like your smoothies on the sweet side, it's better with vanilla Greek yogurt.
Sweetener: You can also add more sweetener if you like! I usually do when I make it with plain yogurt, but not when I'm using vanilla yogurt.
Juice: I love both orange juice and pineapple juice in this berry smoothie. If you prefer not to use juice, just use water. You can also use 2 cups water and the whole segments of 2 oranges. Or 2 cups of water and ½ cup of pineapple chunks! Just know that water will make the smoothie less fruity and dilute the flavor a little.
If you're going for juice, experiment and see whatever you like best. You'll taste the fruit but it's subtle. Orange makes it more tangy and fresh and pineapple sweet and mild with a tropical kick.
Make Ahead Tips:
For easy meal prep, you can make this smoothie ahead and keep it in the fridge for up to a few hours. If it thickens too much because of the oats,  just stir in a little extra juice!
About my blender:
We got a Vitamix for our wedding a million years ago (OK it's actually been five six) and I LOVE it. No blender I ever had before was this good.
I have this one from Amazon and it makes the smoothest soups and smoothies.
Nutrition
Calories:
260
kcal
|
Carbohydrates:
48
g
|
Protein:
14
g
|
Fat:
1
g
|
Cholesterol:
5
mg
|
Sodium:
46
mg
|
Potassium:
746
mg
|
Fiber:
4
g
|
Sugar:
37
g
|
Vitamin A:
565
IU
|
Vitamin C:
127.9
mg
|
Calcium:
170
mg
|
Iron:
0.8
mg
More recipe information
Join my Newsletter to Get Recipes in Your Inbox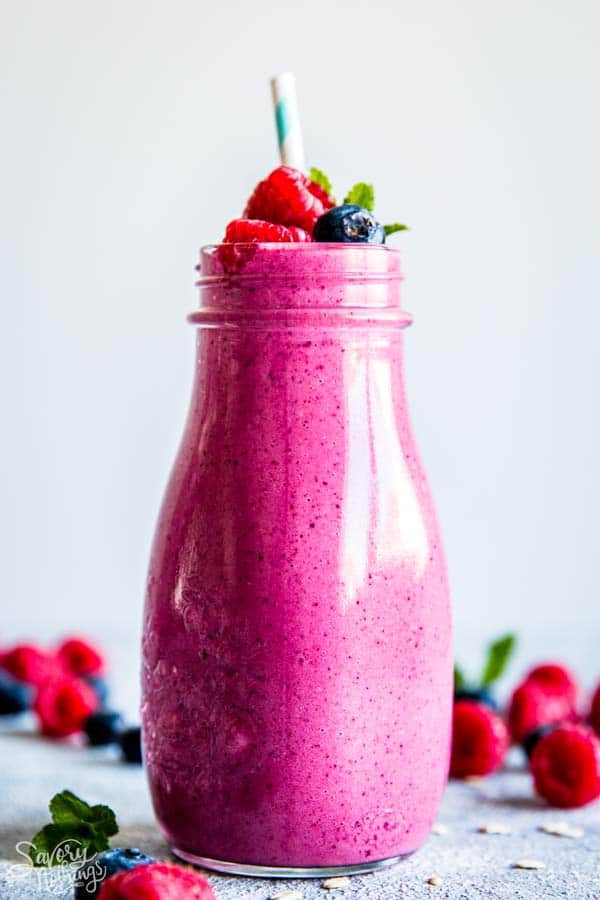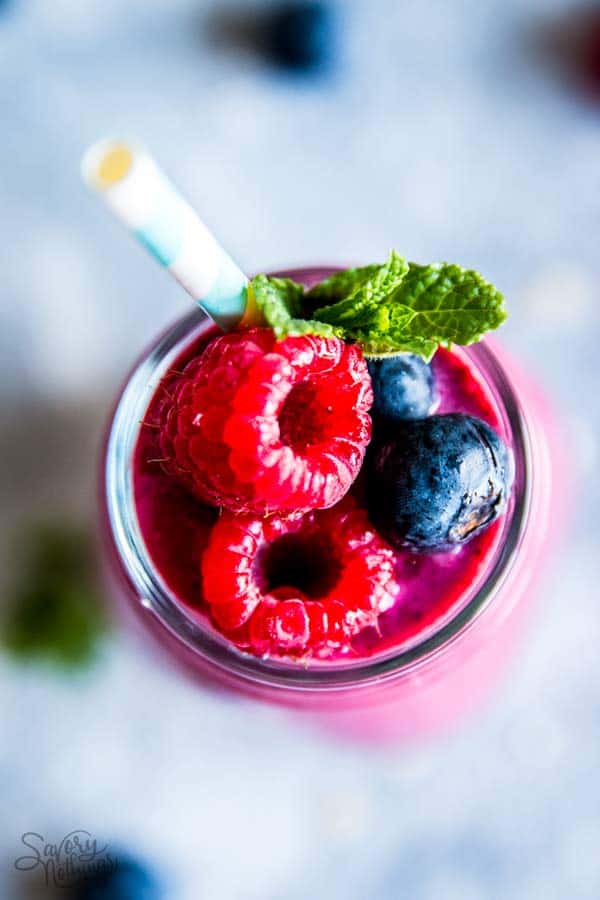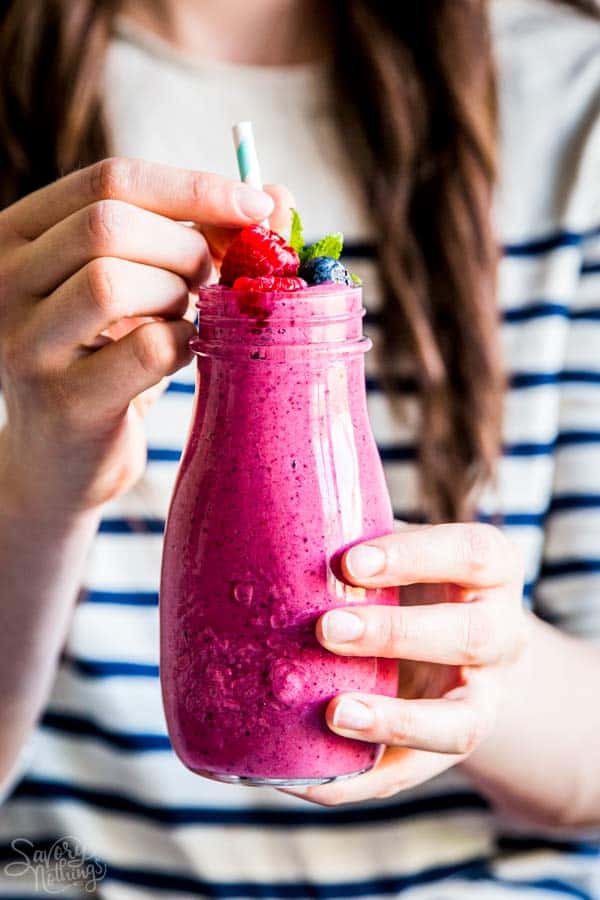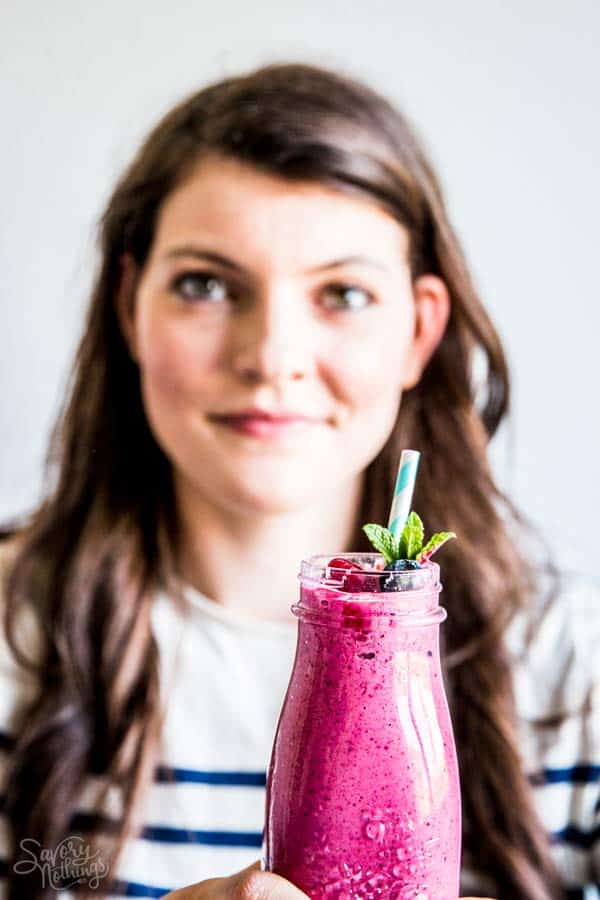 More Smoothie Recipes You'll Love: