Easy chocolate chip peanut butter cookies you can make with your kids! Flourless and simple, have fun in the kitchen together! With FREE printable recipe to use with little ones who cannot read yet.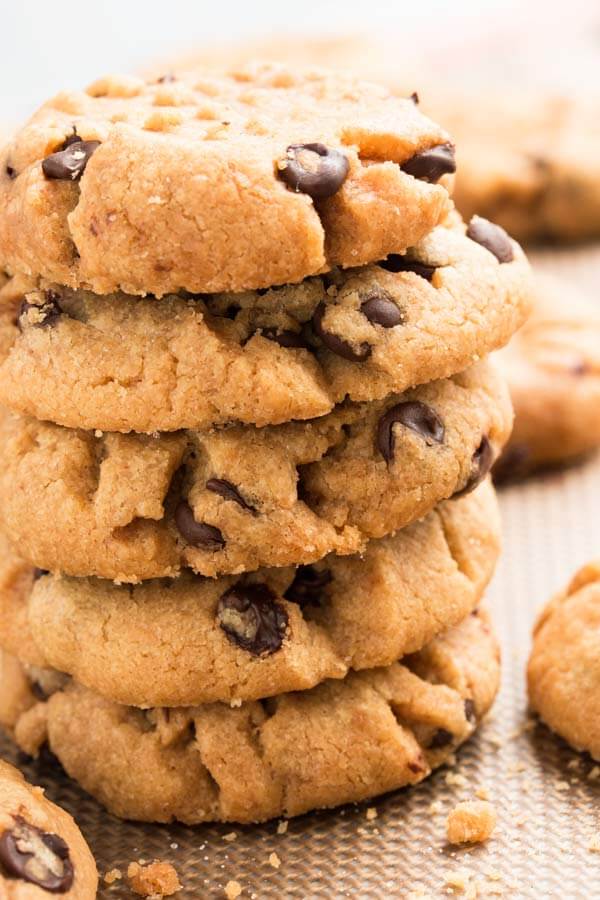 Now that my daughter is getting older, she loves to help in the kitchen. And by helping I do mean sticking her fingers into everything she possibly can. We've been making a lot of muffins and cookies together ever since. And I've been cleaning the kitchen. All. the. time. Since she's having so much fun I figured I'd be OK with a little extra cleaning ?
But I've definitely been picking the simple recipes with a small amount of ingredients.Think about it: Every additional ingredient can potentially be ALL over the cabinets and floor. I was really intrigued when I saw a recipe for THREE ingredient peanut butter cookies.
But because I can't ever leave anything alone, we added chocolate chips and made them into 4 ingredient cookies! Wait, let me rephrase that: I added the chocolate chips. Em picked them back out of the raw cookie dough and ate them… Kids, huh ?
Jump to:
? Step by Step
Step 1 – Gather Your Ingredients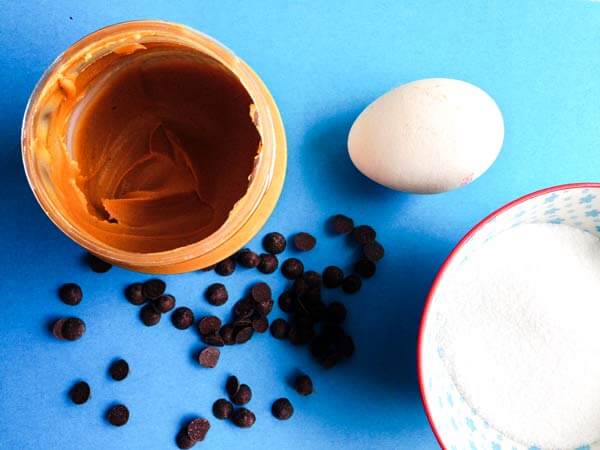 This step is really simple – just 4 ingredients! You will need:
1 cup (280g) creamy peanut butter
1 cup (200g) white sugar
1 large egg
½ cup (100g) chocolate chips (I used mini chips)
Step 2 – Make the Cookie Dough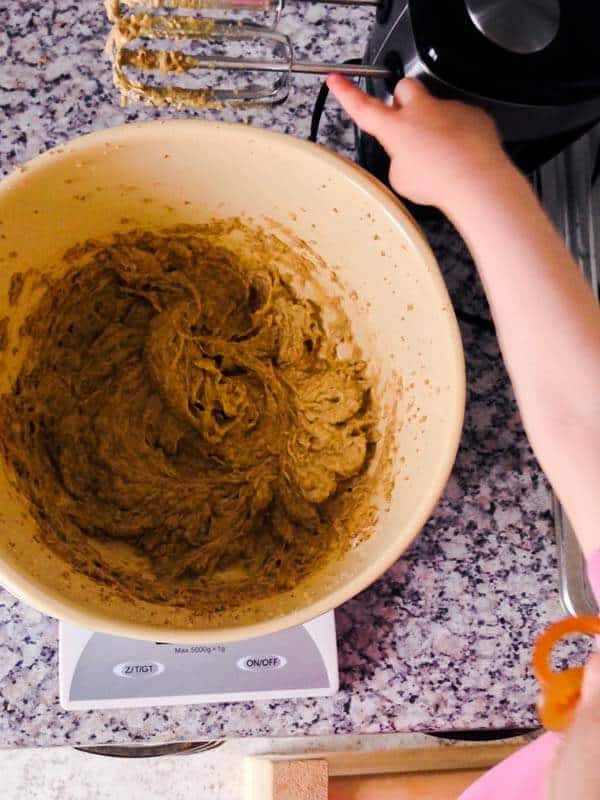 Now, you'll want to place the peanut butter, sugar and egg in a mixing bowl.
Adult: Measures out ingredients.
Kid: Places measured ingredient in mixing bowl (the adult probably needs to help with the peanut butter; depending on age of child, adult cracks the egg or helps kid crack the egg).
Adult: Cream all ingredients until a smooth cookie dough forms. (Older kids may be able to help).
Let your child add the chocolate chips while the mixer is off (!!), then stir them in for 5-10 seconds, or until they're evenly distributed throughout the dough.
Step 3 – Shape and Bake the Cookies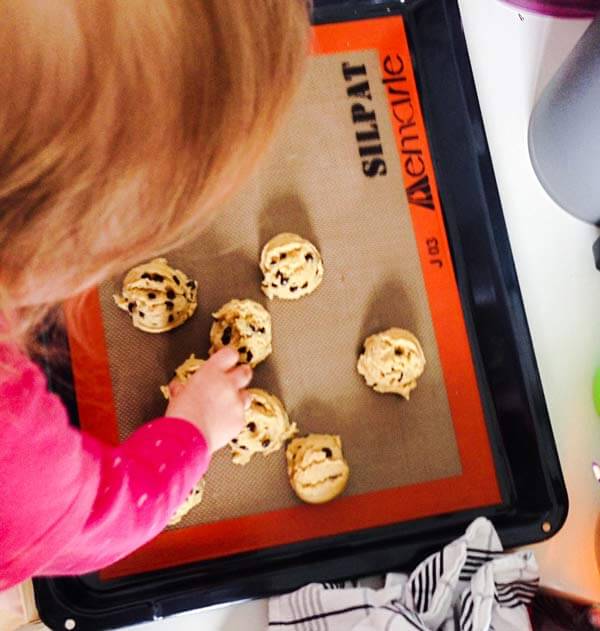 Adult: Preheat the oven to 350°F (175°C). Line a cookie sheet with parchment paper or a silpat mat.
Kid & adult: Roll cookie dough into balls and place them on the prepared cookie sheet (around 2 inches apart; use multiple cookie sheets to bake the cookies in batches if needed). I like using a cookie scoop to portion out the dough, then I hand it to my kid to roll and place on the baking sheet.
If you don't trust your child with chocolate chips, better do this step by yourself ?
Kid & adult: Criss-cross the cookies with the back of a fork. I try not to push down too much, because I like the cookies thick and soft!
Adult: Bake the cookies for about 8-10 minutes (they will still feel soft). Allow them to cool completely on the cookie sheet before storing in an airtight container. Or eating them all!
Step 4 – Eat and Enjoy!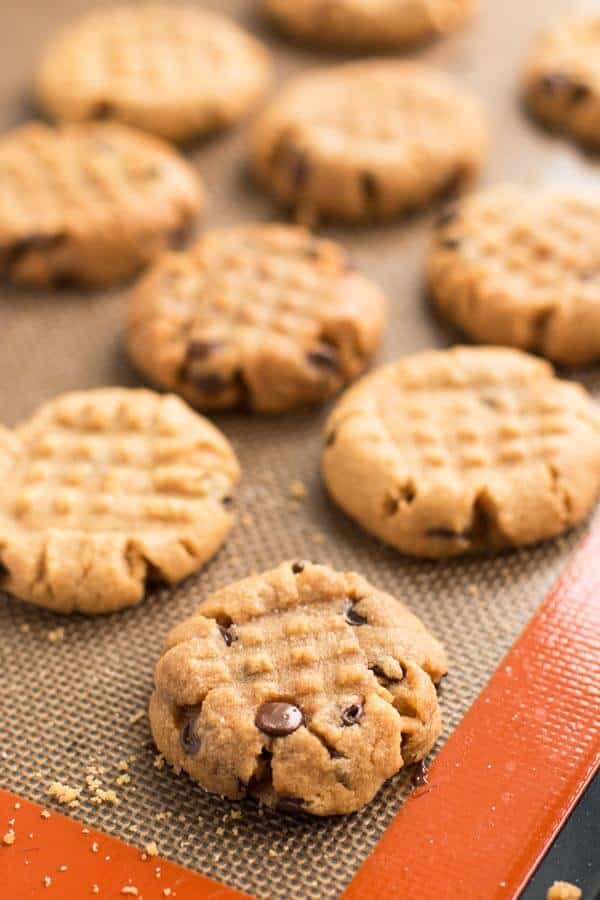 Both my daughter and my husband LOVE these cookies. Bonus: Making them together is such a fun activity!
? Printable Recipe Illustration
If you're looking for an easy way to spend time with your kids AND have delicious cookies to eat WITHOUT having to spring-clean the entire kitchen – this is the recipe you need to try! I made a printable recipe, there's words (for mom) and picture instructions (for kids).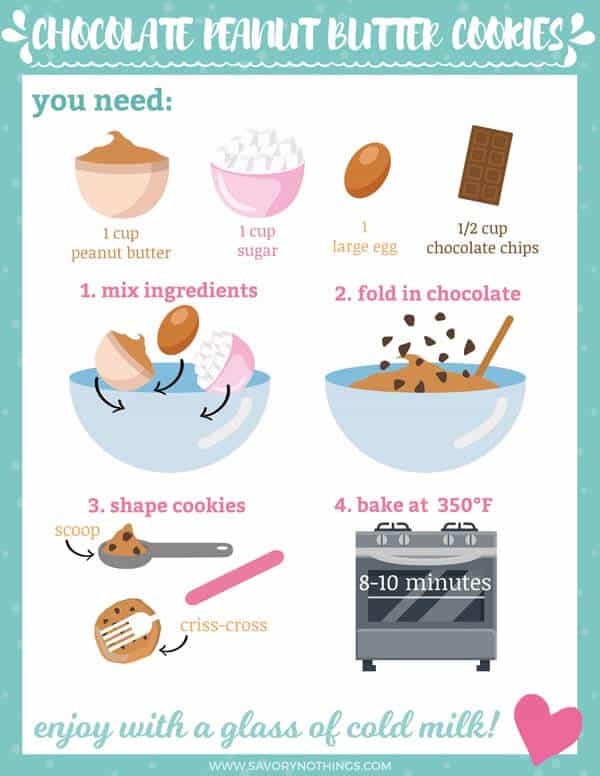 You can get the printable by clicking here, to start having loads of fun with your kiddos in the kitchen! Mess-free-ness not 100% guaranteed 😉
Enjoy!
Printable recipe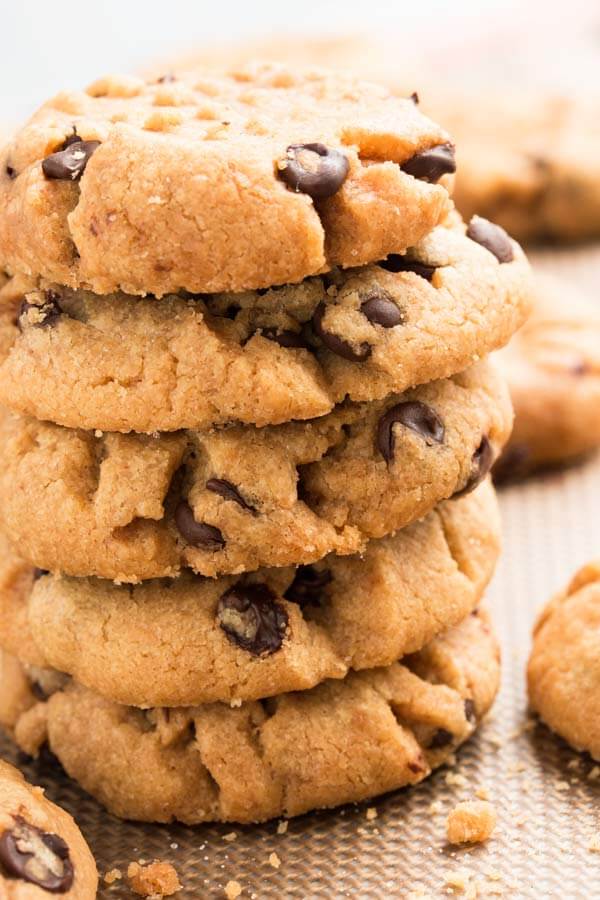 made it? tap the stars to add your rating!
This easy 4 ingredient peanut butter cookie recipe is quick to pull together and doesn't even need any flour!
Ingredients
1

cup

creamy peanut butter

1

cup

white sugar

1

large egg

½

cup

chocolate chips

(I used mini chips)
Instructions
Prep: Heat oven to 350°F. Line a cookie sheet with baking parchment or a silicone baking mat.

Make cookie dough: Place peanut butter, sugar and egg in a mixing bowl and mix until well combined (I use an electric mixer, but a stand mixer or even a wooden spoon would work). Add the chocolate chips and stir in until evenly distributed.

Shape cookies and bake: Shape cookies, using around 1 heaping tablespoon of cookie dough per cookie. Place 2 inches apart on the prepared baking sheet. Bake for 8-10 minutes, or until lightly golden (cookies will still be soft). Cool on the cookie sheet for 5 minutes, then remove to a cooling rack to cool completely.
Add Your Review
More recipe information
Join my Newsletter to Get Recipes in Your Inbox