Bake up some Christmas magic with these Cranberry White Chocolate Chip Cookies! They are very easy to make, dough chilling is only necessary if you want extra-thick cookies and the perfect treat for the holidays.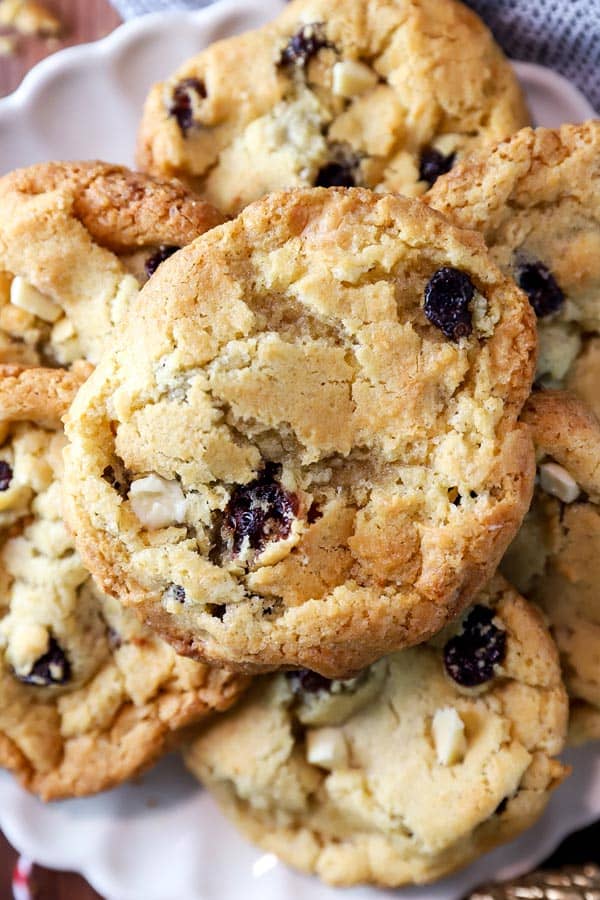 This post contains affiliate links and we earn a commission for purchases made after clicking through.
The combination of white chocolate and cranberry is my weakness around the holidays – and I already have White Chocolate Cranberry Oatmeal Cookies and Cranberry White Chocolate Fudge Oatmeal Bars here on the blog. Ahem.
But the classic cookie was still missing, so here it is now.
I love making these with my kids during the holidays, because they are incredibly easy and I will only lose a minimum amount of my mind while we're baking.
The dough comes together entirely with a bowl and your hand mixer. Just make sure you don't overmix after adding the eggs, or your cookies will become tough and get a weird egg-y taste.
For the thick and fudgy cookie lovers, chilling the dough for at least 30 minutes (but better 60) is mandatory. For those of you who don't mind a little crispiness (weird people like my husband, for example), the chilling isn't necessary and you can bake your white chocolate cranberry cookies straight away.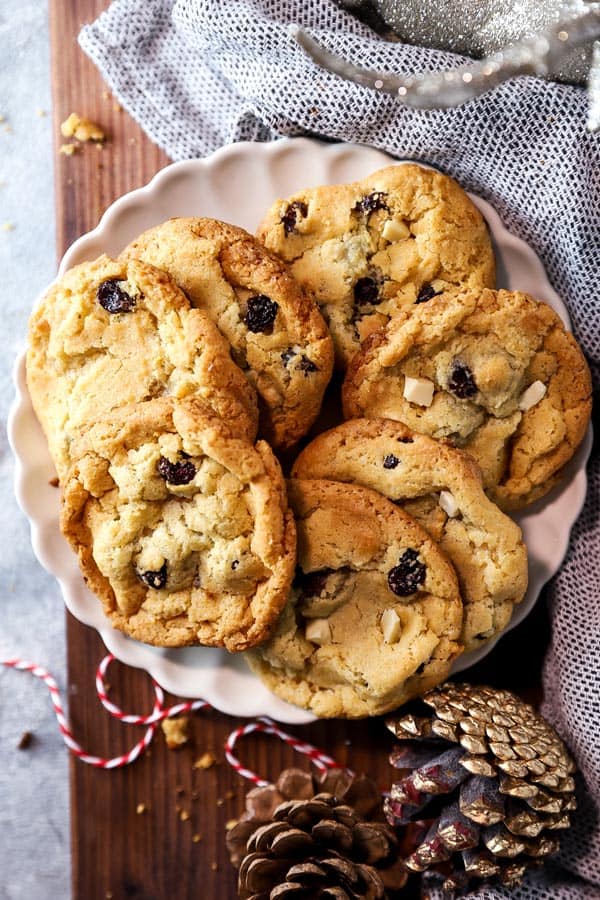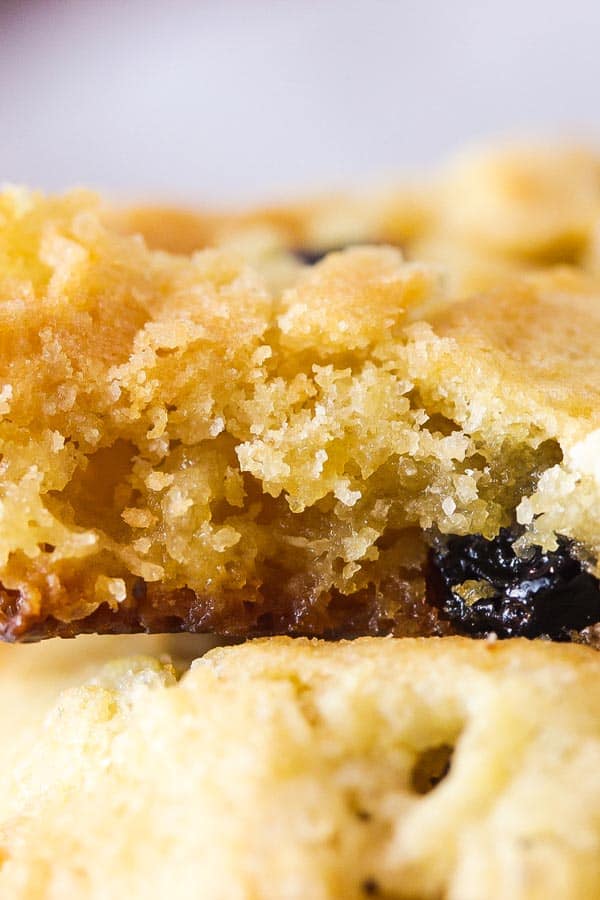 For reference: The cookie dough for the photos was NOT chilled. You're welcome, husband.
Finally, I recommend using a cookie scoop to shape the cookies, because it's hands down the fastest and most mess-free way to make cookies – especially if you're planning on baking with your little ones.
If you don't have a hand mixer or a cookie scoop, don't worry: You can still make this recipe. Just whisk up the butter, sugar, egg and vanilla with a whisk, then fold in the dry ingredients with a spatula. Then use a tablespoon measurement to scoop a heaping spoonful of dough. You might still want to get a hand mixer here and a cookie scoop here for making the most of the holiday baking season 😉
Enjoy your Cranberry White Chocolate Chip Cookies with a cup of hot chocolate! Or, you know, by the dozen 😉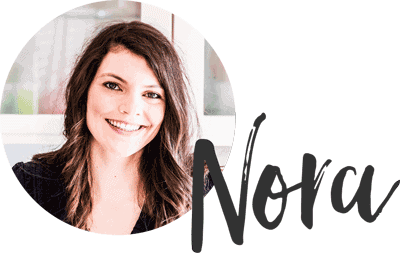 Printable recipe
Printable Recipe Card
Ingredients
½

cup

butter

softened

¾

cup

sugar

½

cup

packed light brown sugar

1

large egg

½

tablespoon

vanilla extract

1 ¾

cups

all-purpose flour

1

teaspoon

baking powder

¼

teaspoon

baking soda

Pinch

of salt

1

cup

dried cranberries

½

cup

white chocolate chips OR chunks
Instructions
Prep: Preheat oven to 375°F and line two cookie sheets. (Note: Do not preheat yet if you plan on chilling the cookie dough.)

Cream wet ingredients:

Beat butter with a hand mixer on medium-high speed until smooth; slowly pour in both sugars while continuing to beat. Add egg and vanilla and beat on medium-low speed just until smooth.

Combine cookie dough:

Combine flour, baking powder, baking soda and salt in a small bowl, then add to the egg mix and beat on low speed just until combined (do not overmix!). Fold in cranberries and white chocolate chips or chunks.

Shape cookies:

Using a cookie scoop, shape cookie dough balls of about 1.5 inches in diameter, and space them out on 2 cookie sheets. Either chill 30-60 minutes for thicker, softer cookies. Or bake right away for crispier and chewy cookies.

Bake cookies: Bake the cookies in the preheated oven for 10-13 minutes, or until they are browned to your liking (a longer baking time will make them crispier, a shorter time more underbaked and fudgy). Cookies will be soft when they come out of the oven, so cool on the cookie sheet for 5 minutes before removing them to a cooling rack to cool completely.
Want to save this recipe?
Create an account for free to start your personal recipe box. Save any recipe by tapping the heart in the bottom right corner.
Join Now
Notes
Fixing spread out cookies:
If your cookies spread too much (can happen due to ingredient differences, oven differences, altitude, room temperature, etc), use two large spoons to gather/push the cookies together RIGHT as they come out of the oven. You have to be incredibly fast here or it won't work, but I've fixed many a spread out cookie this way.
Freezer instructions:
To freeze unbaked cookie dough: Shap the dough balls, then flash-freeze them on the baking sheet until firm (this will take an hour or so) before transferring them to a freezer bag. Label with the name and use-by date, then freeze for up to 2 months.
To bake frozen cookie dough: Remove as many dough balls as needed from the freezer bag, then place on a lined cookie sheet and bake as directed in the recipe – no need to thaw! The cookies will take 3-5 minutes longer in the oven and may come out thicker.
To freeze baked cookies: Cool the cookies completely, then either wrap them individually in plastic wrap to freeze in freezer bags, or freeze in layers in containers, separating each layer with parchment paper. Label them with the name and use-by date before freezing them for up to 3 months.
To defrost frozen baked cookies: Remove as many as you need from the freezer, unwrap them and defrost them on a wire rack on the counter for 1-2 hours.
Nutrition is an estimate.
More recipe information
Try these Christmas cookies next: